Today the sun shines brightly in Portland. When the sky is this crystal blue I feel myself beaming a little more than usual, or at least a little differently; my smile gets wider, toothier, and holds its shape for longer. It's not that my face is an immovable blank slate when the weather is grey and hazy; I'm a relatively cheerful person, so I think, but it is definitely a bit more difficult to walk with a spring in my step when the sky is colored with charcoal and icy rain falls heavily.
And so, when the sky is this boundless and blue, when I can't stand to wear long pants because I want to feel the unusually warm air and light breeze against my bear skin, I find myself beaming. The organ that houses my joy pulses in double time, and I walk and work to the tempo of my love of life. 
On these days there are more moments of clarity, there is more clear space for present living; the sun's rays provide me with an extra dose of energy that easily sustains me throughout the day. 
In saying all that, perhaps there is a silver lining to Portland's notoriously wet, grey weather. I think it may intensify the excitement and gratitude I feel when the sun finally makes it's bold appearance in the Spring. January may be the official start of the new year, but it's not until the early weeks of March, when the sun begins to smile down in its totality, that I finally begin to feel the implications, the momentum, of the "new" year underway. 
As winter dissipates, my regular 8:30 PM bedtime gets pushed back later and later (oh yes, I'm quite the wild child). If the sun is out, I want to be up and out too; doing, baking, thinking, observing. Today that surplus of energy bubbled over into colorful sprinkles and strawberry chocolate.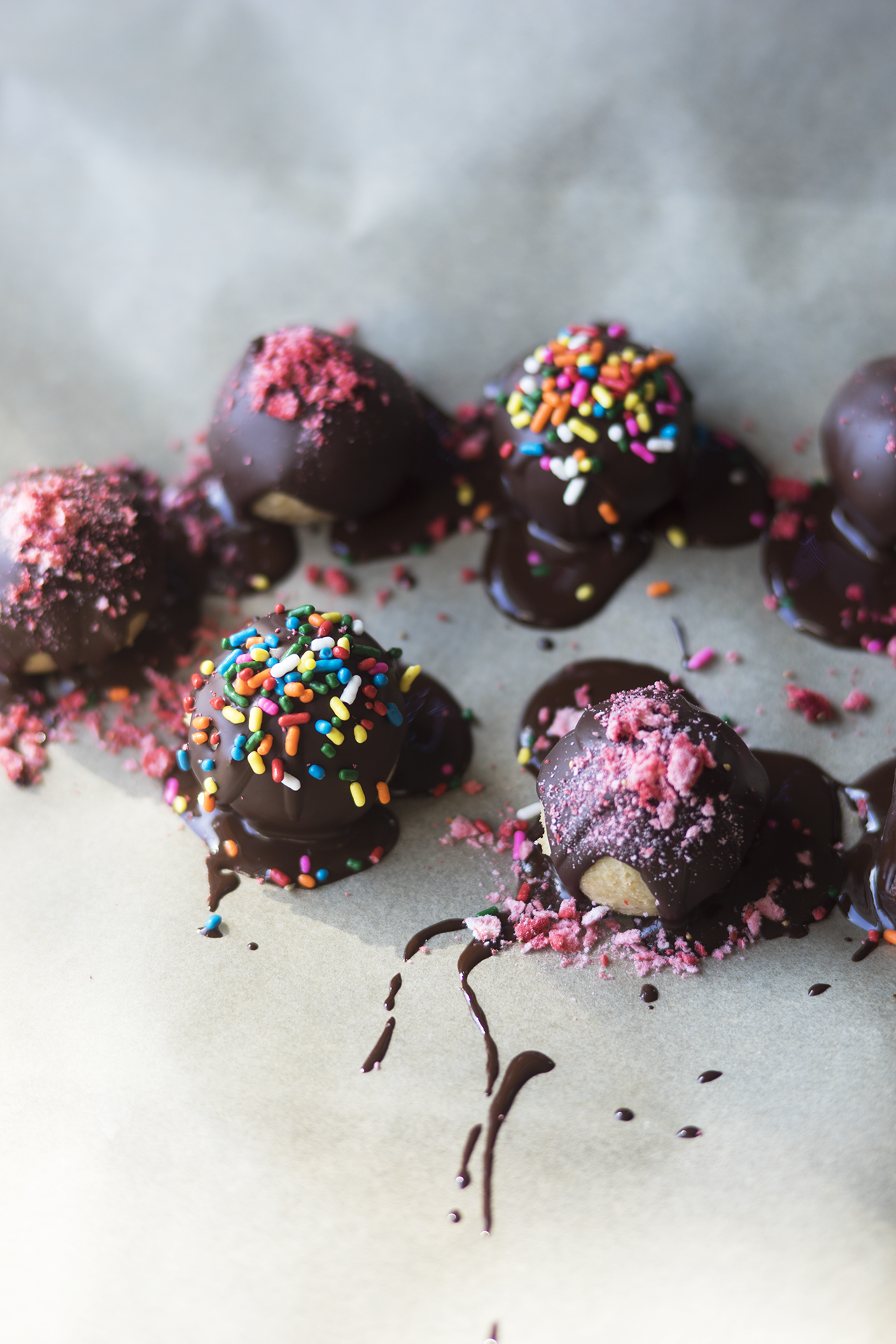 I placed these truffles on a sheet of parchment paper by the window so that they could bathe in the warm light. The sun melted them ever so slightly, leaving the imprint of their chocolate shell on my fingertips. It was a mess to smile about. The versatility of chickpeas is another thing worth smiling about. In fact, it's almost a little comical how successfully simple it is to sneak chickpeas into a dessert as invitingly appealing as these truffles.
A single can of chickpeas, along with a few heaping dollops of cashew butter (or any other nut butter of choice), and maple syrup (or honey, agave, etc.), are creamed together to create this unconventional cookie dough. It is no doubt a little funky sounding (beans?? in cookie dough?? what!!?), however, if you're anything like me (aka if you have an affinity for pre-baked chocolate chip cookies), then this dough will likely leave you bewildered and reaching for a second taste test with your finger (just to double check the unbelievably cookie-dough-esque flavor).
Simply roll the dough into 1-2 tbsp-sized bites, and cloak with generous drizzles of dark chocolate (we're talking seriously generous, no-dough-in-sight, as pictured above). Lastly, radiate that joy, whether it's sunny in your part of the world or not, and top these truffles off with large pinches of colorful sprinkles, crushed freeze-dried berries, and/or other fun and whimsical toppings of choice (goji berries, shredded coconut, crushed peanuts/pistachios/cashews all sound lovely!).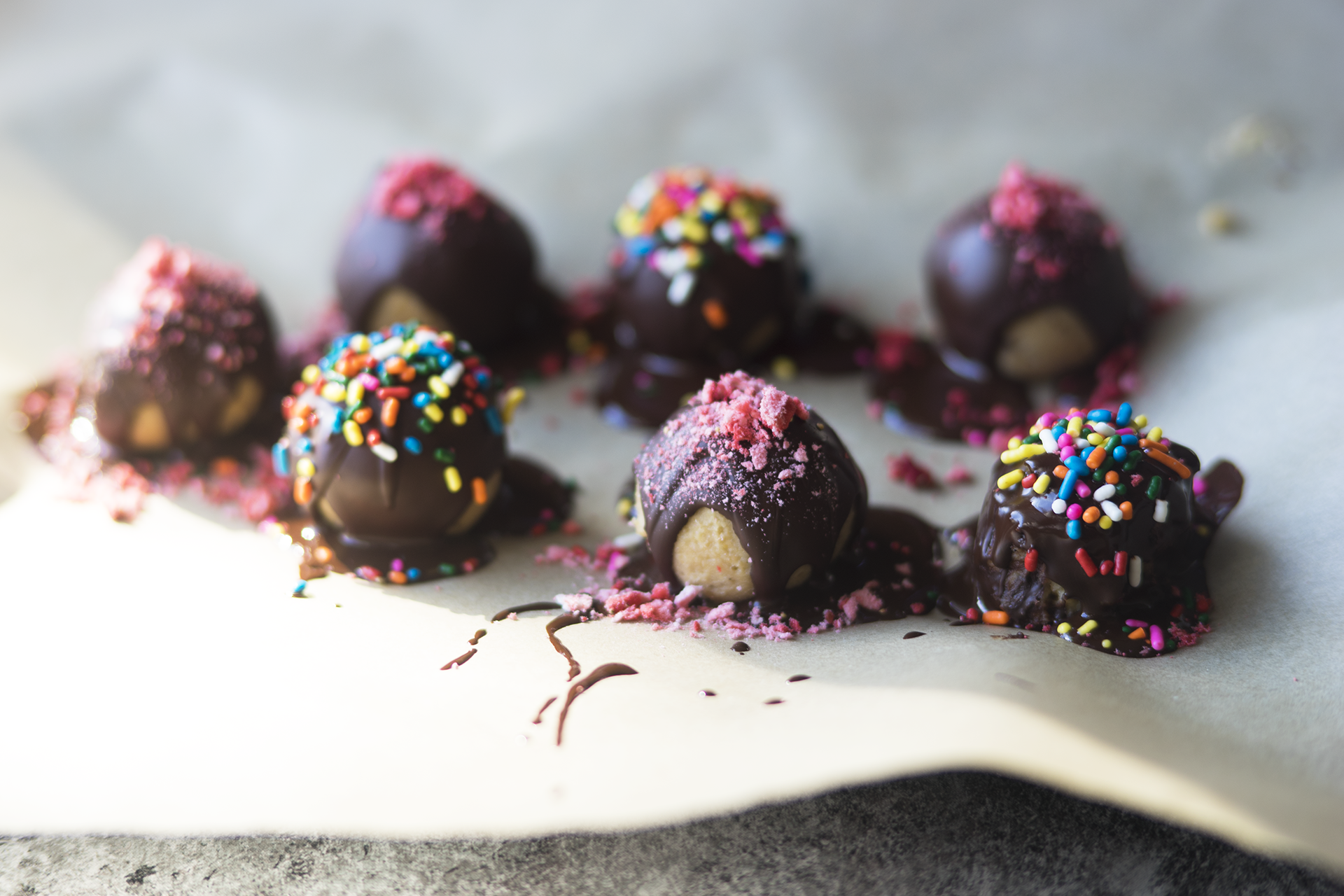 Ingredients~
1 (15 oz) can chickpeas, thoroughly rinsed
1/2 cup unsalted natural cashew butter (or other nut butter, though the flavor will vary)
1/4 cup maple syrup, or other liquid sweetener of choice
2 tbsps coconut oil, melted
1 1/2 tsps vanilla extract
Generous pinch or two salt 
1/3-1/2 cup semisweet chocolate chunks or chips
Chocolate coating:
1/2-3/4 cup (~3-4 oz) chopped dark chocolate (or milk chocolate, if you'd prefer a sweeter coating)
~1 tbsp rainbow sprinkles
~1 tbsp crushed freeze-dried strawberries (or raspberries!)
Instructions~
1. Rinse the chickpeas thoroughly (especially if heavily salted!) and lightly pat dry with a paper towel. Add the chickpeas to a high-speed food processor or blender (though make sure your blender is not too large), along with the cashew butter and 4 tbsps (1/4 cup) maple syrup. Blend until smooth and creamy. Add the melted coconut oil, along with the vanilla extract, and pinches salt. Blend until incorporated and smooth. Add another pinch of salt or tsp of syrup as needed. 
2. Transfer the batter to a large bowl and fold through the chocolate chips/chunks. Set in the freezer for ~20 minutes (or the fridge if you aren't trying to speed things up) to harden slightly. Once chilled, use a 1-2 tbsp scoop to dollop out balls of dough onto a lined pan/plate. Set in the freezer again to further harden as you make the chocolate coating.
3. In a double sauce pan over low-medium heat, melt the chocolate, stirring often to prevent burning (alternatively, avoid the dirty dishes and simply melt it in the microwave). Once melted and smooth, take off the heat and remove the dough balls from the freezer. Now the real fun begins! Top each ball with roughly the same-sized spoonful of chocolate sauce; start off a bit reserved so as to make sure you have enough for all the balls. Be sure to sprinkle over the toppings while the chocolate is still wet. Pop back in the freezer for a further ~10 minutes to fully harden the outer shell. Eat them as they are (they are the perfect bite-sized finger snack!), or crush a few into a bowl of vanilla ice-cream, the choice is yours…. :~)
Notes~
*Makes ~12 truffles.
*Recipe adapted from/inspired by Texanerin's chickpea cookie recipe!