For years to come I will remember this day. March 14, 2017, marks the first time I baked with yeast. It was also the first time I made cinnamon rolls. Flat, shrimpy cinnamon rolls. No figurative language about fluffy, cloud-like dough here. Instead, you will find an overuse of the descriptor 'shrimpy'. Jokes aside, these rolls were still yummy. They simply fell short in the trait that makes a cinnamon roll a roll as opposed to, er, a cinnamon roll flavored dense block of dough.
You might be thinking, what went wrong? Or more appropriately, what did you expect? To be quite frank, I expected a lot. Perhaps my overzealousness is most to blame for the opposite-of-pillowy final result. Sure, it's summer in Australia and the humidity is basically suffocating, and sure, I likely over-handled the rolls with my less-than-dainty fingers, but more than anything, I think I was too eager to make perfect cinnamon rolls (aka magazine-cover-Instafamous-Pinnable cinnamon rolls). You know the kind I'm talking about. First of all, how do people make such pretty edible things? I'd like to know. Second of all, how do the same people make their cinnamon roll backdrops so pretty and neat? By the time I get around to taking photos my hands are caked in flour, there's more flour glued under my nail beds, and my cute, recently washed black shorts are powdered in flour. Maybe I could unlearn how to make a mess in order to make room for new knowledge like: 1. how to make cinnamon rolls that double in size and can be used as life rafts 2. how to transform a kitchen counter into a scene out of a pretty fairytale.
Oh yeah, I forgot I had something worth sharing; a delectable sweet tahini glaze. This glaze takes the cake. In fact, it IS the cake. Yup, that makes sense. Unlike conventional cinnamon roll frosting, this one is pretty darn healthy, consisting of hulled tahini, rice malt syrup, and soy milk. The result is subtly sweet and slightly nutty, thanks to the tahini. As I iced the cinnamon rolls it became clear that I am still very much a child. Each roll had to be blanketed with enough icing so that little to no dough peeked through. Thanks to the heaps of sweet and creamy tahini sauce I was able to come out of this cinnamon roll disaster experience with a smile on my face and a very full tummy.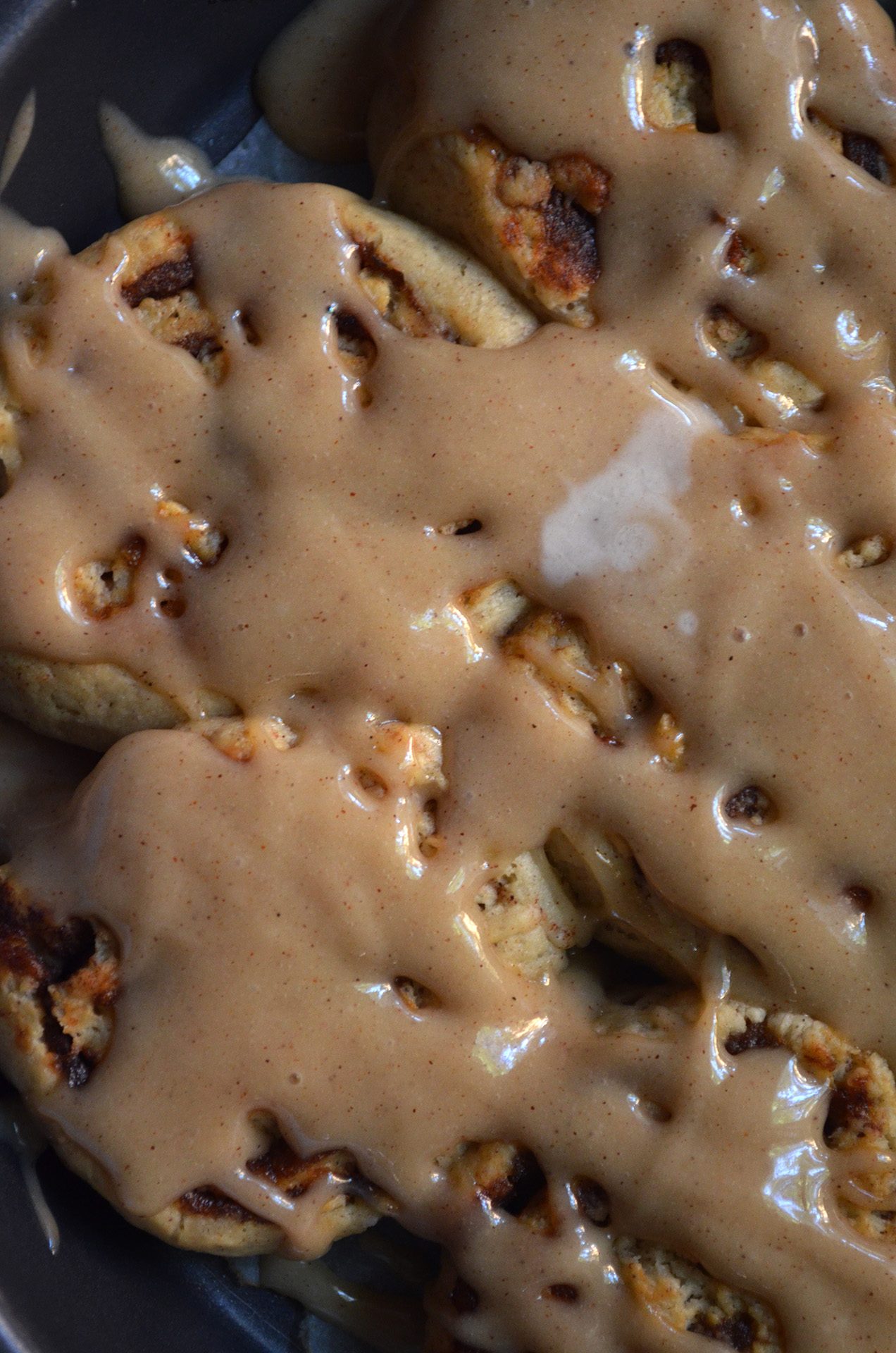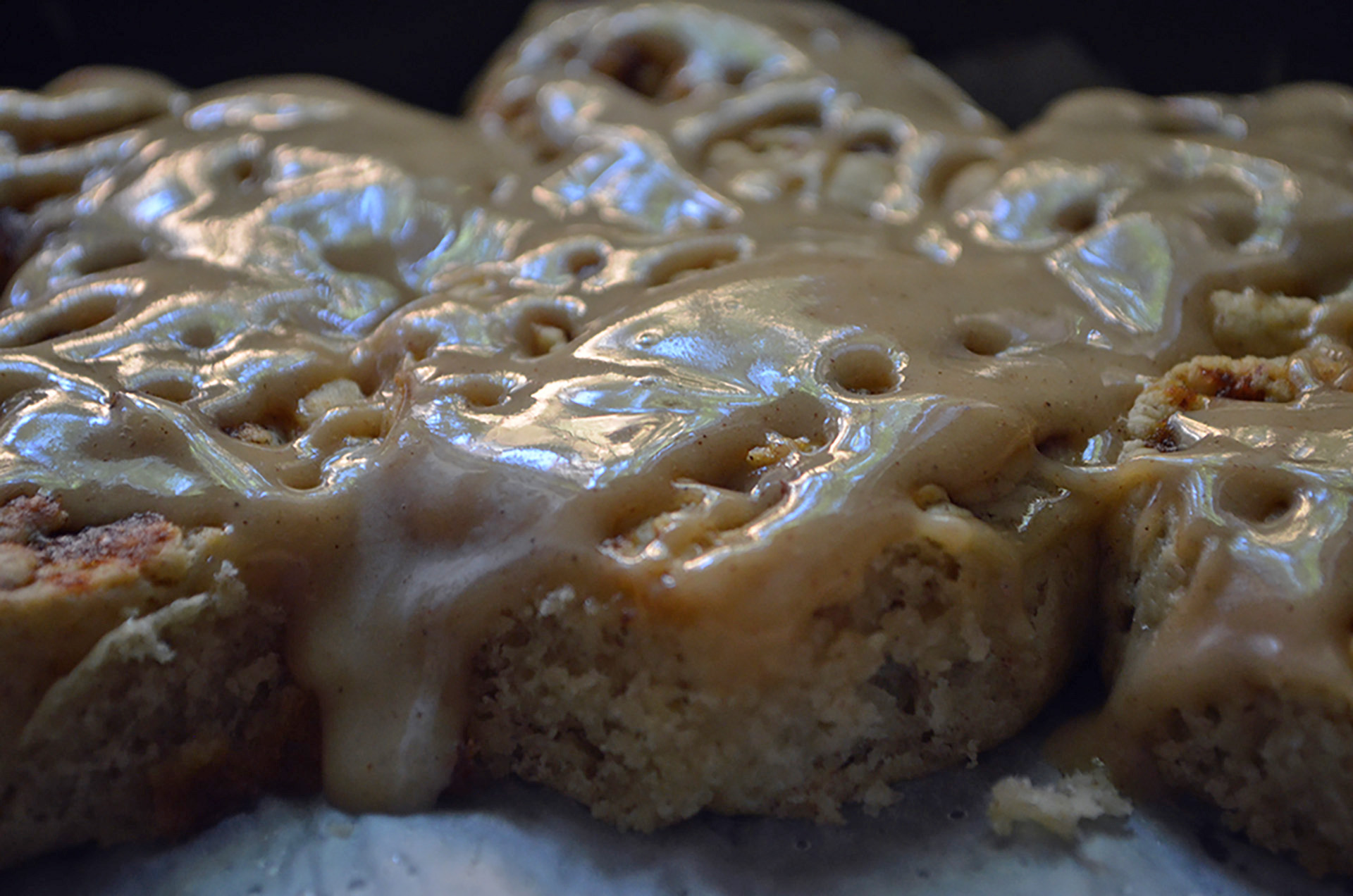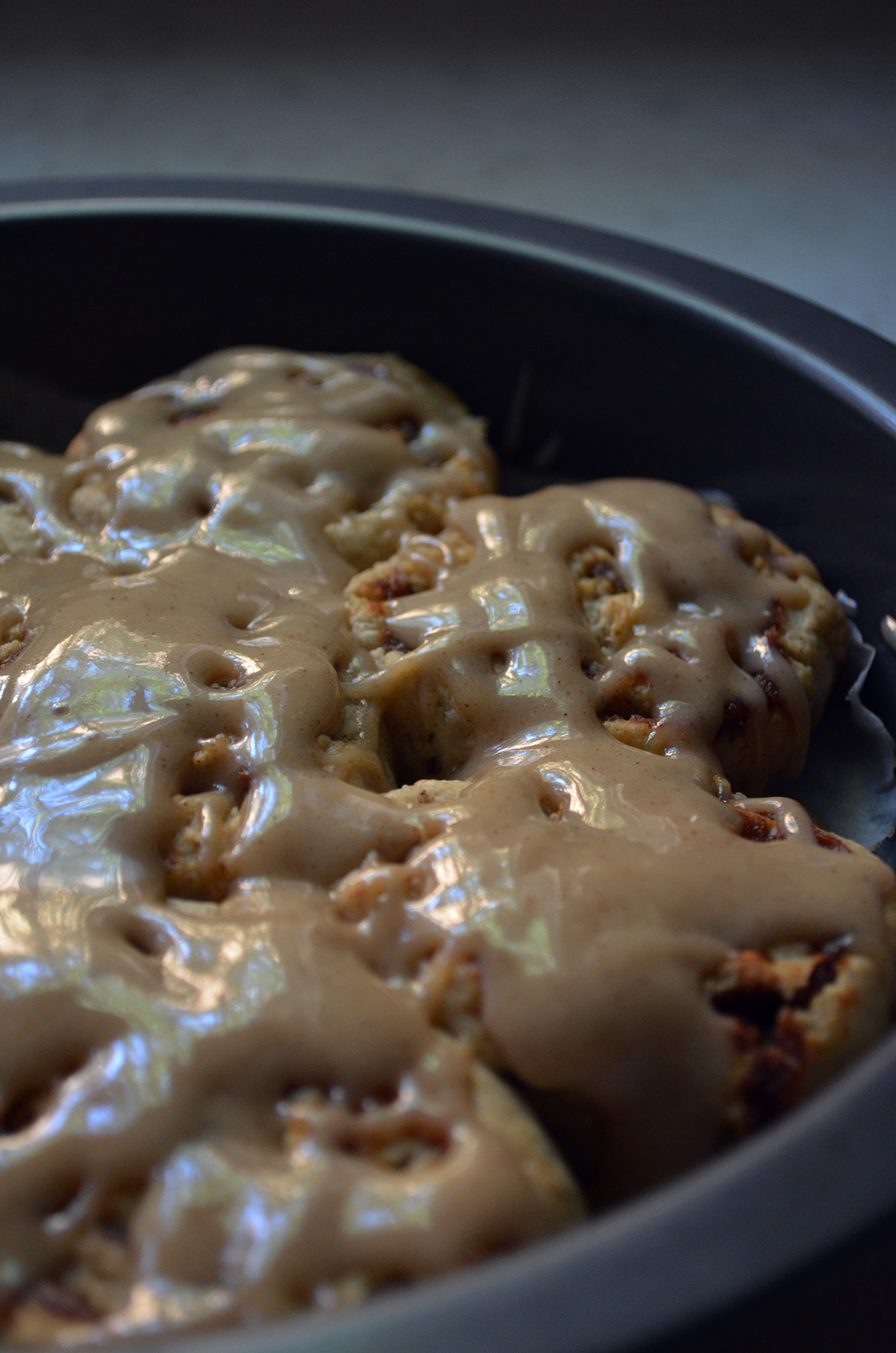 Ingredients~
Tahini Glaze:
1/3 cup hulled tahini
2-3 tbsps rice malt syrup or liquid sweetener of your choice
1/2 tsp cinnamon
1-4 tbsps soy milk for thinning
Instructions~
1. Simply combine all of the ingredients, beginning with 2 tbsps soy milk, in a saucepan over low heat. Stir until combined and continue adding milk by the tbsp to achieve your desired consistency. Drizzle over cinnamon rolls, cakes, muffins, cookies, etc., the options are pretty endless! (I'd even use this as a carrot dip)