These mousse bars feature one whole can of black beans. Yes, you read that right. Beans. In dessert? Oh yes. Please bear with me, and try not to totally denounce this concept just yet. These mousse bars are here to mess up any and all pre-conceived notions you may have had about sweets/desserts and, most relevantly, MOUSSE. Mousse is likely that luscious stuff you've been served at the end of a fancy Italian meal, topped with curls of grated chocolate; or maybe it's that light and airy, shaving-cream-esque, dessert you make at home on special occasions using heavy whipping cream. While those are both delicious experiences of mousse that I will continue to enjoy full-throttle when given the chance, from this day forward I think I will be predominantly bathing my taste buds in dark chocolate black bean mousse. It's quite the mouthful, and sounds a little ridiculous, I'll admit, but the final product is no laughing matter.
Without being too hyperbolic, let me simply say that this mousse is unfathomably rich and creamy. Plus, it is 100% sweetened with dates. Perhaps that is where the "unfathomable" component comes in…. a chocolatey mousse that doesn't scream "healthy" or "full-of-beans" or "I'm only sweetened by FRUIT," despite being all of those things.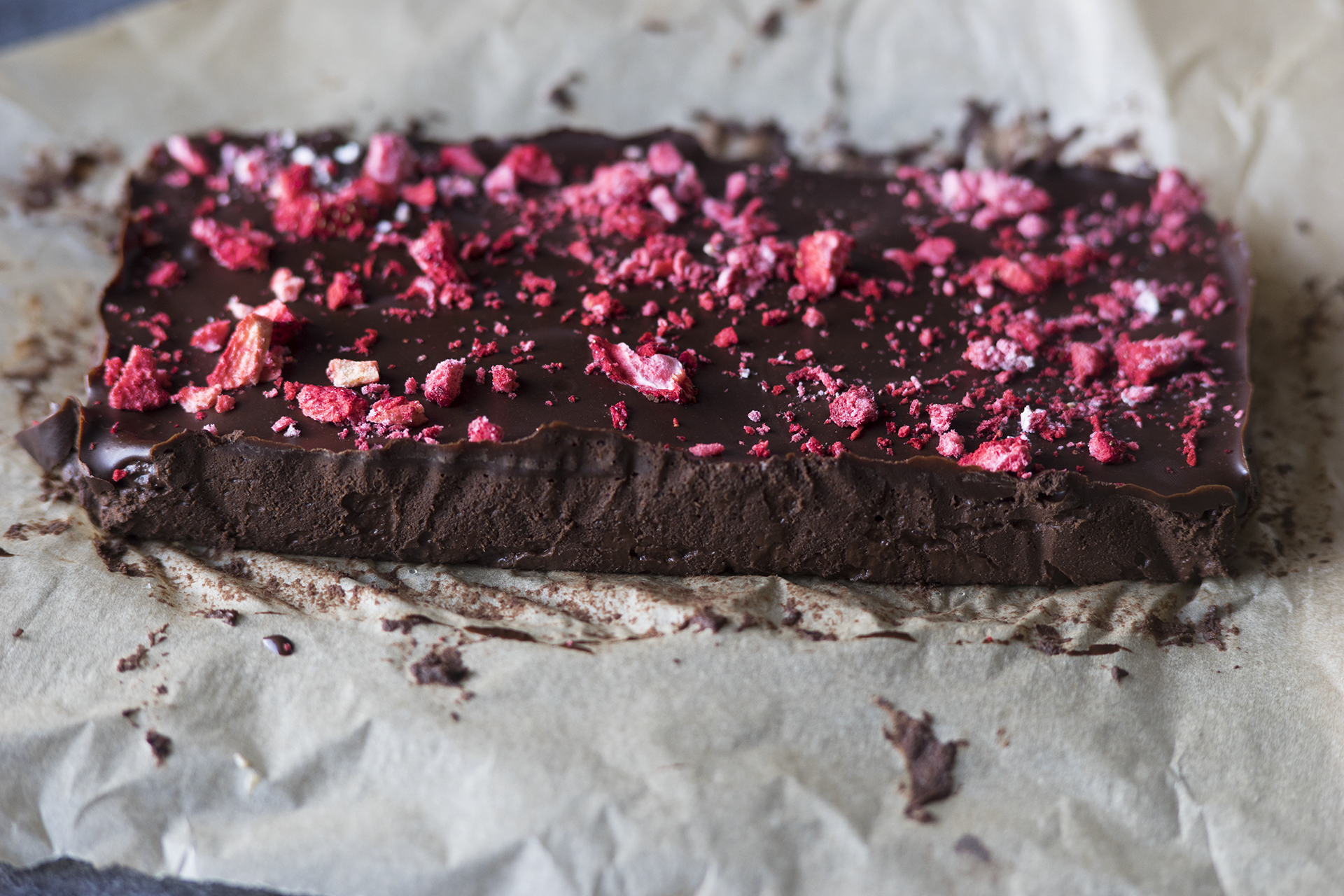 Although it may sound like a chore to make (i.e. be honest, Meg, how hard did you have to work to cover up the healthy, earthy-flavoured ingredients?), the irony is that the mousse actually gains a whopping amount of it's desired creaminess from the beans and dates.
The uniquely creamy "mousse" texture that is usually attained by whipping together an inordinate amount of heavy cream and butter has been successfully supplanted by beans and dates. How delightfully simple and strange, huh? :~)
I also added a few tbsps of melted coconut oil for good measure; this mousse may be far lower in fat than traditional mousse, but it is by no means a poster dessert for any anti-fat diet movement (give me real butter or don't, but, please, do not give me margarine!). Also, the tad bit of oil helps harden up the mousse ever so slightly in the fridge. Simply leaving out the oil or replacing it with nut butter or milk will likely result in a mousse that doesn't hold it's shape as a bar (in other words, go for it if you'd rather eat this mousse with a spoon than slice it up into squares!).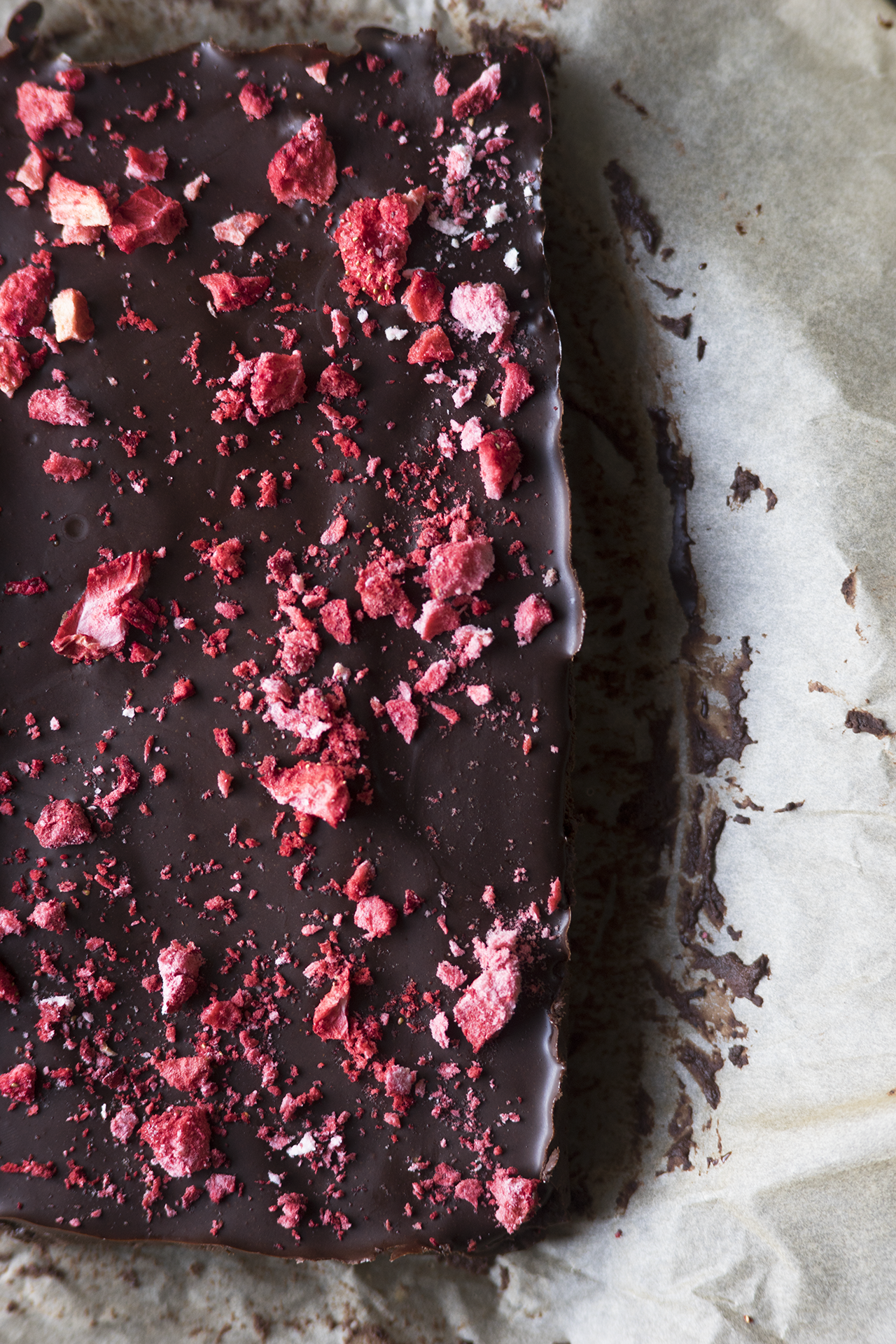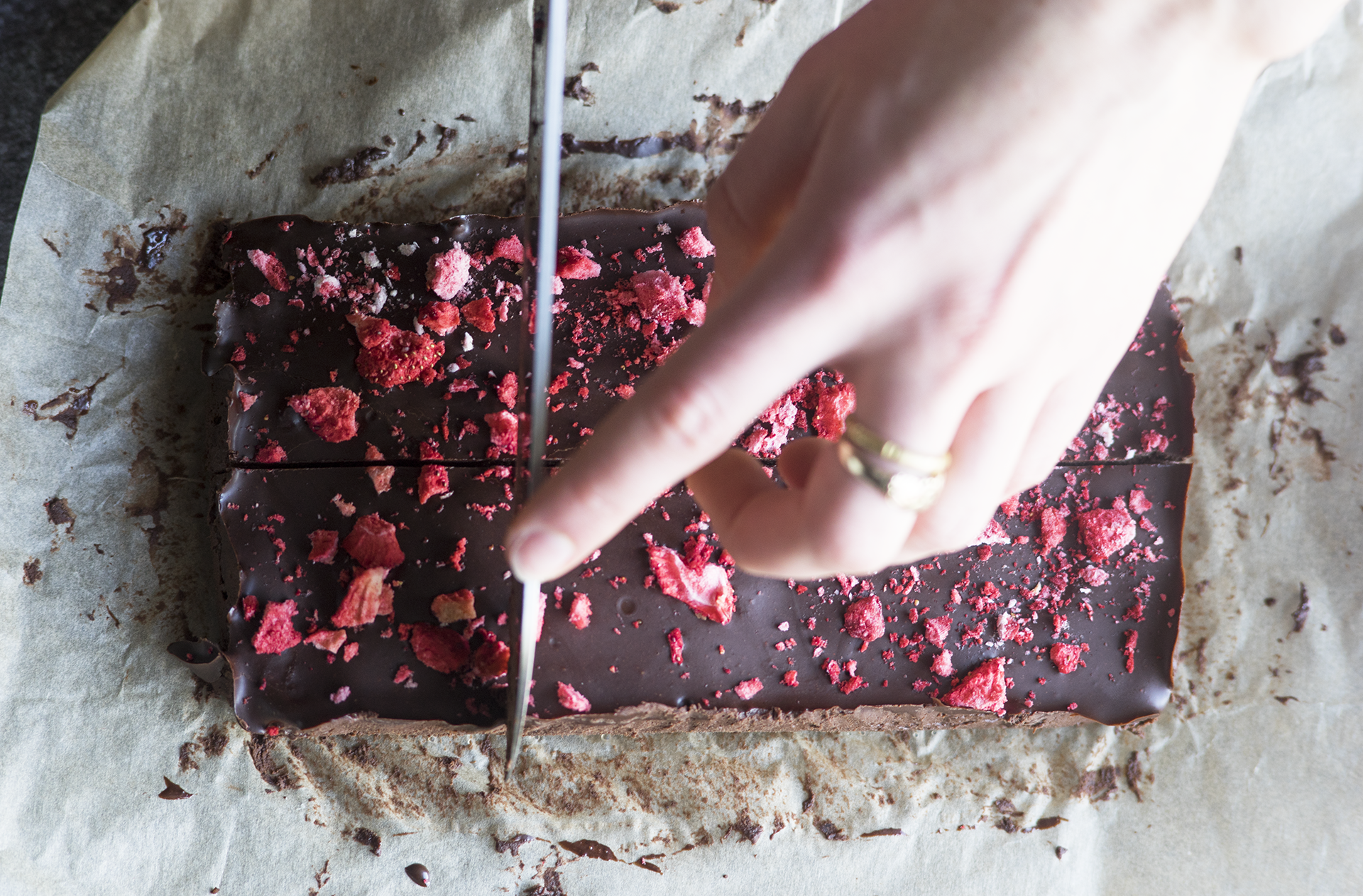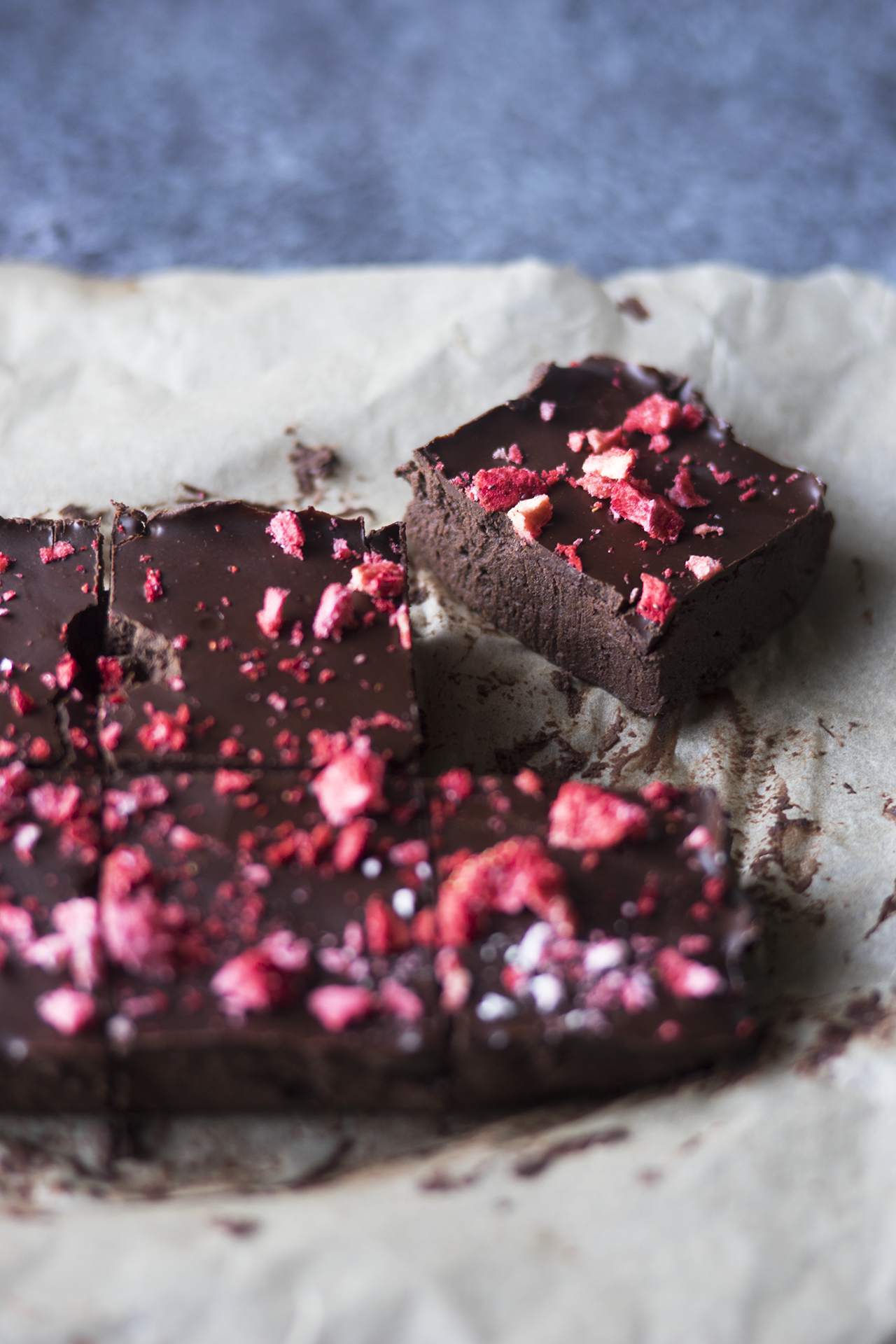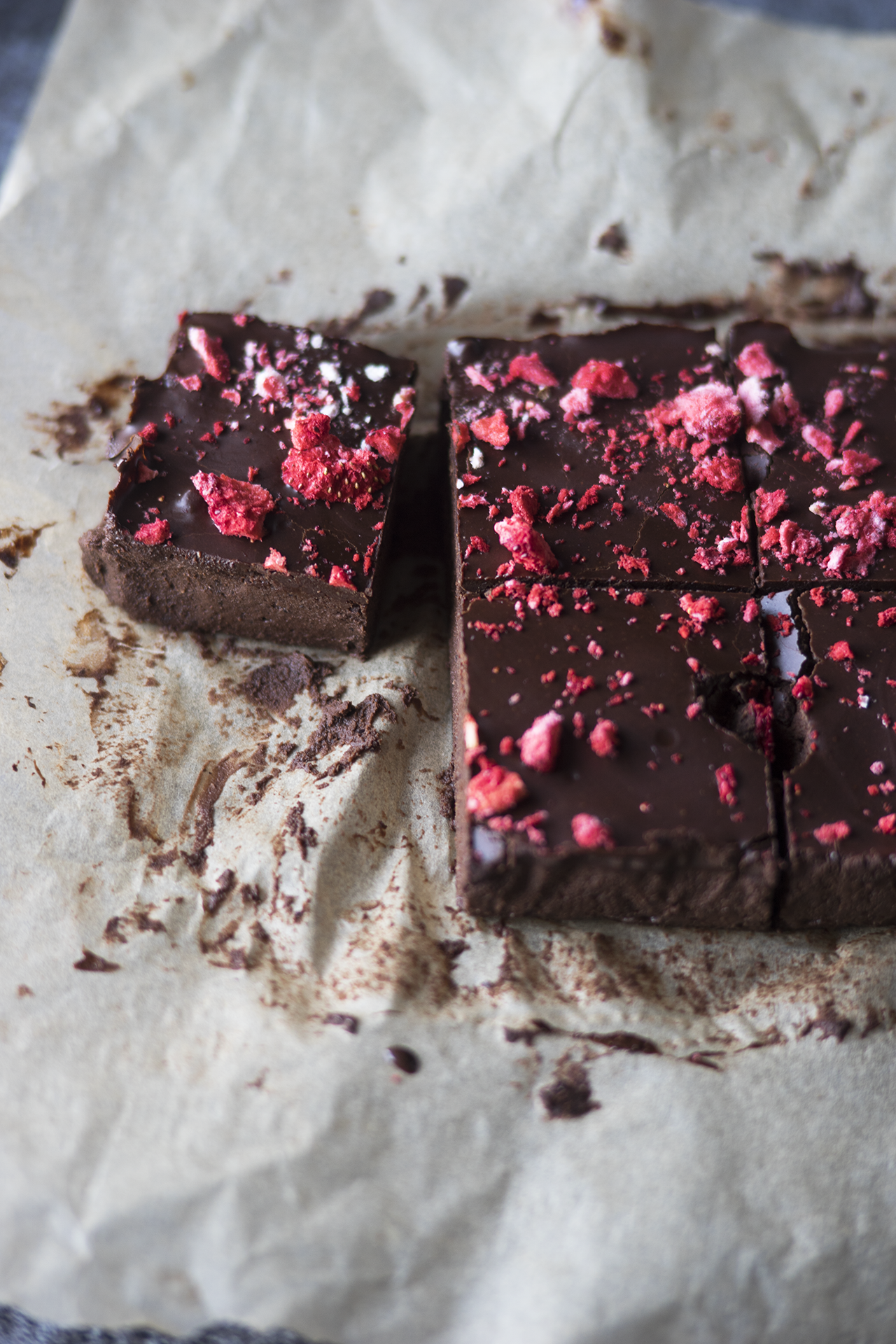 Ingredients~
Mousse:
1 (15 oz) can black beans, thoroughly rinsed
1 packed cup pitted dates, softened* (deglet noor or medjool will work!)
1/2 cup cacao or cocoa powder (I used an equal mix of both)
3 tbsps coconut oil, melted
2 tbsps date water* (or maple syrup if you'd prefer more sweetness)
1 tsp vanilla extract
Generous pinch or two salt (~1/8 tsp fine salt)
Dark chocolate layer: 
1/4 cup cacao or cocoa
2 heaping tbsps unsalted almond butter (or other nut butter of choice)
2 tbsps coconut oil, melted
1-2 tbsps maple syrup, or other liquid sweetener (add to taste)
1/4 tsp vanilla extract
Pinch salt
Instructions~
Notes~
*I find that store-bought deglet noor dates (and sometimes also medjool) are usually quite dry and tough to blend, so I recommend covering them with hot water for ~10-15 minutes, until noticeably more soft to the touch! Be sure to reserve the date water for blending.
*If your dates are already divinely soft and gooey, simply using water in place of the date water (this won't make any difference!).
*Made with a standard loaf pan (9×5 inch); if using an ~8×8 inch square pan (or larger) the batter will spread a little out more, so you may want to double the recipe if you're after especially thick bars.