Today I made gold nuggets. Gold in color, yes, but also gold in worth. Am I serious? Maybe a little, but I'm really just trying to convey how goddamn tasty these fritters are.
Deep fried to golden perfection (yes, I said golden perfection), these fritters have a savory, curry flavored center and a lightly crunchy outer layer. As if you need any more incentive to hop to it, here's an unbelievably simply breakdown of what you'll need:
A big bowl
Some chickpea flour
A few pinches of spices you likely already have on hand (cumin, chili, turmeric…)
Onion and spinach (optional, I ain't your mom)
Water
Oil
Enthusiasm for deep-friend, crispy curry things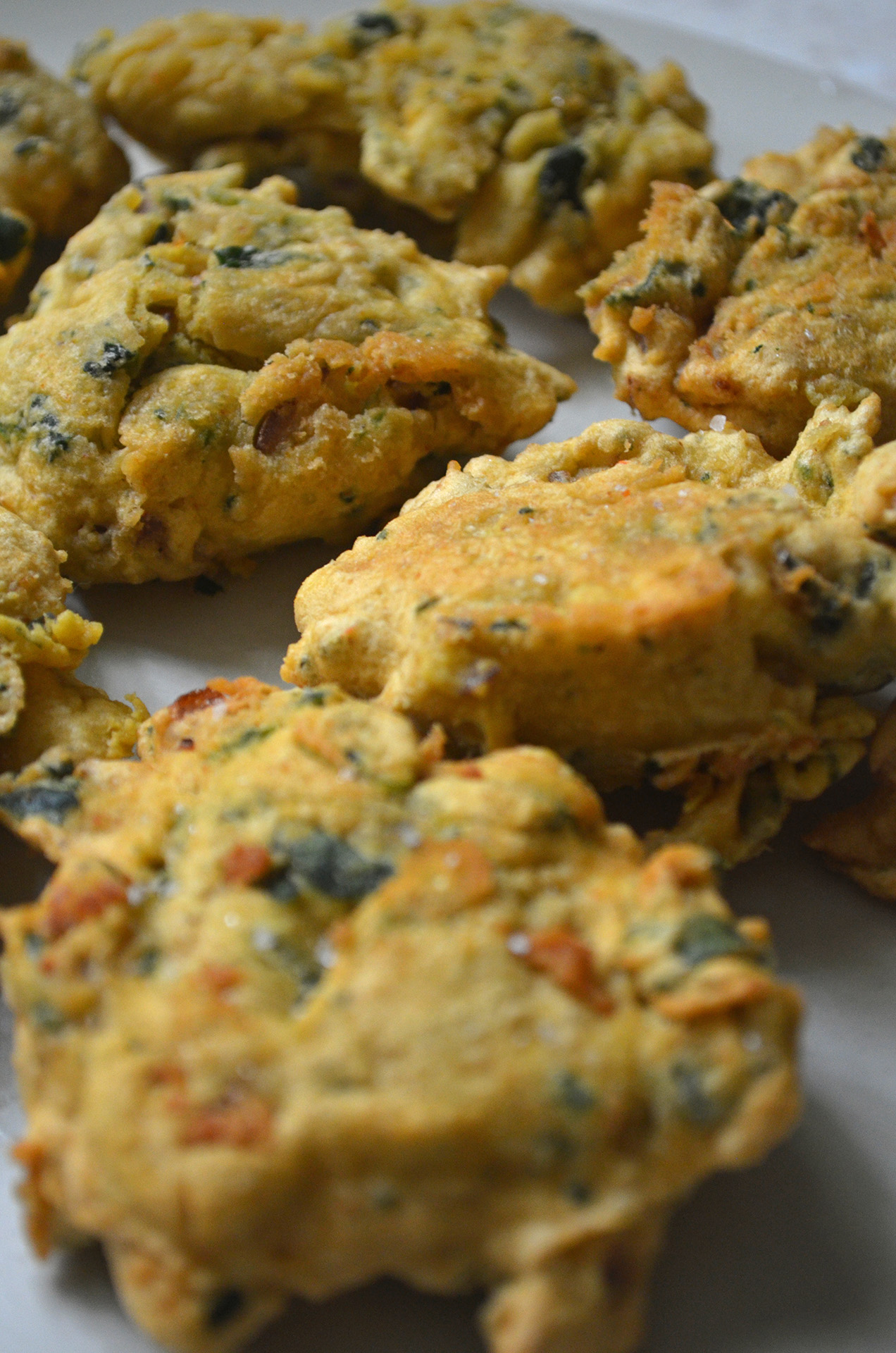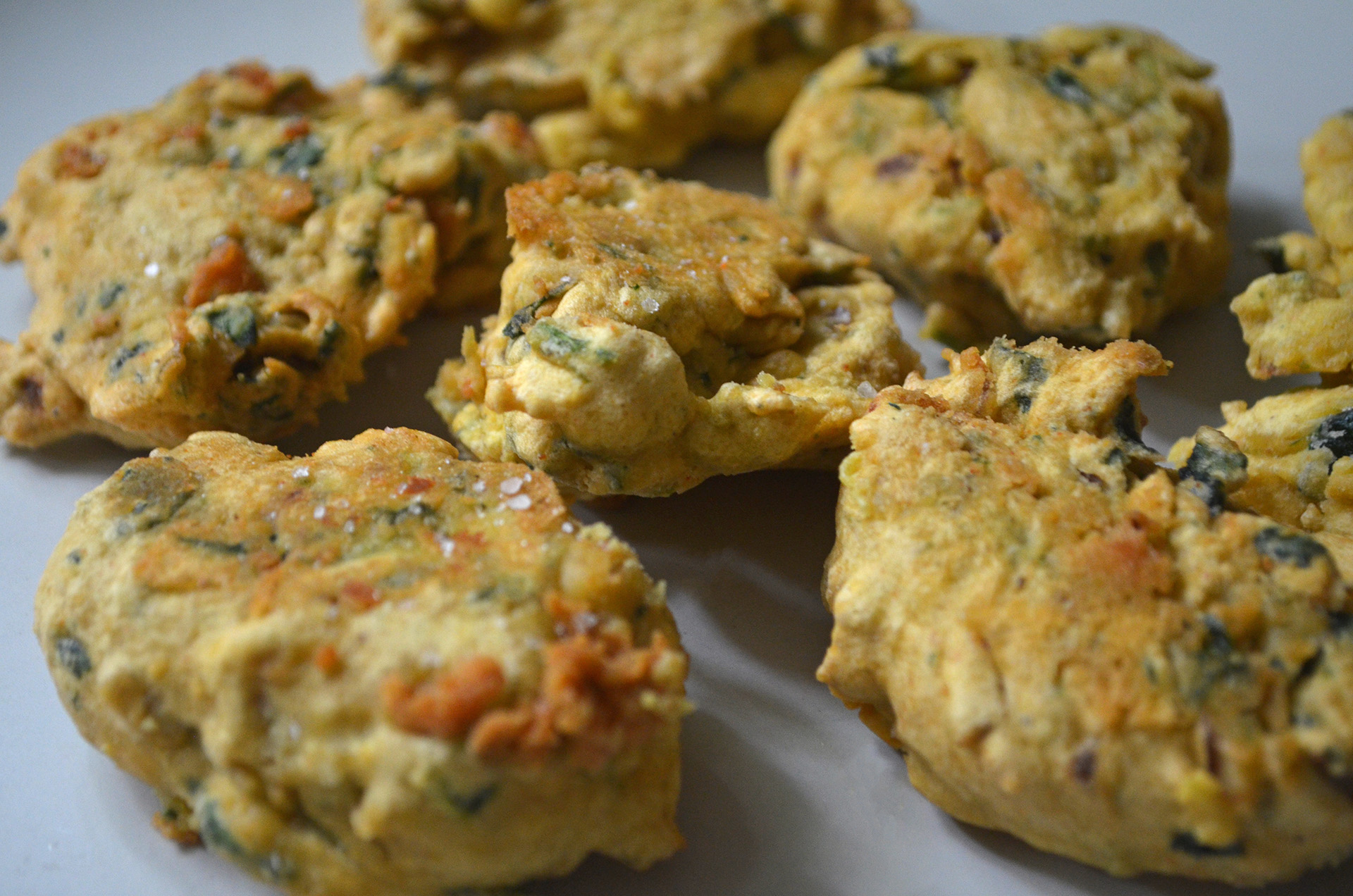 Did I mention these fritters are full of chickpeas and vegetables? Those things are apparently really good for you…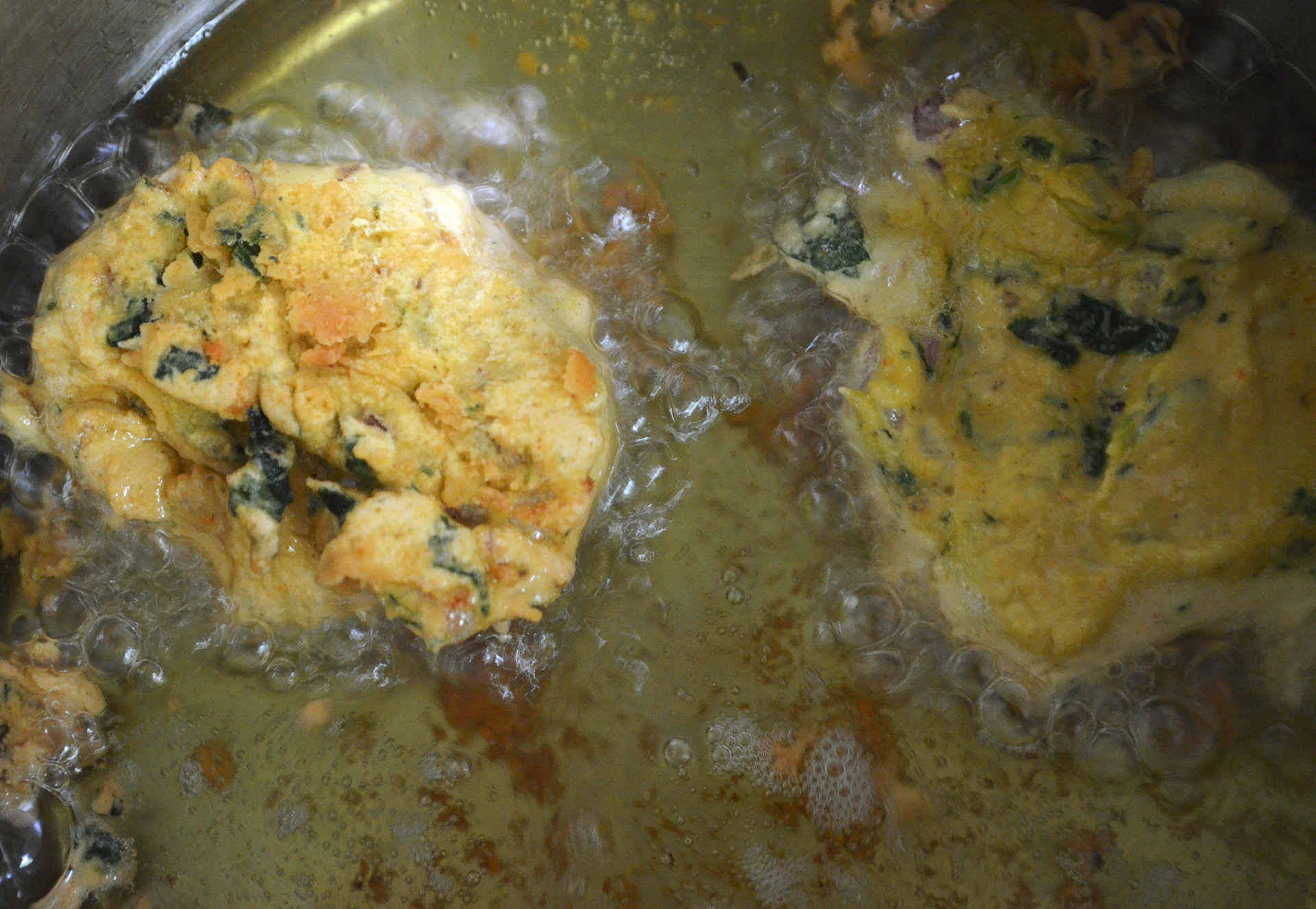 Ingredients~
1 1/3 cups chickpea flour
1 pellette frozen spinach, pureed
1/3 cup chopped red onion
1/2 tsp garlic powder
1/2 tsp curry powder
1/4 tsp cumin
1/4 tsp turmeric
1/4 tsp chili powder or paprika
1/4-1/2 tsp ground rock salt
1/3 cup water
Canola/sunflower oil for frying
Instructions~
1. Combine chickpea flour, spices, and salt in a large bowl. Add onion, spinach, and 1/3 cup of water. Stir until goopy batter forms. The consistency should be able to hold together on a spoon, not quite as solid as cookie dough, but not as pourable as pancake batter. Add more flour by the tbsp if it is too runny and more water by the tbsp if too dry. Note that the batter will definitely be too sticky to touch- that is how it should be!
2. Heat vegetable oil in a saucepan until very hot and beginning to bubble. Drop a bit of batter into the oil to test if it is hot enough; the batter should begin to sizzle immediately. Drop large spoonfuls of batter in, only adding 2-3 to the saucepan at a time to prevent over crowding. It should take no more than a minute for the first side of each fritter to cook and deepen in color. Flip each fritter and continue to cook in the oil for a minute or until it turns golden. Make sure to keep a watchful eye as they brown very easily.
3. Set the hot fritters on a sheet of paper towel to cool. Serve fresh with mint yogurt or mix through a curry!