These are called scones, but they really don't scream scone, do they? (Scones are those three-sided things that Starbucks likes to make as sweet as cake!) These are more of a scone-muffin hybrid that I can't quite put my finger on but am very, very on board with. I'm always looking for new ways to incorporate wholegrain flours into my sweet-pastry mixes without compromising on flavor or texture, and this recipe does it (Thanks, Kim Boyce!) The dough is part buckwheat and part all-purpose and the filling is the simplest thing around: jam. I used store-bought wild blueberry jam and added some gooey medjool dates, along with ground cinnamon and cloves, and a dash of lemon juice. If you don't feel like going beyond spooning jam out of a jar, by all means skip the extra ingredients and enjoy this buckwheat jam-swirl in all it's sweet and simple glory.
If you're not a Portland (Oregon) resident, or at least familiar with the spots to get the best pastries in Portland, you may not have heard of Bakeshop. I hadn't either, until I moved here last year and tried my first buckwheat scone, and then… (oh yes), I took a bite of an almond-custard filled (only lightly filled, this isn't a donut) croissant dusted with powdered sugar, blanched sliced almonds, and an exciting amount of buttery pastry flake and was transported to a crazy place. Kim Boyce is the pastry master behind the Portland bakery, and her cookbook features these "figgy buckwheat scones," as she calls them. I altered the recipe a decent amount, just doing my usual things like reducing the sugar a tad and, because I'm a simpleton, taking shortcuts with the jam (i.e. spooning it out of a jar and doing a little dance as I sprinkle some spices in it). Her homemade fig jam recipe features butter and wine, so if you're really looking to jazz these scones up, flip on over to her recipe for the real deal. If, however, you're anything like me, you will be undoubtedly pleased by the magic of jarred jam 🙂
One day I'd like to try and make a croissant as obscenely flaky and delicious as hers, but for right now I am, quite honestly, a little proud of myself for rolling up and slicing these scones without accidentally turning them inside out in the process. Ha. Baby steps, right?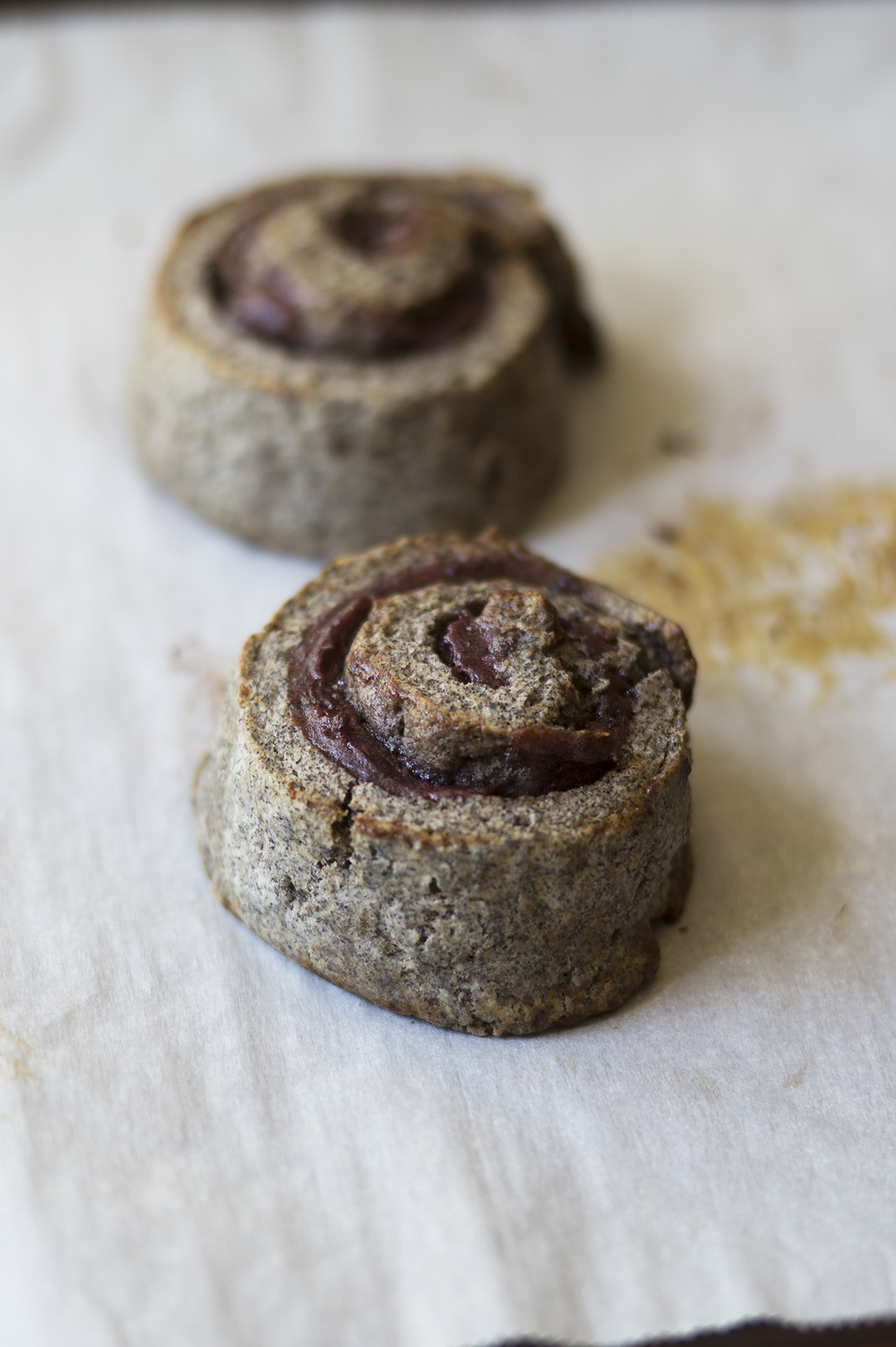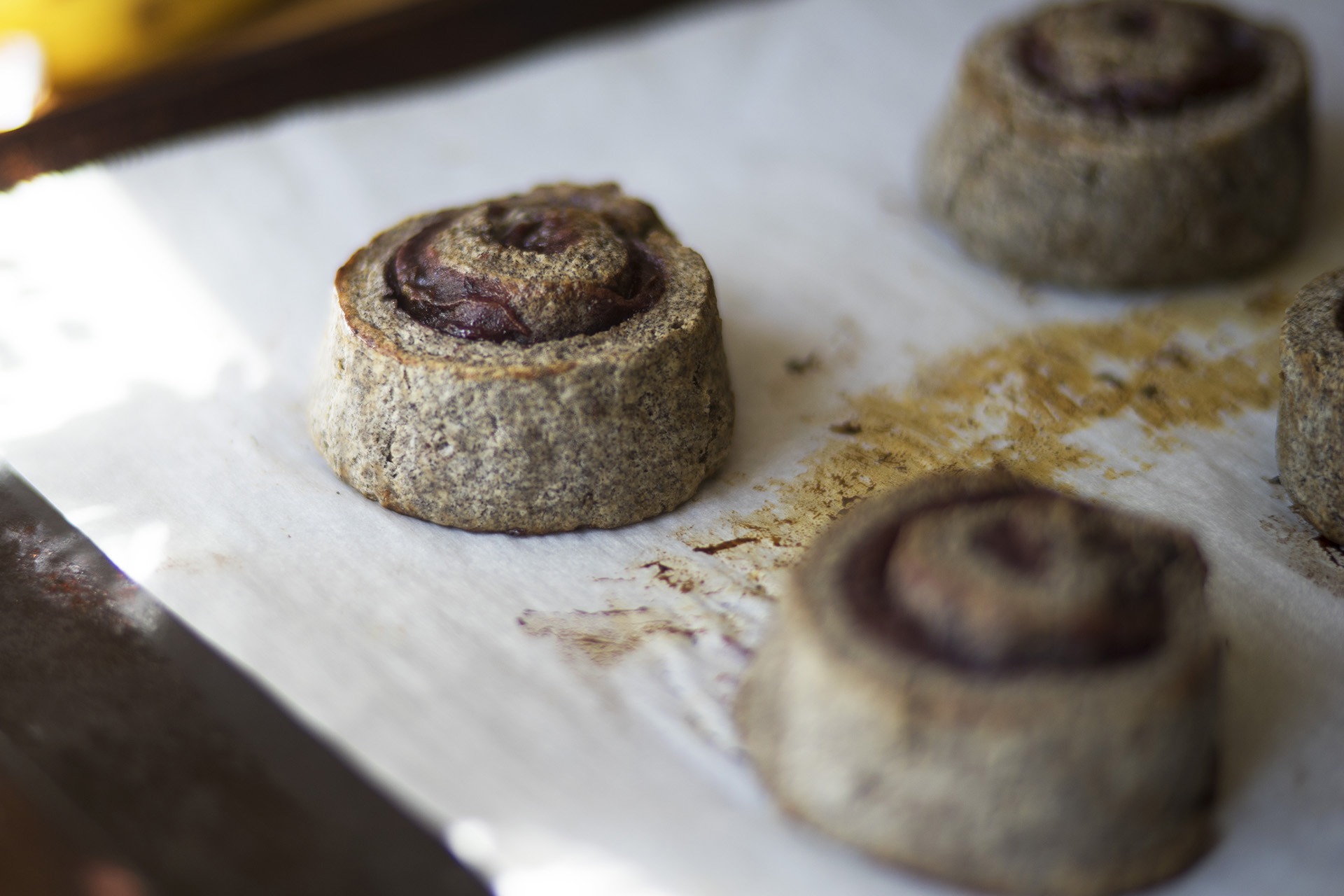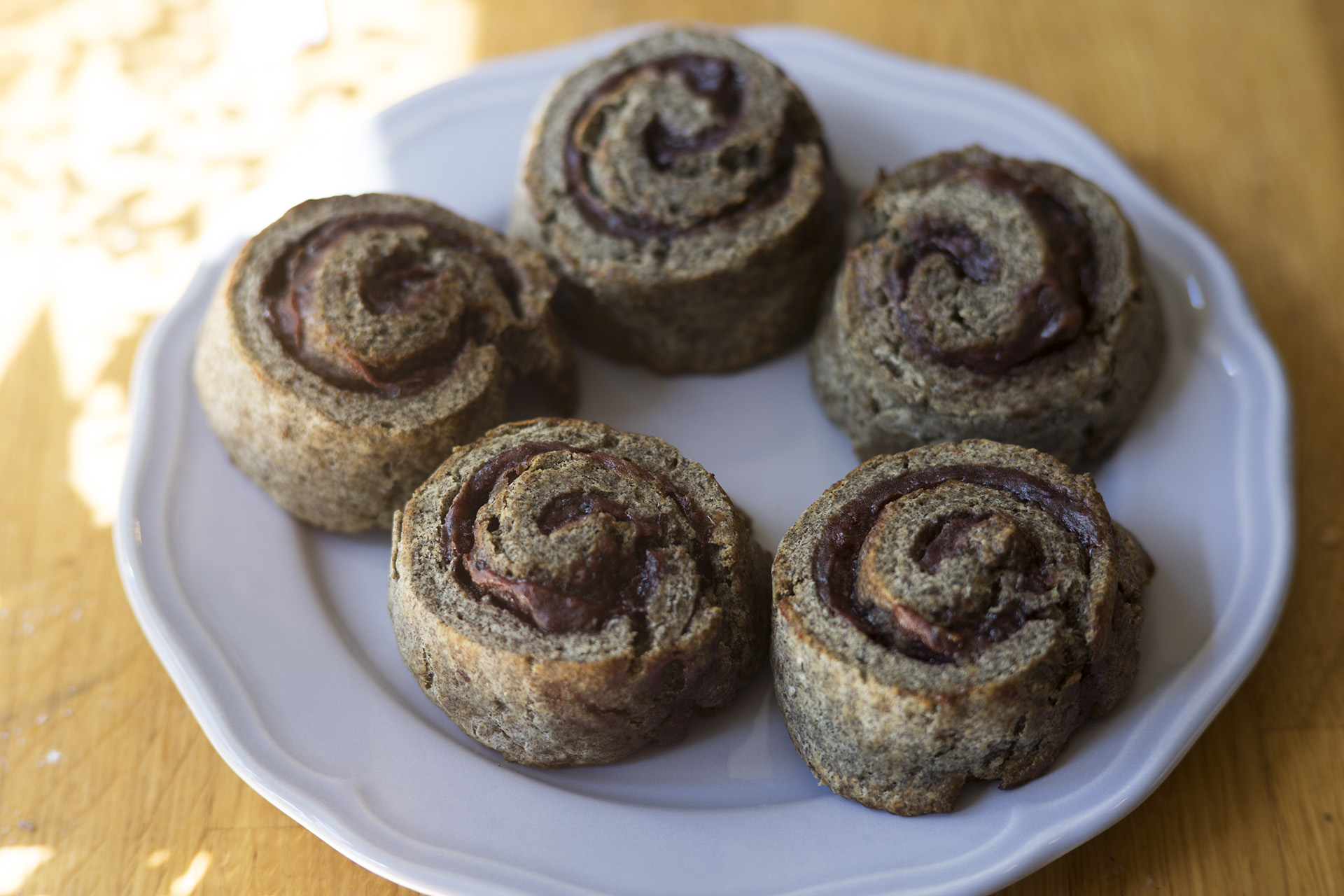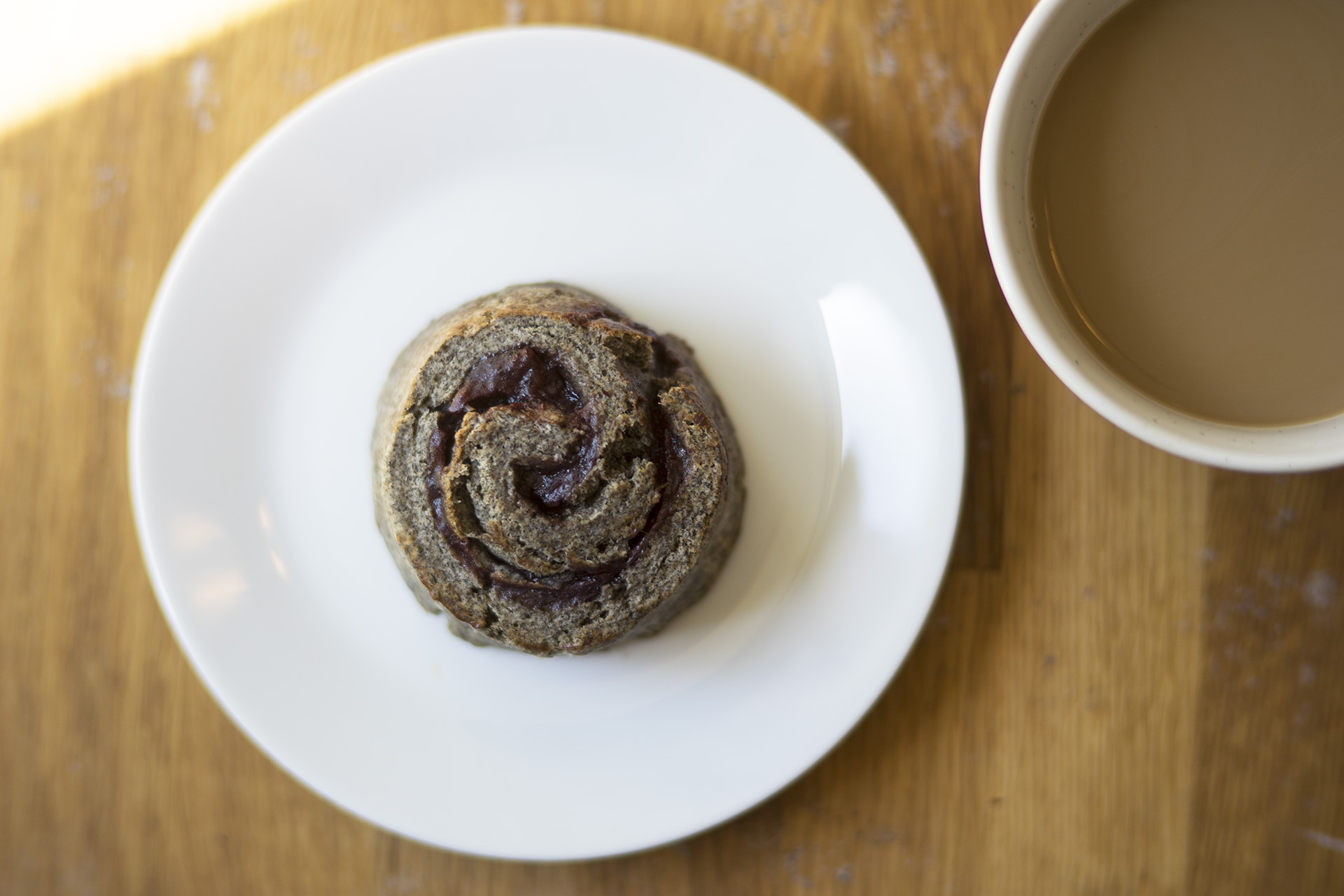 Ingredients~
Makes 12 scones
 
1 cup (135 g) wholegrain buckwheat flour
1 1/4 cups (160 g) all-purpose flour
1/3 cup (70 g) unrefined cane sugar (or regular granulated sugar)
1/2 cup (4 ounces) unsalted butter, cold and cubed
3/4 cup plus 1-2 tbsps milk (dairy or high-protein plant milk such as soy or pea)
1/2 tsp vanilla extract
2 teaspoons baking powder
Scant 1/2 teaspoon kosher salt
Filling:
1/2 heaping cup blueberry jam (or fig, cherry,…)
4 soft and gooey medjool dates
1/4 tsp cinnamon
1/8 tsp ground cloves
1 tsp fresh lemon juice
Instructions~
1. Begin by whisking together the two flours, sugar, baking powder, and salt in a large bowl. Dice the butter into roughly 1/4-inch cubes and toss the pieces in the flour mixture. Use your fingers to pinch the butter pieces flat and, using a fork or pastry cutter, continue to combine until the result is pea and dime-sized dough pieces. Stir in 3/4 cup of the cold milk until the dough mostly comes together; it will be slightly sticky to the touch. Dump it out onto a generously floured surface and use the palm of your hand to gently press the dough together, sparingly sprinkling 1-2 tbsps more milk as needed. Fold one half of the dough over onto the other half (like a book) and press down, cover with plastic wrap and set in the fridge for 30 minutes.
2. Make the filling by tearing up the dates and adding them to the food processor, along with the jam, spices, and lemon juice. Blend until there are no large chunks of date left. Add a few pinches of sugar to taste if you'd like a sweeter filling (I prefer it without the extra sugar).
3. Once the 30 minutes are up, set the dough on a generously floured surface and gently roll out into a roughly 16-inch long and 8-inch wide rectangle. Moving quickly, evenly spread the jam over the surface, leave about an inch of empty space between the filling and long edge on the far side (where the seal will be). Beginning with the long side closest to you, tightly roll up the dough, and gently pinch together the dough at the end to form a seal. Allow the log to rest seal-side down and gently cut it in half with a sharp knife. Cover with plastic wrap and set in the fridge for at least 30 minutes.
4. While the logs chill, preheat the oven to 350 F and line two baking sheets with parchment paper. Once the 30 minutes are up, place each log on a pan and cut into 6 pieces, each about 1 1/2-inches thick. Bake for 30 minutes until the bottoms are crisp and golden brown. Eat warm and store in a plastic/glass container to keep from drying out!
Note: recipe adapted from Kim Boyce's (@Portland's Bakeshop) insane buckwheat figgy scone recipe!