I'm in the process of moving errr, putting off preparing to move cities and then countries. My time in Melbourne is nearly up and soon I'll be off to Brisbane, but just for two weeks before saying see ya later to Australia and flying to Taiwan, where I'll be for nearly a week before excitedly boarding a plane to Tokyo! It's hard to not get stuck in the future when you have such highly-anticipated plans. Sometimes I have to remind myself you still have time in Australia to utilize and enjoy, let the idea of Tokyo rest for now! Given all the wonderful, wacky things I've heard about Tokyo, I'm a little fearful I'll grow attached to the city. Originally, Matt and I were going to visit for a month or less, as people typically do, but given that he has the freedom to work from pretty much wherever he wants, and I have a wide, gaping space of time before returning to more structured life, i.e. college, we decided to temporarily live in Tokyo for three months, hoping to explore it well beyond what a brief trip would allow (but definitely not enough to warrant never returning).
Of course, we're very, very lucky that the elements usually hindering people from traveling, namely finances, timing, and freedom, happen to work out in our favor this time around. If I had barely been earning a livable wage in Australia or had a young child or needed to save my money to pay off a debt, I would not be able to pick up and travel to Tokyo for so long, let alone have come to Australia in the first place. With this said, I am also not in possession of a trust fund or cushioned by tens of thousands of dollars in savings. Instead, I actively avoided spending any unnecessary money over the last 6 months. Living frugally meant I had a grocery budget, and if I overspent one week I would deduct the extra money spent from the following week's budget. Yep, it meant I had to be strict with myself when no one else was going to be. I also rarely ever ate out. Eating at restaurants is an obvious no-no, but I also had to strip myself of the freedom to buy menially costing things, i.e. coffees, bags of chips, alcohol, packaged treats, etc., as they really, truly, do add up. I bought clothes when I needed clothes (aka when my only pair of long pants that aren't made of leather were stolen from the laundry balcony) and I scanned the shelves at grocery stores for very uncool lengths of time to deduce which brands were cheaper and which were cheaper but also sound in the health and ethics department (100% recycled paper toilet paper is cheaper than the soft white stuff AND it's not new paper that has to be sent to a landfill or ocean).
Another fact worth mentioning is that I'm traveling with a partner, so I'll be splitting the cost of a small apartment (aka 1 small room, tiny kitchen, and bathroom) with him. We just so happened to stumble upon a traditional (aka cheaper) style apartment in a nice neighborhood in West Tokyo; it's a 15-20 minute subway ride into central parts of the city, which isn't too far away to be a hassle but isn't too close to empty our pockets, and because we are staying for three months we received a sizable discount. Home owners on Airbnb have the option of offering a discount for one or several month stays, and while some don't make use of it for obvious reasons ($$), we were able to shave over a thousand dollars off our rent budget by finding a listing that allocated a 30% monthly discount for long-term stays. With a more decent weekly rent in mind, it was easier to get the ball rolling on the idea of actually traveling to Tokyo. Transportation, food, and air fare are all necessities you can't get around, but you can crunch the numbers and make it possible, while still comfortable, on a budget. Also, remaining in Tokyo for so long rather than traveling all around the country means we don't have to spend massive amounts of money on the high speed rail ($150 dollars one way from Tokyo to Osaka) or domestic flights, and it also means we have the option to cook in our own kitchen rather than spend hundreds of dollars a week on food.
Soon I'll be writing and posting pictures from a kitchen the size of my current shower, stuffing my face with taro-filled mochi, and trying to convey in words how impossibly delicious fresh, Japanese handcrafted mochi is. Until then, I've got some pretzels to tide us over.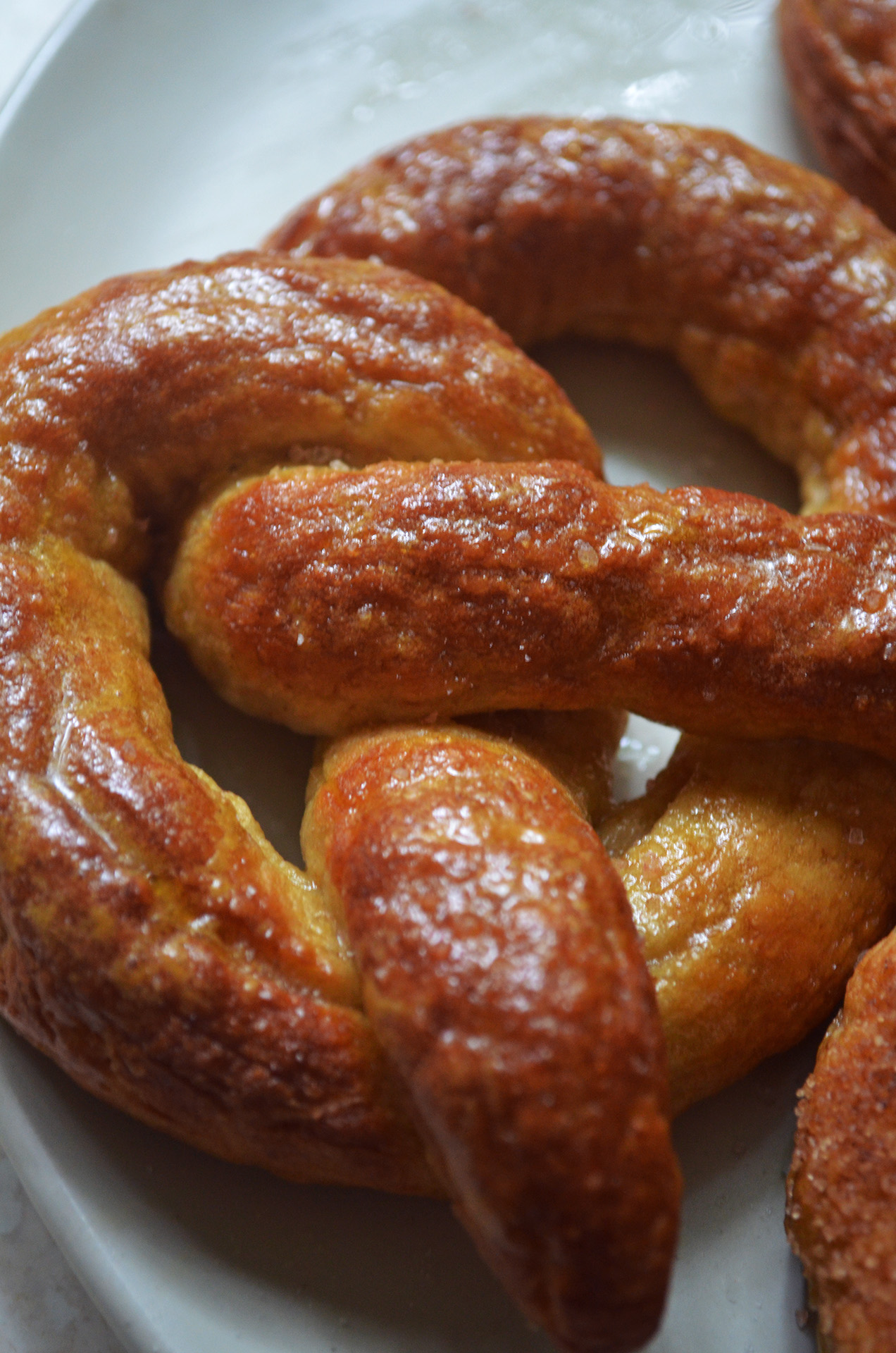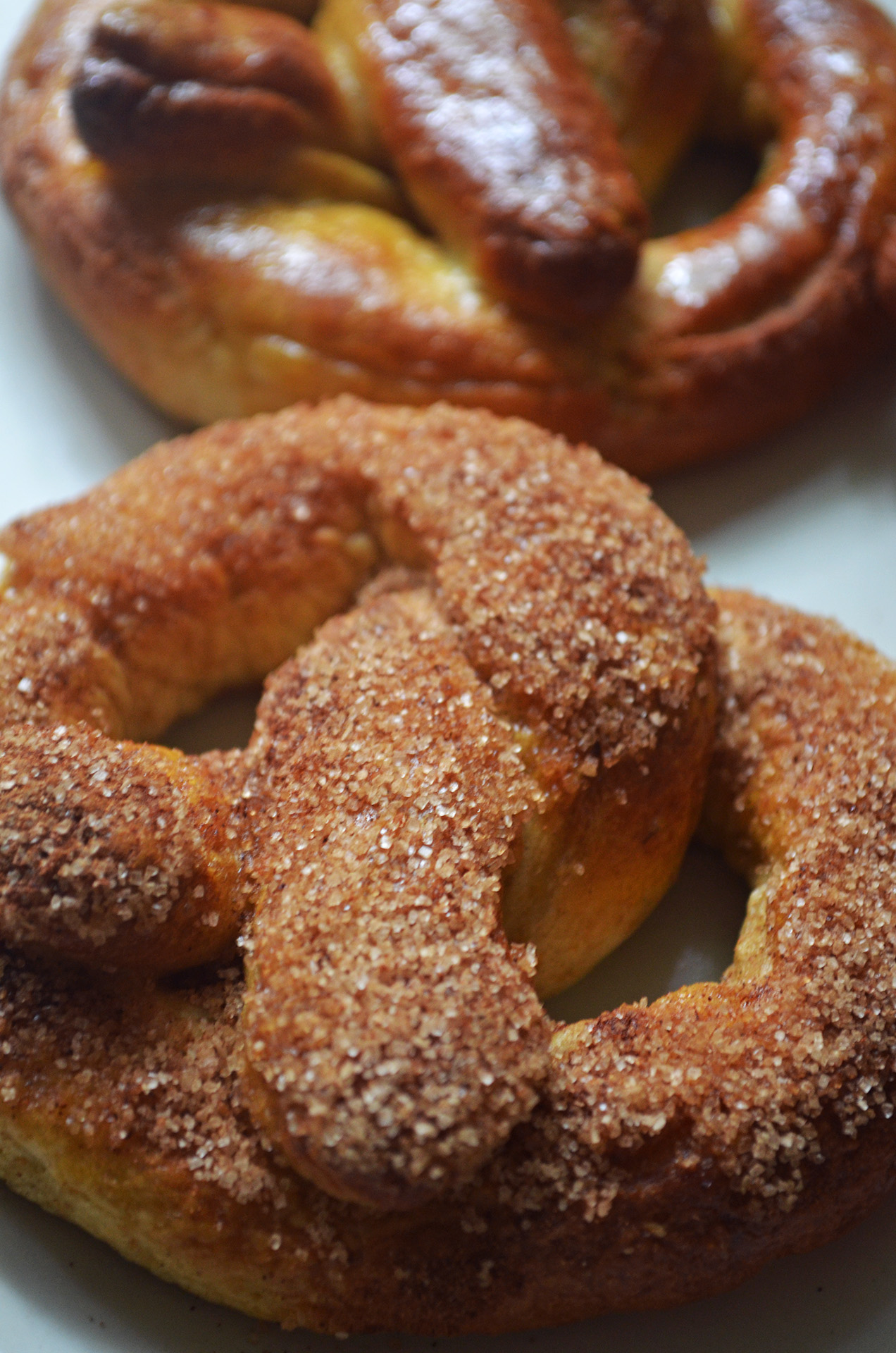 One pretzel, two pretzel, three pretzel, four. And no more than that, folks! I only made four pretzels this time around because I have a croissant recipe in the works and one can only consume so much butter and white flour before their body catches up (which you may not mind at all, but I do). The classic buttery and salty pretzels left me in awe of my own baking abilities (or rather, butter-lathering and salting abilities) and the cinnamon sugar one confirmed my suspicion that sugary toppings only make you want more sugary toppings (luckily I only made one of these).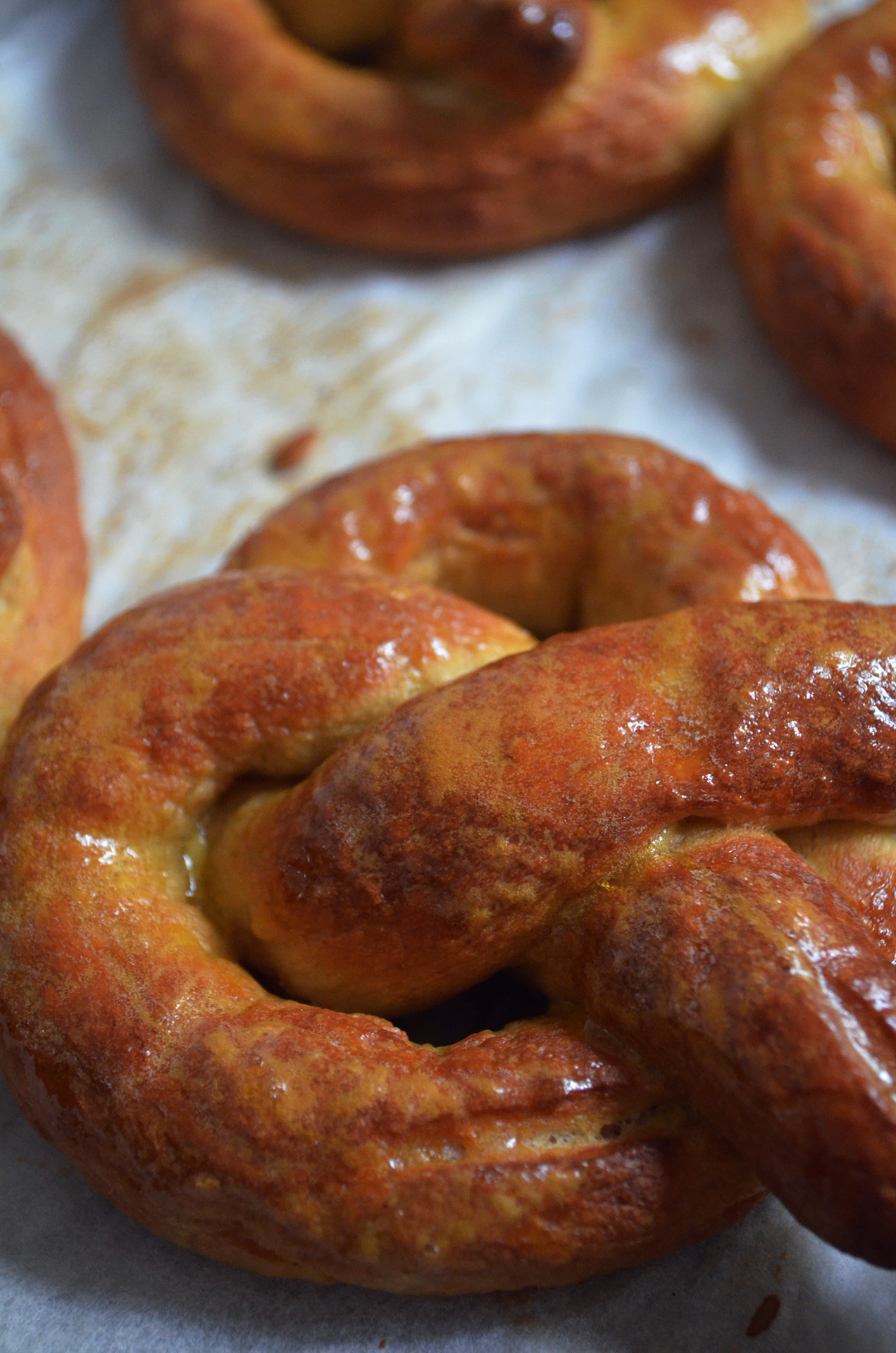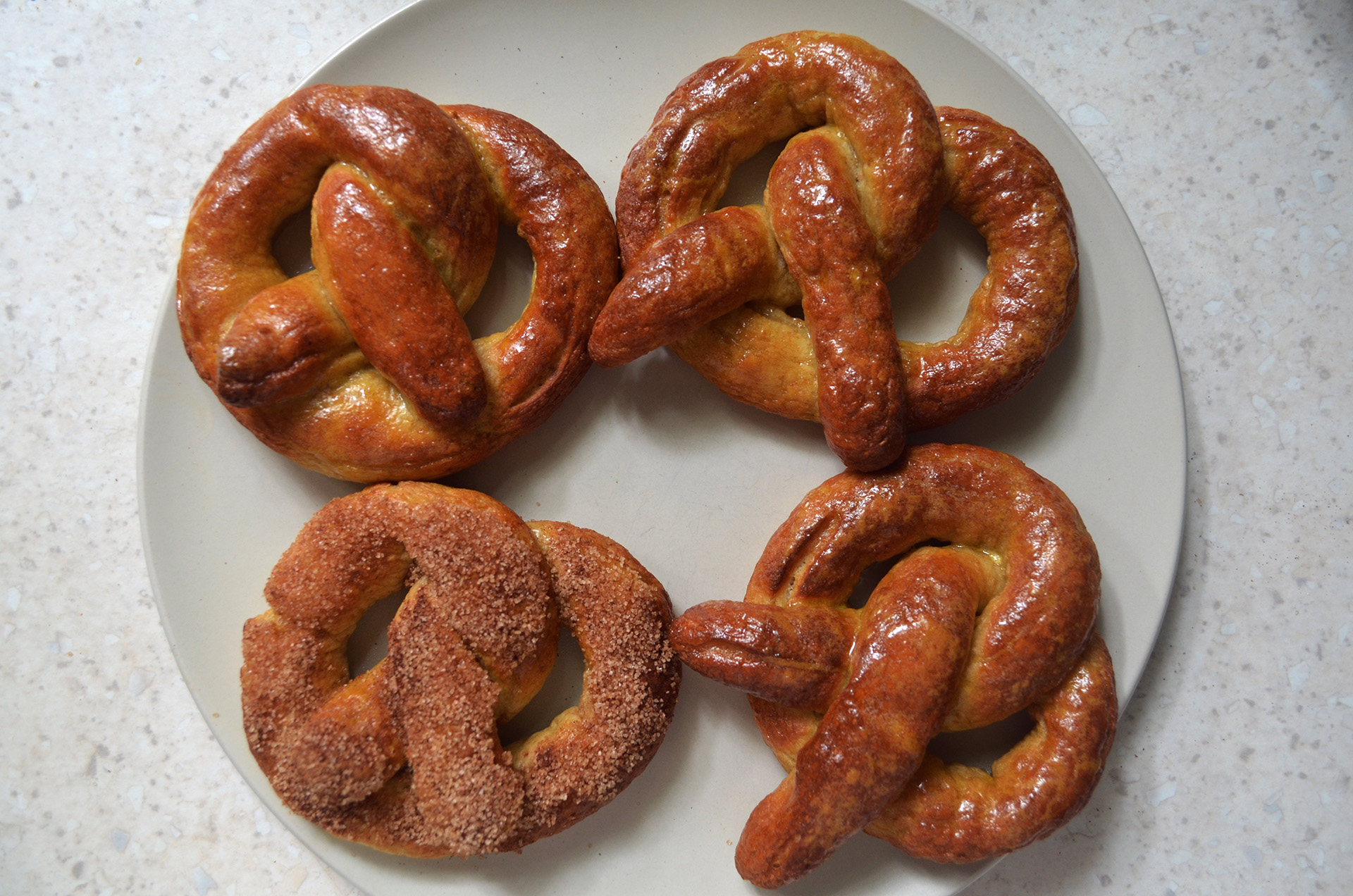 Ingredients~
Yields 4-5 pretzels
3/4 cup whole wheat flour
3/4 cup all-purpose flour
1 tsp instant dry yeast
1/2 cup & 1 tbsp slightly warm water
1 tsp rice malt syrup
1 tsp granulated sugar
3/4 tsp table salt
1 tbsp melted butter
Scant 1/4 cup baking soda (for boiling)
5 cups water (for boiling)
For topping:
1 egg yolk
About 1 inch-by-inch cube of solid butter
Ground rock/sea salt
1/2 tsp cinnamon combined with 1 tbsp granulated sugar
Instructions~