In an effort to satisfy my sugary-sweet cake craving I baked banana bread in a cake tin. It did the trick; my longing for unnatural sweetness? Satisfied. Bananas are seriously magical; sometimes I can't believe how sweet they are, and have to remind myself all over again that they are a fruit and do in fact contain a plentiful amount of vitamins and nutrients. They are nature's candy and I couldn't be more happy about their prevalence and affordability (scoot over, $3 dollar hit-or-miss imported mango).
Now, what to do with all of this naturally occurring sweetness? Eat it in it's whole form, sure (with a generous drizzle of almond/peanut butter, please). Freeze it and blend it into a thick-as-ice-cream smoothie? Yes, most definitely. Turn it into a healthy bread-cake? Ah, my interest is piqued….
Sweetness is so desired (and addictive) that it's no surprise people's body fat percentages are going up and, tacked on to all that weight, are a host of health problems and diseases. Isn't it wild to think that some of those issues, *some*, may be diet and lifestyle related? I'm blown away by that idea every time I mull over it, even if just for a minute a day. I like to think that I have my hands in a pocket packed with choices, and I ultimately get to decide how to distribute those choices in my life; will they benefit me in the short and long run, or will they only be churned out to satisfy my moment-to-moment cravings? To be honest, sometimes it's the latter, and I try to laugh a little when I think about how I used to be overcome with shame to admit that. Thick ice-cream sandwiches are still a rare friend, but they are now genuinely welcomed when they do make an appearance; my smile gets big and toothy and my belly, excited. And on most days, when I know better than to give into the voice that could eat slice after slice of fudgy cake or a pint of heavily-creamed ice-cream in one sitting, I make strawberry banana bread (try it!).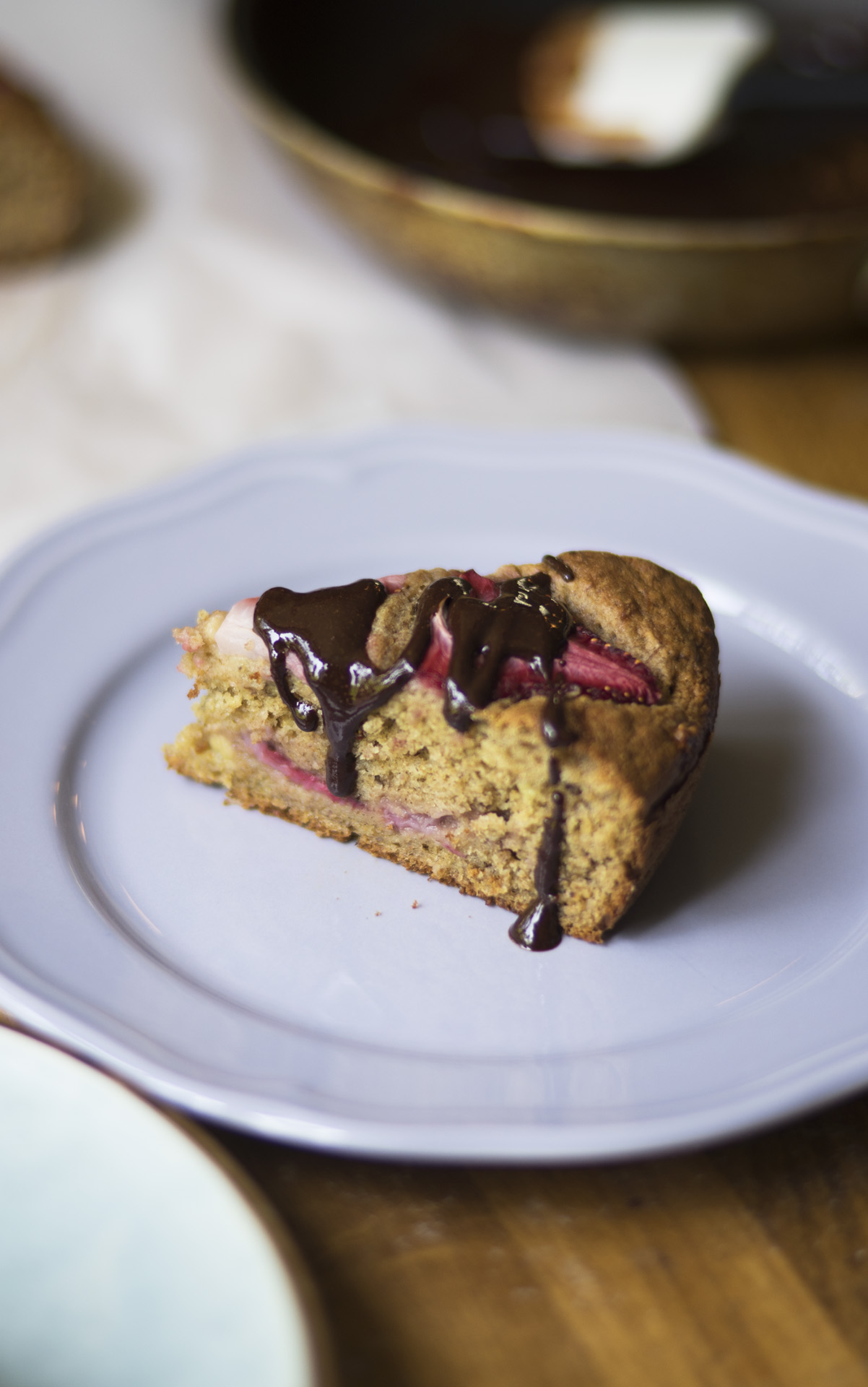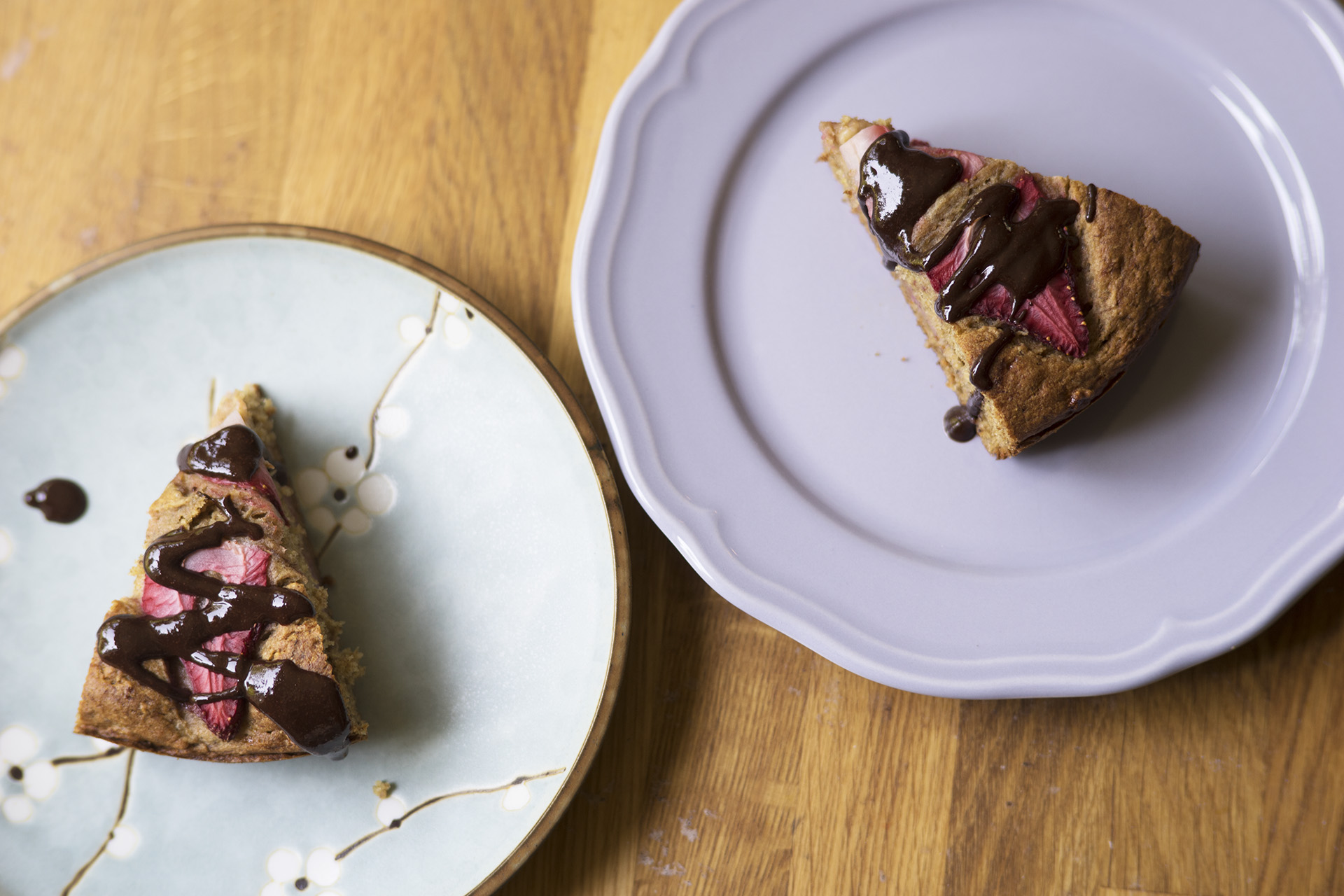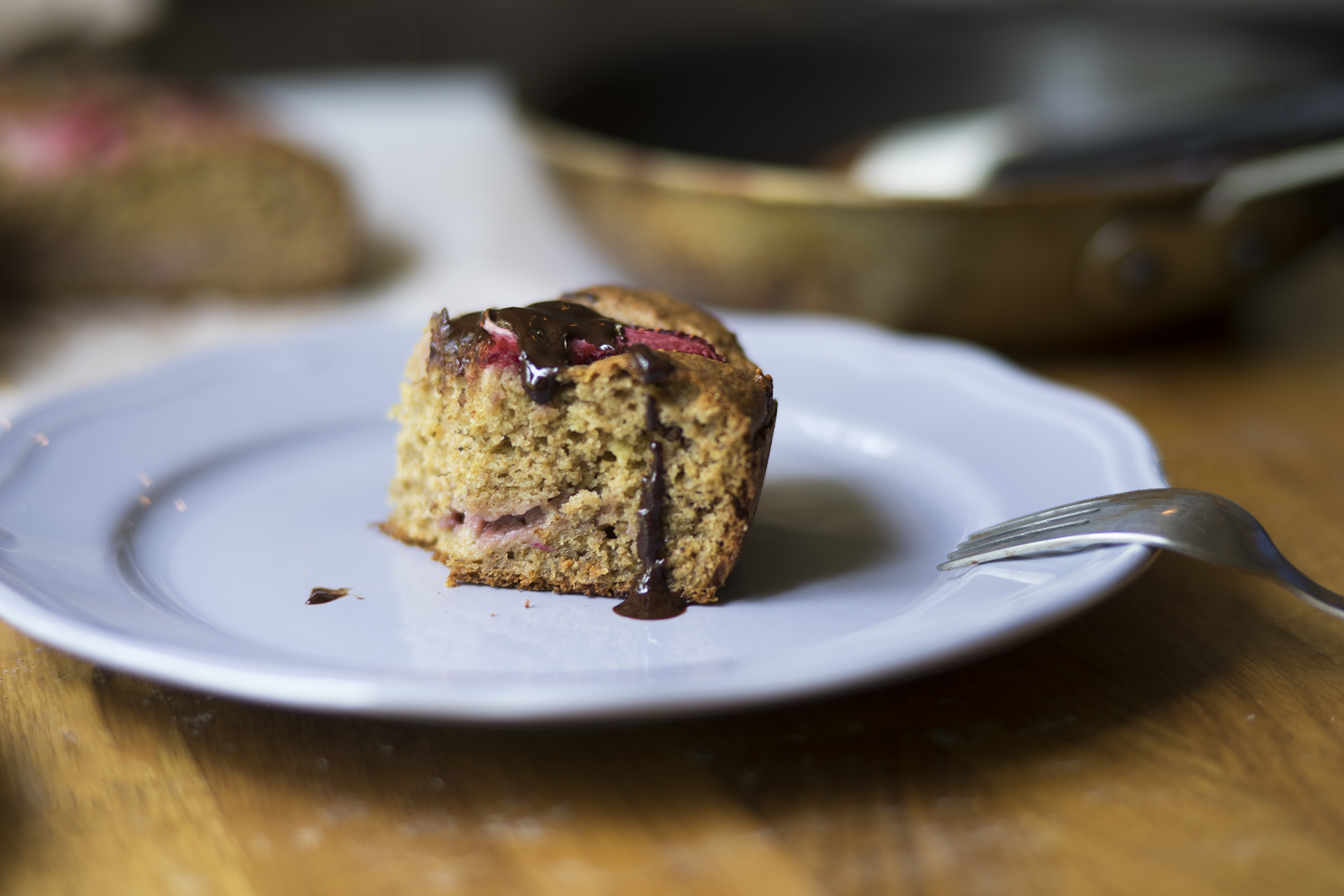 Ingredients~
Fills one 9-inch cake tin (alternatively, turn it into a loaf cake)

1 1/2 cups wholegrain spelt flour (or white spelt flour)
1 heaping cup mashed banana (~3 ripe and spotty bananas )
4 tbsps maple syrup
4 tbsps melted unsalted butter (or ghee)
1 egg, at room temperature and lightly beaten
3 tbsps milk of choice
1 tsp vanilla extract
3/4 tsp baking soda
3/4 tsp baking powder
1/4 tsp kosher salt
1 heaping cup sliced strawberries
Chocolate sauce:
3 tbsps cocoa butter (or coconut oil)
3 tbsps cacao powder
1-2 tbsps maple syrup or other liquid sweetener of choice (add based on desired sweetness)
Splash of heavy cream or milk (~1 tbsp)
Instructions~
1. Preheat oven to 350 F/175 C.
2. In a large bowl, mash the bananas with a fork until creamy, and add the maple syrup, melted butter, milk, vanilla extract, and egg, whisking until just combined.
3. In a separate bowl, combine the flour, baking soda and powder, and salt. Add the dry ingredients to the wet and stir until just combined (don't over-stir! doing so can overwork the spelt and result in a tougher crumb!)
4. Lightly grease an 8-9 inch cake tin with oil and spoon about half of the batter into the pan. Add a layer of strawberries (about half) to the top of the batter before spooning the remainder of the batter on top and topping with the final strawberries slices. Bake in the oven for 50-60 minutes (I recommend checking on it at 50 minutes), until an inserted toothpick/chopstick comes out clean!
5. As the banana bread bakes, make the (optional, but decadently delicious) chocolate sauce by melting the cocoa butter in a nonstick pan over low-medium heat. Once melted, pour it into a bowl and whisk in the cacao and maple syrup. Add a splash of heavy cream or milk for a more ganache-like sauce and allow to cool slightly (until no longer scalding hot!) while the banana bread finishes baking up.
6. Finally, drizzle the chocolate over the cooled (ahem, *slightly* cooled if you're at all like me) bread, slice, and enjoy! Note that the sauce hardens into a lovely crunchy chocolate once refrigerated, if that at all tickles your fancy.