It's a beautifully sunny day and I feel so naturally high… to the point that, since I live in Portland (where marijuana is as legal as alcohol), I'm beginning to wonder if someone put something in my blondies. Portland is a notoriously grey, rainy city, so waking up to a blanket of bright blue sky feels a little surreal. Just to extinguish any lingering idea that these blondies contain mary jane- no, they (sadly) do not. They do, however, contain a bunch of wonderful ingredients that are perfectly legal in all parts of the world. It's crucial that no one is left out from butterscotch blondie making! Heck, you can even replace the coconut sugar with light brown sugar if you feel so inclined (aka if you don't have coconut sugar on hand or, understandably, don't like it's usually fatter price tag). I bought my coconut sugar in bulk on Amazon, so it worked out to be much, much cheaper than buying a measly bag at an expensive (though equally incredibly) grocery store like Whole Foods or New Seasons. I am a college student on a pretty tight budget, so buying in bulk is the only way I am able to satisfy my taste for less common, $$$ draining, baking ingredients.
I'm always left in awe by the huge array of healthy flours and sweeteners lining the shelves. It's incredible (and a little overwhelming) to have so many choices. The only downside to that excitement is the extra digit that usually accompanies said novel ingredients. A 2 pound (32 oz) bag of light brown sugar costs $8.49 USD on Amazon, while the same sized bag of coconut sugar costs 10.44, and that was the absolute cheapest deal for coconut sugar; most bags cost around $10 for 1 pound (16 0z)! The countless hours I've spent perusing Amazon, comparing and contrasting brands, has led me to notice the under-appreciated existence of buying in bulk!! I can't make allowances for $10 itty bitty bags of coconut sugar, but I am willing to spend $19.99 USD on a 5 pound bag of organic coconut sugar that will last me at least half a year! Of course, not everyone wants to bother with coconut sugar. I get it. I'm probably droning on about it and it's not even that different from brown sugar. And, since I'm already on a role debasing it, compared to regular granulated sugar, it's 'health' benefits honestly aren't something to tout home about. Don't buy into that nonsensical stuff about it being a superfood. Coconut sugar is not going to do super things for your body! Nonetheless, I think it can do some temporarily awesome things for you soul. I'm not even a particularly spiritual person, whatever that really means, yet I recognize (or rather, taste) the ethereal quality in home-baked goods. I grew up eating Christ's body on Sundays, but now I much prefer blondies in all their buttery, sugary glory (in saying that, I don't see why you couldn't have both!) Amen to that??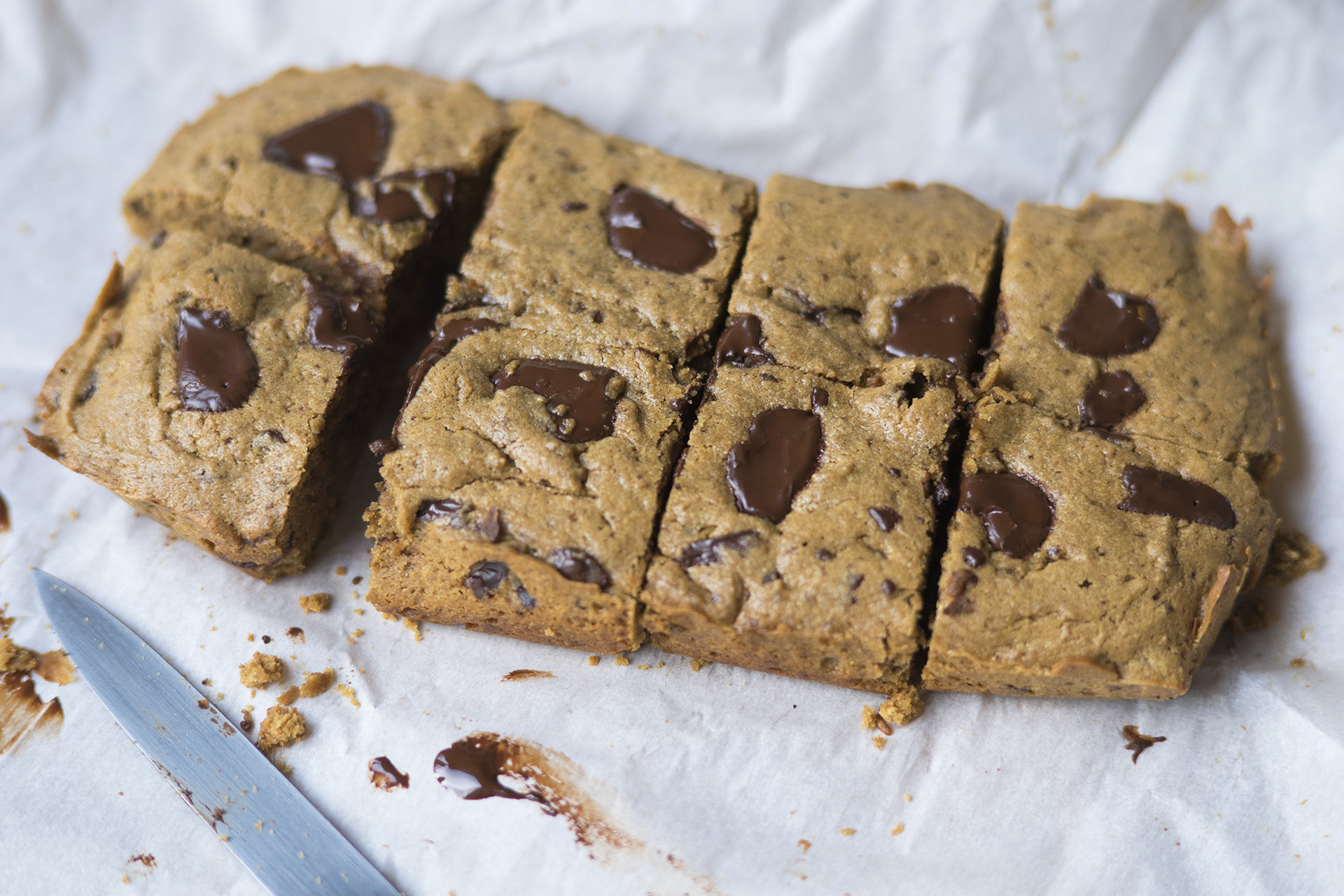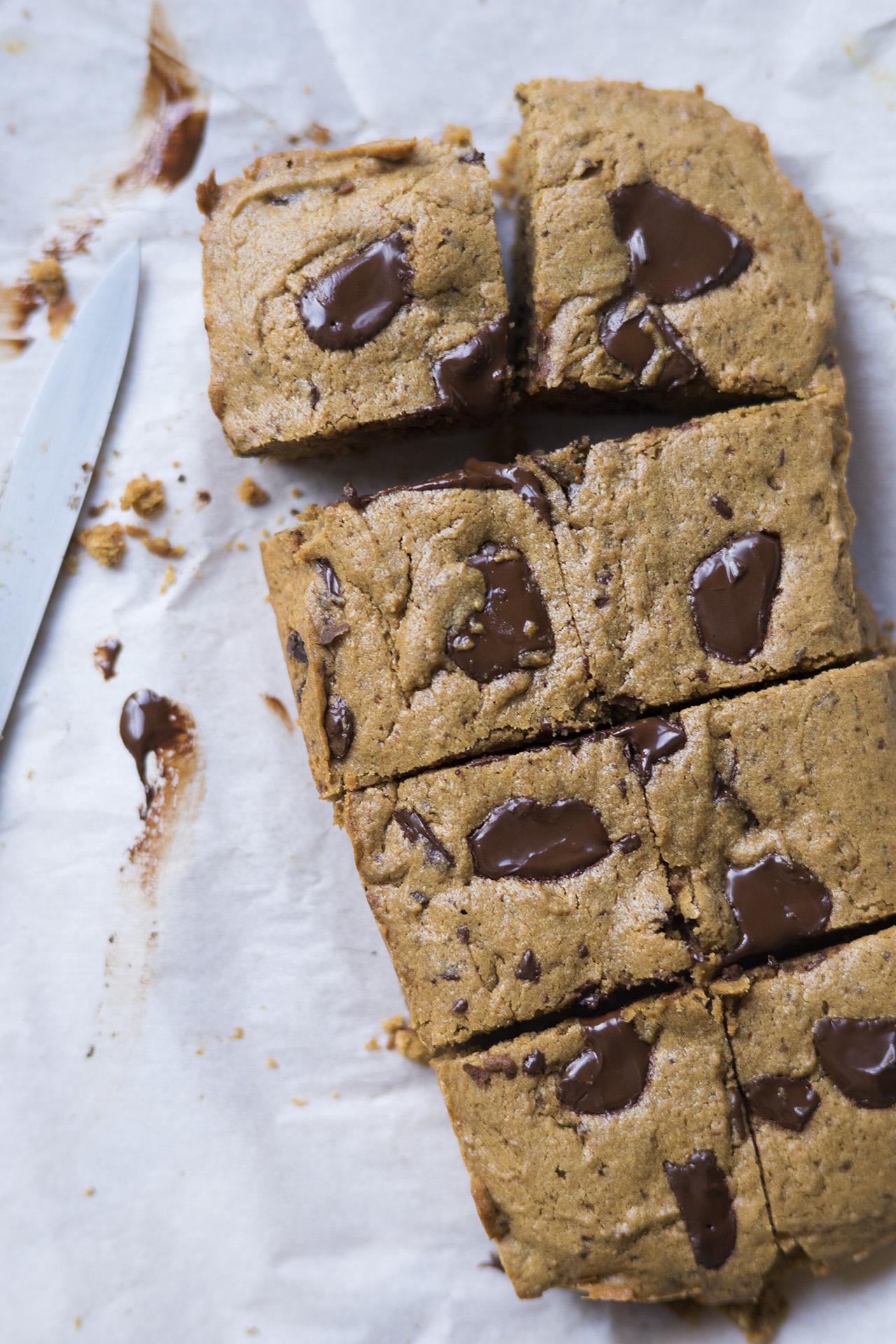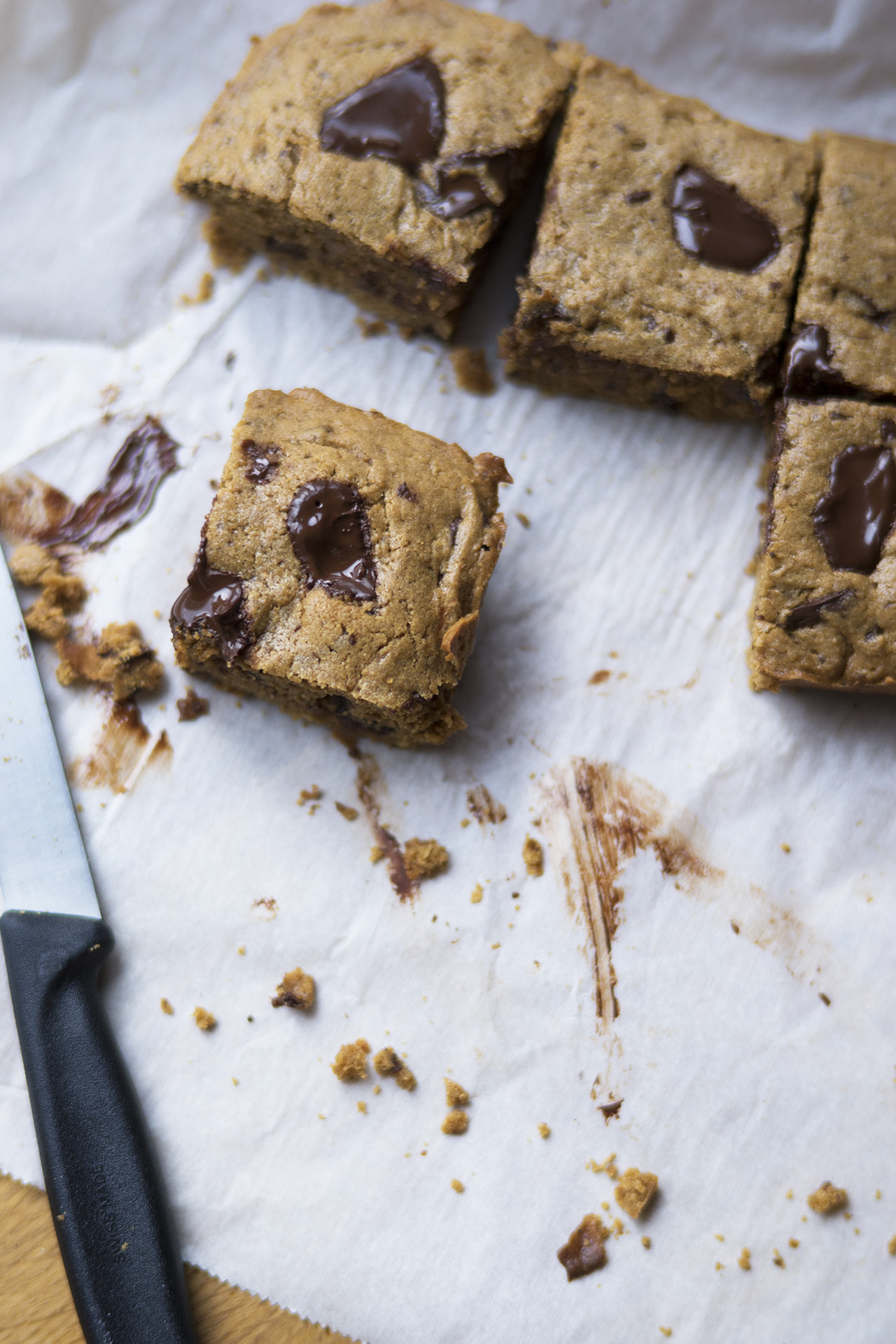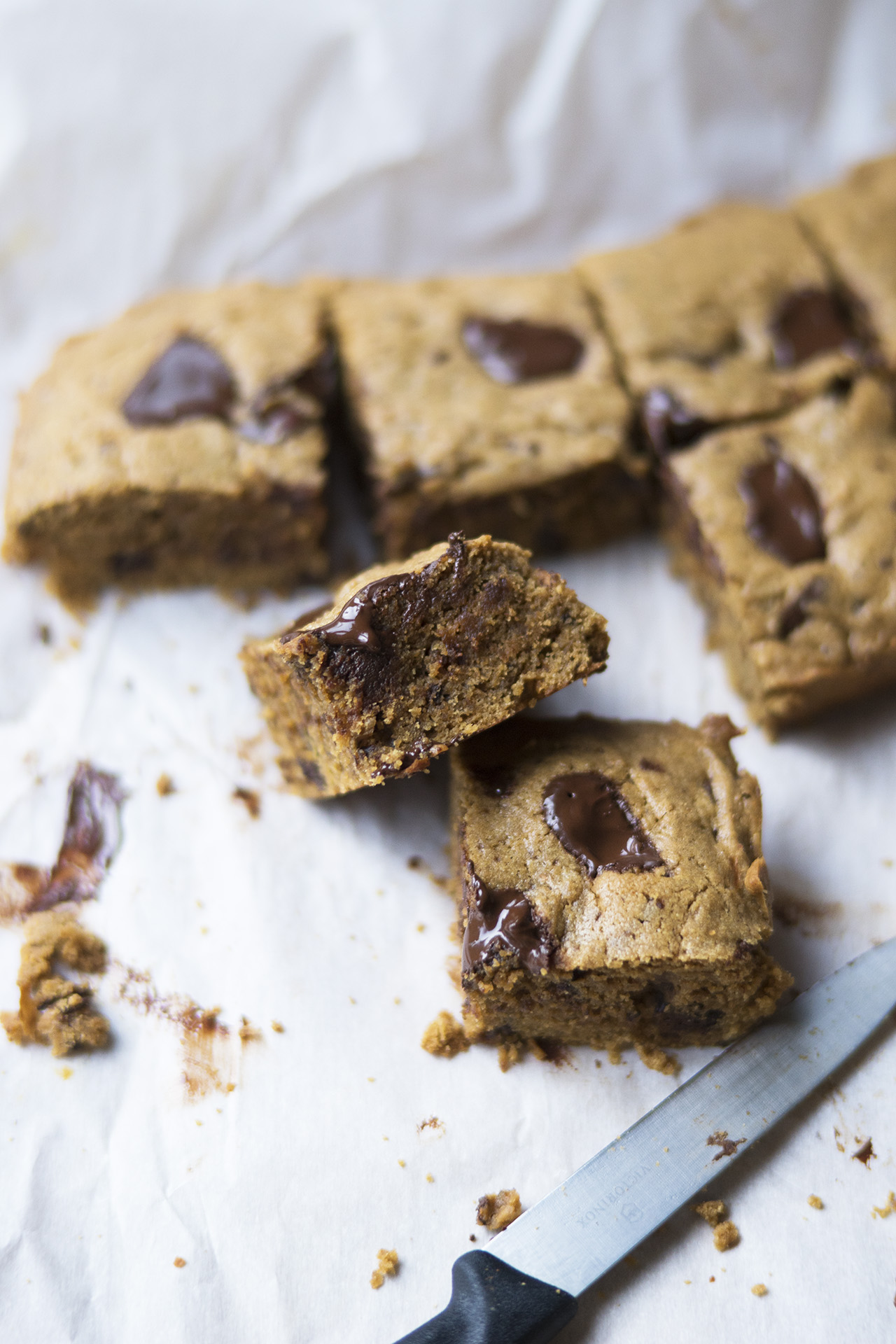 Ingredients~
Makes 8 blondies (in a standard 9×5 inch loaf pan)

1 cup whole wheat pastry flour (or half regular whole wheat & half all-purpose)
1 cup coconut sugar
1/2 cup & 2 tbsps unsalted pasture raised butter, melted (but not scalding hot)
1 pasture raised egg, at room temperature
1 1/4 tsps vanilla extract
1/2 tsp maca powder (optional, provides a little more honeycomb flavor)
3/4 tsp baking powder
Scant 1/2 tsp kosher salt
2-3 oz bittersweet chocolate or about 1/3 heaped cup roughly chopped chunks (I enjoy 70% cacao)
Important note: these blondies were adapted from Claire Ptak's Butterscotch Blondies recipe, as found in The Violet Bakery Cookbook! 
Instructions~
Bake at 325 F for 25-28 minutes, or until the blondies take on a deep golden-brown color but are still a little soft and fragile in the center; you definitely don't want to dry these bad boys out! Allow the blondies to cool for a good 15 or so minutes until no longer super hot to the touch before slicing away 8 pieces : )