When quinoa flour is 50% off at my local grocery store, I buy it. On any other day, when it's 100% not off, and costs a whooping $14 for 22 oz/623 g, I definitely do not buy it. Having said that, however, I'm now feeling the quinoa flour itch… I've ventured into the strange land of quinoa baked goods and, I'm surprised to say, I'd like to stay here a while (at least a while longer than it will probably take for it to be on sale again, or for me to make a million bucks, because only then will I have the spare $$ for the fanciest of all flours). Maybe you got lucky and found quinoa flour on sale, or maybe you're a bit more financially sound than me, or maybe you're neither but you still manage to allot a sliver of your monthly budget pie chart to quinoa flour. In any case, after impulsively buying the clearance quinoa flour I wondered now what? I had no idea how the flour behaved or tasted; does it taste like dirt, or regular cooked quinoa? Those things aren't entirely mutually exclusive, so suffice to say I was feeling a little cynical about the flavor outcome of adding quinoa flour to chocolate chip cookies or brownies. Since I was already on a roll venturing into uncharted territory, I took another leap and made a cake.
To be frank, the streusel topping is the product of more impulse. I had just finished combining my wet and dry ingredients, when it occurred to me (or rather, panic-stricken, it flashed across my mind) that this quinoa flour cake was going to need an extra oomph of sweetness. I wasn't taking chances with the earthen flour, and didn't want such a novel ingredient going to waste, so I sought the help of sugar, spice, and a little bit of melted butter. As my friend said after taking a few bites of a slice, this is really good, really moist, definitely a hit, but it does need the streusel. 
I didn't set out to make a coffee cake, and I didn't set out to buy quinoa flour, but… here we are; I had a lot of fun and there is probably some worthwhile moral tucked away in that sentence. I'll let it be for now. All in all, this is not your typical Starbucks-esque knee-jerkingly-sweet coffee cake; no, no, this is sweet, and it is wonderfully (can I say perfectly?) soft and moist, but it's not entirely gut-destroying (let's be honest here). It's got a crumb so lovely that I was genuinely, happily, shocked (this cake was not supposed to turn out so well). And now I want more of it. So be warned; once you get a taste of quinoa streusel cake you may have to get a little creative with your excel pie chart.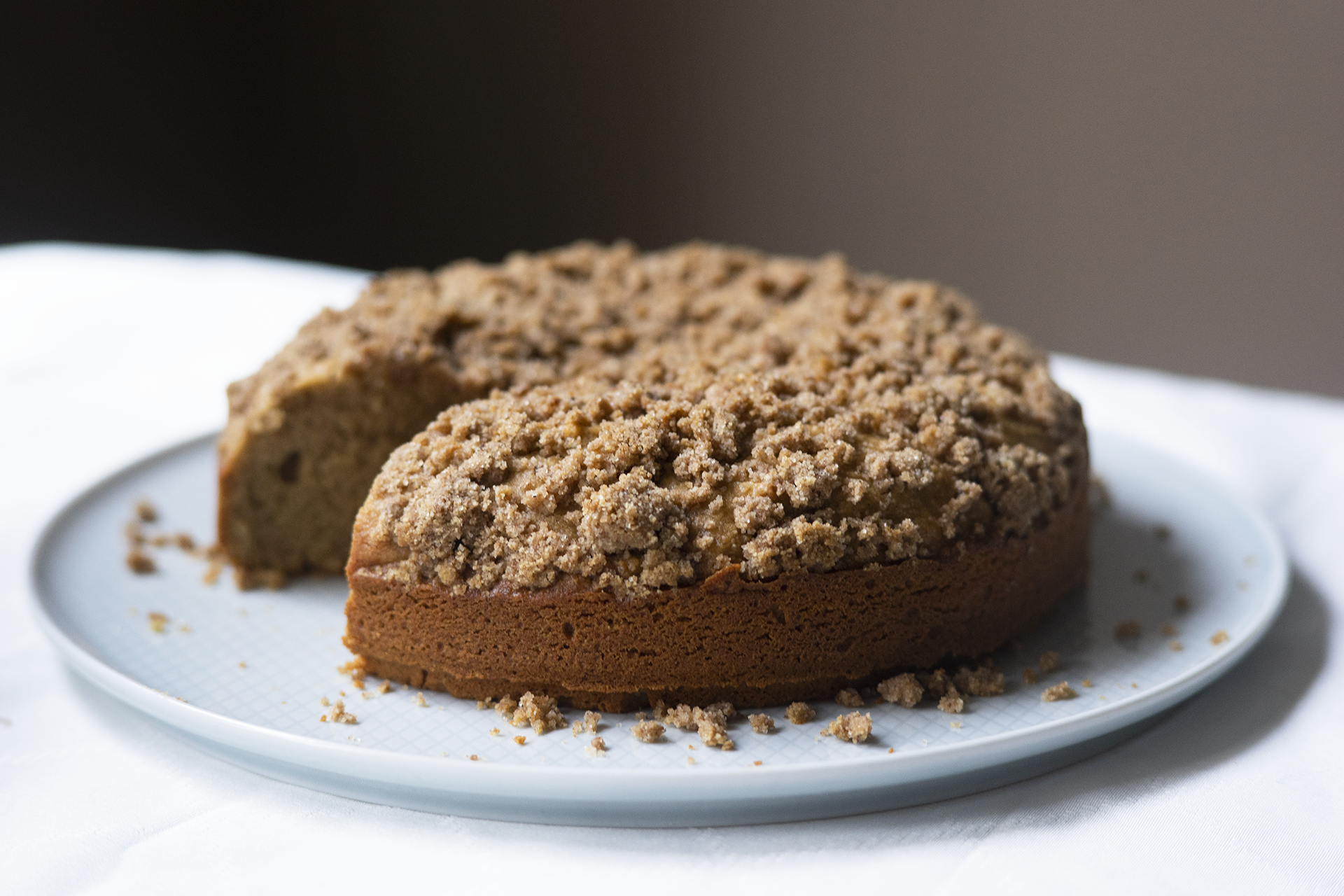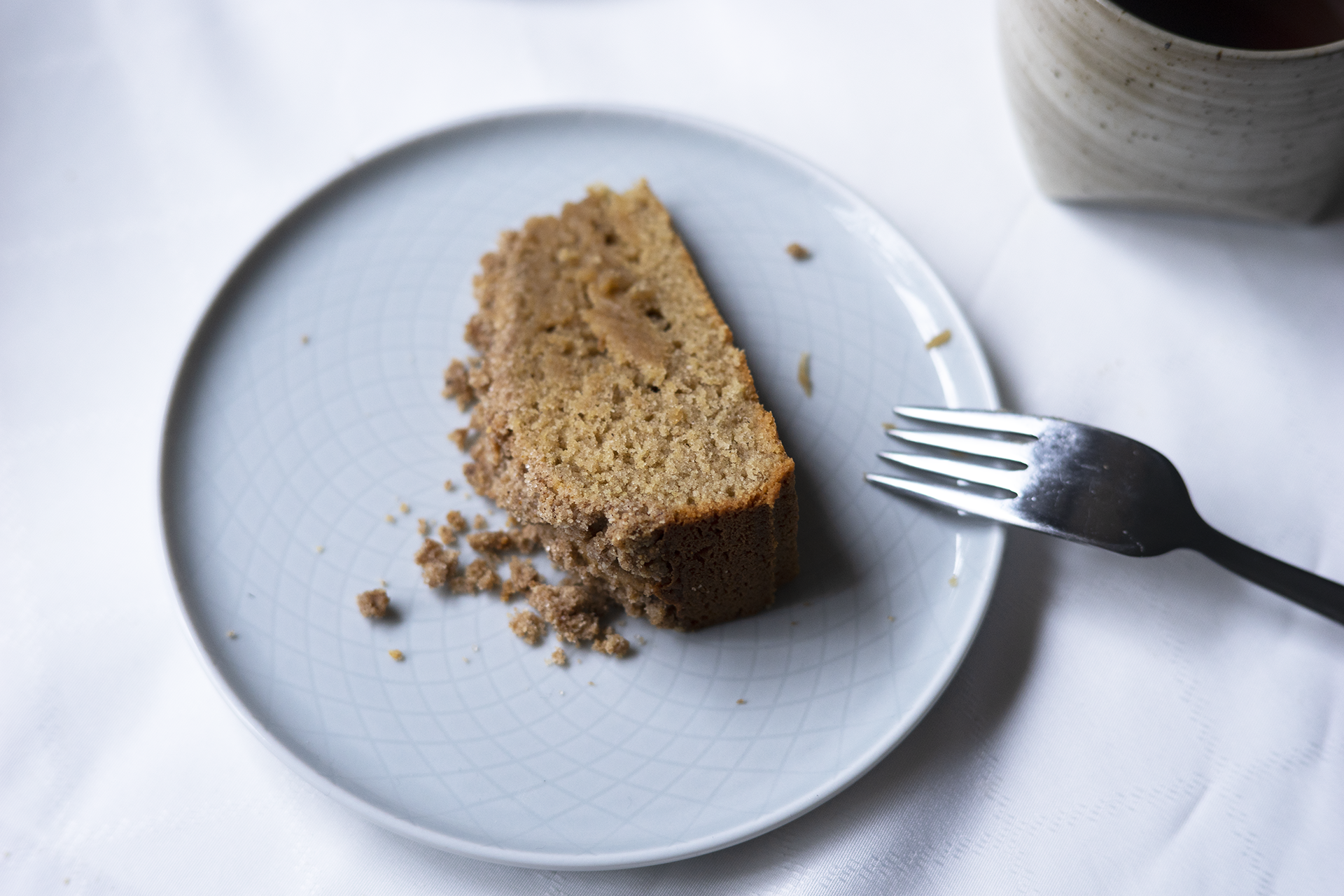 Ingredients~
1 1/2 cups blanched almond flour
3/4 cup quinoa flour
1/2 cup maple syrup
6 tbsps unrefined coconut oil, melted
2 pasture raised eggs
2 tsps ground cinnamon
1/4 slightly heaped tsp ground nutmeg
1 1/2 tsps baking powder
Pinch of salt
Streusel topping:
1/4 cup almond flour
2 tbsps unrefined cane sugar (or coconut/light brown sugar)
1 tbsp melted ghee or butter
1/2 tsp ground cinnamon
Pinch of salt 

Ingredients~
Preheat oven to 350 F.
Bake for 28-35 min, until the top is golden brown and an inserted toothpick comes out clean (mine took 30). Allow to fully cool before removing from pan and serving alongside a cup of warm coffee or tea!