This morning I woke up earlier than usual, much to my body's dismay, ate a toasted blueberry bagel with cream cheese, downed a warm coffee, and proceeded to scan my ever-growing list titled Cakes To Makes ASAP.
I ended up having to mediate a clash between this chocolate pear cake and a date and prune chocolate cake (oh and somewhere in the mess was a lost pear pie/tart… not a cake, but still deserving of a place on an important list). The chocolate pear cake initially won but my fickleness got the best of me and I had to morph the two cakes together. This post should really be titled Chocolate Pear AND Date Cake. Suffice to say the initially unwelcome dates did their job. Not only is this one chocolatey mass of a cake, it's also decadent without throwing you under the bus health-wise.
Some people use the word decadent to describe lifestyles or wardrobes, but I think it's most appropriate in conjunction with the word CAKE. Using dates rather than processed sugar allows for a richer, but not overly bittersweet, chocolate flavor. Also, dates are a whole food. Despite what people say about them (dates are no more than sugar bombs, they're practically a candy), the fructose-dense guys are also dense with good stuff like fiber, magnesium, minerals, and… read more here if you're intrigued. While I'm not about to chow down on a cup full of dates everyday, the facts say that they provide a fair bit more helpful nutrients to the body than plain old cane sugar. Opting for dates doesn't mean I enjoy indulging in bland cake that tastes like earth. Nope. Eating dirt is for worms. Instead, it means I opt for slightly less tooth-achingly sweet treats. Think dark chocolate. And a little bit of sugar. And maybe some ground almonds and peanut butter because… cake making time is the time to go nuts. This cake certainly isn't for the ALL THINGS SUGAR 7 year old in us, but it is for the more matured dark cocoa lover who strives to eat healthy (so long as healthy includes cake).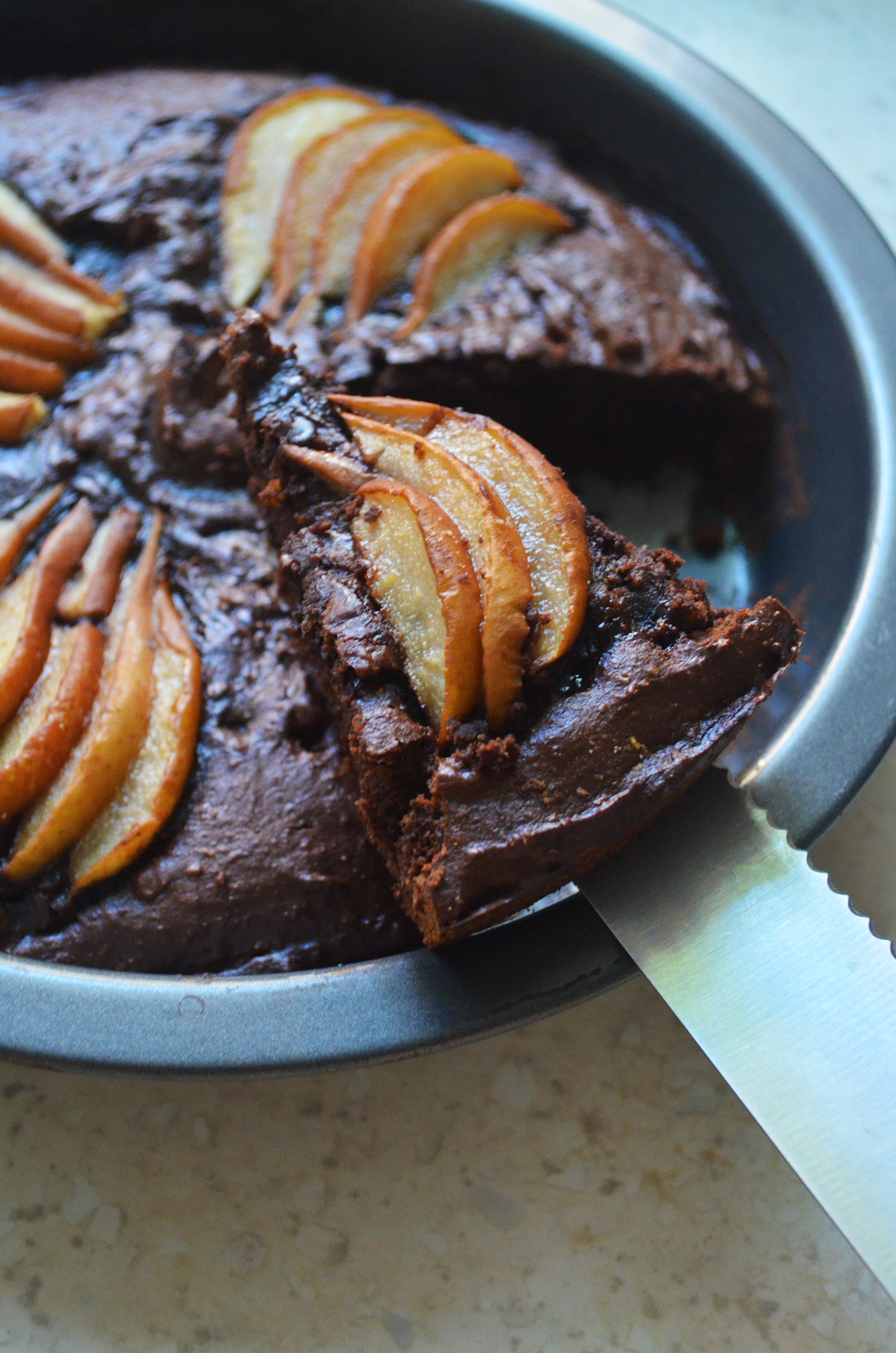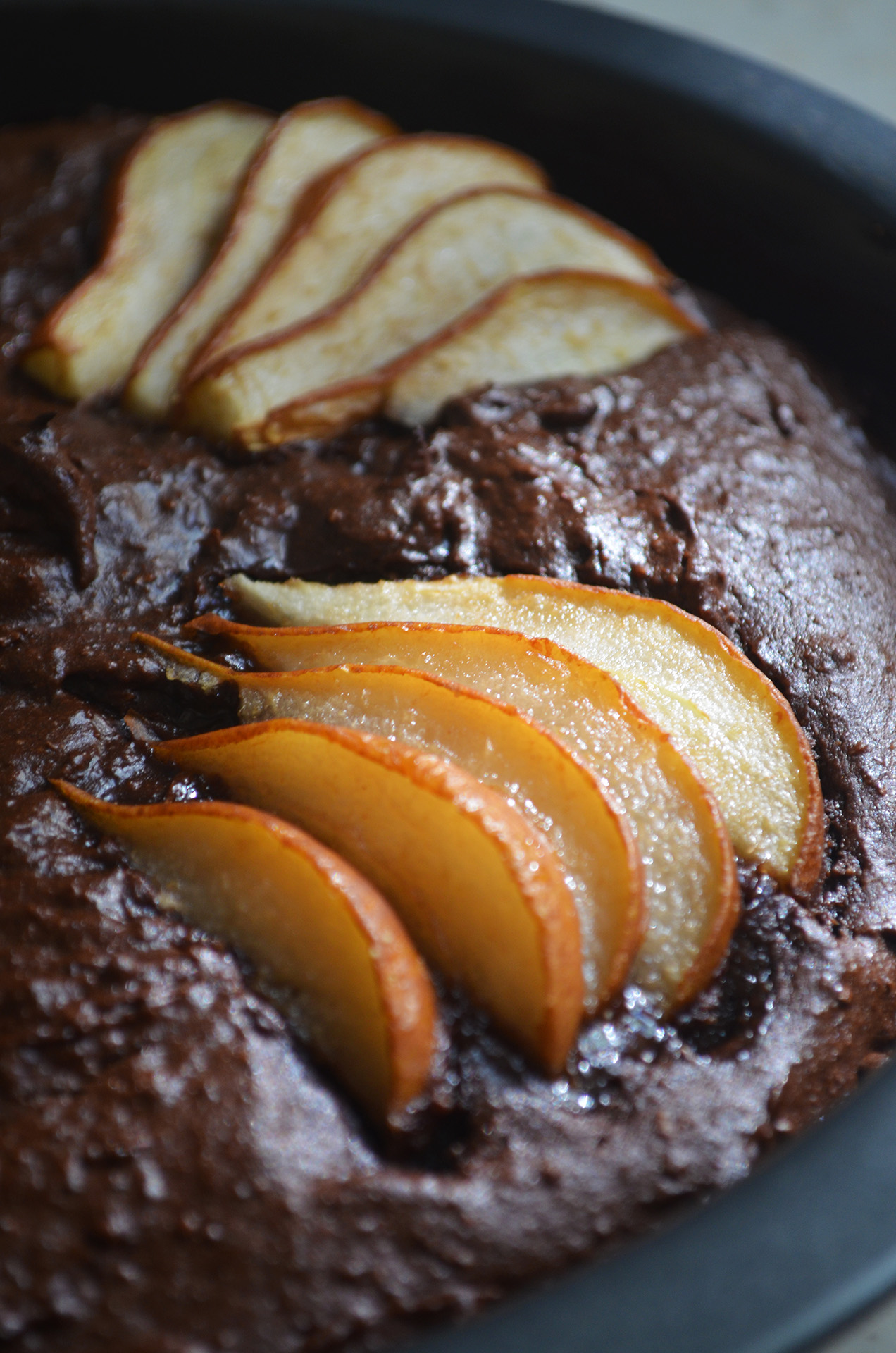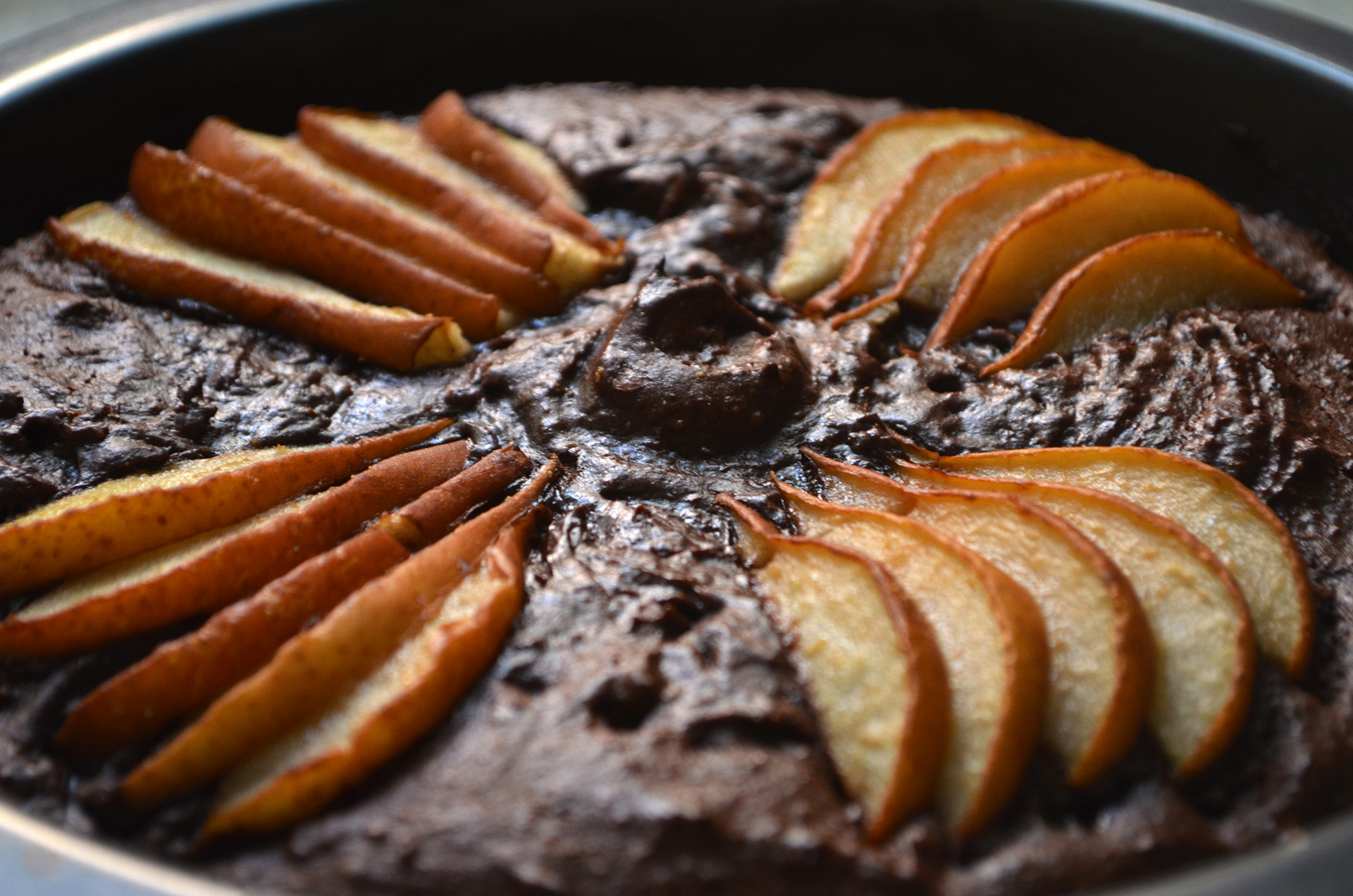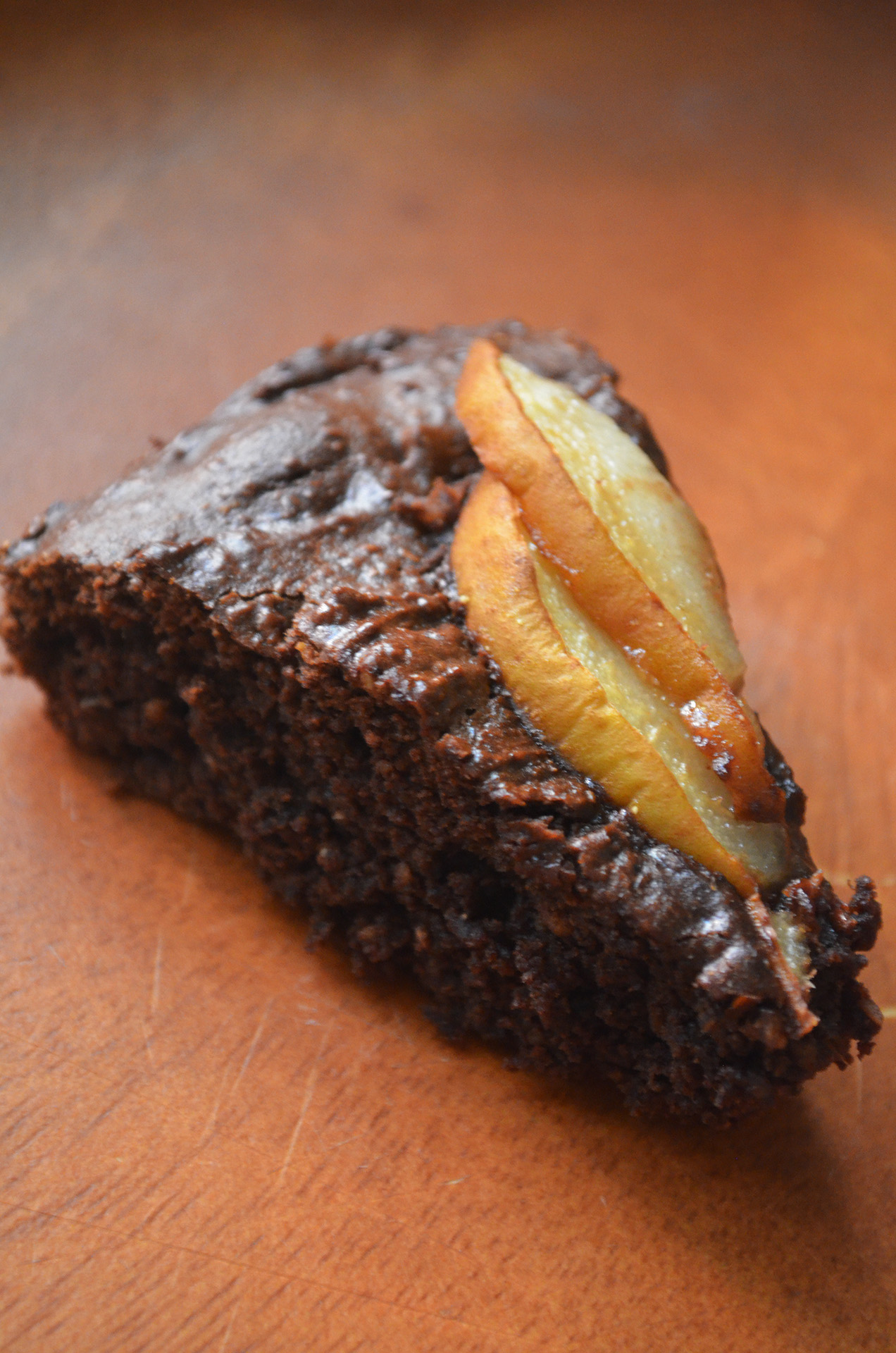 Ingredients~
1/2 cup flour (I used half whole wheat and half all purpose, but all of one kind is fine)
1/4 cup almonds, ground
1/2 cup dates, soaked and blended into a paste
2-3 ripe (but not mushy) pears, thinly sliced
4 tbsps cocoa powder
1/4 cup & 1 tbsp rice malt syrup
1 egg
2 tbsps unsalted butter
2 tbsps peanut butter
1/2 tsp vanilla extract
1/4 tsp baking powder
1/4 tsp baking soda
2 tbsps unsweetened soy milk
Pinch of salt
Instructions~
Preheat oven to 176 C/350 F
1. Melt butter and peanut butter in a saucepan on low heat. Stir through the rice malt syrup, date paste, and vanilla until well combined and immediately take off the heat. Beat the egg and soy milk together separately and then add them to the wet mixture.
2. Whisk all of the dry ingredients together in a medium-large bowl and gradually pour in the wet mixture, blending with a handheld mixer as you go along. The resulting mixture will be stickier than brownie batter but still pourable.
3. Line a cake pan with baking paper and lightly oil the sides. Pour the batter into the center and use a spatula to evenly spread it out, ensuring an equal width all the way around. Add sliced pears to the top, making sure not to push them too much into the batter. Bake for 15-22 minutes, or until the cake no longer wobbles in the center and batter does not stick to an inserted chopstick/toothpick. Enjoy warm with vanilla ice cream or a cup of hot coffee!!