This one is a mouthful; sunflower seed butter confetti cake blondies. What did I just say? For starters, know that these blondies, albeit rather strange sounding, far surpass bird food in taste. Yes, sunflower seeds are present, and they also happen to be a delicacy in the bird world, but, as I will do my best to convince you, they also ought to be a delicacy in our hominid world. The sunflower seed butter is foundational to the structure of these blondies; there is no flour in this recipe, so they are paleo-low-carb-what-have-you friendly, but, more vital than the aforementioned labels, is the fact that they are taste-bud-friendly. If you, like me, have a monstrous sweet tooth, if fudgy brownies and slightly-undercooked, chewy chocolate chip cookies make you swoon, then these blondies will very likely most certainly make you very, very happy. Can you sense my enthusiasm? Maybe I'm getting a little ahead of myself; here is a little de-briefing about this recipe:
The sunflower seed butter acts as the cement in this blondie, and the presence of two eggs help bind the butter with the other ingredients. The eggs also help transform the pre-baked, rather dismal looking, sheet of grey goo, into a sufficiently puffed, blondie-esque treat. Because I like my cookies and brownies a tad on the fudgy, soft-in-the-center, side, I used a liquid sweetener instead of granulated sugar to add a bit of extra moisture. If you'd prefer a slightly less gooey center, replacing the maple syrup with granulated sugar, such as coconut sugar, should do the trick (know that it will also take less time to bake, so check on it at the 15-min mark).
Ultimately, these blondies are a testament to my lingering childhood affinity for artifically-colored sweets. Embarrassing as it is, my infatuation with Lucky Charms marshmallows still leaves me dewy eyed in the cereal aisle at the grocery store. That being said, if the sight of edible confetti is more repulsive than endearing to your eyes, simply swap out the rainbow bits for chopped chocolate or chips (I bet chunks of chopped caramel would also pair deliciously with the butterscotch flavor in these blondies!!).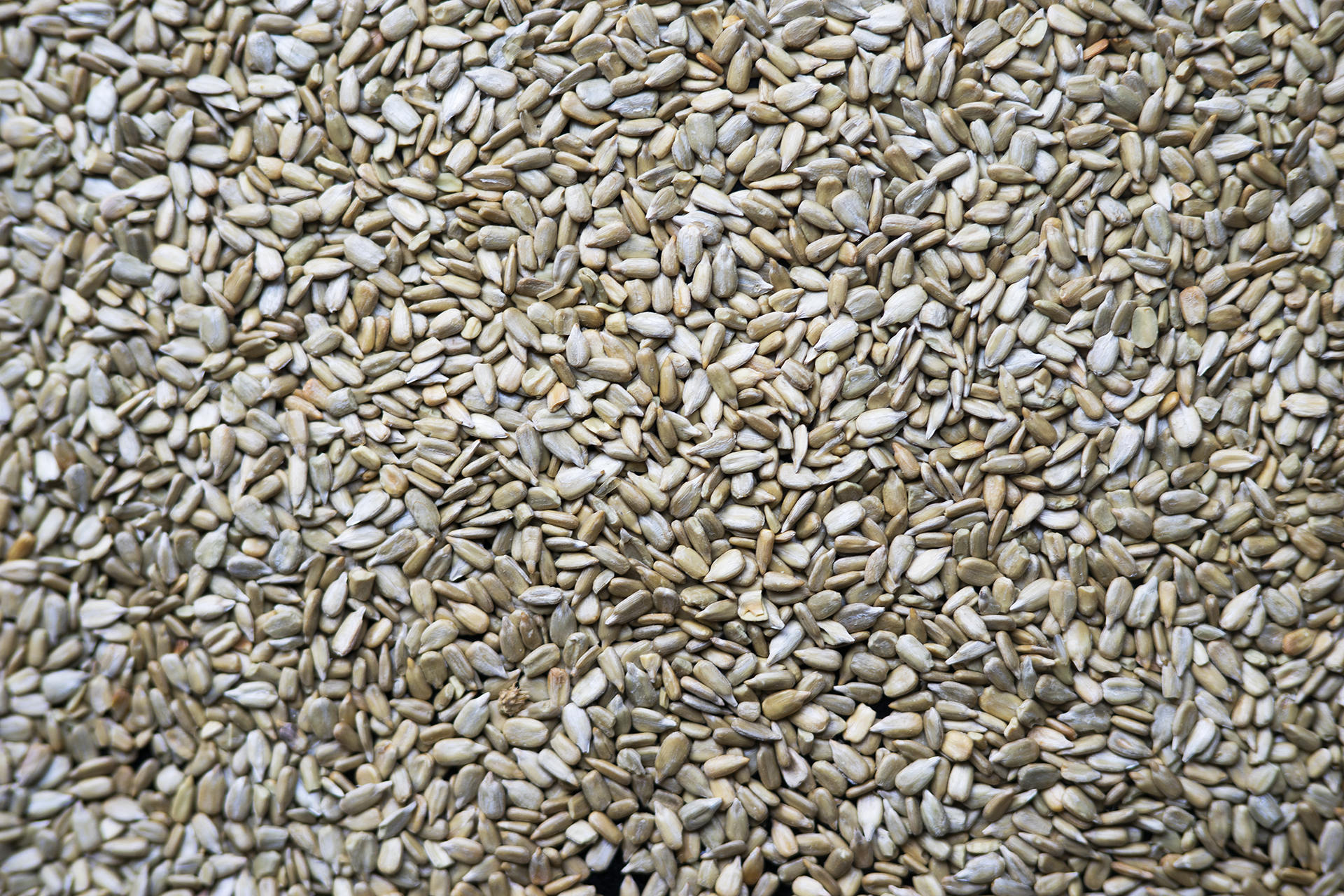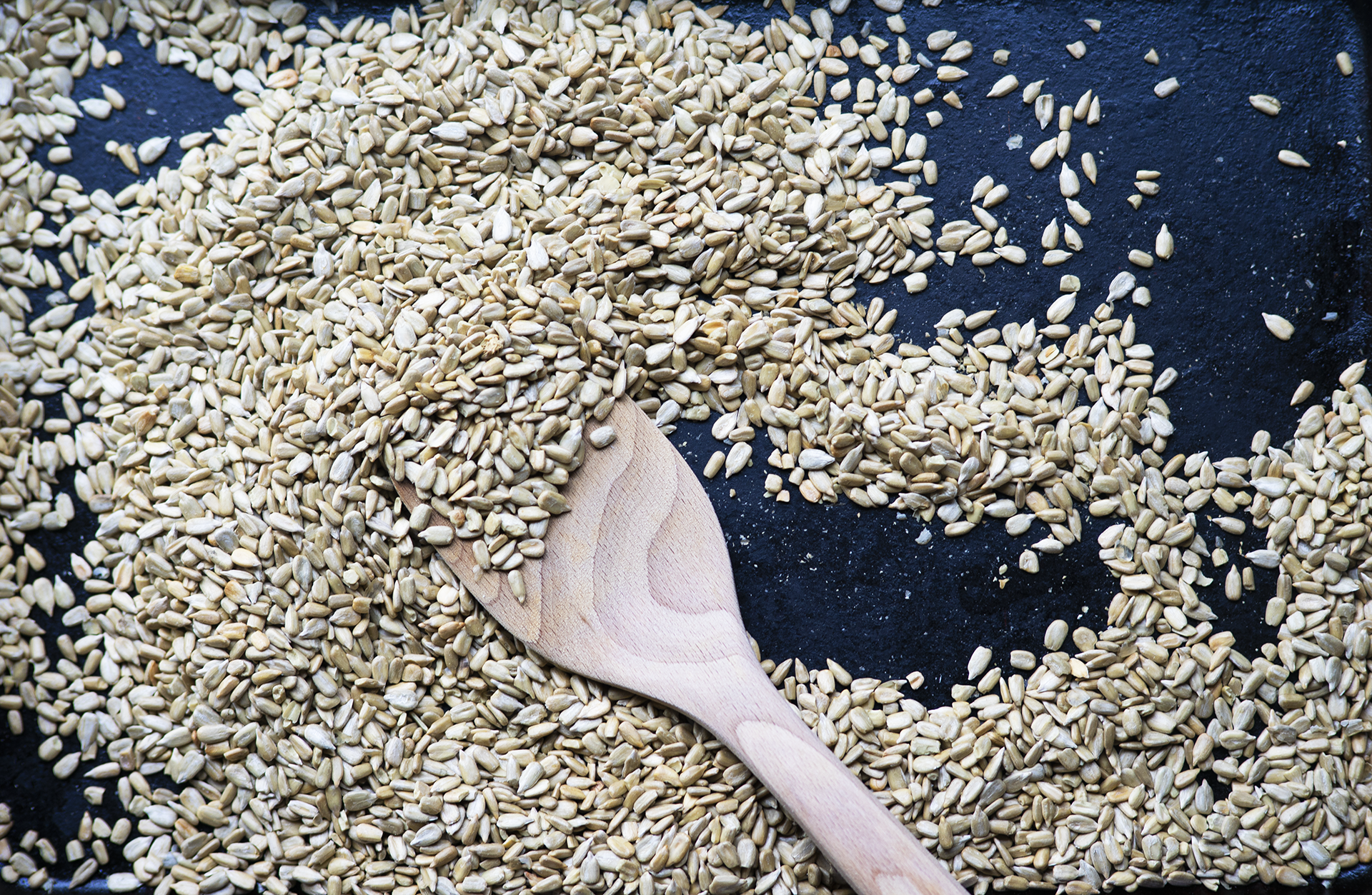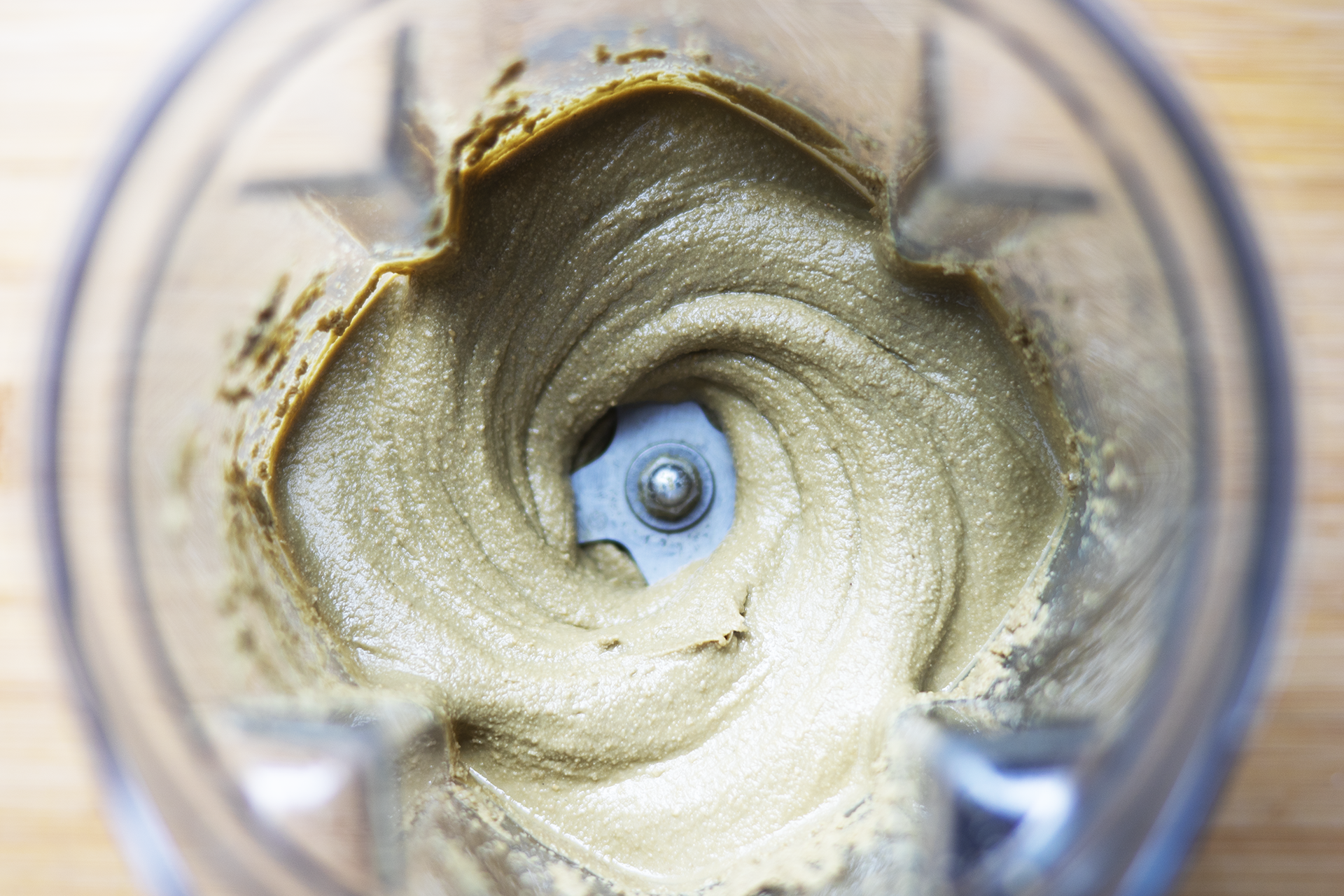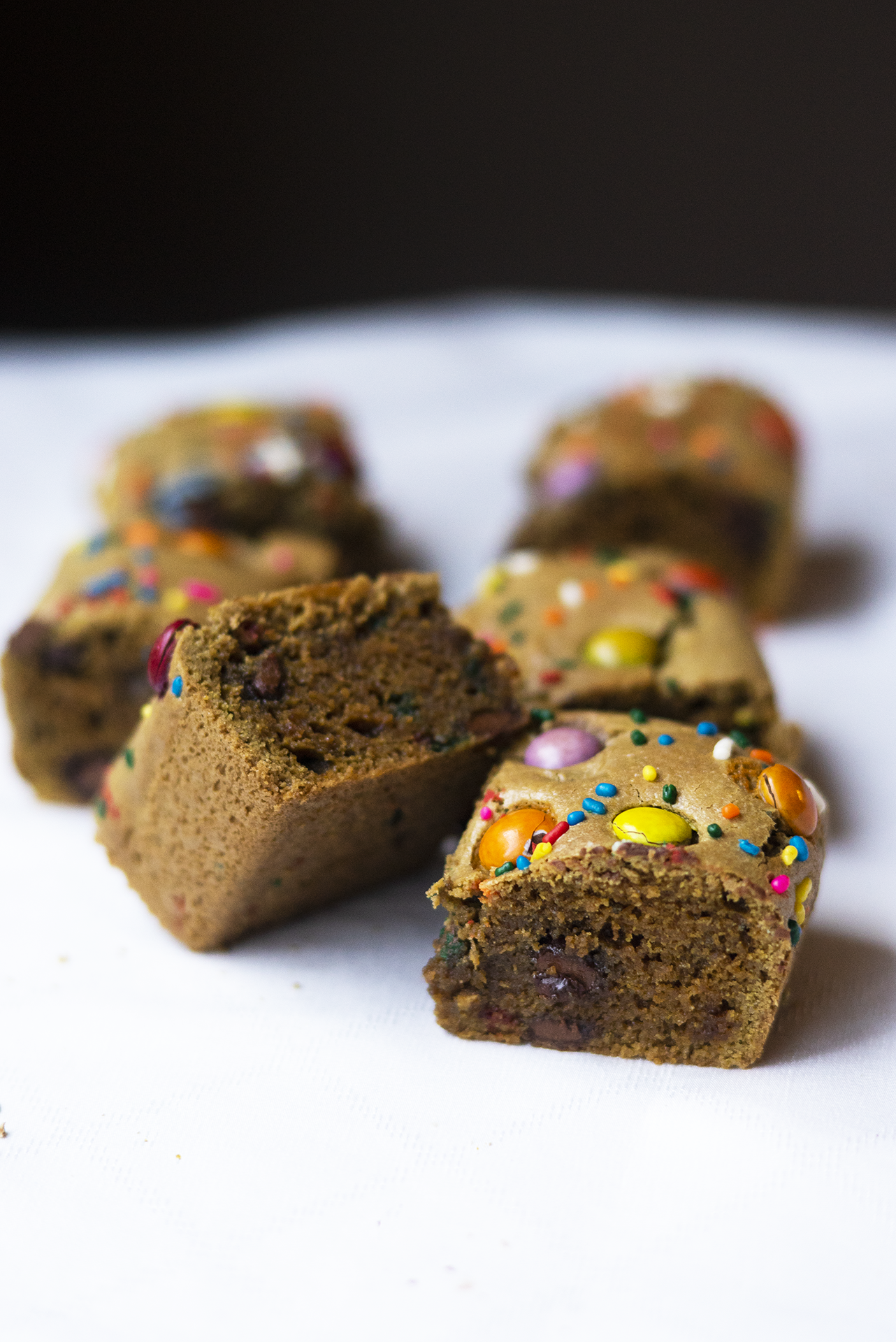 Ingredients~
I used a standard loaf pan (9×5 inch); know that using an 8×8 inch square pan will yield slightly thinner bars!

1 1/4 cups unsalted sunflower seed butter
1/4 cup maple syrup (other liquid sweeteners should work, though I can't vouch for any as of yet)
2 pasture-raised eggs
1 tsp vanilla extract
1/2 tsp baking powder
Scant 1/4 tsp baking soda
Pinch or two salt
1/2 cup rainbow chocolates, or roughly chopped semisweet chocolate (I used Unreal's naturally coloured chocolate gems)
2-3 tsps rainbow sprinkles!
Instructions~
1. Preheat oven to 350 F/176 C. If you're using store-bought sunflower butter, skip to step #3; otherwise, spread 3 1/2 cups of hulled/raw/unsalted sunflower seeds onto a baking tray and bake for 12-15 minutes, stirring the seeds twice in the process, until they take on a slight golden hue, and a toasted scent emanates from your oven. Allow the seeds to fully cool (~20 min) before pouring them into your high-powered blender or food processor.
2. Blend on medium for 4-7 minutes, using the tapering device to push down on the seeds; if using a food processor, you may have to stop it occasionally to scrape around the sides. This process will feel long, but within 7 minutes (tops) the seeds will spin into a creamy, luscious butter.
3. Measure out 1 1/4 cups sunbutter into a large bowl (there will be a little leftover if you went the homemade route). In a separate bowl, whisk the eggs with a fork until just combined; add the eggs to the sunbutter, along with the coconut sugar and vanilla extract. Sprinkle in the baking soda and powder, and stir just enough to combine. Lastly, mix in a little over half of the chopped chocolate, reserving the rest for the top.
4. Scrape the mixture into a tin lined with parchment paper, spreading down the top until it's evenly distributed. Sprinkle over the remaining chocolates, and bake for 30-33 minutes, until noticeably puffed up and the top is no longer soft to the touch (know that an inserted toothpick will still come out a bit gooey, but that's ok!) Allow to cool for a solid 20-30 minutes~ this may be difficult, but know that it will allow the blondies to set, and keep the cutting process from being a gooey mess. Pairs prettily with a glass of cold milk!
Note: I was inspired to put this recipe together after stumbling upon the the Almond Eater's birthday cake brownies (which also feature simplicity and colorful sprinkles!)