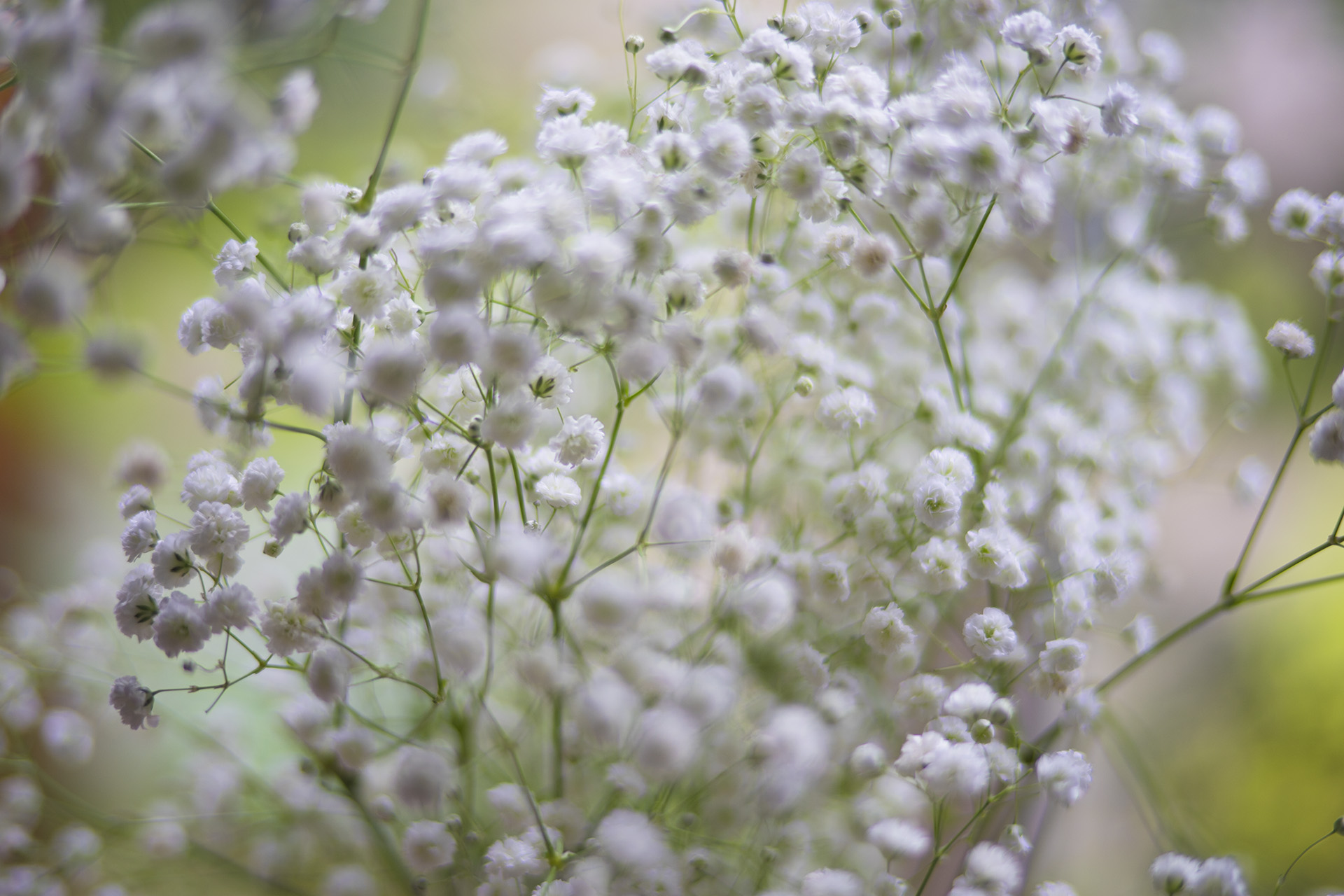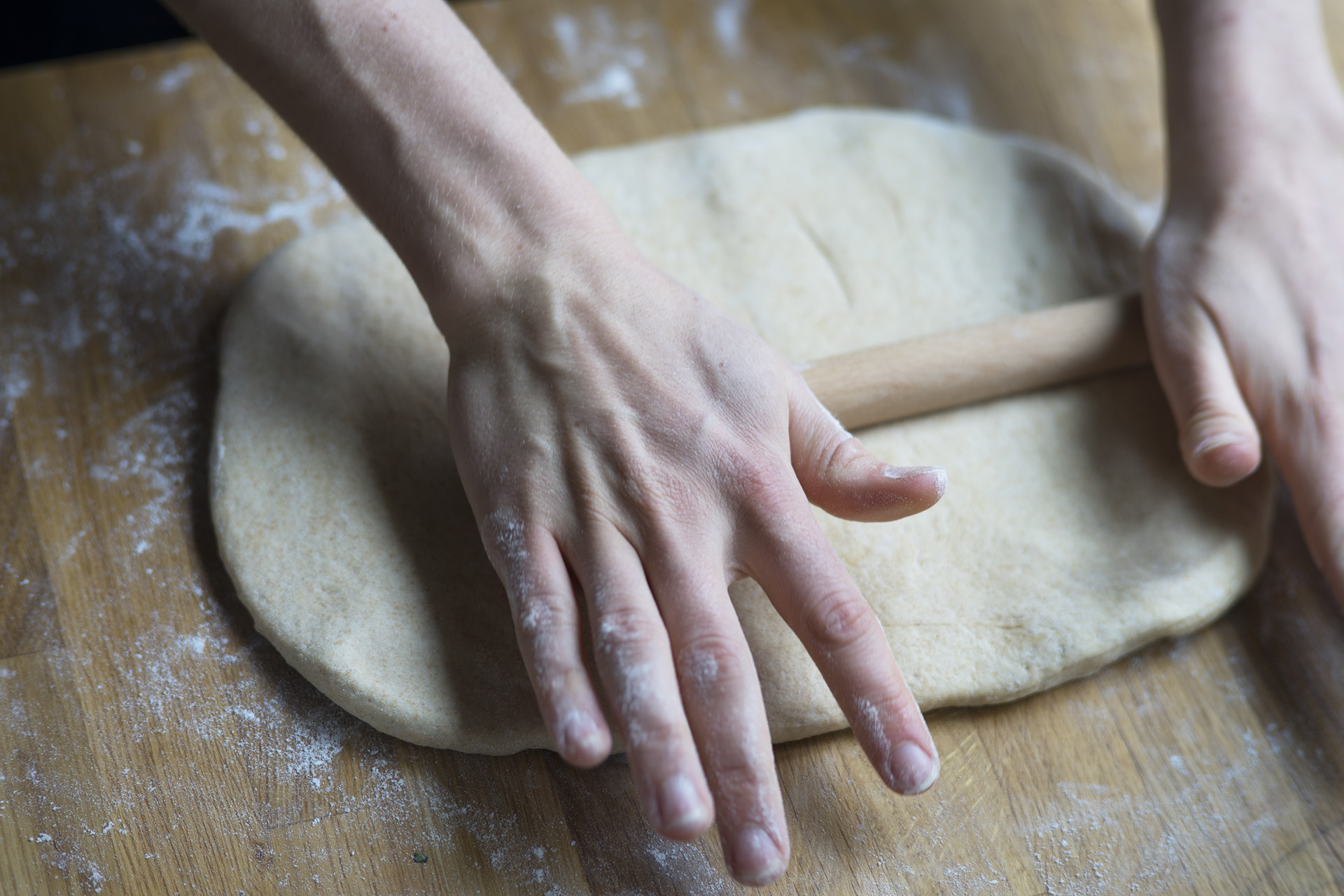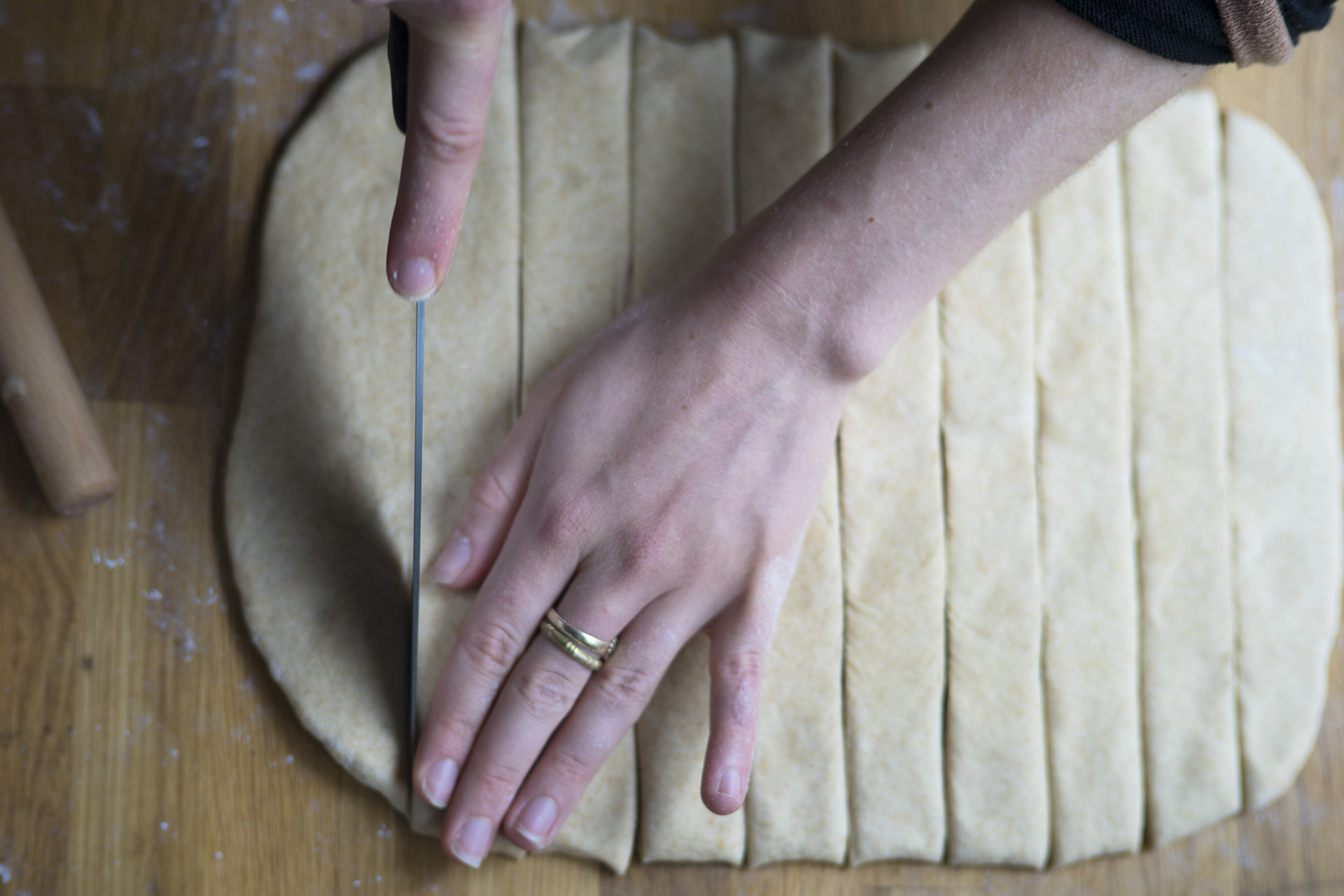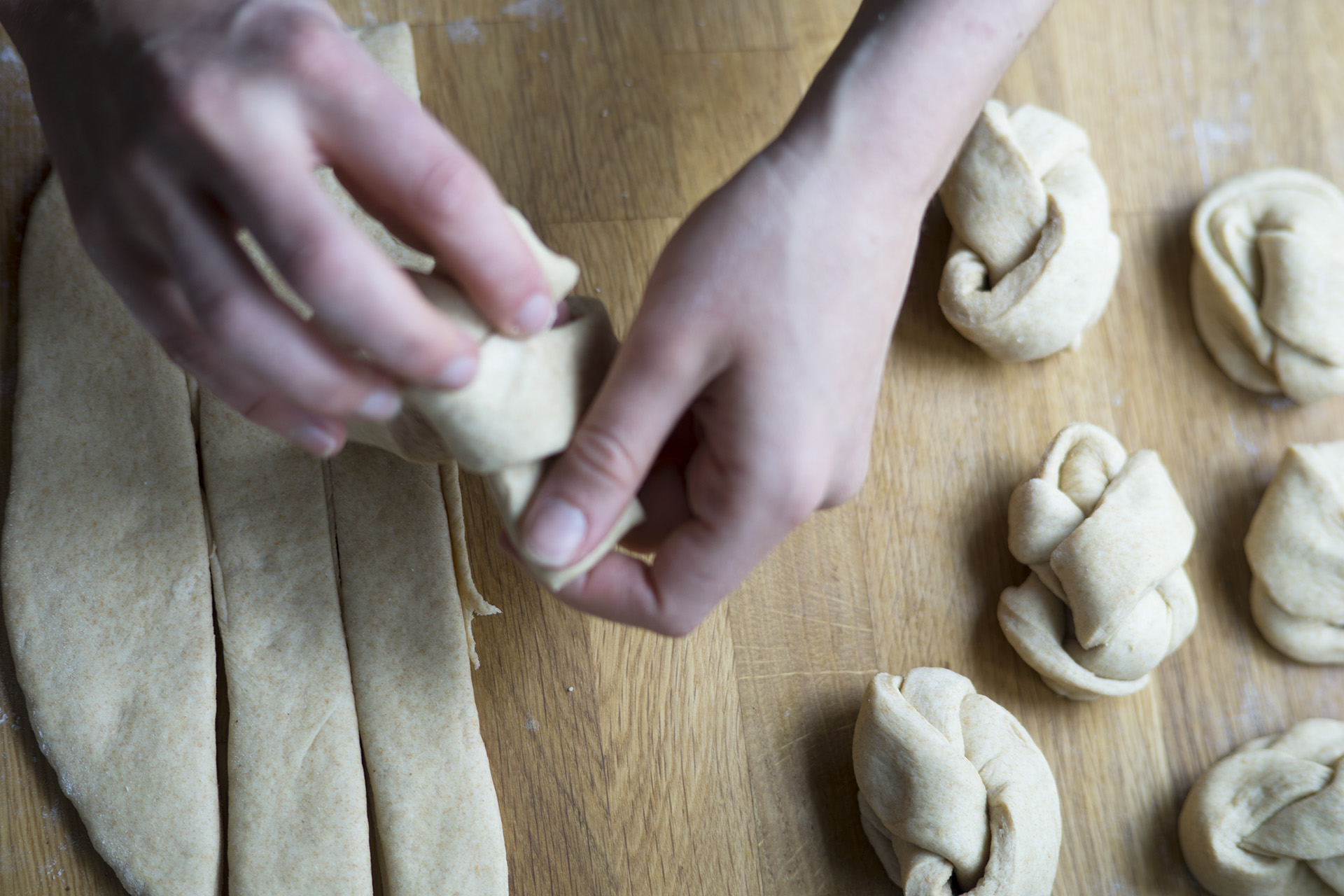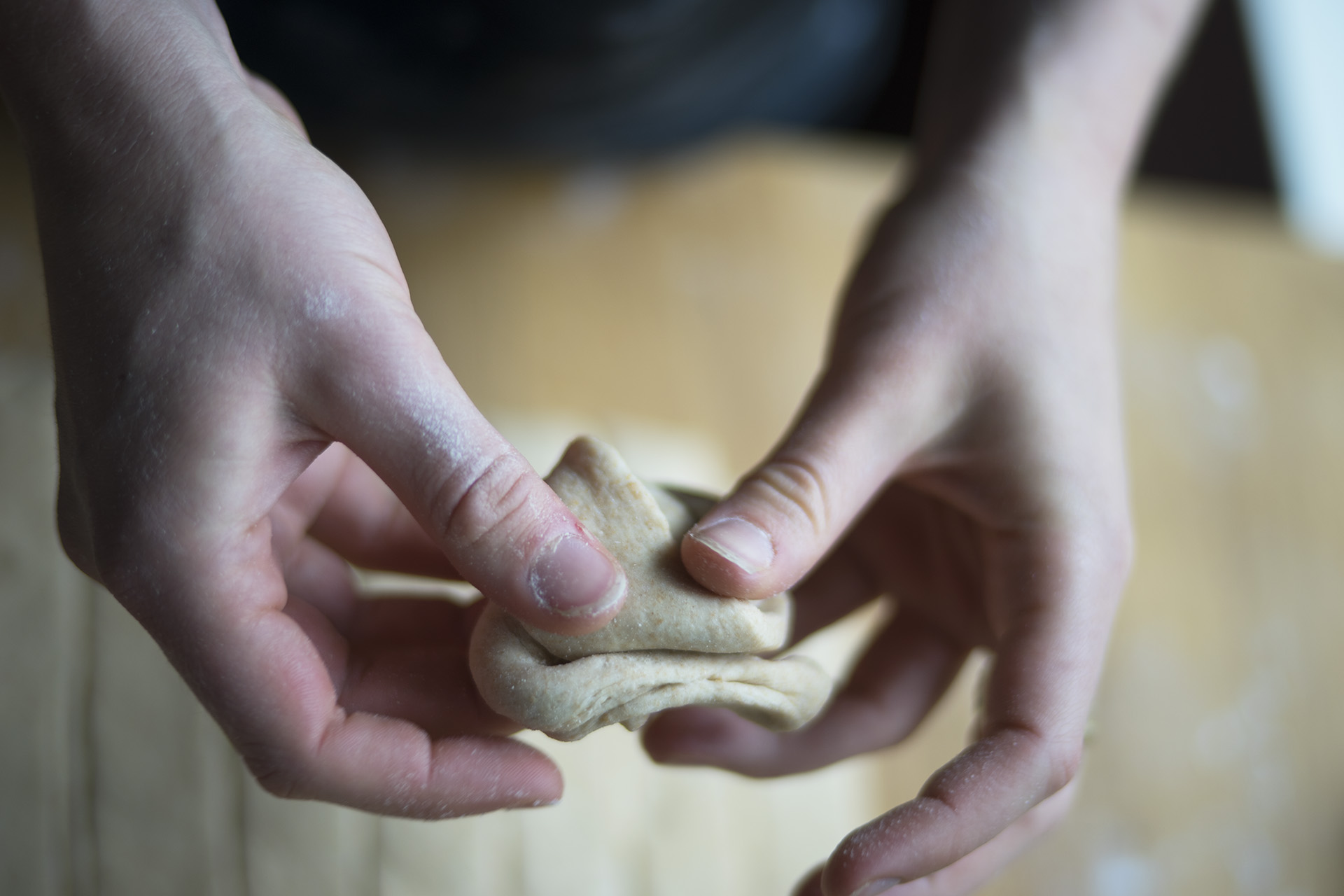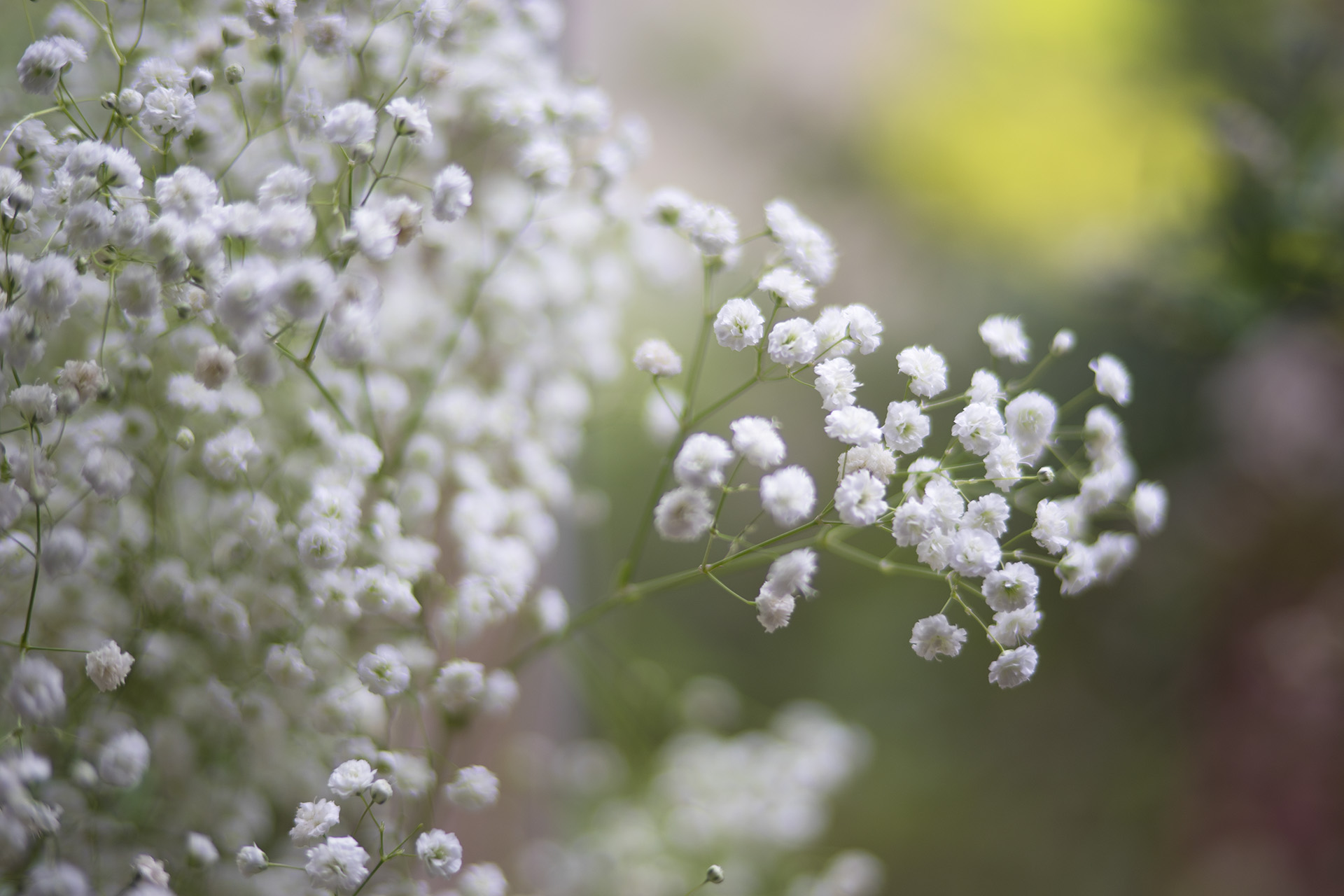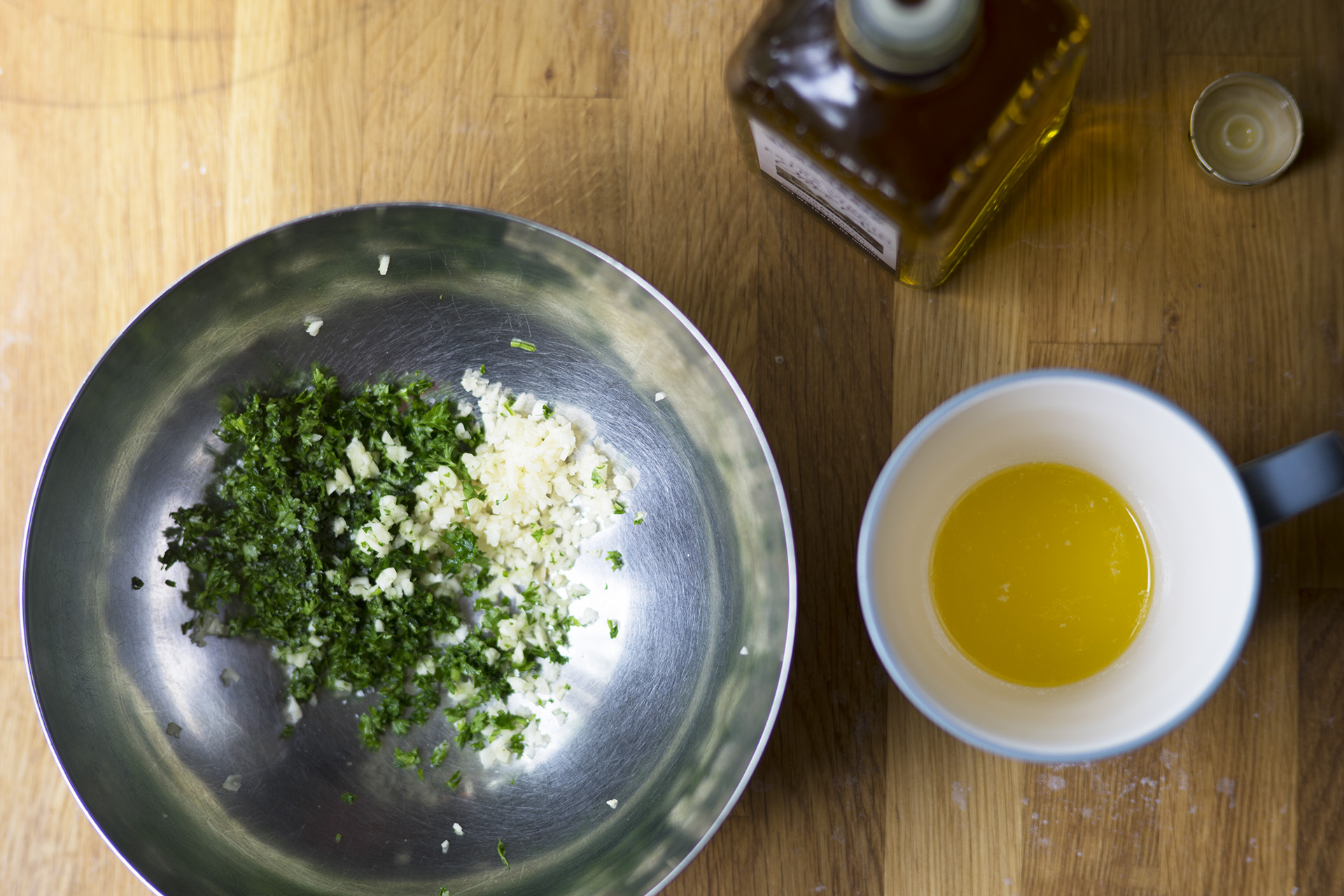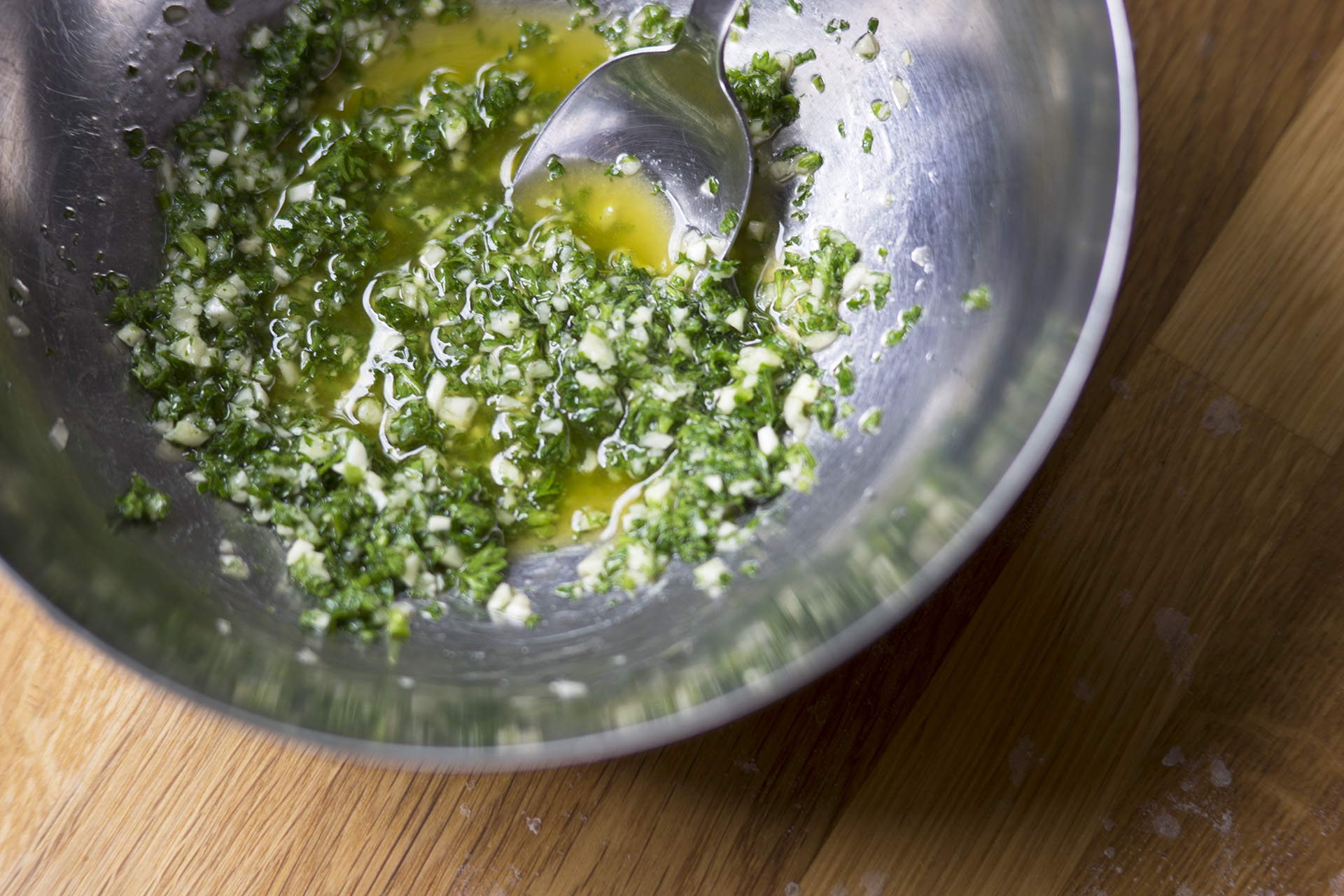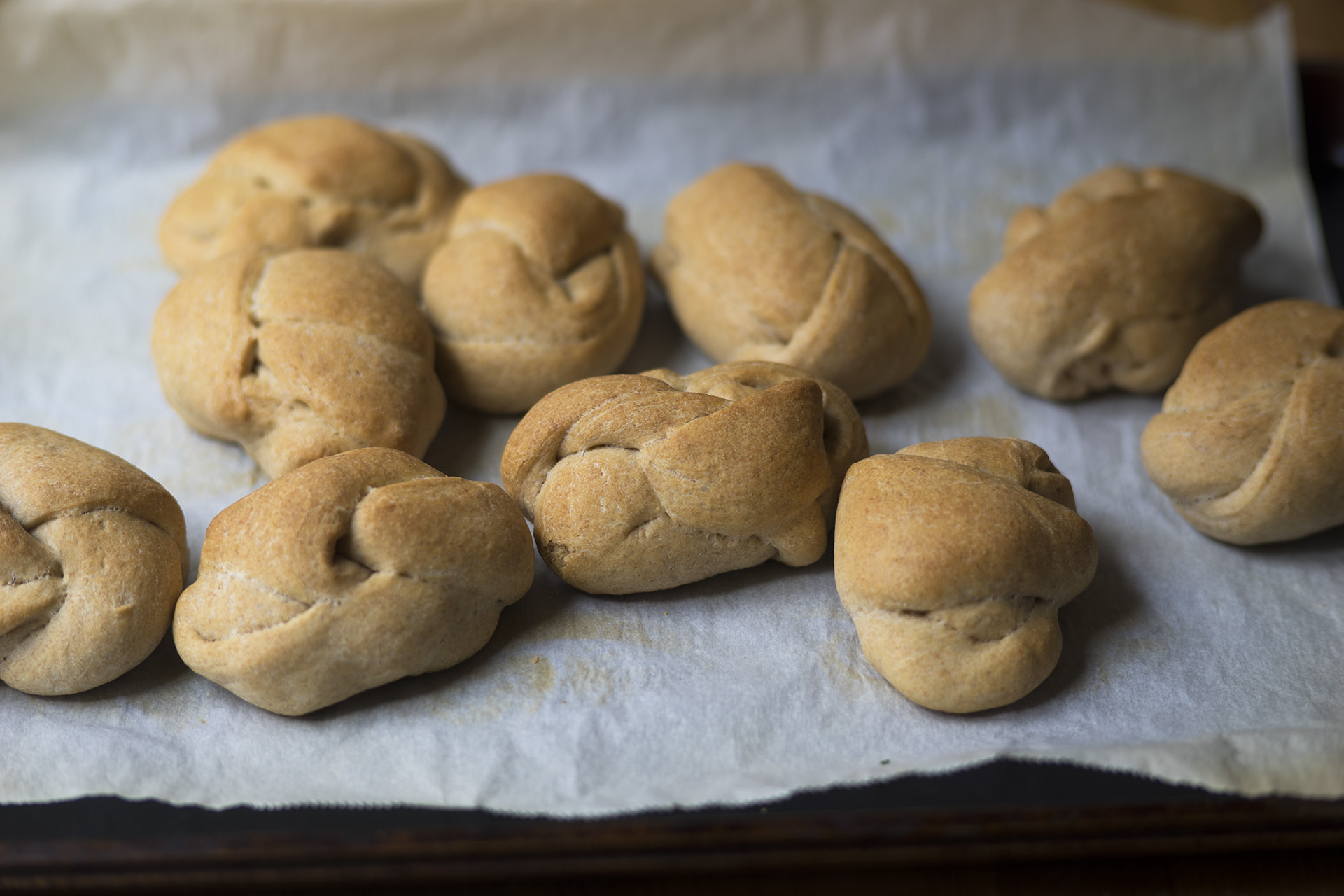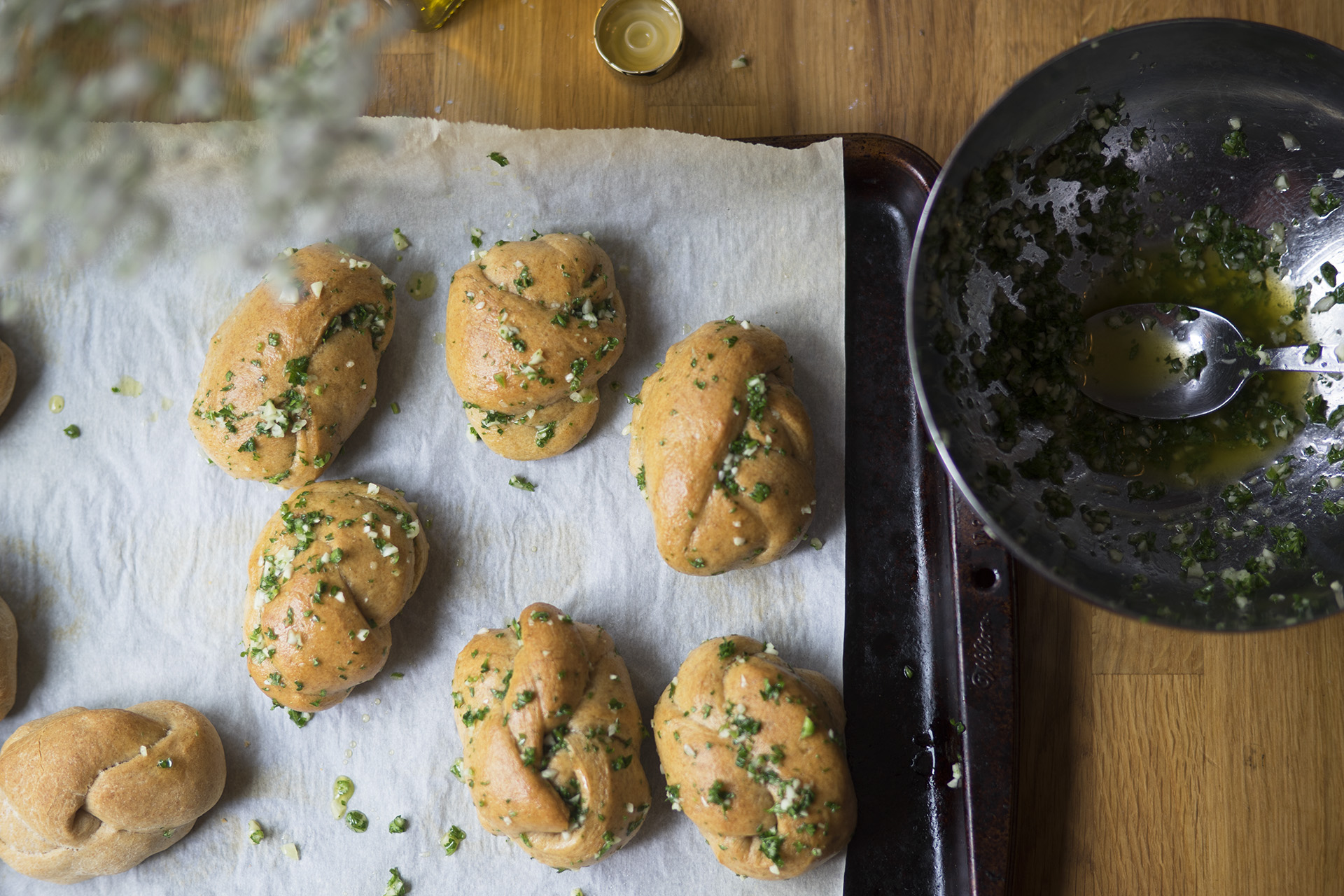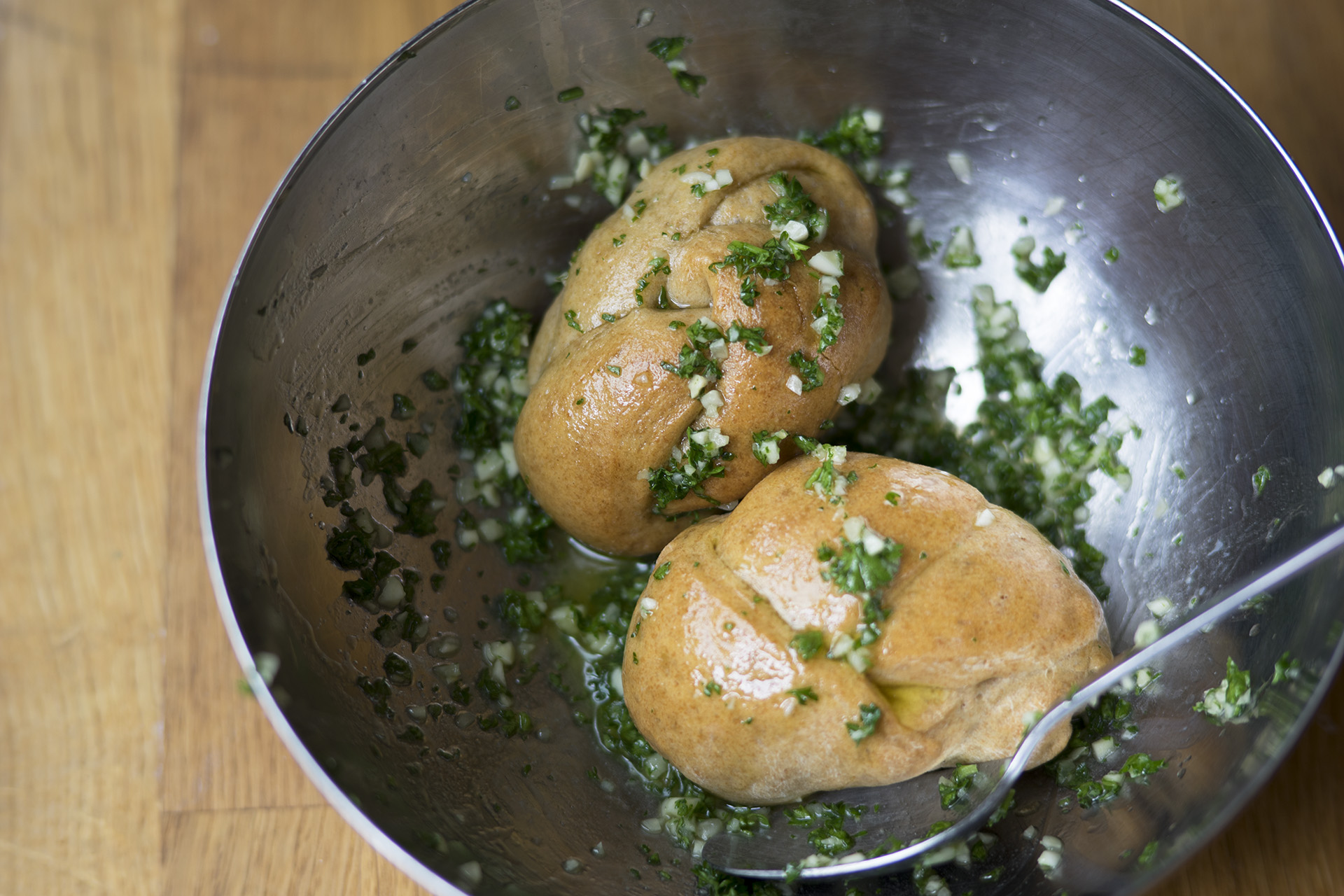 Ingredients~
Makes 10 knots

Dough:
1 1/4 cups all-purpose flour
1 1/4 cups whole wheat flour
1 cup warm water (think baby bottle warm)
2 tbsps extra virgin olive oil
2 1/2 tsps (1 standard sachet) active dry yeast
1 tsp granulated sugar
3/4 tsp kosher salt
Garlic butter mixture: 
4-5 large cloves garlic, minced
2 tbsps extra virgin olive oil
2 tbsps unsalted butter, melted (or more olive oil )
1/4-1/3 cup fresh parsley, very finely chopped
1/2 tsp kosher salt (or add to taste pinch by pinch)
Instructions~
1. Dissolve the sugar in the cup of warm water before gently stirring in the yeast. Allow the yeast to bubble (come to life!) for about 5-8 minutes.
2. Meanwhile, whisk together the flours and salt in a larger bowl. Pour the yeasty mixture into the center of the flour mixture and stir to combine. If the dough is too dry, add more water, tsp or tbsp at a time; if the dough is too wet to handle, sprinkle over some flour until the dough is slightly sticky and smooth, but not coating your fingers with goop.
3. Knead the dough for 5-7 minutes on a lightly floured surface. It should be silky smooth, not scraggly or breaking apart, so add more water if needed and allow it to sit for a minute or two to soak up the moisture before continuing to knead. Place the ball of dough in the bottom of a large lightly-oiled bowl. Cover with a clean and slightly damp kitchen towel and allow to rise in a warm place for 1 hour or more/less, until it has doubled in size (don't stick it in a super hot pre-heated oven!)
4. After the dough has doubled, form the knots by rolling out the dough into a (roughly!) 10 by 10 inch square (as you can see in the pic above, I totally rolled it out into an uneven rectangle, but alas). Use a sharp knife to cut 10 long strips. Tie a knot in the center of each strip and curl each end under and around the knot (again, have fun with it). Cover knots with a towel and allow to rise for 30 minutes or less/more until doubled in size; they will be noticeably puffier! As the knots rise, preheat the oven to 400 F.
5. Lightly coat the knots with olive oil (optional, but promotes more browning) and bake the knots on a lined baking sheet for 15-18 minutes, until nicely browned. As the knots bake, whisk together the melted butter, olive oil, minced garlic and parsley, and salt.
6. As soon as the knots come out, use a brush (if you have one) to coat them with the garlic mixture or simply toss them in the bowl. I found it easiest to use my hands and gently rub the butter and garlic/parsley into the knots; make sure the crevices fill up with bits of parsley and garlic! Serve warm alongside lasagna or soup, and simply warm up in the oven for 5-10 minutes if serving as leftovers.
Note: this whole wheat dough recipe has been adapted from Joy the Baker's garlic knot recipe and credit should be duly given!