These scones are my attempt to love myself more. We bake delicious things for people we love and care about, so why not extend that practice to include ourselves? The past couple of weeks have not been out of the ordinary, and yet, I feel a sense of uneasiness moving along with me… it's lurking beneath every thought or feeling I have and every action I carry out. At first, I responded to it with fear and sadness; is it general anxiety? Does it come out of no where, like a force of nature, or was it born from my lack of trust and knowing in myself? The questions can quickly stumble out of control; at some point or another, I have to remind myself that I am not a puzzle that can be put together perfectly or, for use of another helpful metaphor, I am not a box of self and soul that can simply be unpacked. Maybe there comes a time when the probing, no matter how well-intended and thoughtful, has to be put to a stop. And when the desperate search for answers ceases? Ah yes, I find myself stuck in an odd space that needs to be filled. But by what? Give me more to worry about! Give me something else to frantically dwell on and fear! I need my space to be occupied, even if it torments me!! 
It's amazing putting those thoughts in words and laying bare the truth of the matter; I am not okay when alone with myself. Being alone means I have to confront myself, stripped of the distractions and embellishments of anxiety and perfectionism. What a funny feeling it is, to simply be with oneself. I am not each thought that appears, and stubbornly lingers, in my mind. I am something else… a something that I am still learning to befriend and trust… and that is okay. Yes, it is OKAY. Let the strange, happy tears flow, wonderful human, because it will soon be time to further foster that friendship by making some heart-hugging, wholesome scones. Let that stubborn bitch in your mind go. There is no room for him or her here. Scones need attention and care in order to grow (and, yes, some baking powder)… and coincidentally, so do you!
I rolled up my sleeves and thought, if I can cultivate these scones with a loving hand, I can do the same with my Self. Maybe I should start putting as much care into my well-being as I do into my baked goods. Maybe I should encourage myself to rise as though I am a ball of yeasty dough that has the potential to become the fluffiest goddamn cinnamon rolls around. Does that not make sense? We each have the potential to be the walking, breathing visions we have of ourselves, but we often forget that such potential requires our careful and conscious molding; those cinnamon rolls won't conjure up out of thin air and march into your mouth and belly, you have to mix and knead and roll and form and cut them, and then, of course, you have to get to (excitedly) cover them in a blanket of sweet icing. It takes a lot of work and time to get to the finger-licking icing stage.
These scones don't require any yeast, nor do they require more than 10-15 minutes of actual hands-on work. They simply require a pair of hands that are eager to create (and, before I go down another tangent, they also require a handful of no-fuss ingredients: whole wheat flour, almond flour, unsalted butter (pasture raised is the way to go!), almond butter, and, of course, raspberries, to name a handful). Perhaps if each of us anxious, eager bakers approached ourselves with the same excitement and patience that we approached baking, things would change for us in ways we had always envisioned they should, hoped they could, but never truly believed they would.
I often find it hard to maintain a clear sense of motivation from day to day; in baking, the motivation is obvious: I want a beautiful and (most crucially) tasty scone, so I go through the motions necessary to achieve that. Outside of the realm of baking, however, my default voice often reeks of cynicism and nihilism. I know I'm not special in this regard; don't we all speak to ourselves that way about life? Not everyday, but many more days than we'd like. And don't most of us still choose to carry on with life? Sometimes begrudgingly, but often eagerly, as though we have an unspoken hope for ourselves and future. That innate desire to see meaning in it all, even when that meaning can't be articulated, gives me a lot of hope. It brings on the happy tears. I may have made a mess of my words up above, but if there's one thing I'm trying to get at it, it's that, I think, showing yourself love is, well, super important. Reminding yourself of your meaning, your life's meaning, or you and your life's potential meaning, might help lift you up. Make yourself a batch of scones, and share those scones with people you like (and maybe people you don't like, too), but make them and enjoy them and remind yourself that you are just as capable of molding yourself and your life, little by little, day in and day out, one tsp of baking powder or one tbsp of coconut sugar at a time, into an all around better scone. And no pressure if you're not a raspberry kind of person; like us, scones are versatile and wide-ranging in their qualities and tastes.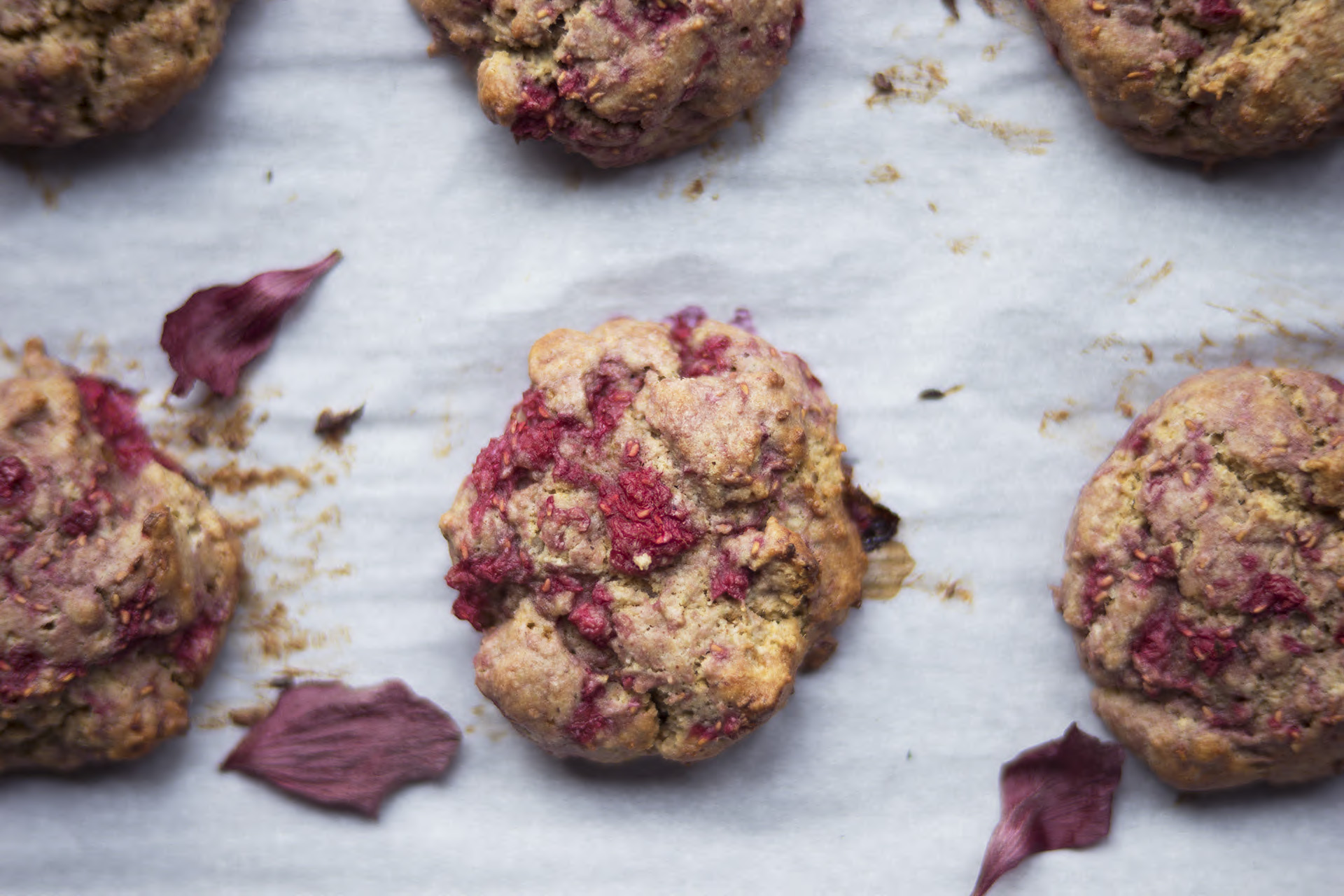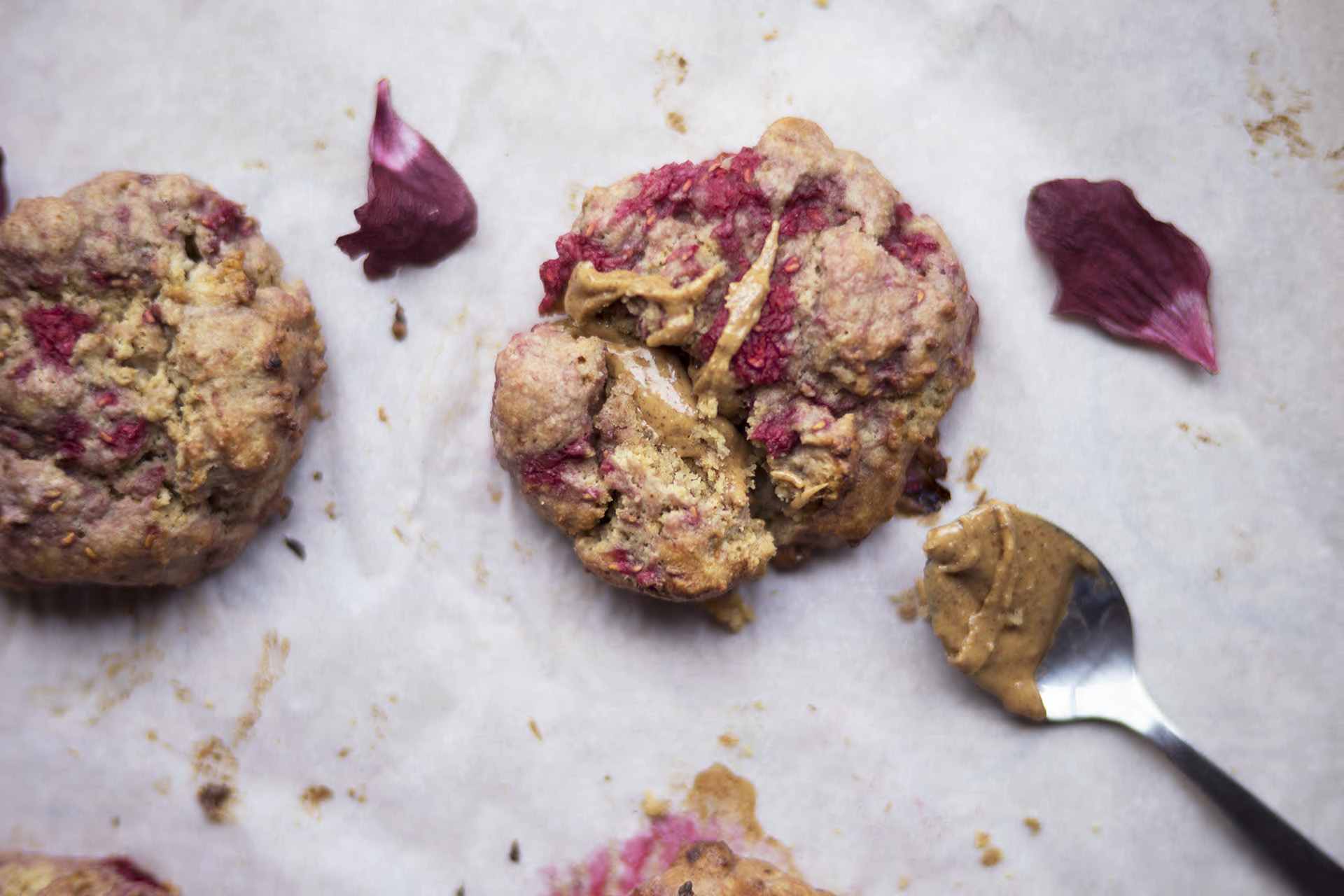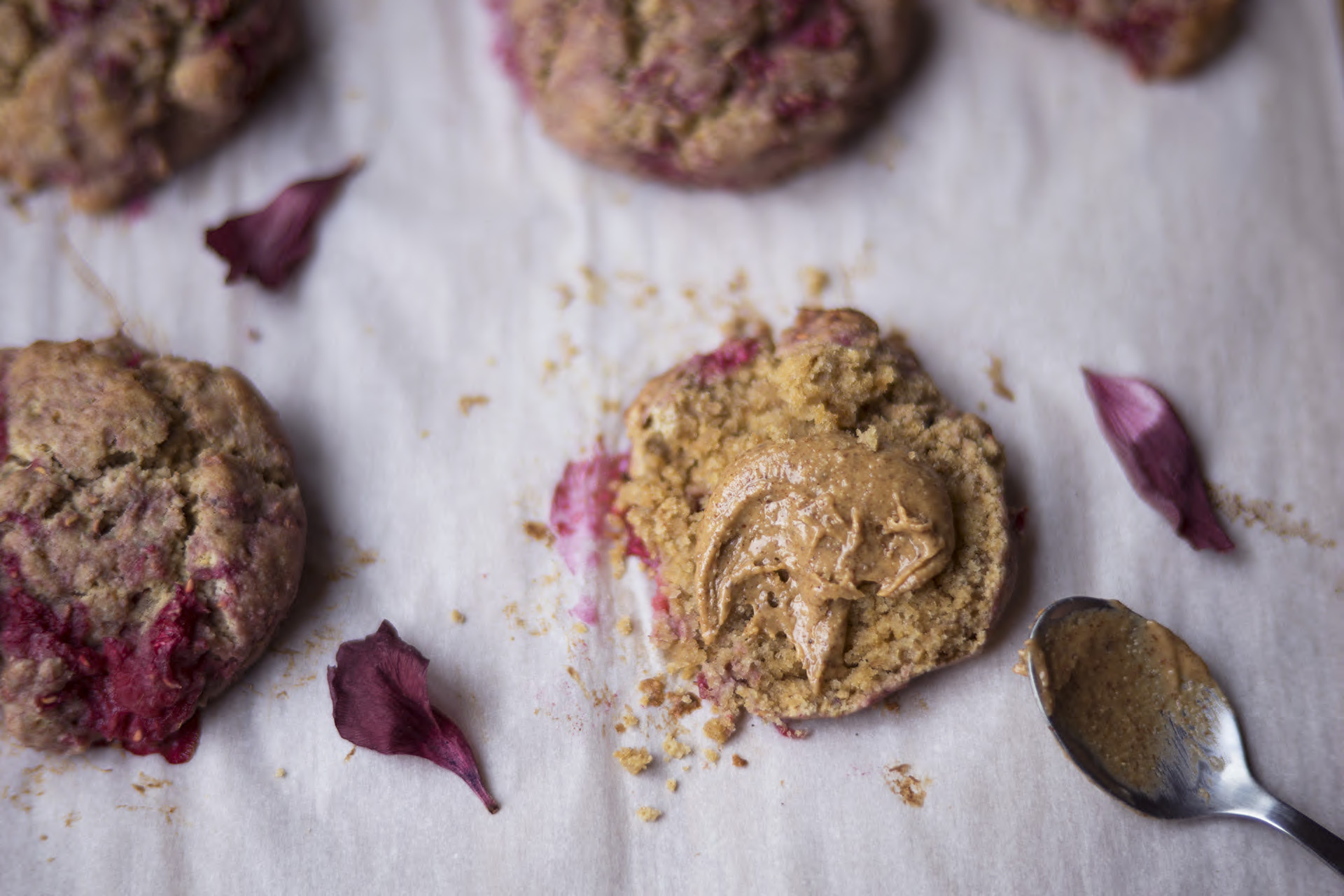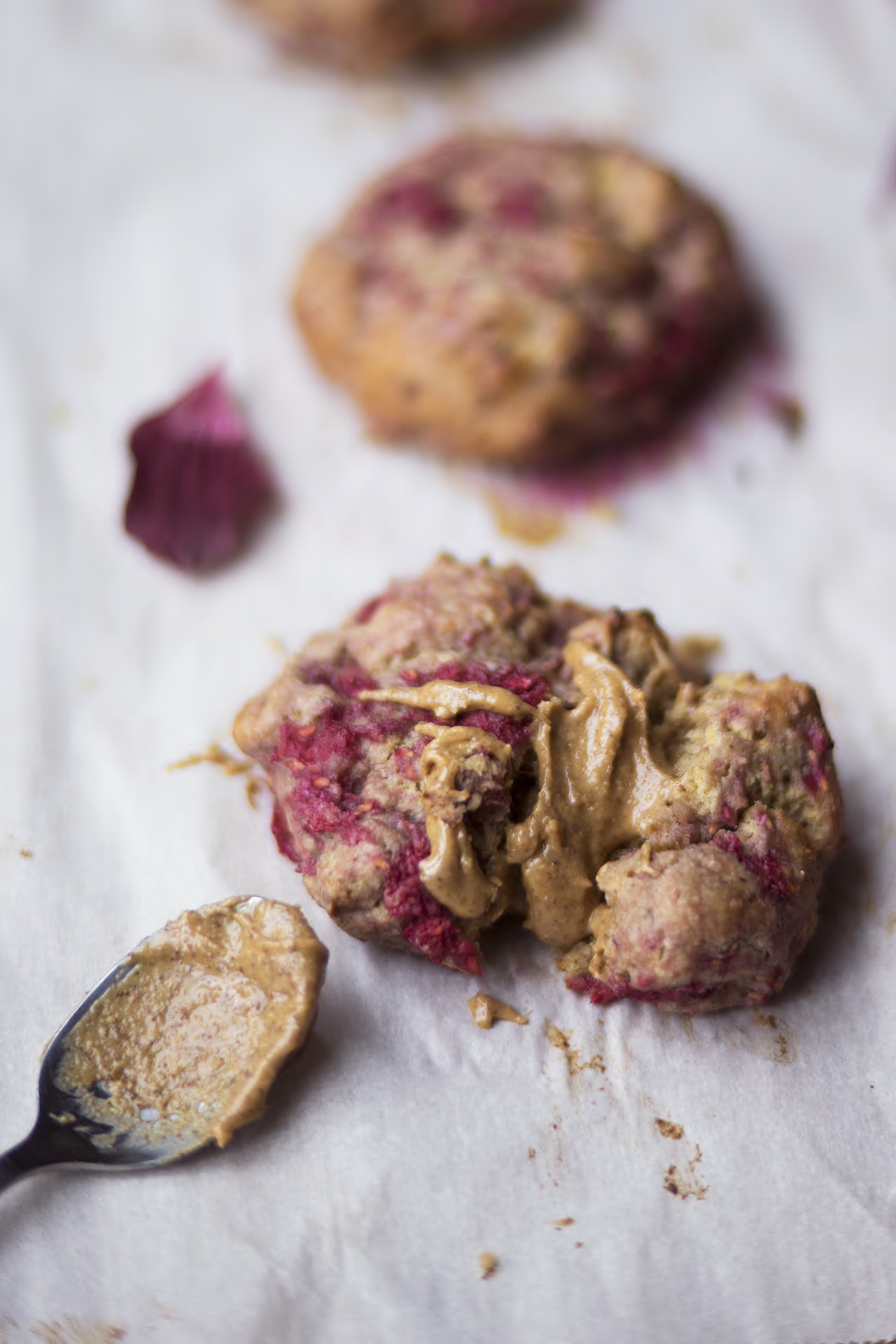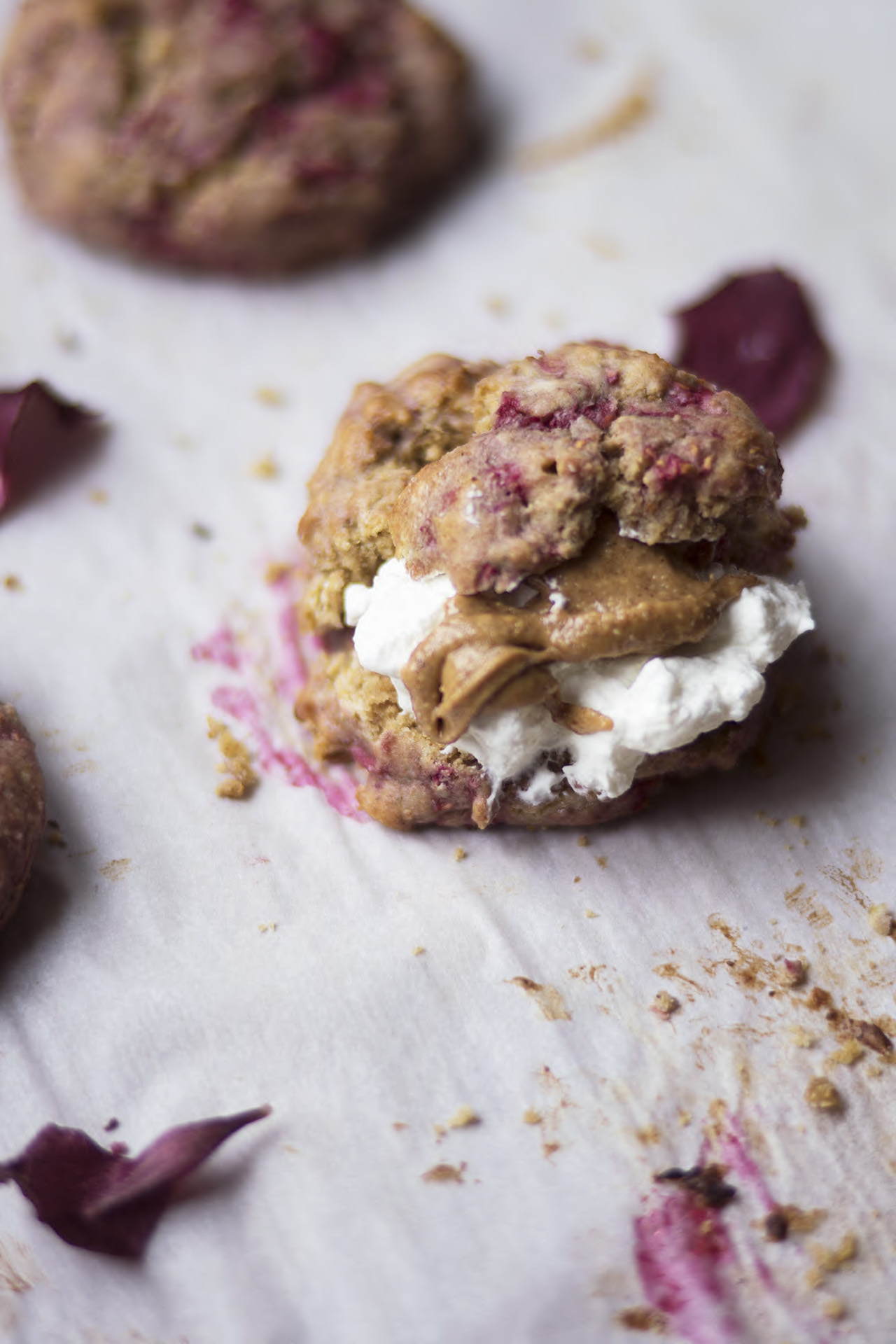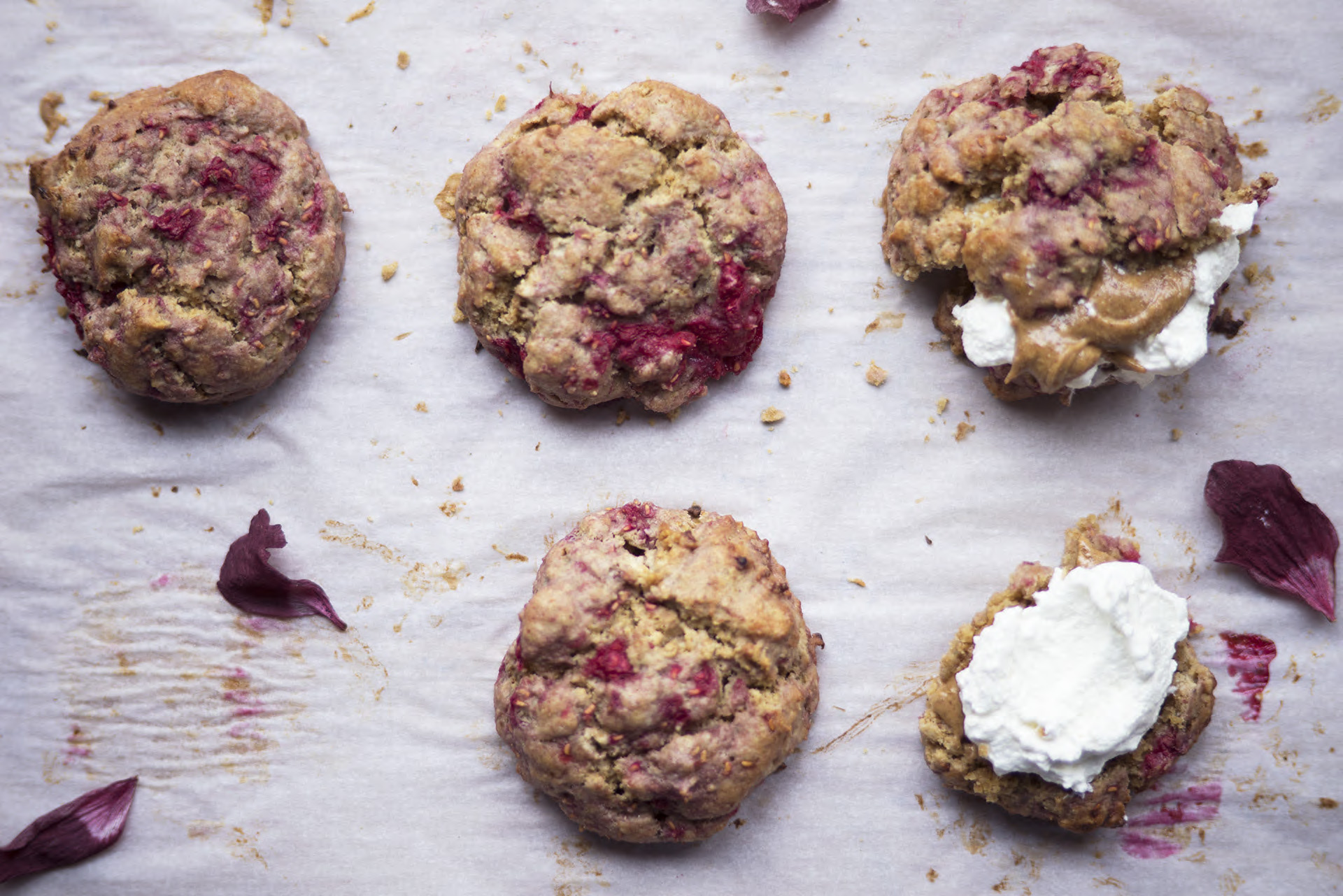 Ingredients~
Makes 6 medium scones

1 cup whole wheat pastry flour
1/2 cup blanched almond flour
2 tbsps coconut sugar or light brown sugar
3 tbsps unsalted pasture raised butter, cold and diced
1 heaping tbsp natural almond butter
3 tbsps milk of choice
1 pasture raised egg
1 tsp vanilla extract
Scant 1/4 tsp almond extract (a teeny bit goes a very long way!)
1 tsp baking powder
Scant 1/4 tsp kosher salt
1/2 heaped cup fresh raspberries (rinsed and lightly patted dry)
For serving: generous swabs of almond butter and freshly whipped cream!
Instructions~
390 F for 15-18 minutes, or until golden brown and firmed up to the touch. Allow to cool for at least 10 or so minutes before serving!