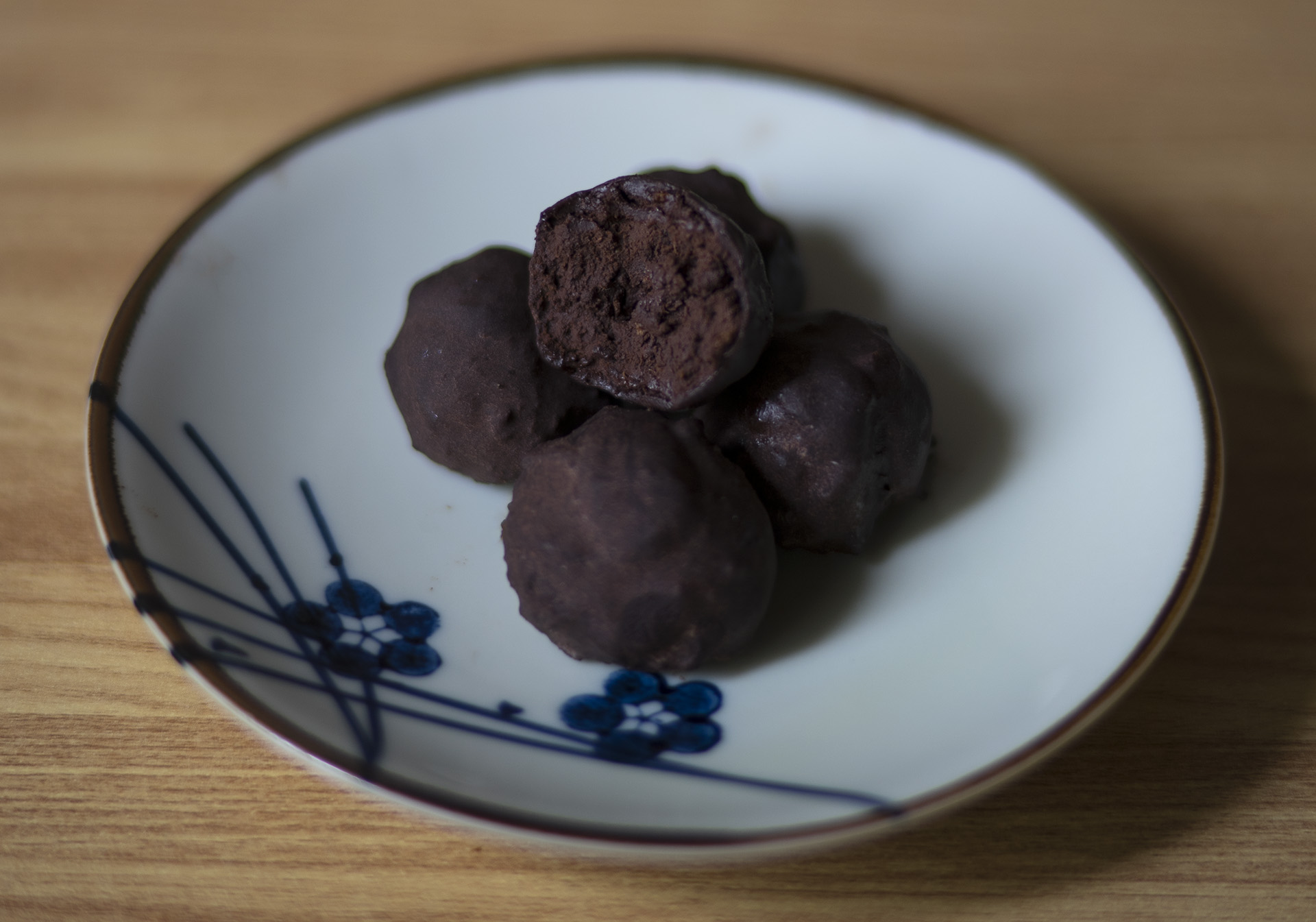 Chocolate is kind of like pizza, the bad stuff is still pretty good and the good stuff is a godsend. Then there's the really good stuff, the silky, melt-in-your-mouth chocolate that offers the perfect dose of bitter and sweet. You know when you've had a taste of the really good stuff; you're so focused on the flavors and textures it offers that you don't even think about stuffing your face with more. You eventually do (stuff your face with more), but you do so gradually, one truffle at a time, because hastily consuming something so delicious would be a tragedy.
These truffles are a chocolate fudge hybrid. They get their fudginess from the cocoa butter, which, when combined with the other ingredients and chilled in the fridge for a bit, hardens up the truffles enough to create the ultimate soft and creamy filling. I've tried subbing coconut oil for the cocoa butter, and while it does satisfy my chocolate craving, it's just.. not quite as ridiculously good. The cocoa butter may be a bit of a hassle to find, I had to purchase mine on Amazon and wait a couple of days for it to arrive, but it will carry your chocolate making/eating to new, far more favorable, heights (heights you will never want to step down from). Also, thanks to the cocoa butter, these truffles can last more than 5 minutes out of the fridge/freezer without melting. They may soften up a little after the 10 minute mark (depending on how warm your environment is), but they won't turn into a brown puddle like coconut oil chocolate will.
These truffles don't ask a lot of you. Simply stir together cocoa powder, cocoa butter, orange juice and zest, and one mashed medjool date (or sweetener of your choice), pop the resulting mixture into the fridge for 30 minutes, roll the mixture into balls, coat the balls in a cocoa powder + cocoa butter + orange juice sauce (or omit this and suffer no consequences), allow the balls to chill for a liiiittle bit longer, and voila, there you go, there you have it, FUDGY chocolate TRUFFLES sans the unpleasant refined sugar and heavy cream and butter. You won't find any chocolate wax here. Only velvet. And silk. And thick waves of healthy chocolate cream.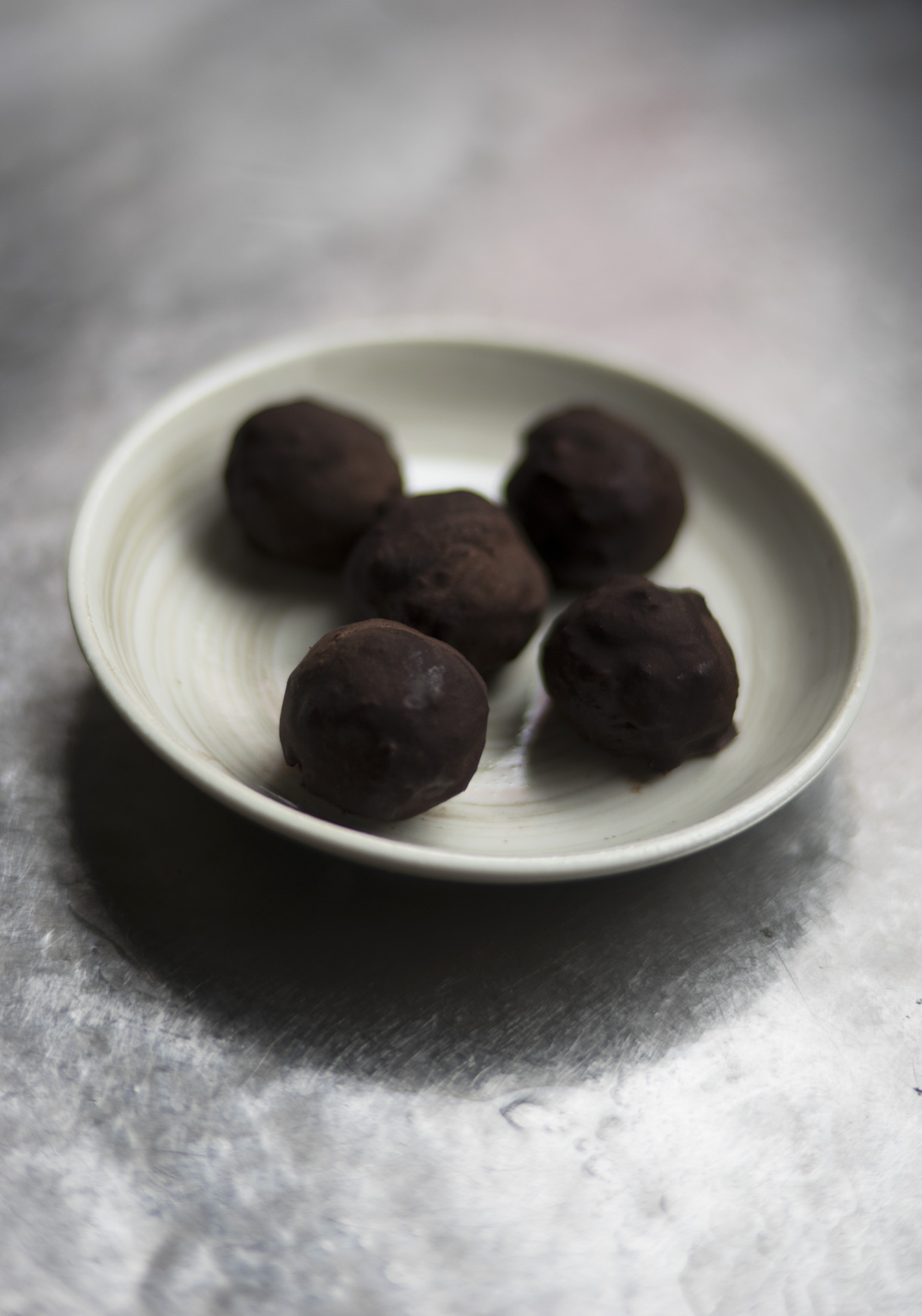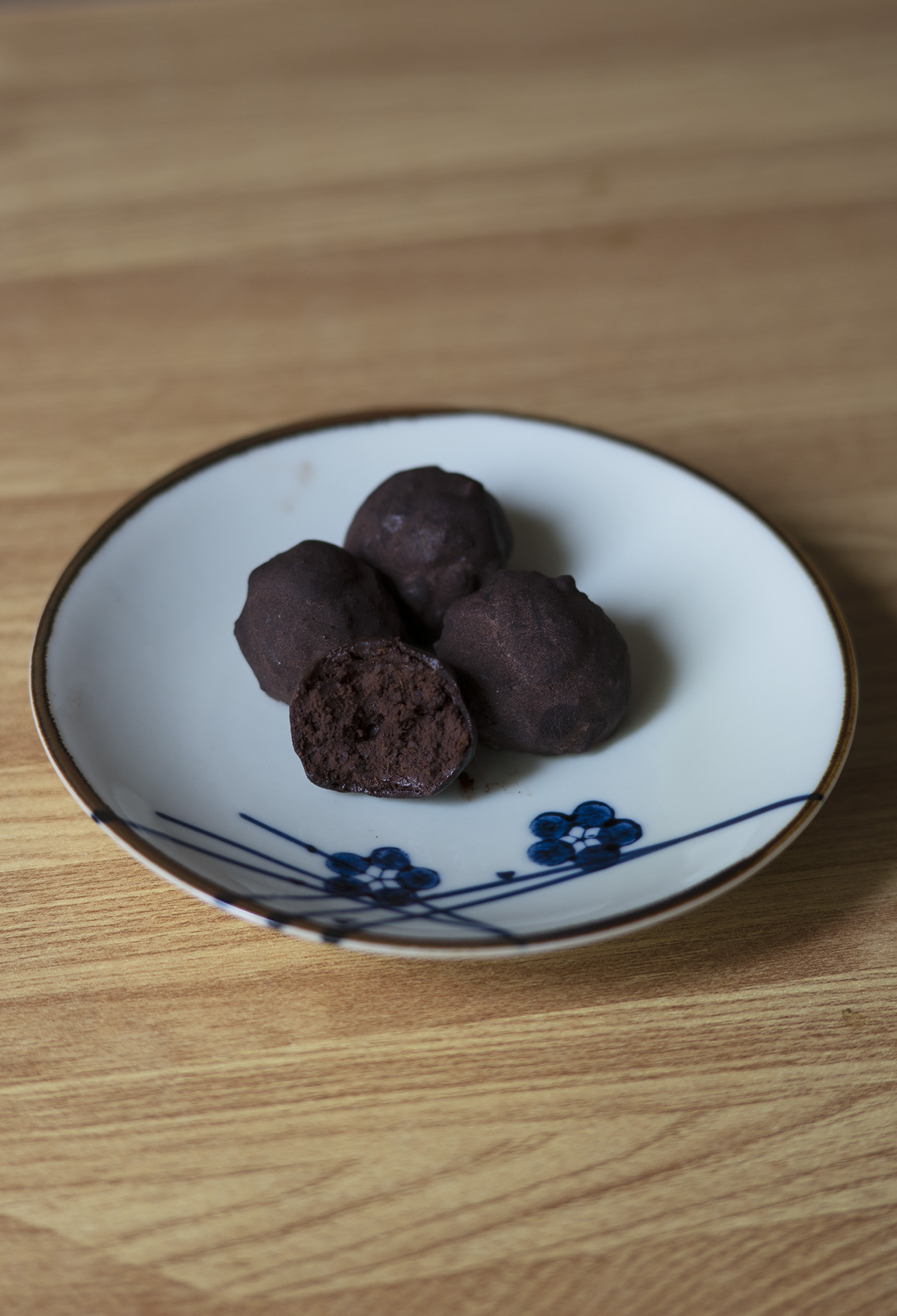 Ingredients~
Makes 6 truffles
Truffle filling:
3 tbsps cacao or cocoa powder
2 gooey medjool dates, pitted and mashed/pureed
2 tsps cocoa butter, melted
1 tbsp & 1 tsp fresh orange juice
1 packed tsp finely grated orange zest
Chocolate coating:
1 tbsp cacao or cocoa powder
1 tbsp cocoa butter, melted
2 tsps fresh orange juice

Instructions~
1. In a nonstick saucepan on low-medium heat, melt the 2 tsps of cocoa butter. Whisk in the cocoa butter, whisking until no lumps remain. Stir in the orange juice, zest, and date mash, until the mixture is combined and quite thick and sticky. You will have to let it chill in the fridge, covered, for about 30 minutes before handling it.
2. As the mixture chills, make the chocolate coating. In a nonstick saucepan, melt the cocoa butter until completely liquid. Whisk in the cocoa powder until no lumps remain before whisking in the orange juice. The consistency will be similar to a liquidy ganache. If you'd like it to be a bit runnier, add another tsp of orange juice or liquid sweetener (rice malt syrup, maple syrup, etc.) Set aside as you form the truffles.
3. Once the truffle mixture has finished hardening, use your hands to roll together 6 balls. If you'd like them to be quite larger, you'll probably get 4 out of this recipe. Once shaped, poke them with a fork and dunk them into the chocolate sauce, turning the handle of the fork to ensure that the entire truffle is coated (the area with the fork holes might be difficult to completely coat but that's okay). Gently slide each truffle off the fork so that the punctured part is on the bottom and out of view. If you have any leftover sauce, dollop it on top of the truffles or pour it onto parchment paper and chill it in the fridge to enjoy later. Allow the freshly coated truffles to sit in the fridge for about 45 minutes to an hour until the outer shell is hard and your finger doesn't leave a noticeable indent upon touching it. Enjoy!!!