What is cake good for?
Birthdays
Baby showers
Every other celebration you can think of (in the U.S.A. at least)
Winning someone's heart
Exchanging for dollar bills
Telling yourself 'I love you'
Breakfast
With two cans of peaches in the cupboard and breakfast fast approaching, I decided cake was a good idea. Initially I was going to make a peach cobbler, but CAKE hastily flashed across my mind in bright, bold letters and I couldn't turn it off. Don't get me wrong, I thoroughly enjoy fruit cobbler, but it's not compact and neat; cobbler is like the stew or casserole of desserts, it's yummy, yeah yeah, but it's quite literally a big dump of a dessert. You don't see peach cobbler sitting behind the glass display shelves at trendy cafes in Melbourne. Nope, what you do see is proud little slices of breakfast cake. And ginormous caramel slices. And cream-filled whoopie pies. But let's not venture down such a dangerous tangent this early in the morning.
I ended up making this cake twice. The first time I topped it with peaches and it came out a little dry (not a fault of the lone peaches). The second time I added a couple tbsps of soy milk, reduced the ground oats, and nestled some sliced pears in between the peaches. After mixing ingredients for less than 10 minutes and waiting patiently for less than 30, a slice of hearty, healthy 'I love you' was in my bowl and on it's way to my appetite.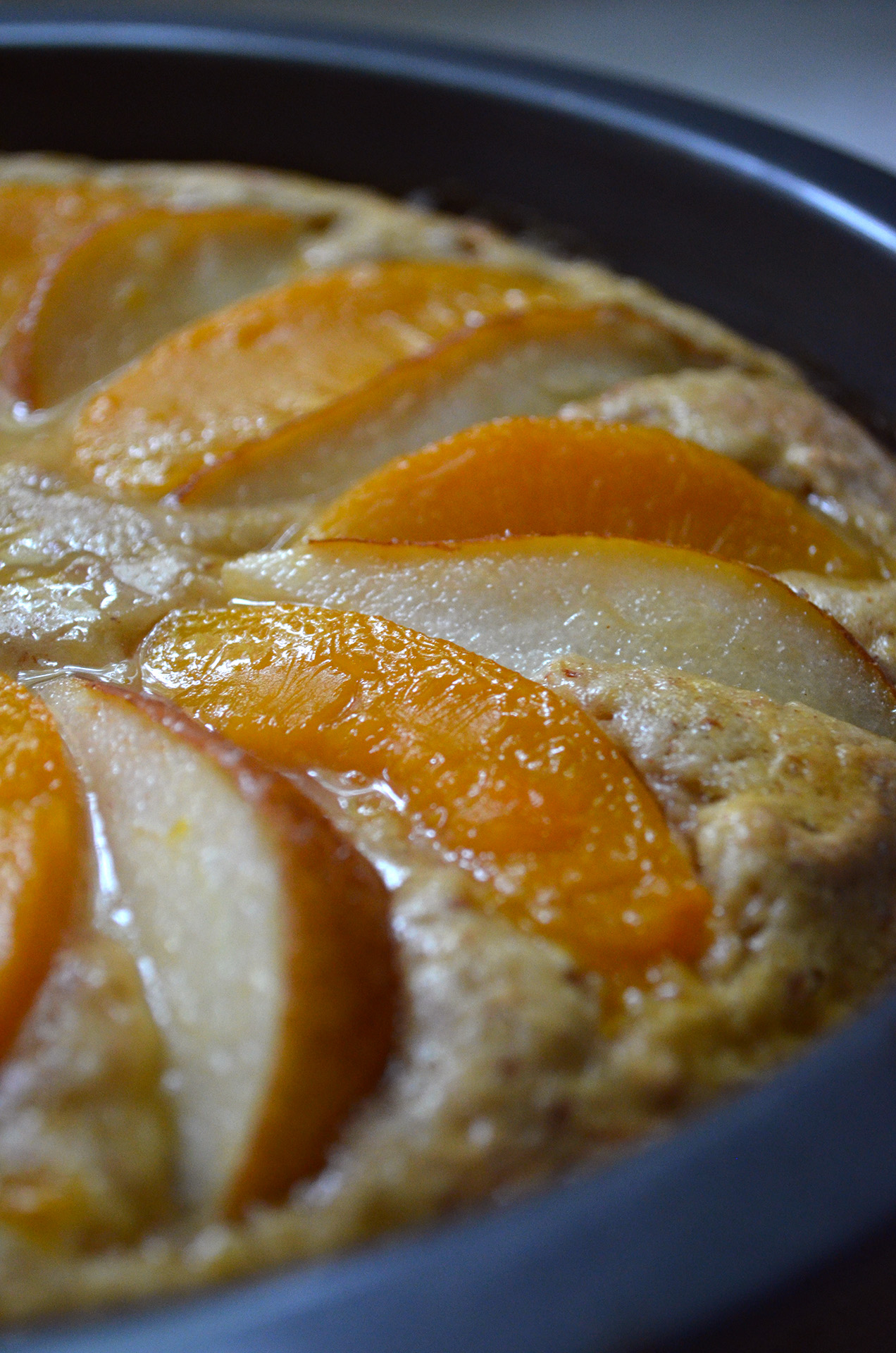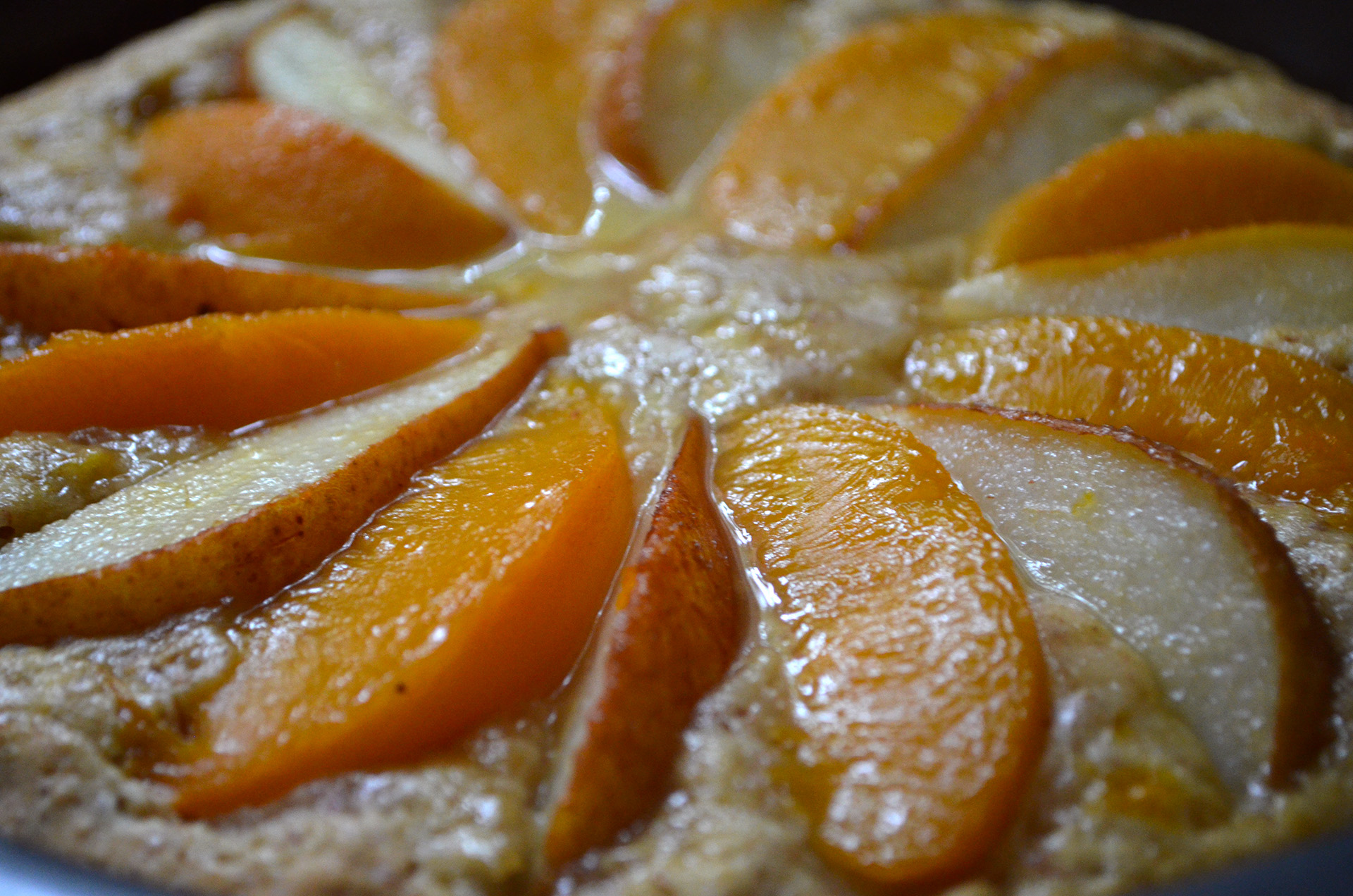 Don't stop baking cakes for birthdays or full-moon parties, but do start baking cakes for me-time mornings; for mornings spent at home, free from the grapples of regular working days. On these mornings you lazily re-fill your coffee mug more than you can remember and don't panic when you've eaten cake for breakfast and lunch, albeit oat and nut dense cake topped with fruits. You remind yourself that there's a cake-inclusive celebration happening somewhere and you ought to have a slice to that.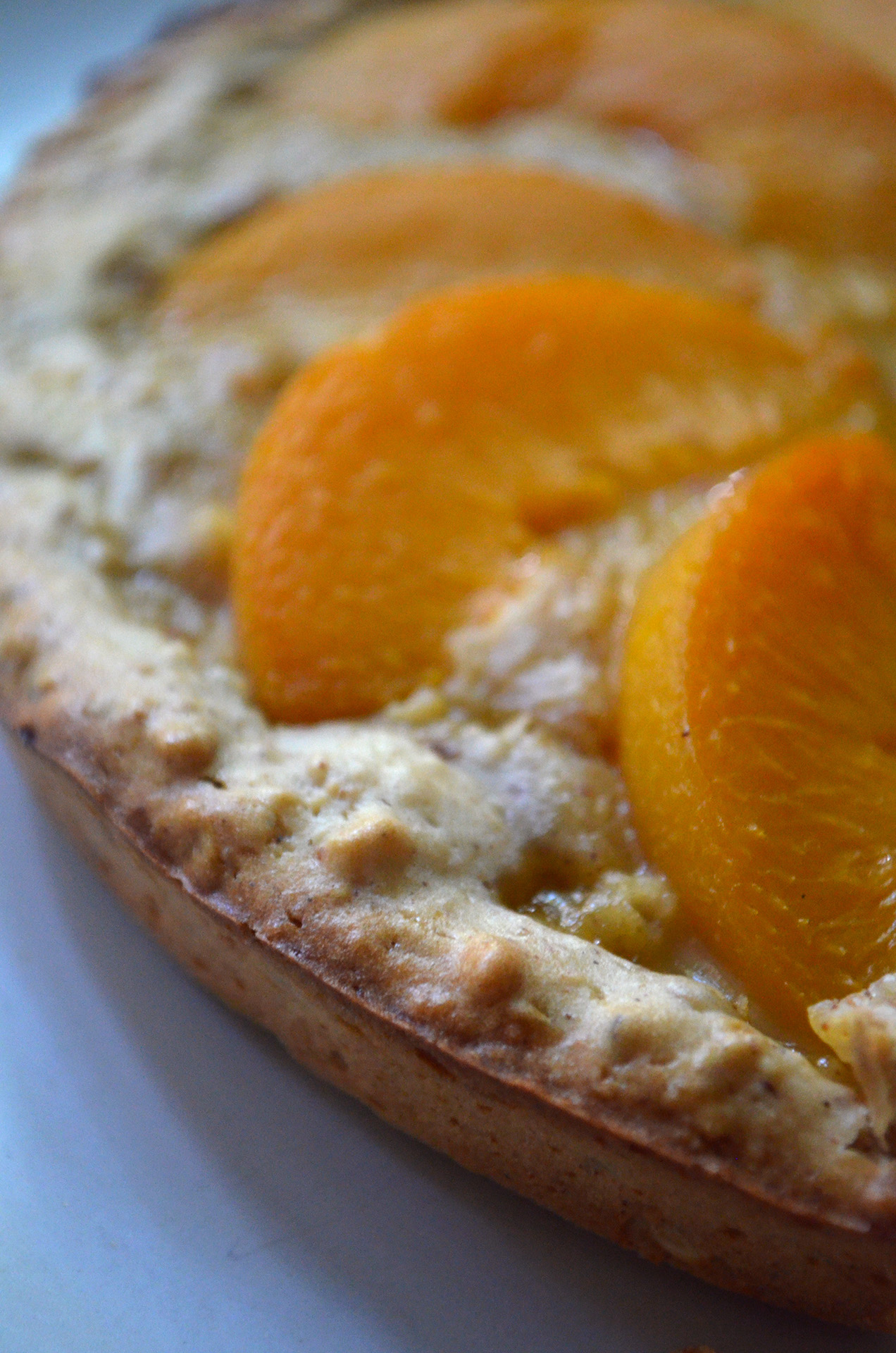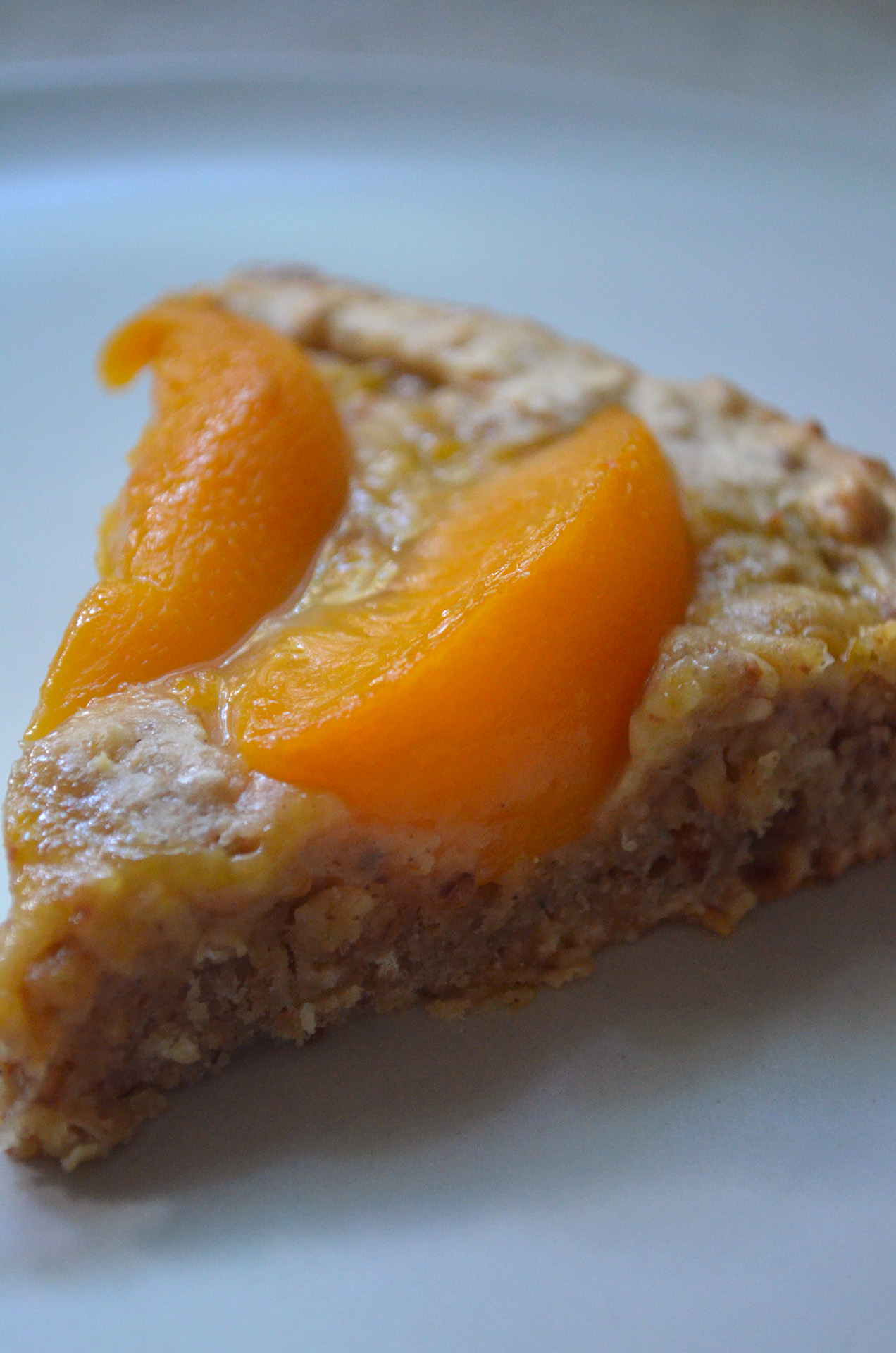 Ingredients~
1-2 cups sliced peaches and/or pears in fruit puree or syrup
2/3 cup all purpose flour (or half whole wheat and half all purpose)
1/3 cup ground almonds (or almond meall)
1/3 cup ground oats
2 tbsps rice malt syrup
1 1/2 tbsps granulated sugar (add 1/2-1 tbsp more if you want it sweeter)
1 egg
1/4 cup butter, melted
2 tbsps soy milk or milk of your choice
Scant 1/2 tsp baking powder
1/2 tsp cinnamon
1/4 tsp nutmeg (optional)
1/4 tsp ground ginger (optional)
Pinch of salt
Instructions~
Preheat oven to 176 C/350 F
1. Drain canned peaches/pears and reserve a few spoonfuls of syrup for later. Slice fresh fruit if using. Whisk together dry ingredients in a medium-large bowl until well incorporated.
2. In a separate bowl, beat the egg and add the melted butter, milk, and syrup. Add the wet ingredients to the bowl of dry and mix until combined and goopy/sticky. The batter should be pourable but still fairly thick like pancake batter.
3. Line a cake tin with parchment paper and lightly grease or butter the sides before pouring in the batter. Use a spatula to evenly spread it out, ensuring an equal width all the way around. Add the sliced fruit and drizzle syrup and/or sugar over the slices. Bake for 18-25 minutes or until set and the edges are lightly browned, turning 180 degrees at the halfway point to ensure an evenly baked cake. This cake pairs well with vanilla ice cream (for dessert) or plain yogurt (for breakfast)!