Up until a couple of weeks ago, pumpkin resided in the 'weird and best avoided when baking' corner of my mind; it existed on a mysterious plane between starchy, root vegetables (like sweet potato) and toss-in-a-salad vegetables (think carrots and peppers), so no wonder I didn't think of it as a reasonably normal baking ingredient, right?
Maybe I'd notice butternut pumpkin was on sale, $4/kg down to $2/kg, but no pings went off in my brain. Long story short, my knowledge of pumpkin in baking was limited to pumpkin pie. Only after further pondering did I remember the time I was hooked on pumpkin bread in high school. The snack bar at my school served up moist, dense slices of the stuff and I would have it a couple times a week. Realizing the uniquely flavored success that pumpkin can have in bread-making, I decided to take the risk and venture down a less-familiar route with it: pancakes. And boy am I glad I did.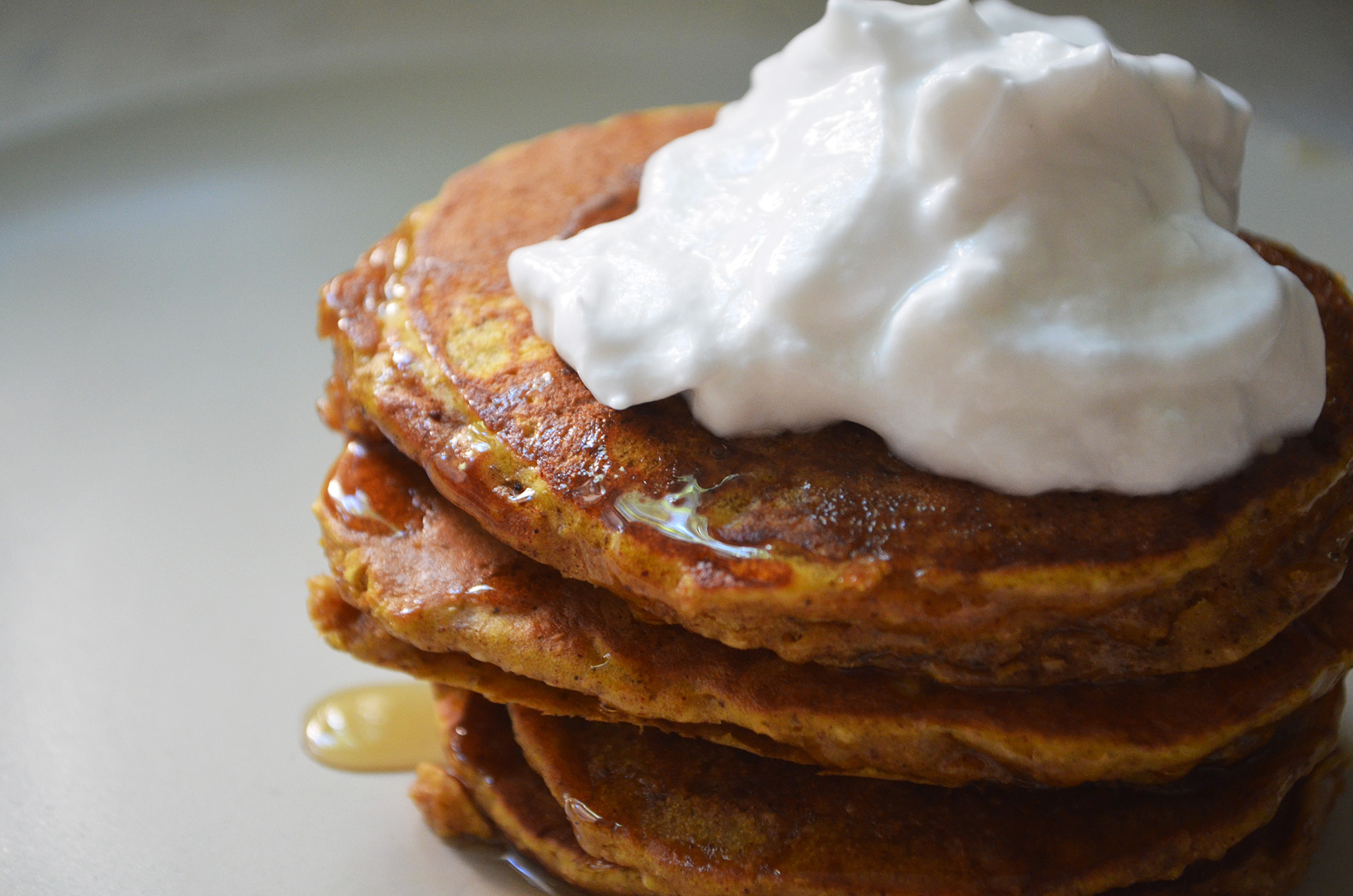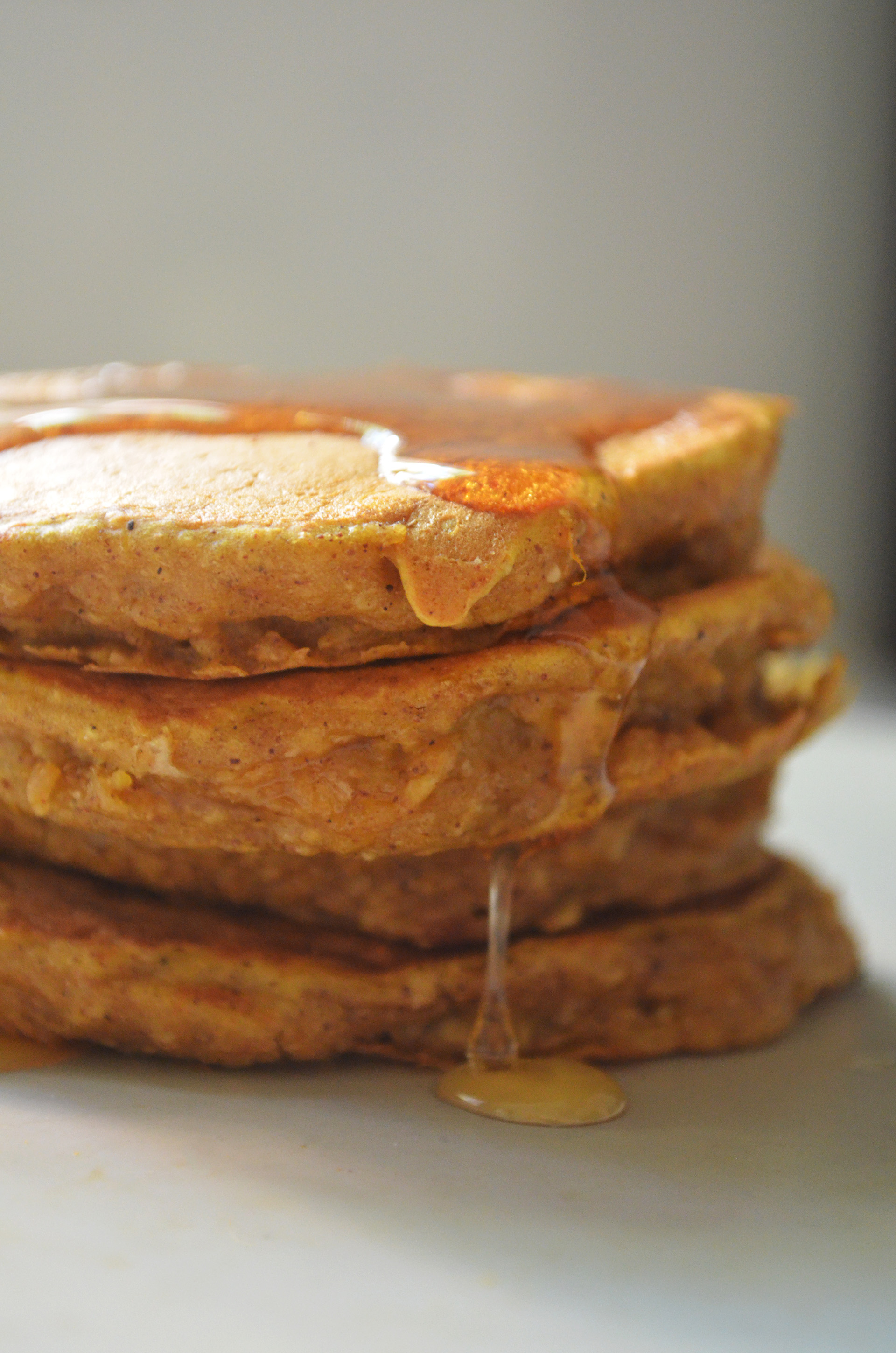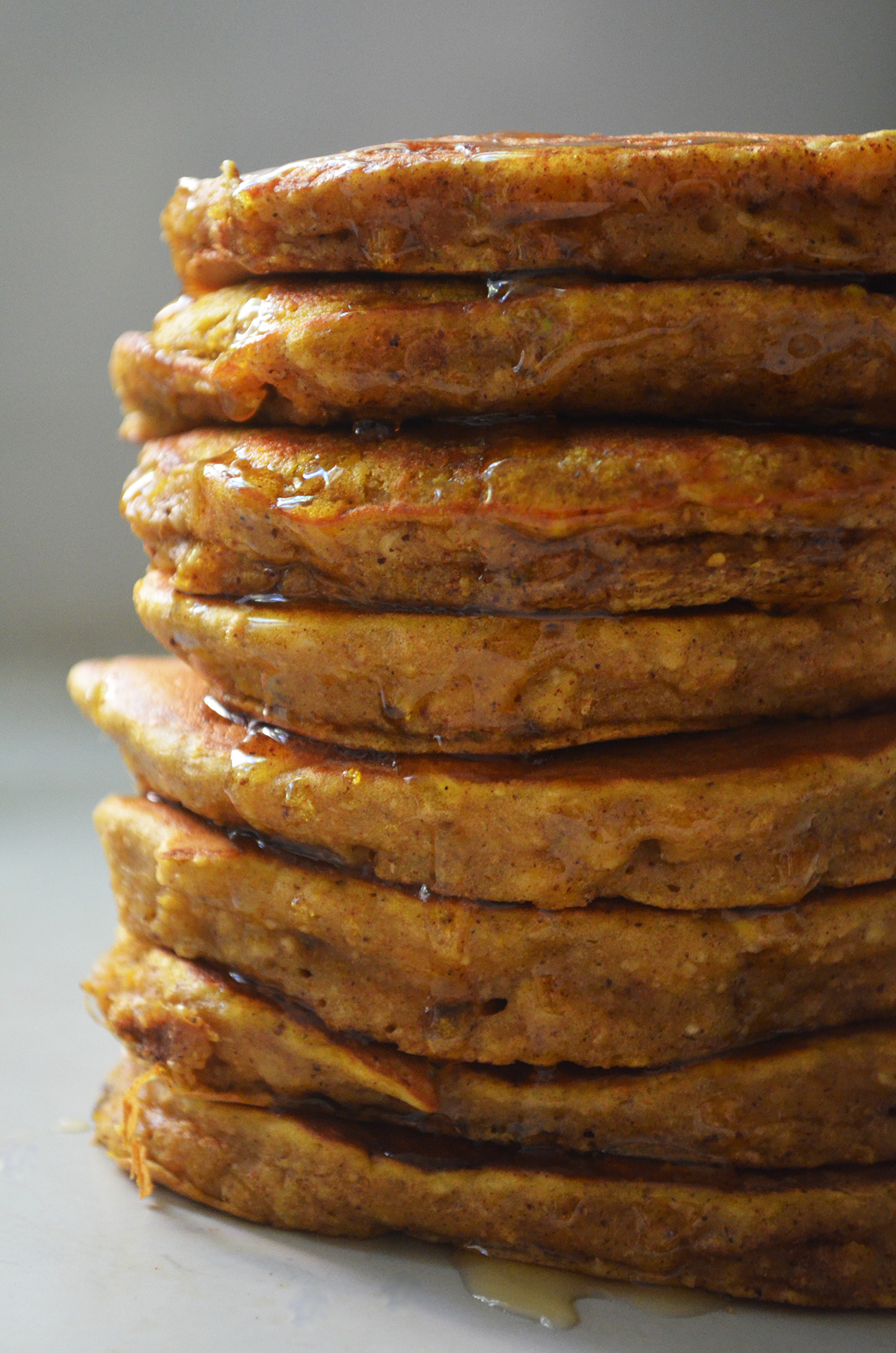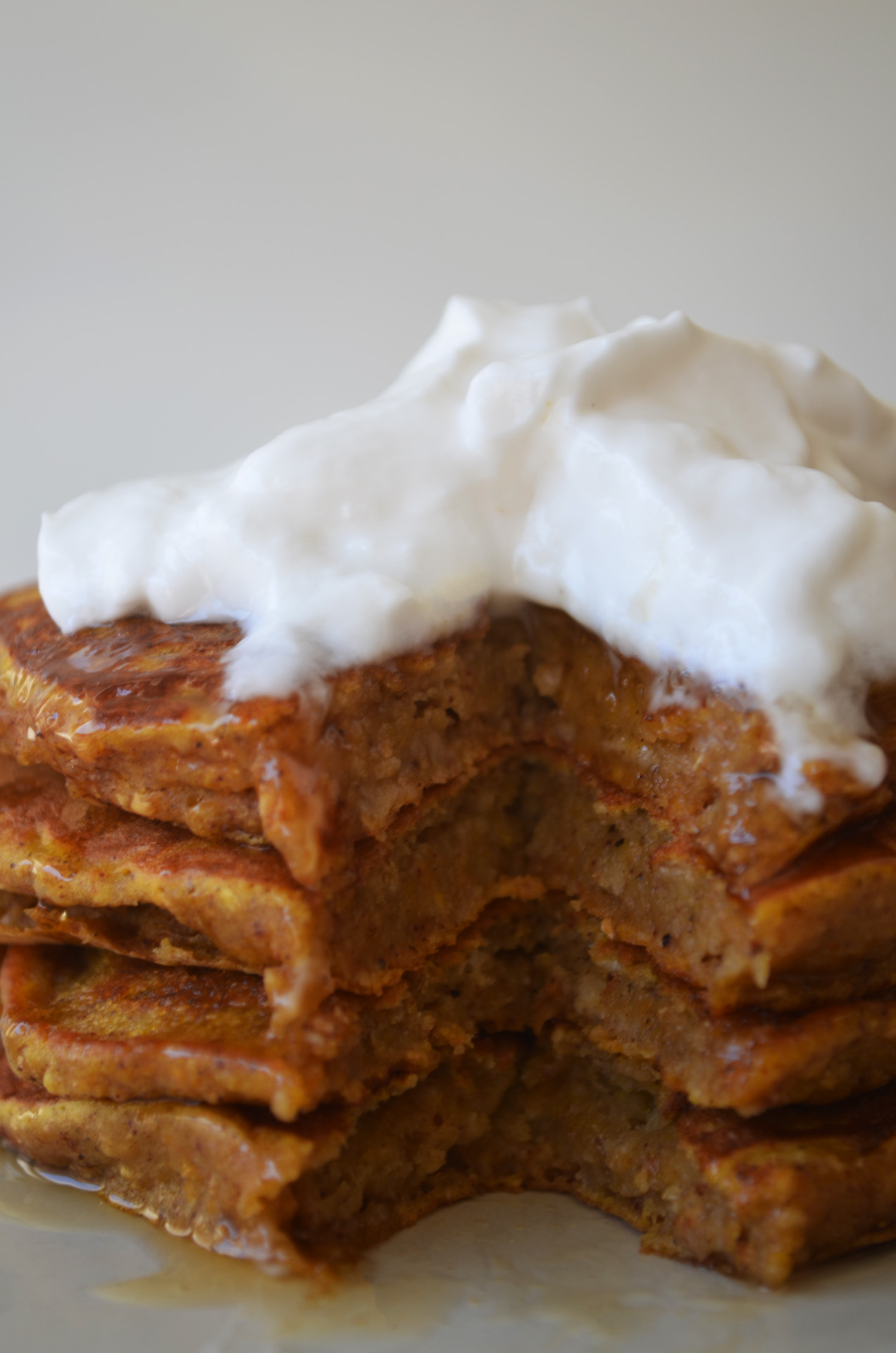 These pancakes have an incredibly soft and moist interior, while still offering up a bit of fluff. I was pretty overjoyed with the ridiculously good-for-you and good tasting result.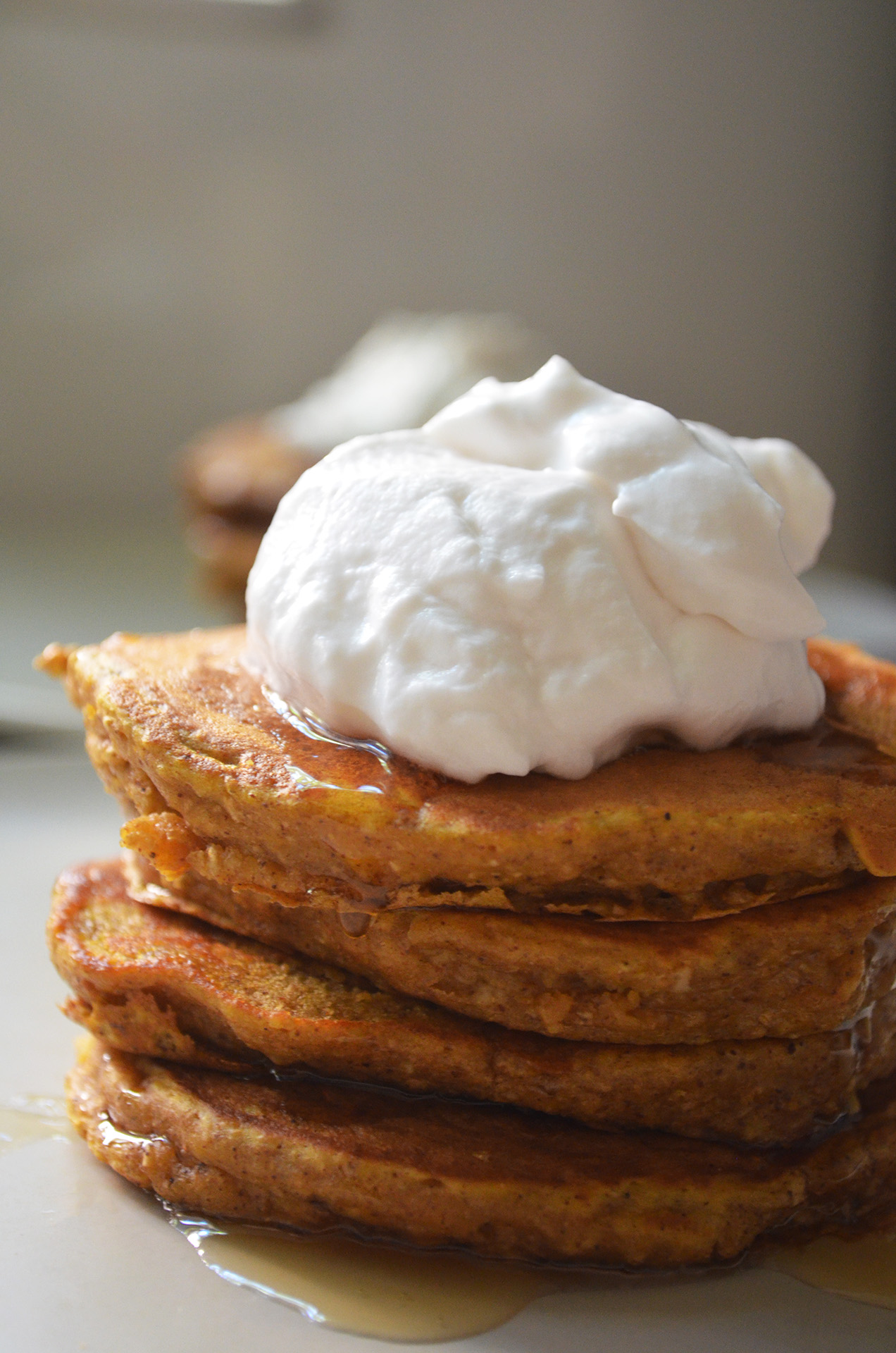 Ingredients~
2/3 packed cup pureed roasted pumpkin (or canned)
2/3 cup whole wheat flour
1/3 cup rolled oats
1 tbsp rice malt syrup or other liquid sweetener (add more to taste)
1 tbsp lemon juice
1/2 tsp vanilla extract
1 egg
3/4 tsp cinnamon
1/4 tsp ground ginger
1/4 tsp nutmeg
1 tsp baking powder
1/4 tsp baking soda
1/3 cup & 2-4 tbsps rice milk or milk of your choice
Pinch of ground rock salt
Instructions~
1. Combine pumpkin, lemon juice, egg, syrup, and 1/3 cup milk in a large bowl. Add dry ingredients and whisk until well combined and the batter is goopy enough to drop off the whisk. If it is too thick add more milk by the tbsp (I added 3 more tbsps of rice milk).
2. Heat up a little oil in a large pan over medium heat. Once hot, add pancake batter by the spoonful. Each of my pancakes were about 1 1/2 heaping spoonfuls of batter, but add based on your size preference. The batter will initially spread out a little bit but mostly retain it's plump pancake shape. Cook for 1-3 minutes on low-medium heat, flipping after tiny bubbles appear on the pancake's surface.
3. Enjoy immediately with syrup, butter, and/or coconut yogurt (<— it makes for a divine combo).