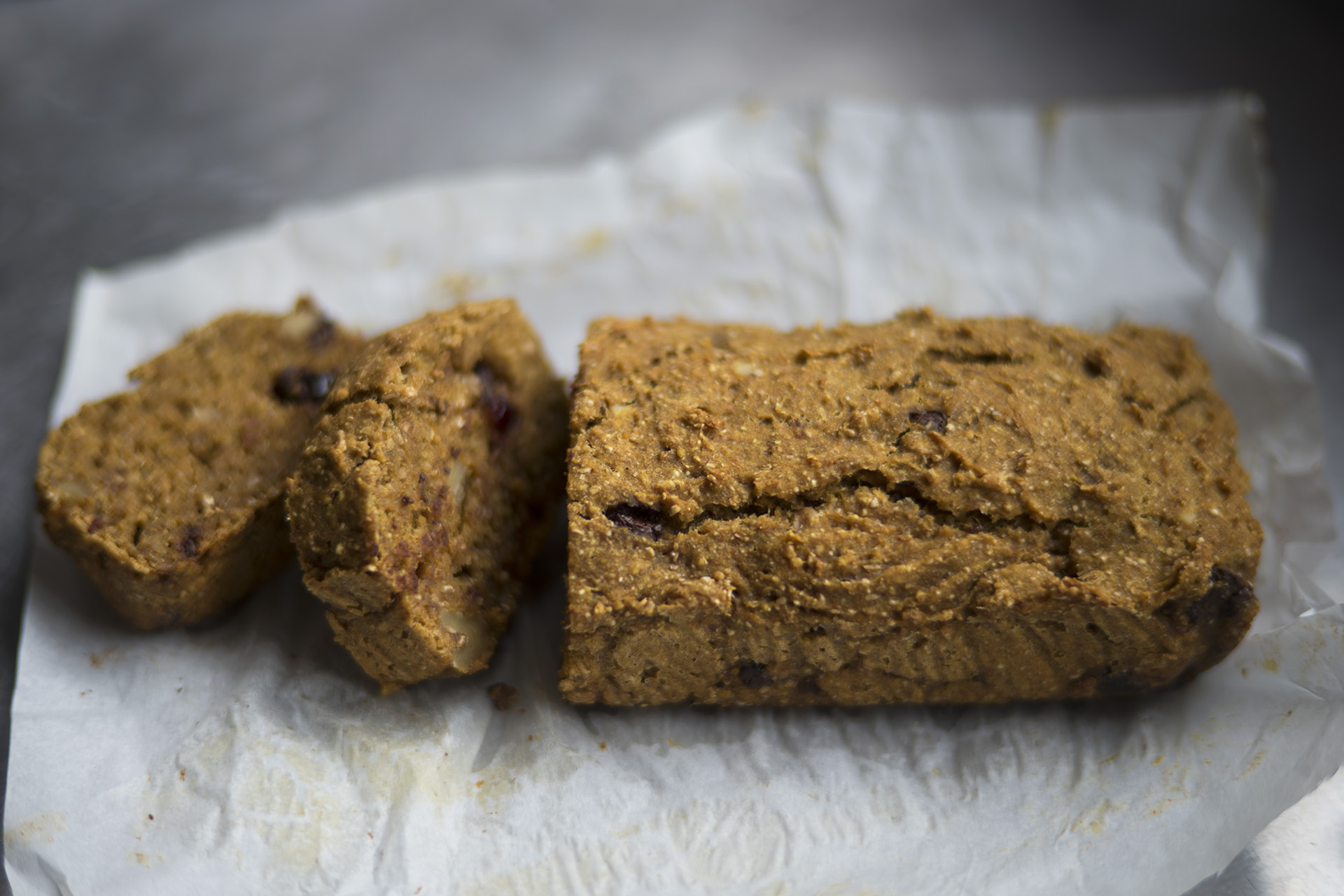 Since making my way to more whole-foods based baking, I've grown attached to pumpkin bread. I'm also incredibly, fingers-clasped-on-hard, attached to banana bread, zucchini bread, sweet potato bread, and, uhm, you get the idea… pretty much any baked loaf that has a packed half or more cup of pureed fruit or vegetables in it. Vegetables in bread? I know, it doesn't connote the happiest, warmest feelings, at first that is; once you have a hand at making healthy root vegetable based bread, sans the refined sugar and oil, you will feel weird…. weird because, well, surely this isn't real life? A bread loaf heavy on the pumpkin and light on the not-so-loving ingredients? After a few bites of moist, spicy pumpkin bread you will realize that yes, this is real life, this wholesome pumpkin bread is tangible and tasty and deserves all the praise it can get. Also, you deserve a little praise for treating your body and mind with so much thought and care.
Pumpkin puree, as well as sweet potato and banana puree, are the best replacements for oil in baking. Oil lends in creating a moist loaf of bread or cake, but adding 1/3 cup or more to a supposedly healthy pumpkin bread doesn't feel right to me. If I'm in the mood for something a little bit more indulgent, say a bread that I'm sharing at a party or brunch, I may dump in a bit of the oil, but when it comes to a lazy Sunday morning lounging around the house with my loved ones, I'm going to make something that I can eat two or three slices of without feeling lethargic and cloudy after. So, I scrap the oil and the heaps of sugar. Now what? Things are looking pretty pitiful… no oil (or butter), no sugar, and, because I'm really striving for the utmost nutrient-dense ingredients, not even any syrups (rice malt, maple, honey).
While the pumpkin puree works to replace the oil, the mashed dates and tiny bit of banana puree/applesauce replace the sugar, offering up some of the sweetness one usually expects in a slice of pumpkin bread. Seeing as the fruit is sticky and wet, it's not necessary to add milk or even eggs to the batter, making it 100% plant-based and vegan-friendly; the sticky dates help bind the ingredients together, resulting in a finished loaf that doesn't fall apart.
Of course, replacing oil and sugar with pumpkin and fruit will create a different kind of loaf, there is simply no way to perfectly emulate conventional, coffee shop pumpkin bread without the former ingredients. This pumpkin bread is definitely on the denser side. I happen to very much enjoy a slice of extremely moist and dense pumpkin bread, especially more so than moist and dense banana bread, but that is just my preference. So, if you don't need fluff in your pumpkin bread to fully enjoy it, then this recipe still has a chance at winning you over. It's also worth mentioning that when you take a bite of this bread your immediate thought won't be 'wow, this is yummy, *because it's sweet*'. Instead, you'll probably think something along the lines of 'hmm, this is yummy, *because I can taste the spices and sweetness at the same time*'. If you have a very big sweet tooth that can't be pleased with fruit alone, then add 1-3 tbsps of fine raw or brown sugar, but truthfully, I don't think it's necessary. Leave the gut-destroying pumpkin bread to Starbucks to perfect and give your insides something good to feed on.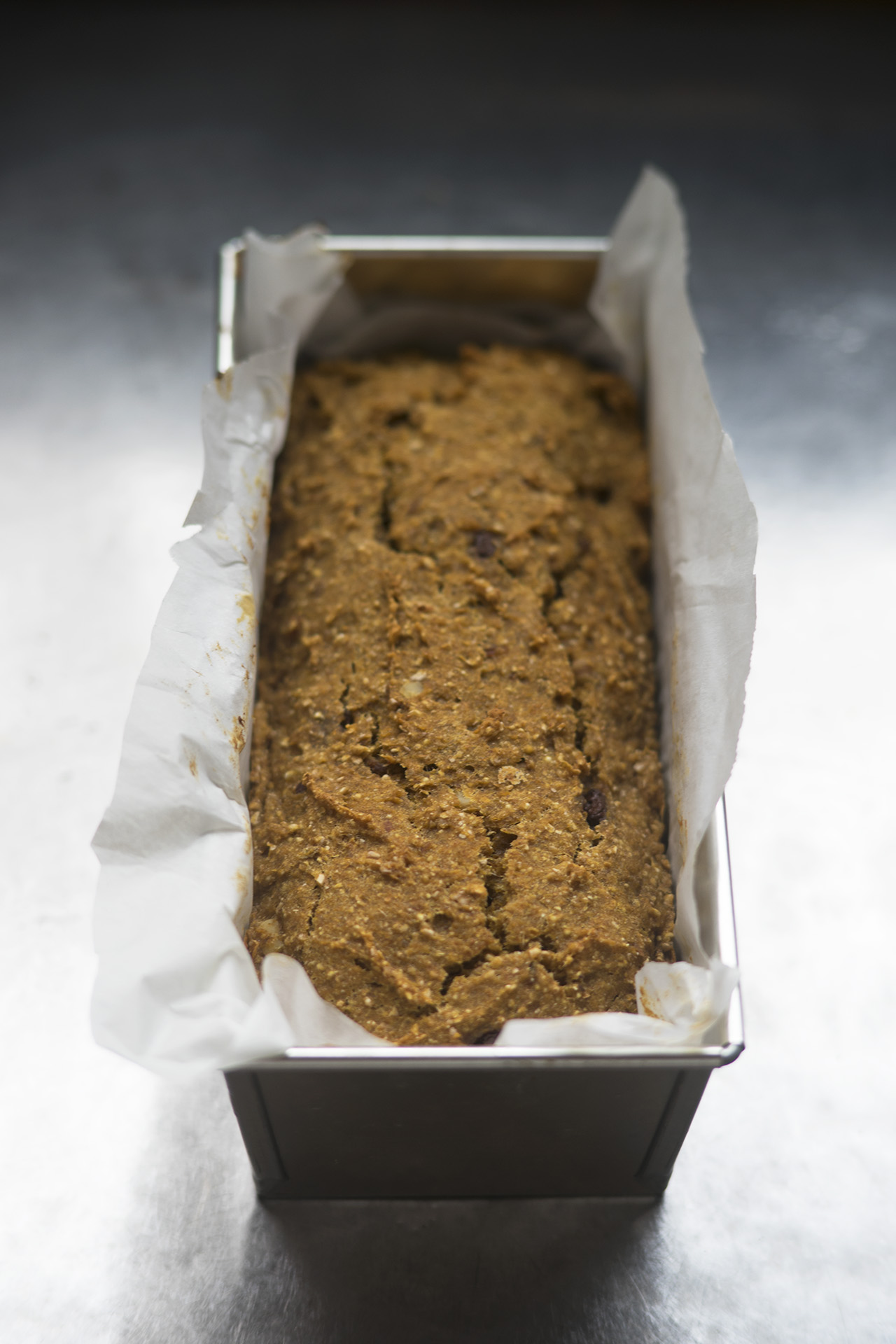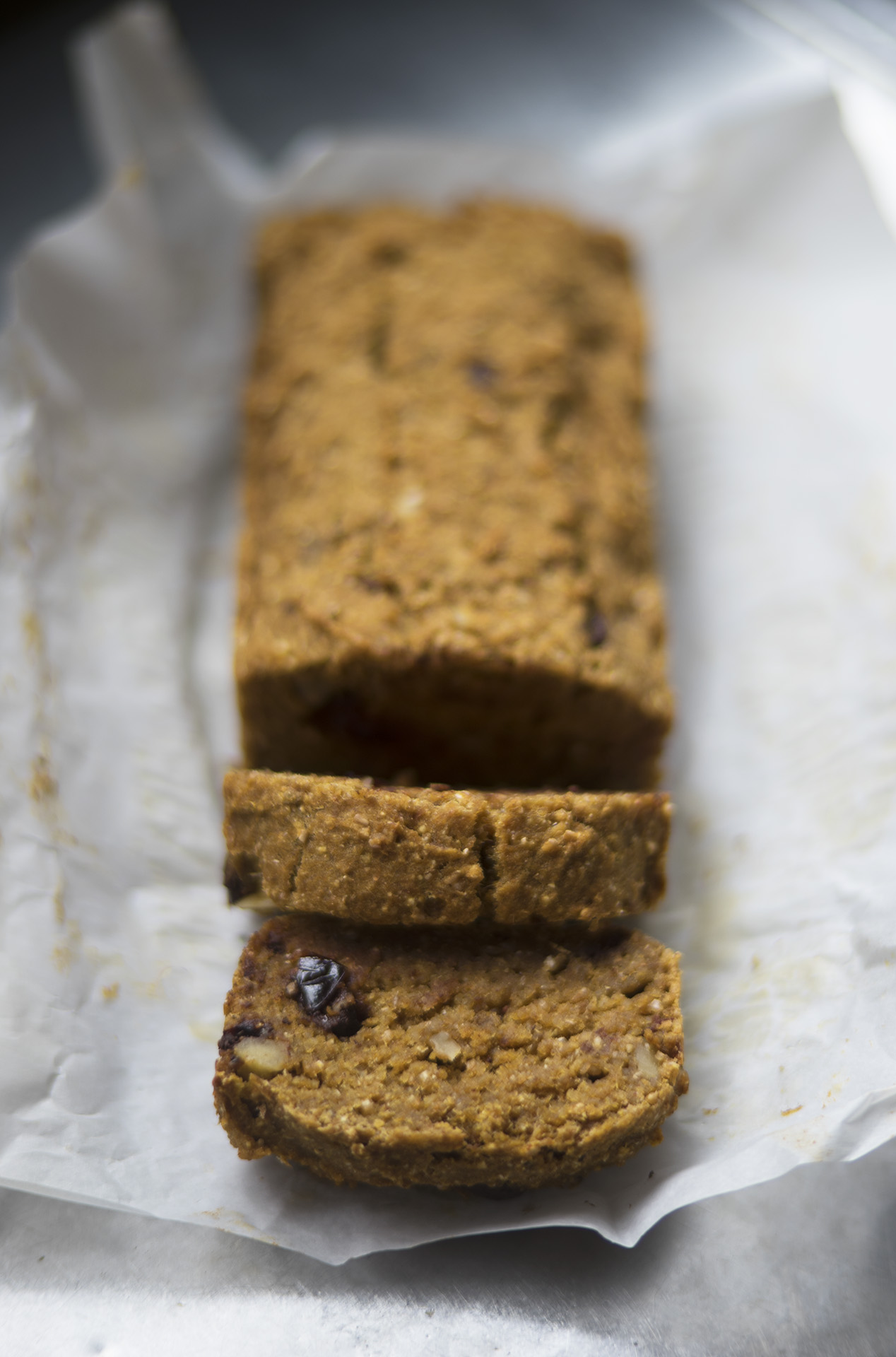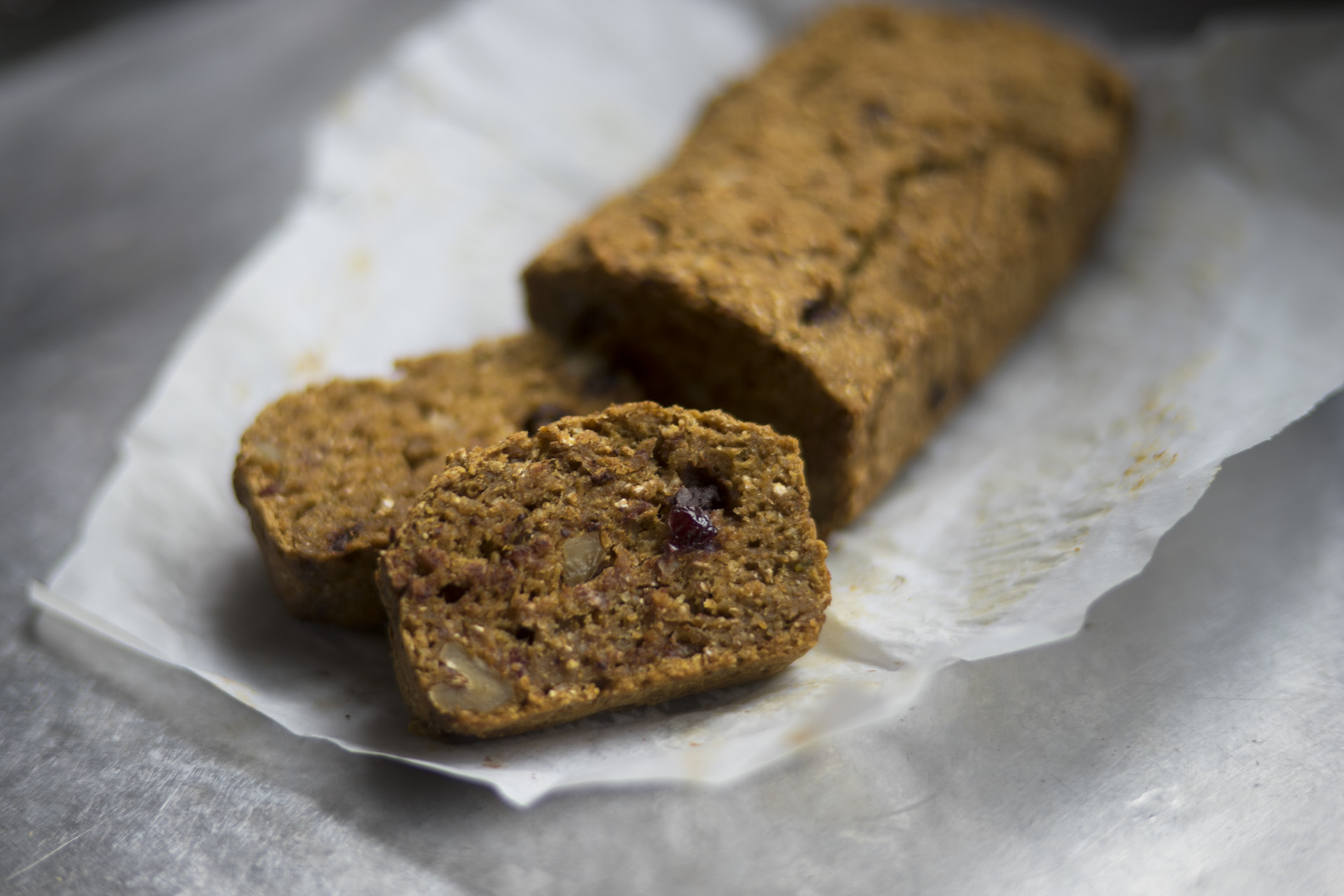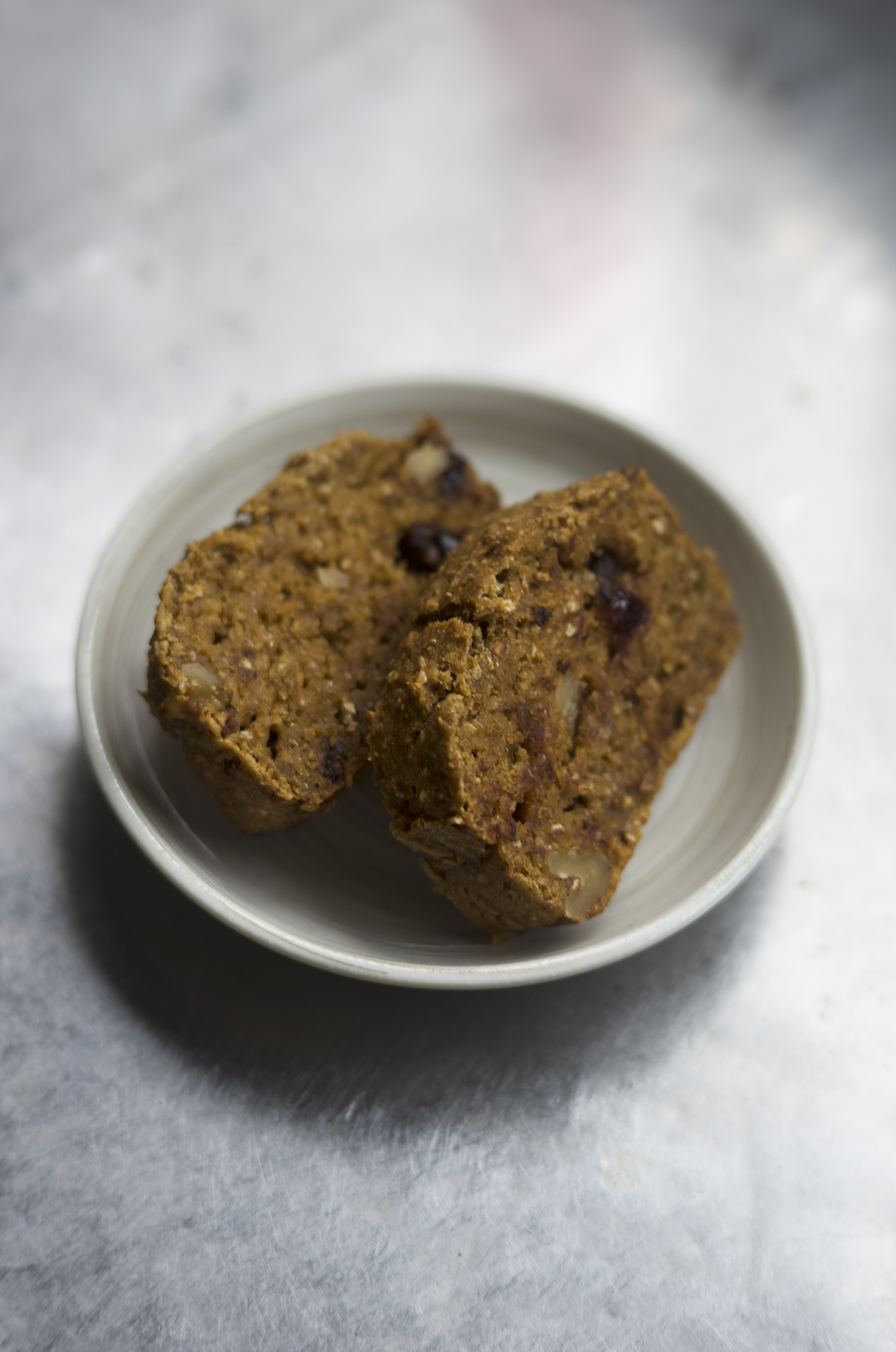 Ingredients~
Makes one small loaf or eight 1-inch slices

3/4 cup & 1 tbsp whole wheat pastry flour (or white whole wheat)
1 tbsp wheat bran
1/2 packed cup pumpkin puree
5 medjool dates
2 tbsps mashed ripe banana or applesauce
1 tsp cinnamon
1/4 heaped tsp ground ginger
1/4 heaped tsp nutmeg
3/4 tsp baking powder
1/4 tsp baking soda
Pinch of salt
1/3 cup chopped walnuts, pecans, dark chocolate chunks, dried berries, etc., take your pick!
Instructions~
Preheat oven to 180 C/365 F. Bake for 37-45 minutes, until a toothpick inserted into the loaf comes out clean except for a few loose crumbs.