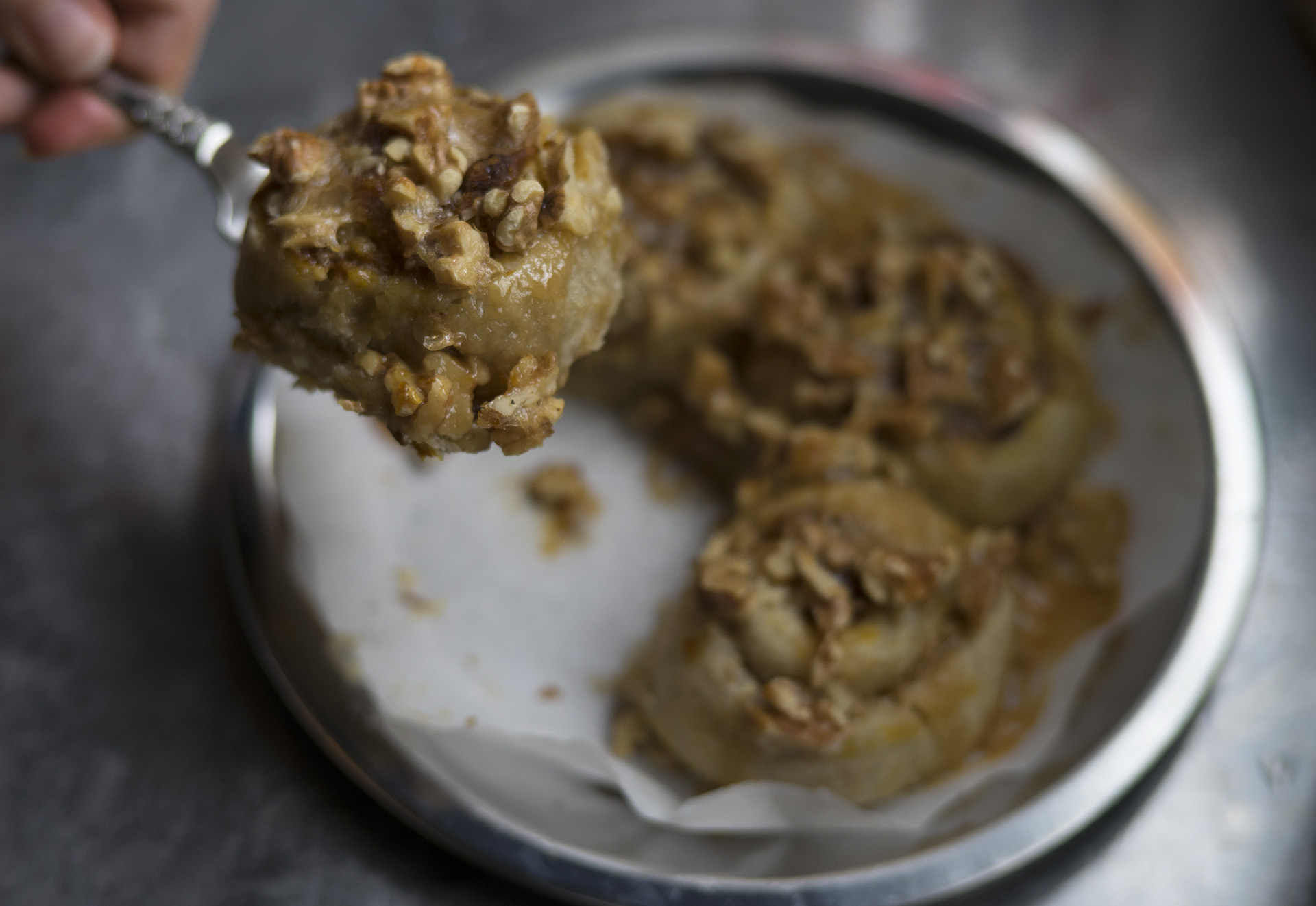 I will not stand for next to ordinary cinnamon rolls if I don't have to, so, after tolerating (okay, enjoying) the first batch of trial and error rolls yesterday with Matt, I took it upon myself to scout out ALL of the information I could about cinnamon rolls; what NOT to do when making cinnamon rolls; how to make the biggest, fattest, fluffiest cinnamon roll; instant dry yeast vs. active dry yeast; lean vs. rich dough in sweet buns; how the hell to cut cinnamon roll dough without making a squishy mess.
Learning from other people allows you to bypass a LOT of possible mistakes before even getting started (that's more or less a piece of advice I came across ages ago on a baking forum and it couldn't have rung louder in my ears today). I spent well over an hour on The Fresh Loaf, a website for "Amateur Bakers and Artisan Baker Enthusiasts," scouring the forums for yeast-related questions and feedback. It turns out there are many smart people on the internet who like to make and eat bread. I don't get a chance to interact with many bakers in daily, walking life, so it was extra enthralling reading first-hand troubleshooting stories. It's also super helpful when I come across a line or two of wise words,
'Looking for a "right" or "wrong" outcome when considering different varieties of yeast kind of misses the central point: they all ferment your dough and cause it to rise… Rather than asking "Am I using the right yeast?", ask "What do I want to achieve with this bread?"'
'Pmccool' asking the important questions that I should have posed way before I began dumping ingredients into a bowl. Doing the research takes lots of time and sometimes it makes me feel like I'm being swallowed, me and my whole head and heart. But I don't. And later, when writing about those moments in the belly of the beast, I recall them with heavily rose-tinted glasses.
Since getting serious and down to business about making top notch cinnamon rolls, I've felt a wave of confidence cascade over me. I've definitely been humbled by yesterday and now, today's cinnamon roll experiences, re-re-re-learning the simple fact that good/glorious things take time but that that's no excuse not to educate yourself and be prepared before starting the clock. As a disclaimer, I thought I should state that despite all of the words I may string together about yeast, working with it is very straightforward. If you're following a recipe to the T, you're probably going to get twice-puffed dough and picture-perfect rolls on the first go (although there is no harm in knowing why you are doing what you're doing!) However, because I decided, yet again, to alter and add ingredients to fit my preferences, things got messier and more complicated and a lot more tiny-number-math was involved.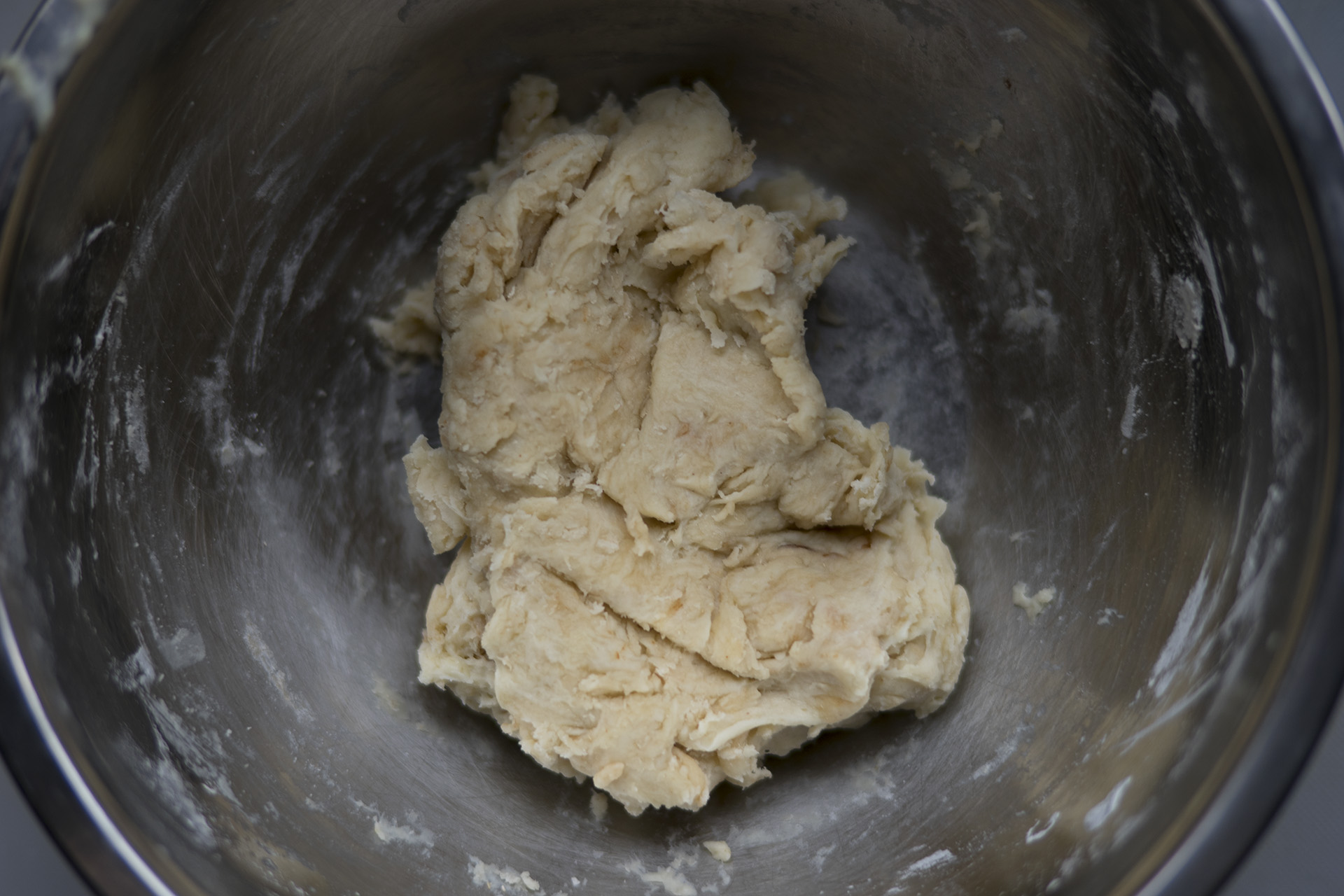 I went into round 2 of cinnamon bun making with a lot more knowledge to fall back on; I had combed the internet for hours and already tested one specific way of going about it, so I knew a good deal of what NOT to do. Now was the tricky part of feeling my way around for what to do. The dough I began with was immensely better than yesterday's; it was soft and pliable, without completely coating my fingers. Nonetheless, I couldn't help but feel like it should have been stickier. Maybe the internet is doing me a bit of bad in addition to all of the good, providing me with an endless slideshow of cinnamon roll pictures and techniques to compare to mine. It's something to keep in mind. Anyway, I was pleased with the dough and carried on kneading, only this time I kneaded for 4 minutes rather than 9. Again, the dough appeared to be in a much softer state than dough #1.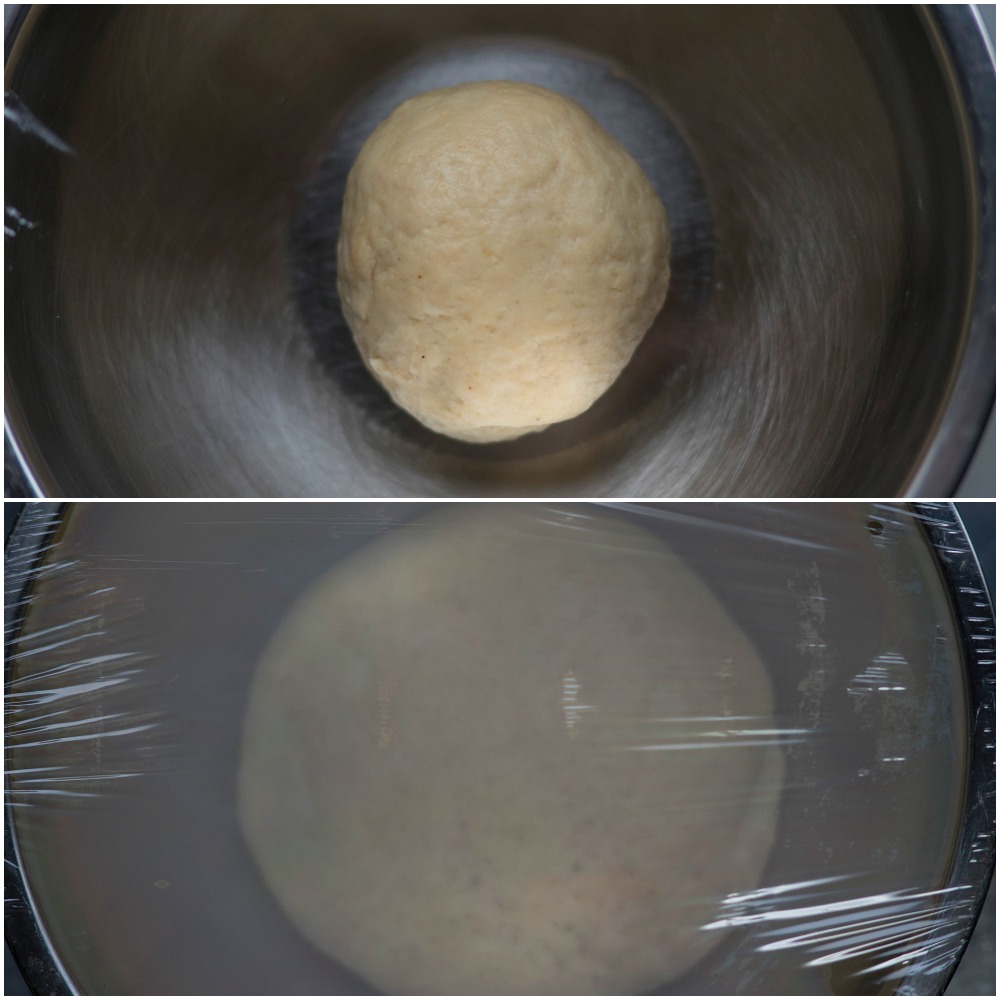 I cut back on the duration of the first rise from 1 hour and 5 minutes to 50 minutes as the dough definitely appeared doubled in volume. Most all recipes using instant or active dry yeast call for a first rise of 1-1 1/2 hours OR until the dough has doubled in size, but the Serious Eats recipe I chose to piggy back off of last time mentioned 1 1/2-2 hours despite using active dry yeast. More research has led me to believe that the wonky appearance of my first rolls was due to over rising. The yeast in dough feeds on sugar, releasing carbon dioxide and alcohol in the process. This explains the little air bubble that I mentioned seeing in my dough as I kneaded it last time. I may have still been over kneading, but bubbles are not NOT normal. What's not right is when the dough is given too long to sit; the yeast will continue to do it's job, bubbling and bubbling, ultimately creating more bubbles than the structure of the dough can properly hold, so the gluten will fail and you'll end up with melted cinnamon rolls. With that in mind, I managed to gather up enough tenacity to listen to my gut, and reduced the second rise from 50 minutes to closer to 35 minutes.
Because I started making the dough too late in the day, I decided I ought to let it have a fridge hibernation before the quicker second rise in the morning. However, I learned online that long rises in the fridge are only recommended for dough with dry yeast. Instant and active yeast work at expanding dough far more rapidly, and thus, would deteriorate the structure of the dough rather than enhance it's flavor. Before settling on that reality, I came across a number of forums where people mentioned that, as a disclaimer, it wasn't ideal to replace dry yeast with instant/active, but you could technically reduce the amount of called-for regular yeast by 20% so that the quicker yeast doesn't work as fast as usual. I jumped on the opportunity to try something different and set the covered cinnamon rolls in the fridge after shaping and cutting them.
It's not recommended that the rolls stay in the fridge for more than 8-12 hours, so I was up at 4:00 AM the next morning to give them a warmer, second rise. I allowed them to sit in a partially pre-heated and switched off oven for close to 30 minutes. Like an overly anxious mother, I checked on the rolls at ten minute intervals to see how they were doing. It turns out instant yeast really should stay away from the fridge. I'm sure other people have been successful at it, but my rolls were even less enlarged than the ones yesterday. They held their shape MUCH better, which is a plus worth noting, but they still fell short. The dough was more cakey and dense than airy and fluffy, but in all fairness, the rolls still tasted very, very, nice.
The sweet potato filling from batch #1 didn't wow me enough, so I gathered together my pretty new jars of nutmeg and ground ginger and went to pumpkin spice town. Pureed pumpkin and pumpkin spice make for the easiest top-notch filling. I've used the combo for everything from pie to scones to pancakes, so it was only about time I stuffed it into sweet rolls. As always, I opted for rice malt syrup rather than white or brown sugar to sweeten the filling. If I had maple syrup on hand I likely would've used that instead. I also decided to drop the walnuts and gooey sauce on top of the rolls as they baked rather on the bottom, as some of the sauce decided to burn and glue to the pan last time. These rolls may have hit the spot flavor-wise, but they didn't quite fill up my fat and fluffy cinnamon roll void any more than the first batch did. In other words, I still have a lot of work to do!!!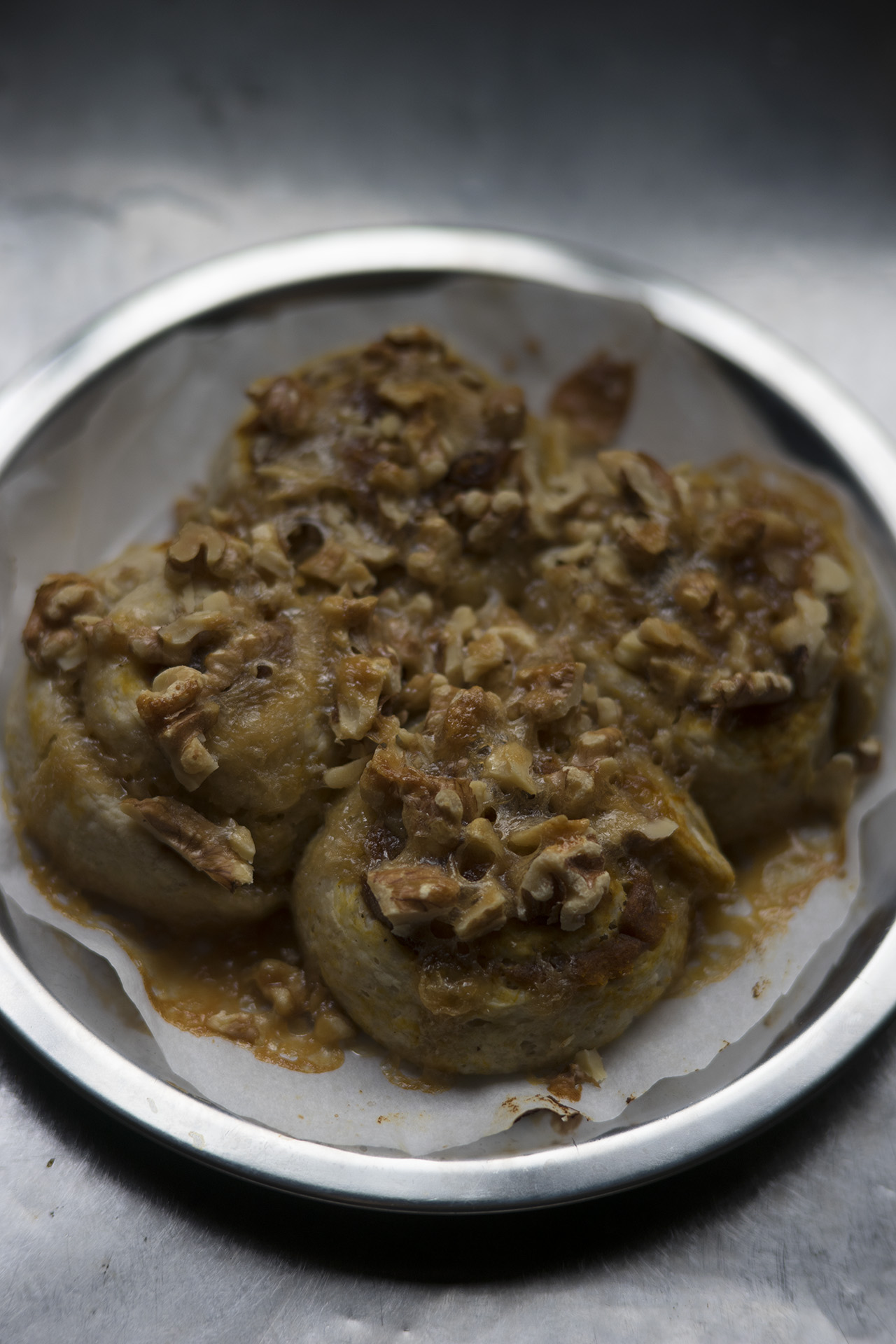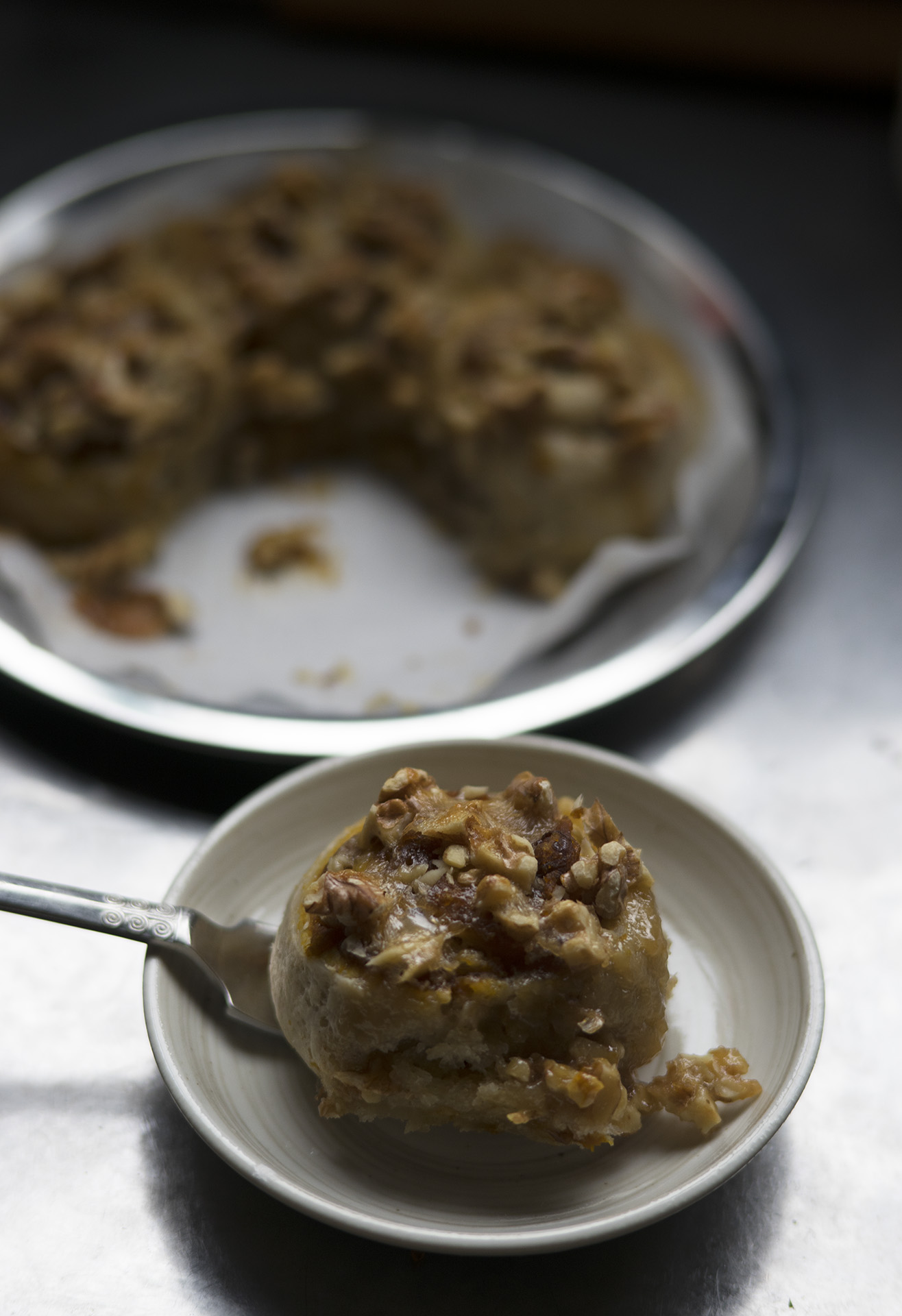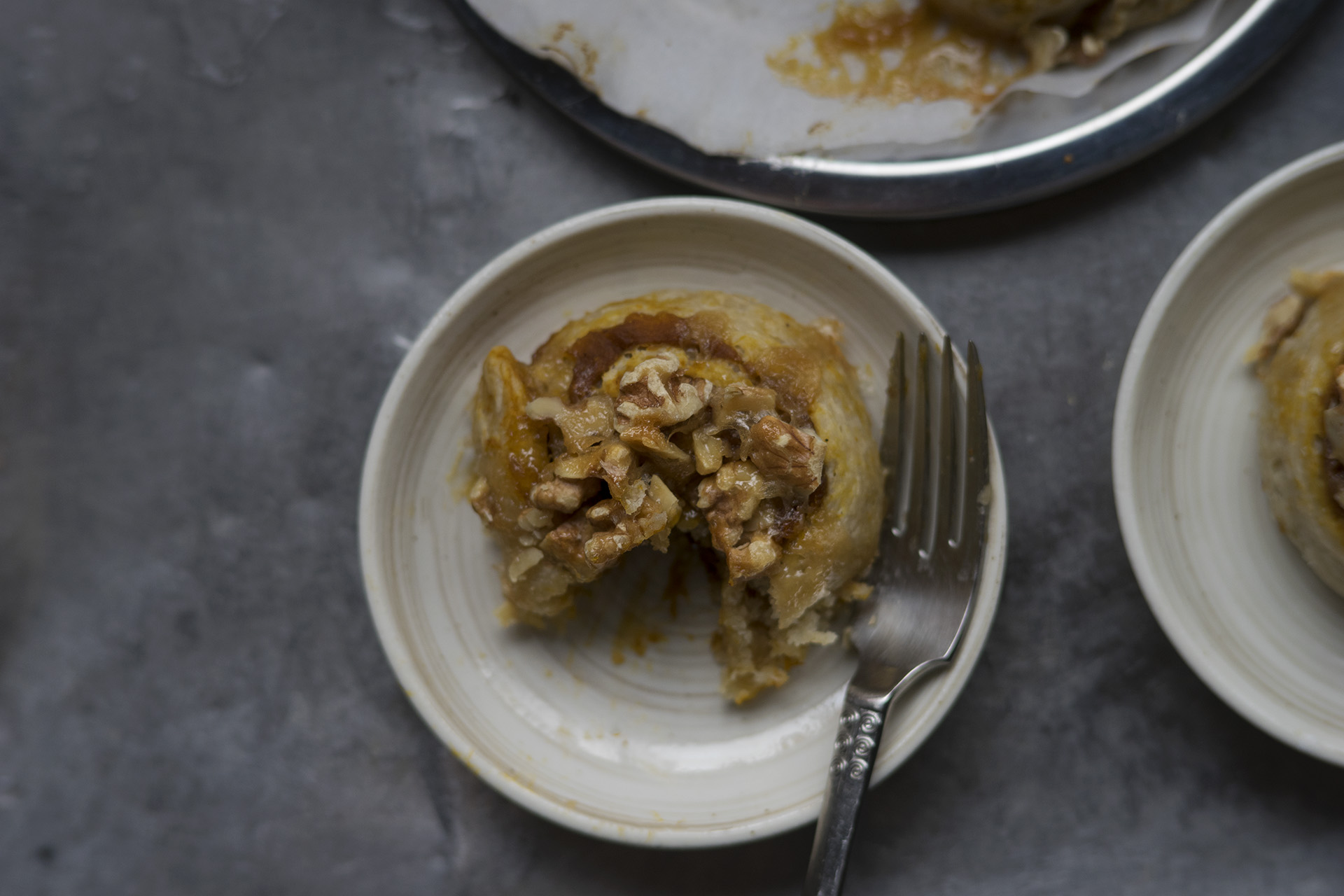 Ingredients~
Dough:
118 g all purpose flour & 6.25 g bread flour
2.4 g dry instant yeast (about 1/2 very heaped tsp)
1/4 cup & 2 tbsps soy milk (room temperature)
1 1/2 tbsps coconut oil, melted
1/4 tsp rice malt syrup
Pinch of salt
Filling:
1/3 cup pumpkin puree
1 1/2 tbsps rice malt syrup
1/2 tbsp coconut oil, melted
1 heaped tsp cinnamon
1/4 tsp nutmeg
1/4 tsp ground ginger
Topping:
1 1/2-2 tbsps rice malt syrup
1/2 tbsp coconut oil
1/4 tsp cornstarch
Large pinch of cinnamon
1/3 cup chopped walnuts