Confession: I have never successfully made a pie on my own… until today that is, when this easy-peasy pumpkin pie fell into my lap. Okay, you will have to get off your tush to whip this together, but it won't require you to cash in much effort or time AND it will be so worth it. Breakfast. Lunch. Snack. Dinner. This pie is healthy enough to constitute being a main course at every meal (aka that's how my post-pie-making day played out).
I don't know about you, but the idea of successfully making a pressed and flaky homemade crust is what deterred me from making pie all these years. Alas, the discovery of date and nut crust. This crust recipe is like that super chill, undemanding friend of yours. You know the one that always radiates positive vibes and makes you feel good about yourself and life? Yes, well, this pie is just as unchallenging to deal with and (bonus points) it will leave you feeling proud of yourself for having just made a pie. from. scratch. That's a pretty noteworthy accomplishment if you ask me. Why don't you have a slice to celebrate?? I did.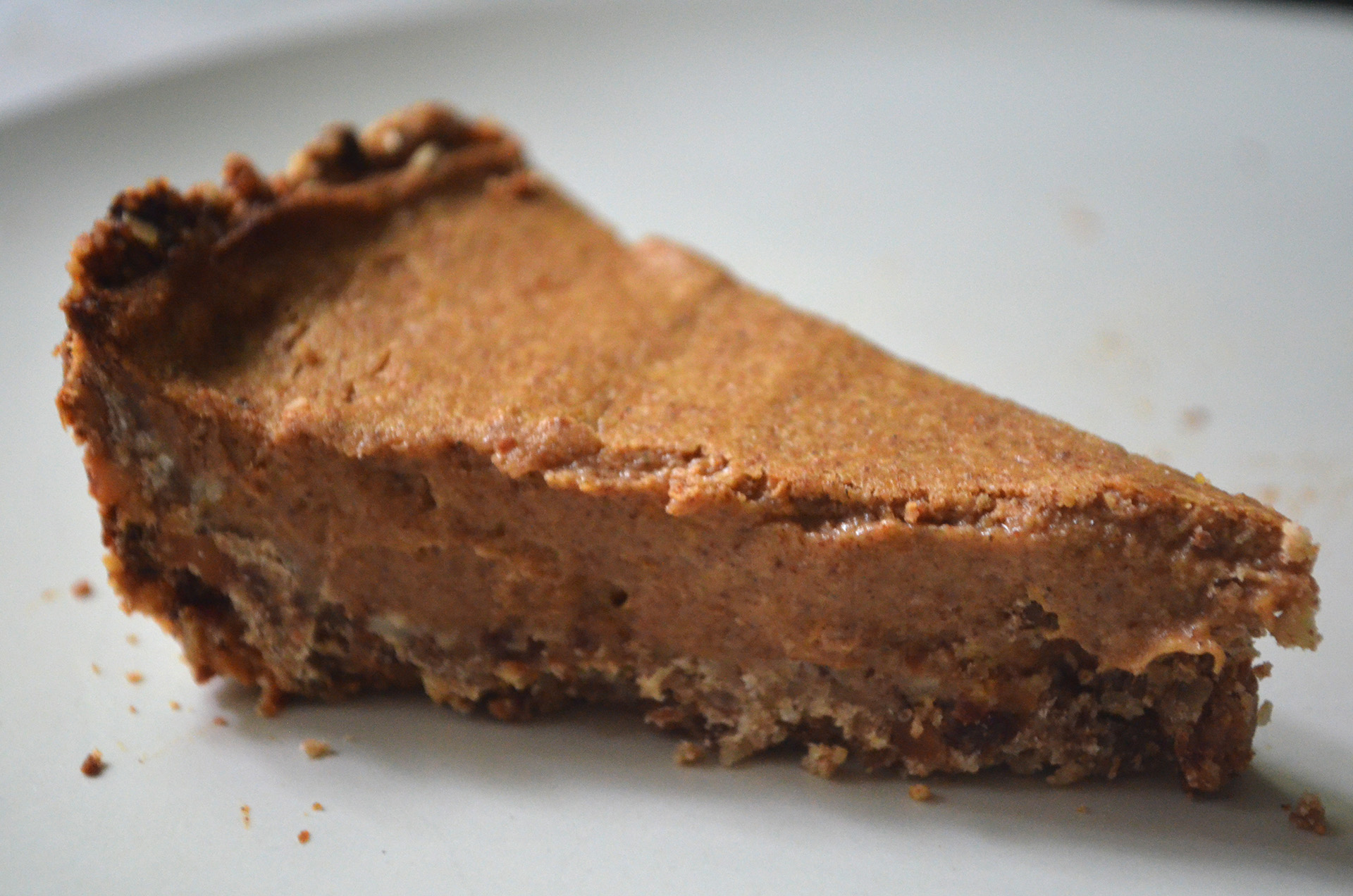 Just look at this hearty, homey beauty. Sit by the fire with it awhile or make a place for it at the dining room table.
Ingredients~

Filling:
1 1/2 generous cups pureed roasted pumpkin (roasted without salt/oil/seasoning)
Heaping 1/2 cup dates*
2-4 tbsps brown rice malt syrup (I added 2 tbsps but increase it to fit your sweet tooth)
1 can full fat coconut cream (only use the top thickened cream, save the liquid for another use!)
3 tsps pumpkin pie spice
1/2 tsp ground cinnamon
1/8 tsp Himalayan salt
Crust:
Heaping cup of dates*
2/3 cup pecans
2/3 cup almonds
2/3 cup traditional rolled oats
2 tbsps rice malt syrup
1 tbsp coconut oil
1 tsp pumpkin pie spice
Scant 1/4 cup water
Instructions~

Preheat oven to 176 celsius/350 F
1. Roast pumpkin. After it has cooled, puree it in food processor along with the dates and syrup. Once thoroughly blended transfer it to a large bowl and add the coconut cream, spices, and salt. Blend with hand-held mixer or whisk until thick, copper colored mixture forms. Set aside.
2. To make the crust begin by blending dates, nuts, syrup, and coconut oil in food processor. Once a crumbly, but moist mixture forms transfer it to a bowl.
3. Next, add the oats and spice to the processor and blend. Once blended add 1/2 the date and nut mixture back to the processor to blend and combine. Add the remaining date and nut mixture, along with 1/4 cup water. Blend. The result will still be fairly crumbly but should be wet enough to stick together when pressed down in your pie pan. If it's still too dry add water or nut milk by the tbsp and continue to combine and check.
4. Press crust mixture into pie pan, evenly spreading it out using finger tips. Be sure to press it up against the edges of the pan, too! Now for the fun part: pour the patiently-waiting pumpkin filling into the center of the crust and spread it out with a spatula. Give it a little swirl in the center (harder than it looks; my boyfriend, Matt, did the honors) and put it in the middle rack of your oven for 35 minutes, turning it 180 degrees at the halfway point.
5. Once baked (it will still jiggle a little/seem undercooked in the middle), cool it in your fridge for at least 5-6 hours (overnight=optimal). Enjoy with coco whip or ice cream as you deliver your heartfelt farewells!
* If using regular dates be sure to soak them in hot water for 5-10 minutes before blending them. Unlike medjool dates, regular store-bought ones can be quite firm and dry, so soaking helps soften them up a bit.