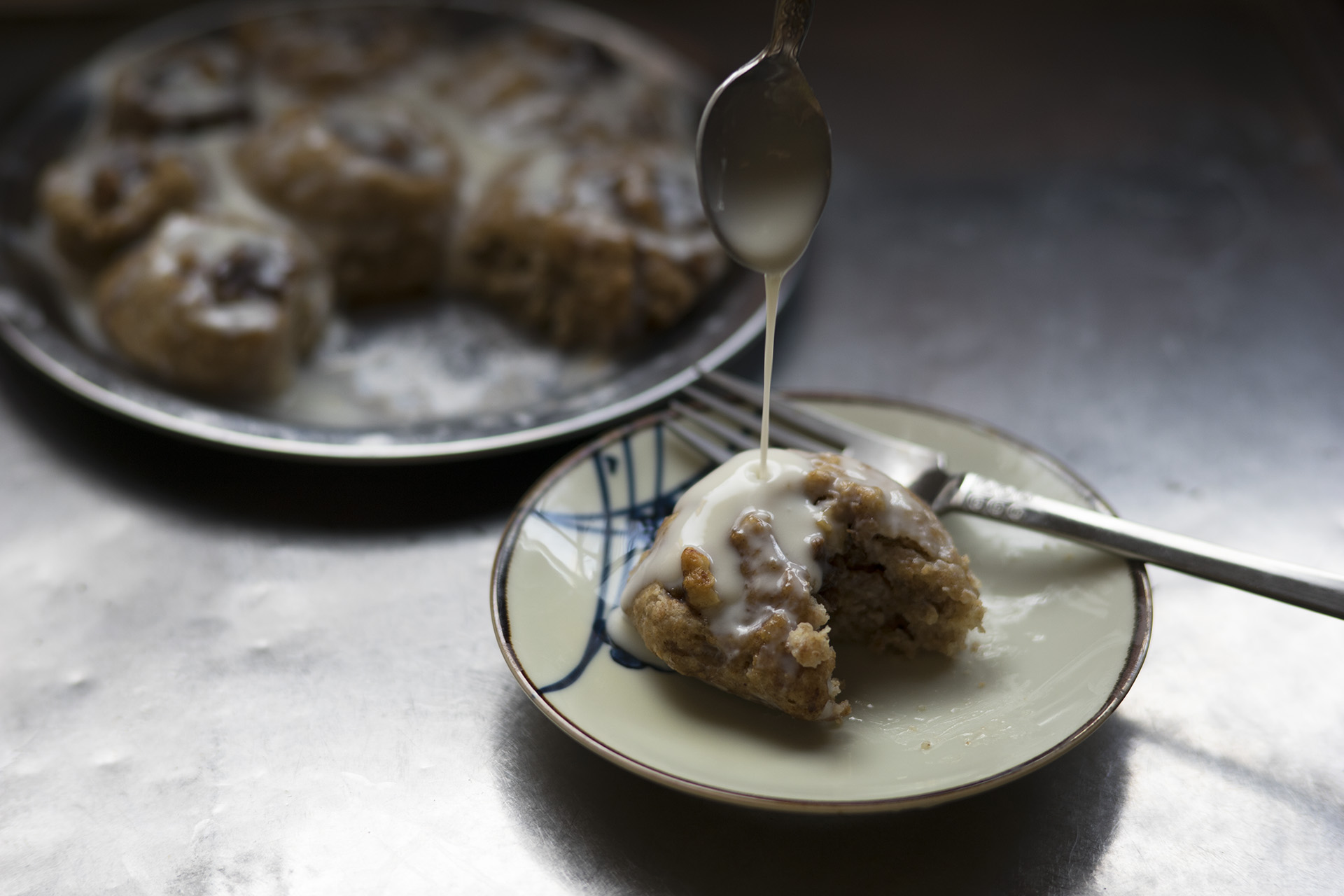 If I told you that these rustic little things were made of half wholemeal flour and zero refined sugar, you might not expect much from them. I wasn't sure what to expect either, until a divine smell wafted through my little apartment and I scurried to find it's source: my oven. Or more specifically, the healthy, plant-based cinnamon rolls baking in my oven.
I've been on a heavily cinnamon infused adventure the past few days, making a new (albeit small) batch of cinnamon rolls as soon as I discover that the one I've just baked and tasted are not quite good enough. While all of my rolls have been significantly healthier than the average one you'll find in a bakery (don't even get me started on Cinnabon…), I was still consuming a fair bit more all-purpose flour, coconut oil, and syrup than I did on a typical day before cinnamon rolls took over the reigns to my life. Cue whole wheat, banana-sweetened, still-uber-tasty cinnamon rolls.
I stuffed these rolls with cinnamon banana puree and a little dash of rice malt syrup. I also tossed in some chopped walnuts and raisins at the last minute, both of which added a significant amount of flavor to the finished roll. The walnuts offered a crunchy variation from the gooeyness and provided such a wild, walnuty (?) flavor despite being being so scarce in the filling. Next time I'll probably toss in another small handful. While I wish I had allowed the raisins to soak overnight in water or liquor to plump up to their juicy potential, they still added a little something. Mine had an almost tangy, tart flavor, which married well with the sweeter filling. The fruity filling may deter you, but one look at these oozing rolls should put you in the right direction. Like I said earlier, I was specifically out to create a healthy cinnamon roll that truly belonged at the breakfast table. If you aren't after that sorta thing, no problemo. I'm the kind of person that will make decadent (relatively speaking, of course) cinnamon rolls three days in a row, only to insist, 'healthy cinnamon rolls or NO rolls,' by the fourth day. One can only eat so much of a good thing before never wanting to taste it again.
Think of these healthy buns as an ode to the O.G., white flour and all, cinnamon bun. Without the chance to stop and refuel with truly heart and tummy healthy ingredients, I may have had to cut the cinnamon bun project short all together. I'll get back on track with my slightly less healthy roll making in a few days. But first, fruit and fiber, please. And a little bit of golden fat.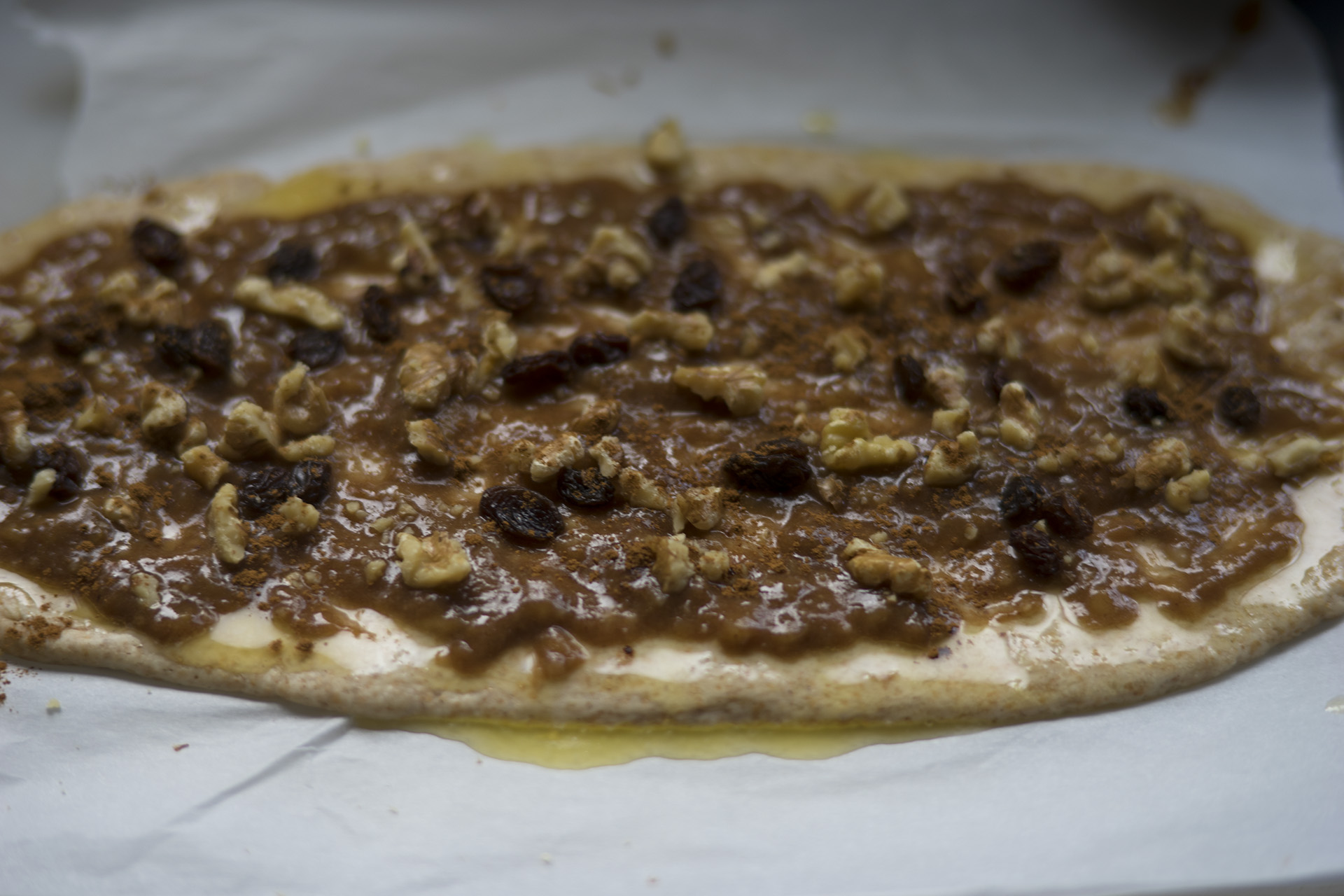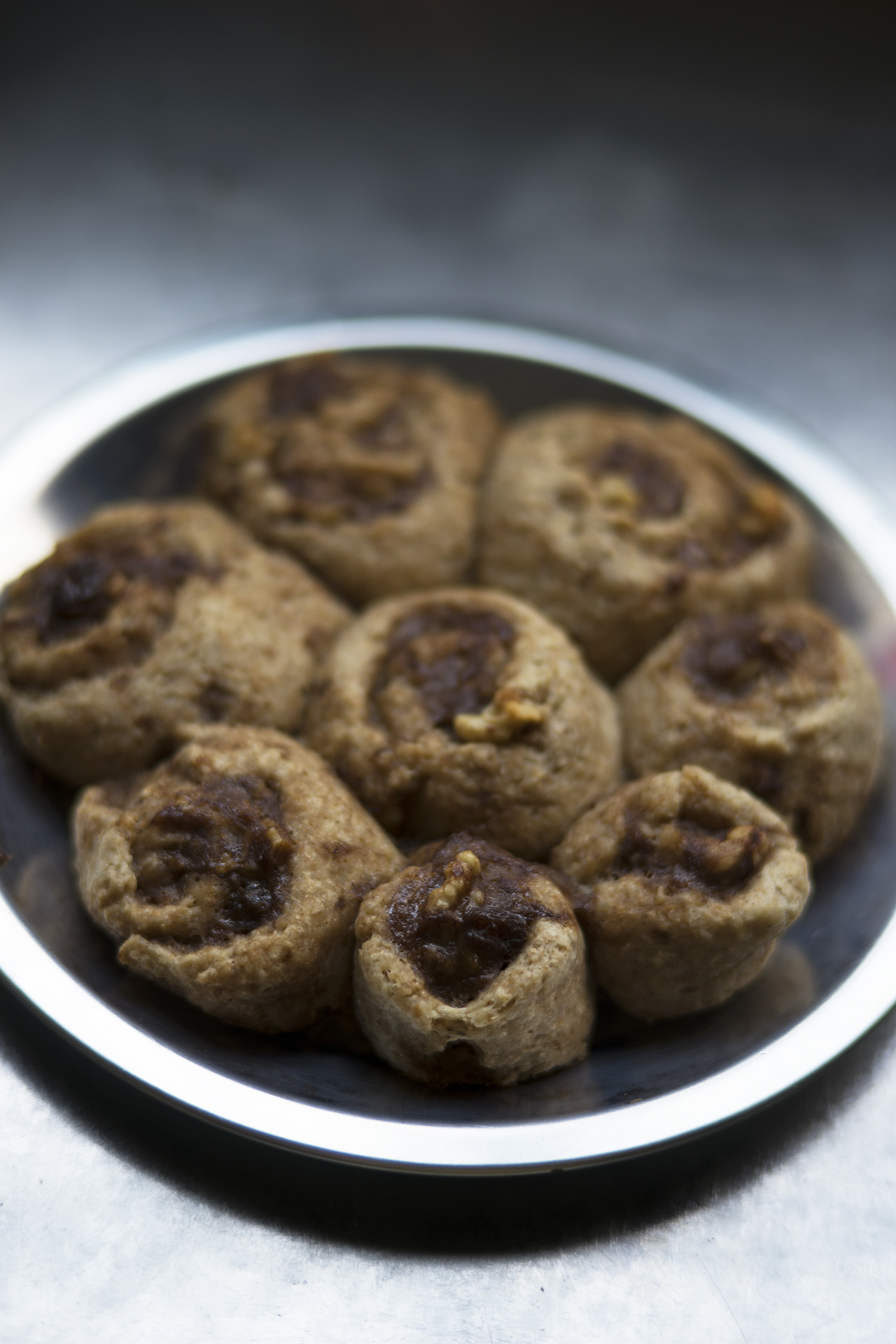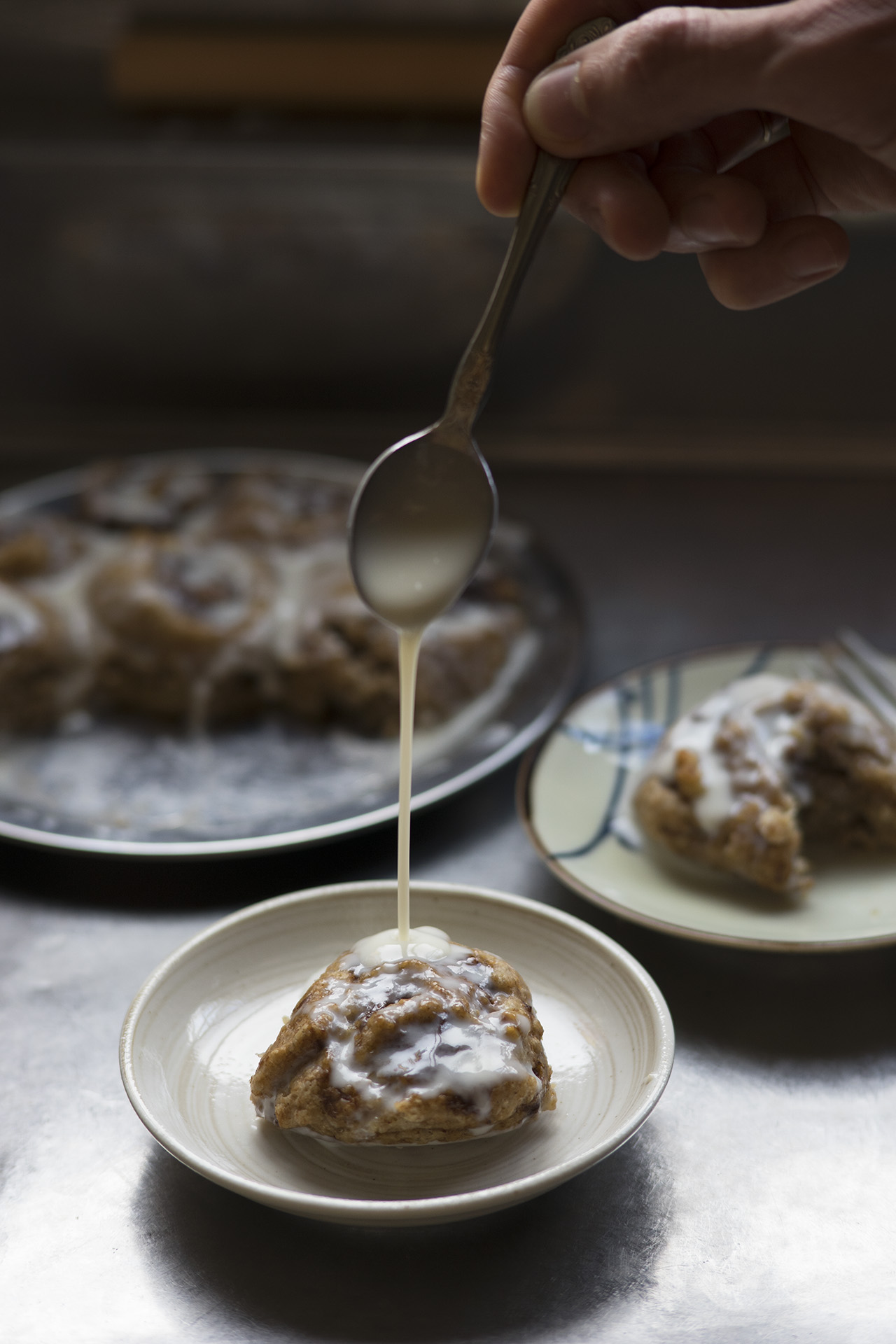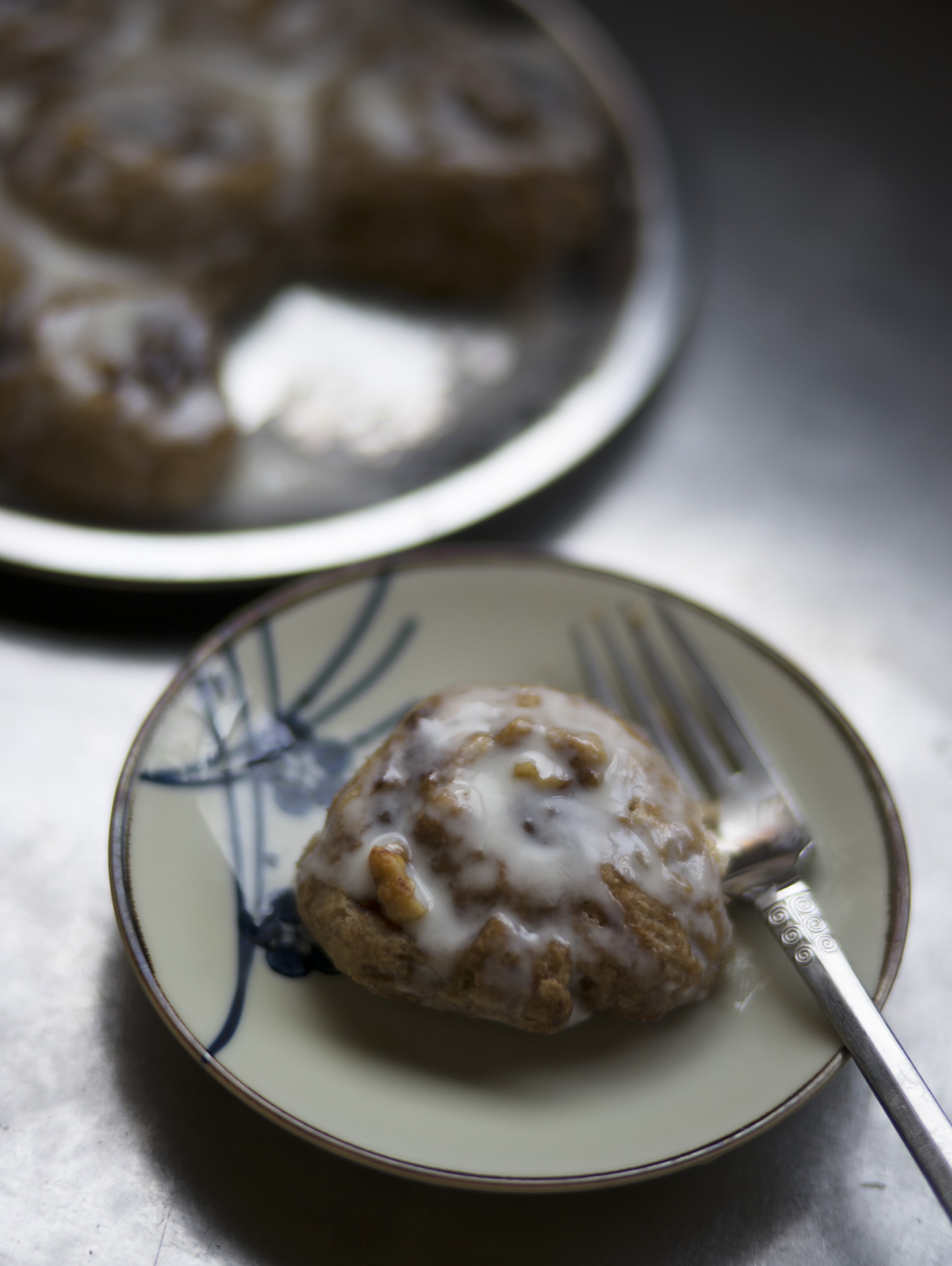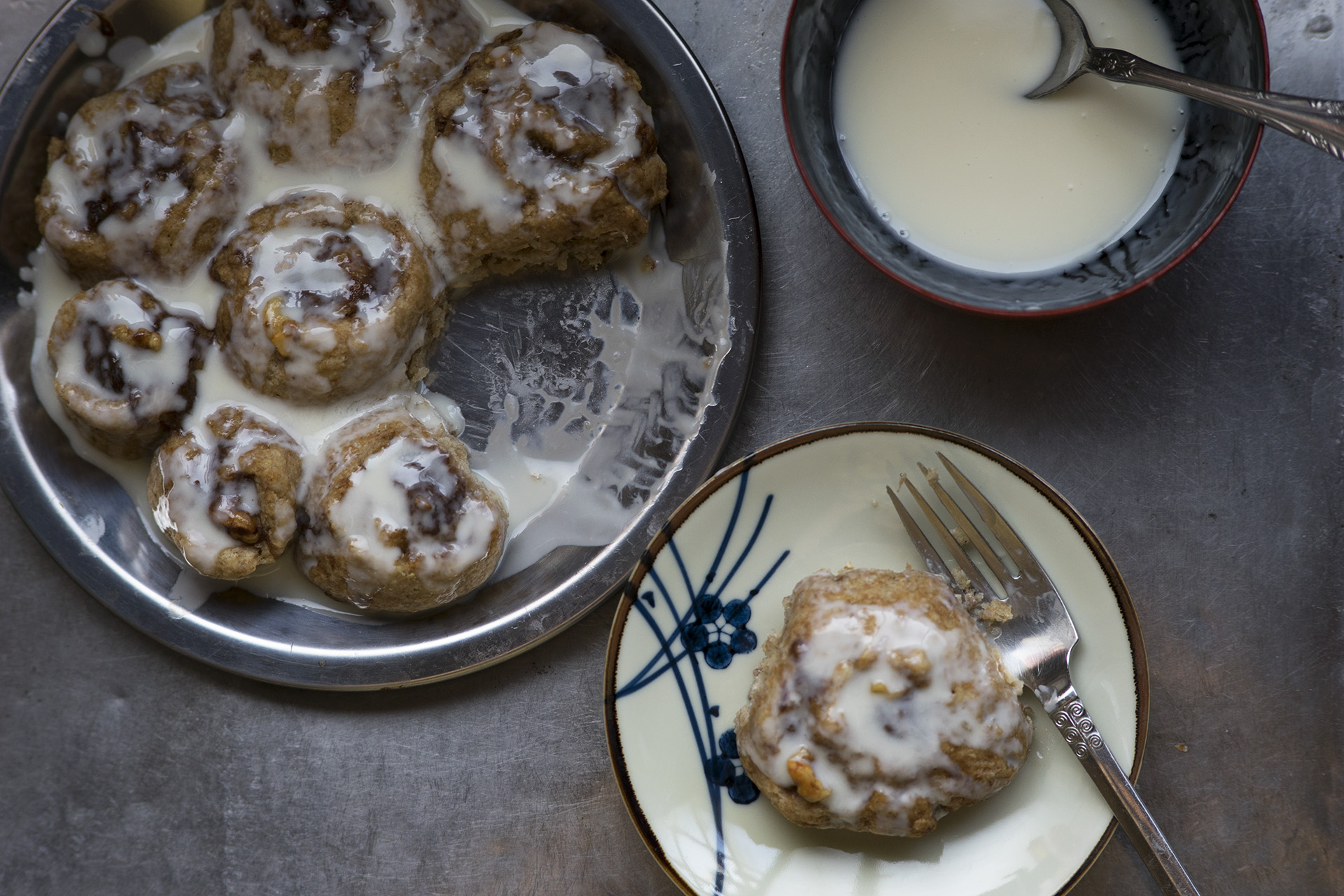 Ingredients~
Makes 6-8 smaller rolls or 4 large rolls
Dough:
1/2 cup whole wheat pastry flour (sub with regular ww, but know that the rolls may turn out a bit more dense)
1/2 cup all-purpose flour
1/2 tsp instant dry yeast
1/3 cup & 2 tsps unsweetened soy milk or other dairy free milk
1 1/2 tbsps vegan butter/margarine
1/2 tsp brown rice syrup or maple syrup
Large pinch of cinnamon (optional)
Small pinches of nutmeg and ground ginger (optional)
Filling:
1/2 large ripe banana (or about 1 small), mashed into a puree
4-5 medjool dates, chopped
1 tbsp brown rice or maple syrup
1 tbsp vegan butter
1 tsp cinnamon
2-3 tbsps raisins
1/4 cup chopped walnuts
Vanilla Yogurt Drizzle:
1/3 cup smooth yogurt (unsweetened coconut or soy)
2-4 tsps brown rice or maple syrup (add to taste)
Scant 1/4 tsp vanilla extract
Drop or two of fresh lemon juice (optional)