When it comes to granola, I like to eat my cake and have it too. Let me explain. I have an affinity for granola that puts it on par with ice-cream, donuts, and other chocolate-sugar-icing-covered things. In other words, I'm more excited walking through the granola aisle in the grocery store than I am walking through the candy aisle, or even the cereal aisle. Do I sound like an 8 year old child, or is this a sentiment that other adults can get behind? (Although, to be honest, at 24 I'm barely on the cusp of real "adulthood"). As with any long-term love story, my love for granola hasn't been squeaky free of drama; my other love, for whole-foods-based eating, always clashed with, well, the very nature of granola. In short, I found myself wanting to change the very essence of granola (the high sugar/high processed-oils), and was frustrated when I couldn't. I tried applesauce granola, and reduced-oil granola, and neither quite sufficed in crunchiness and tastiness. Nonetheless, as is evident from the above photo and title, this slightly melodramatic (and metaphorical!!) love story has a happy ending.
This sesame banana bread granola is a granola I can wholeheartedly get behind every.single.day; it's an everyday kind of granola, healthy enough to fill to the brim of your cereal bowl every morning, without inducing a knee-jerking sugar hit. So, Meg, you might be thinking, can you get to the point about what makes this recipe so special?
1. Tahini! (translation: ground sesame seed paste)
2. Ripe, spotty bananas! (translation: so very ripe and speckled you couldn't be enticed to eat them whole)
Those are the real winners in this recipe, but they don't stand alone; add some oats (of course), whole sesame seeds, sunflower seeds (or another seed of choice), as well as a tad of maple syrup (or honey, rice syrup, etc.), and you've got a big ol' batch of granola-in-waiting. If you don't have a sweet tooth, or would simply rather keep the sugar level to the bare minimum, simply omit the syrup with no adverse affects! I've tried both versions, and can say that the standalone banana-sweetened version still offers up a noticeably subtle sweetness. Happy crunching, everyone!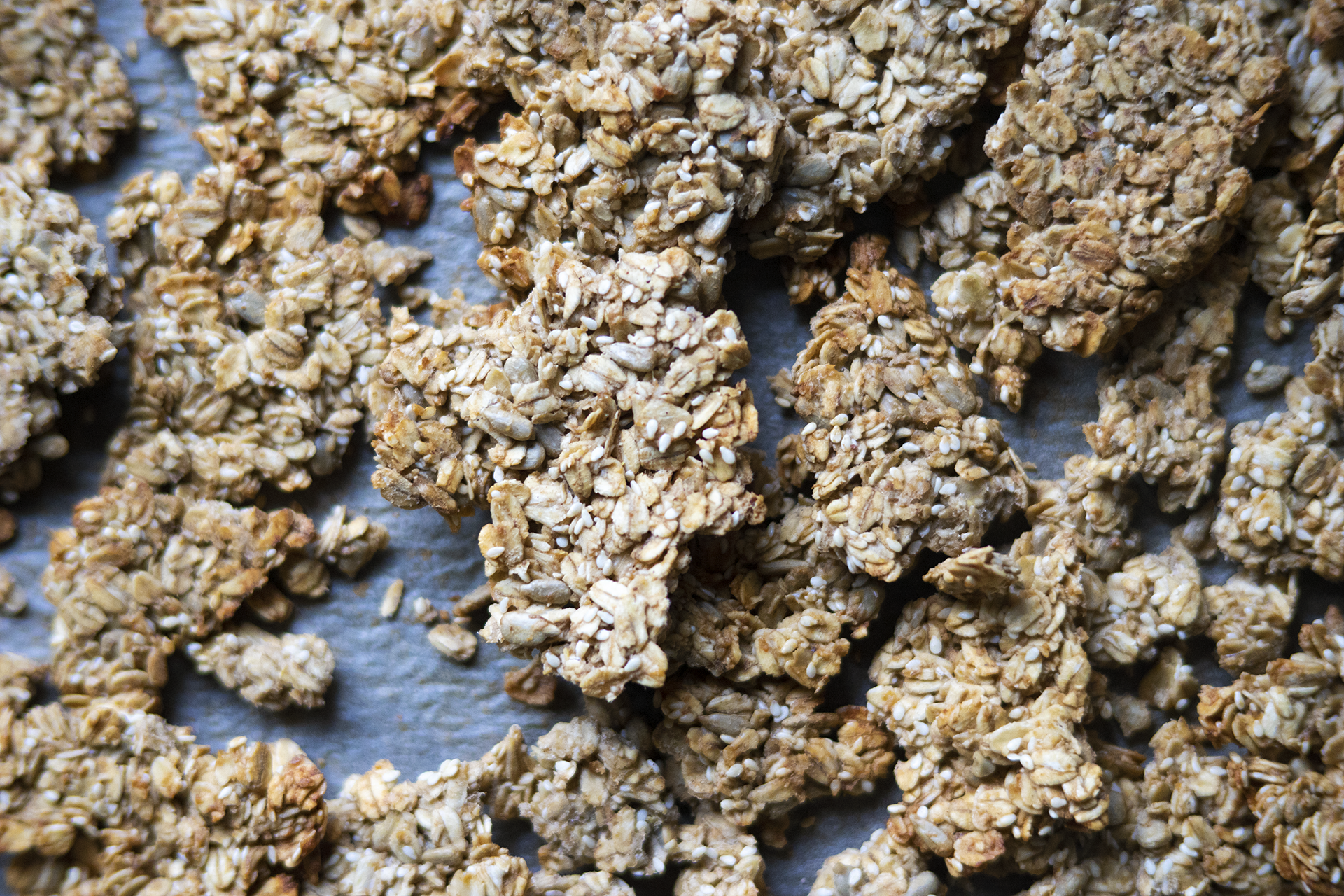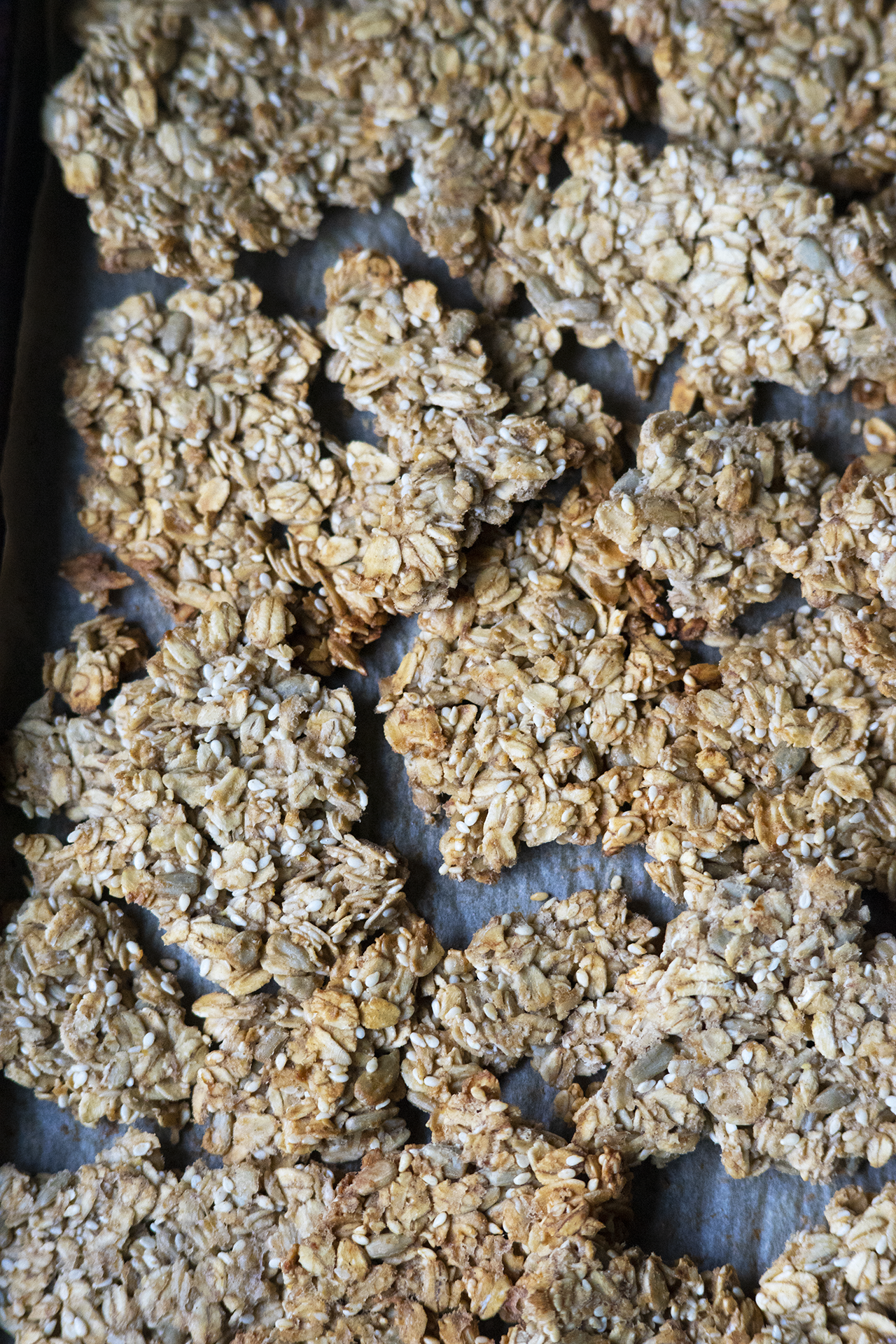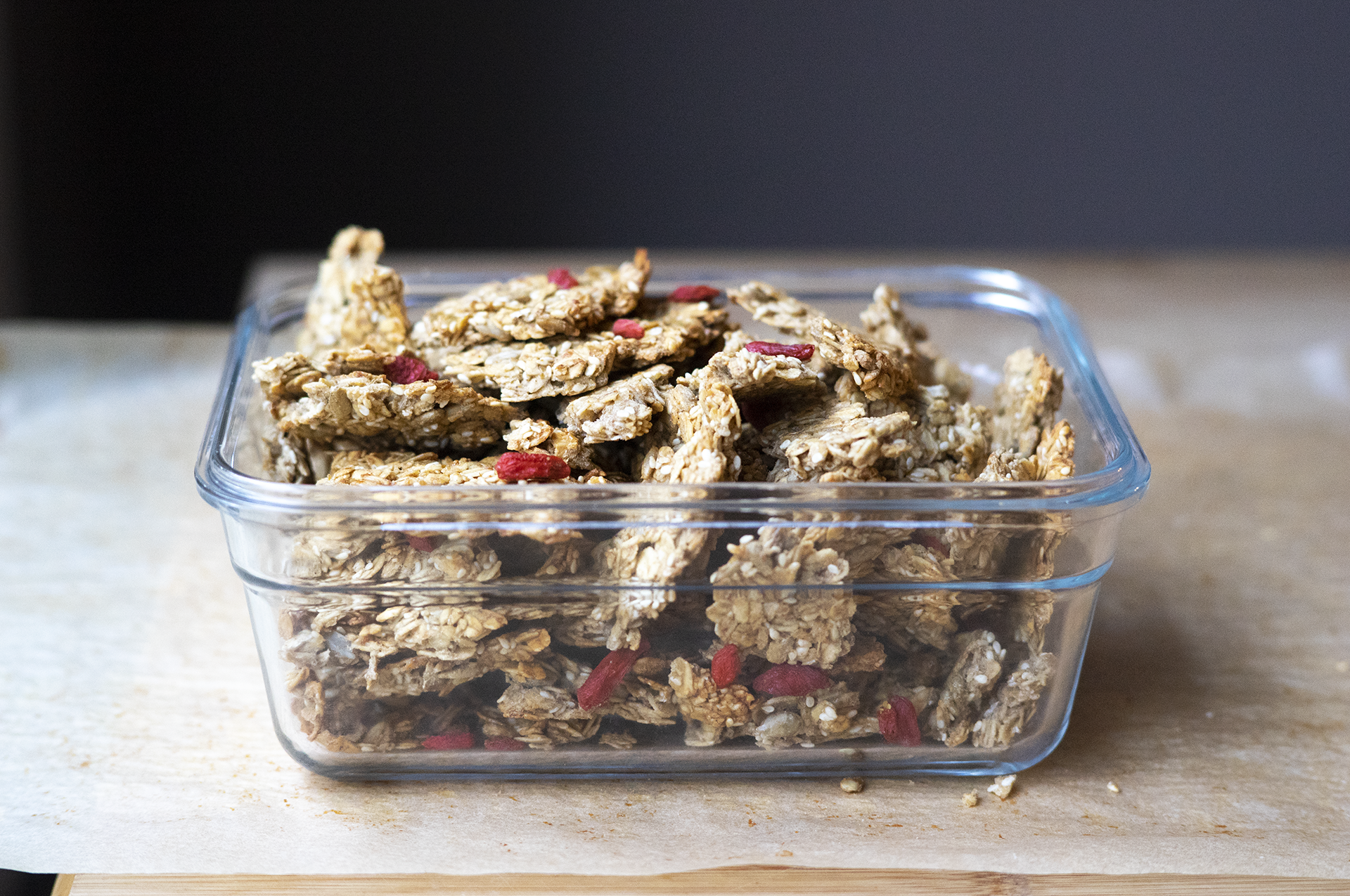 Ingredients~
Makes enough for 4-6 servings

3 1/2 cups rolled oats 
2 very ripe & spotty bananas, mashed (~3/4 cup)
1/3 cup tahini (preferably a runny kind)
3 tbsps maple syrup (or other liquid sweetener, though the flavor may vary slightly)
1/2 cup sesame seeds
1/3 cup sunflower seeds (or pumpkin seeds!)
1 tsp vanilla extract
3/4 tsp ground cinnamon
1/8 tsp ground nutmeg
1/8-1/4 tsp fine salt (add to taste)
1/2 cup goji berries, sliced dates, cranberries, or other dried fruit(s) of choice! (to stir in post-baking)
Instructions~
1. Preheat oven to 320 F. In a large bowl, mash the bananas with a fork until there aren't any inordinately large chunks. Stir in the tahini, maple syrup, and vanilla extract. Next, add the oats, both seeds, spices, and salt directly to the bowl of wet ingredients (creating a little mound). Lightly mix together the heap of dry ingredients before fully incorporating into the wet mixture.
2. Line a baking sheet with parchment paper, and use a spatula to spread out the granola into a sheet of relatively even thickness. Bake on a lower rack in the oven (bottom third), carefully flipping once at the ~20 minute mark (at this point you can also break up the sheet of oats into pieces of your desired size). Return to a middle rack in the oven for a further 12-17 minutes; once many of the pieces are noticeably deep golden around the edges, remove the pan and allow to cool, untouched, for a good 3o-ish minutes to ensure optimum crunchiness! Store in a glass container for 1-2 weeks until future noms.
Note: this recipe was inspired by both Nina Montagne's banana-sweetened granola & Caitlin Shoemaker's tahini granola (@Frommybowl)!