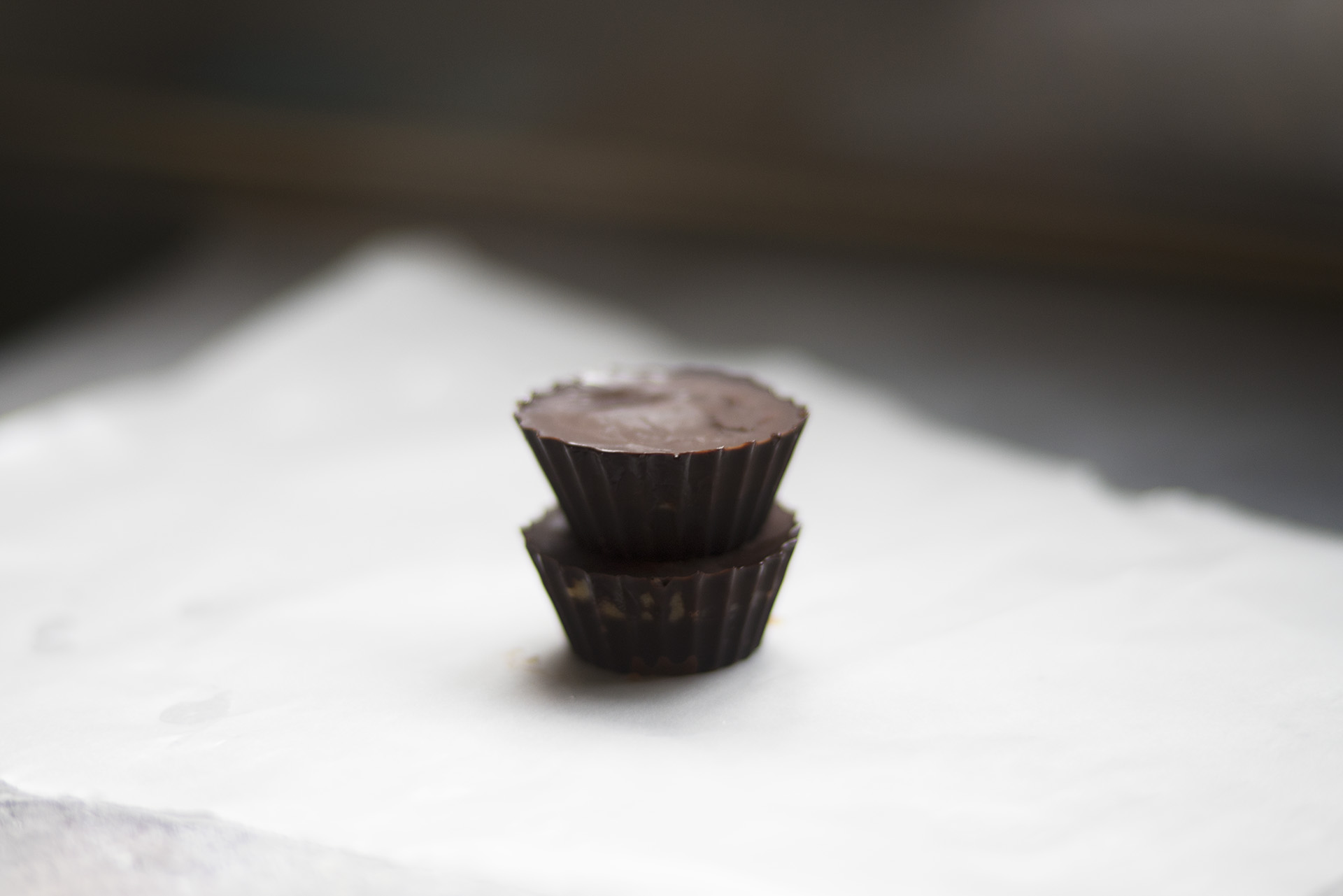 When I was a kid, getting my grubby hands on a Reese's Peanut Butter Cup was akin to winning the lottery; the milky chocolate exterior would leave a sweet mess all over my fingers as I did my best to make the peanut butter cup last as long as possible (which was never very long). The sugary, nutty filling was gold in my currency; in my mind, 'rich' kids were the Americans with 24 hour, 7 day a week access to Reese's Peanut Butter Cups, not the kids riding in private airplanes and carrying Prada bags to school. I enjoyed sweets a lot as a kid, not a surprise, huh? Most children are eager sweet-eaters; they're at an age when the insecurity and stress that often accompanies being a self-actualized individual with a physical body (a body that's up for a lot of scrutiny and judging, particularly by one's self), hasn't set in yet; they want the Lucky Charms so they'll eat the Lucky Charms, free from the waves of guilt and shame and should have's and should have not's that cascade over most adults when they sit down and eat a bowl of marshmallows for breakfast.
I used to be very entrenched in the negative cycle of depriving myself of 'bad' foods, under-eating the right foods, relapsing or binging on the 'bad' foods, and subsequently feeling bad about myself and my inability to make the right decisions, a horrible feeling that jumpstarted the hopeless cycle all over again. Being healthy and fit meant being clean and in control all of the time. I didn't understand that one could be healthy and in shape whilst eating high-carb foods like sweet potatoes, fruits, and beans. Even nuts, in all their high-calorie glory, scared me a little. I also definitely didn't know that tahini was used for anything outside of making hummus (clearly, a lot has changed). My mainstream understanding of weight loss and healthy eating limited my potential; my potential for feeling good and performing well, my potential for happiness and satisfaction, and, last but by no means least, my potential for creativity.
Deprivation doesn't satisfy most people, so most people grab for the foods they know won't make them feel or look good. Instead of waiting for my cravings and impulses to pile up and suffocate my sanity, I now make an effort to listen to myself. What do I feel like eating today? If what I'm craving is, simply put, processed junk, I think about how I can best replicate it with whole ingredients at home, rather than denigrating myself for having cravings that stray from my pretty, idealistic picture of health. Today I heard myself saying 'man, I really miss Reese's Cups', so I jumpedup and to it and made a batch of far healthier tahini cups (if I had natural peanut butter on hand I would've also made a true peanut butter cup). My version turned out far, far simpler than the real thing, which is honestly quite far from real… just take a look below:
Ingredients in Reese's Peanut Butter Cups:
Chocolate Flavored Coating [Sugar*; Cocoa Butter; Cocoa Mass; Nonfat Milk Powder; Milk Fat; Lactose (Milk); Emulsifiers, Soya Lecithin* (E322), Polyglycerol Polyricinoleate (E476)], Peanut Butter [Peanuts; Sugar*, Dextrose*; Milk Fat; Salt; Emulsifier, Soya Lecithin* (E322); Antioxidants, Propyl Gallate (E310), Ascorbyl Palmitate (E304), Citric Acid (E330)], *Produced from Genetically Modified Sugar Beets, Corn, and Soya Beans
Ingredients in my Tahini Butter Cups:
Cocoa Butter, Cocoa Powder, Tahini, Medjool Dates, Rice Malt Syrup, Maca Powder, Salt.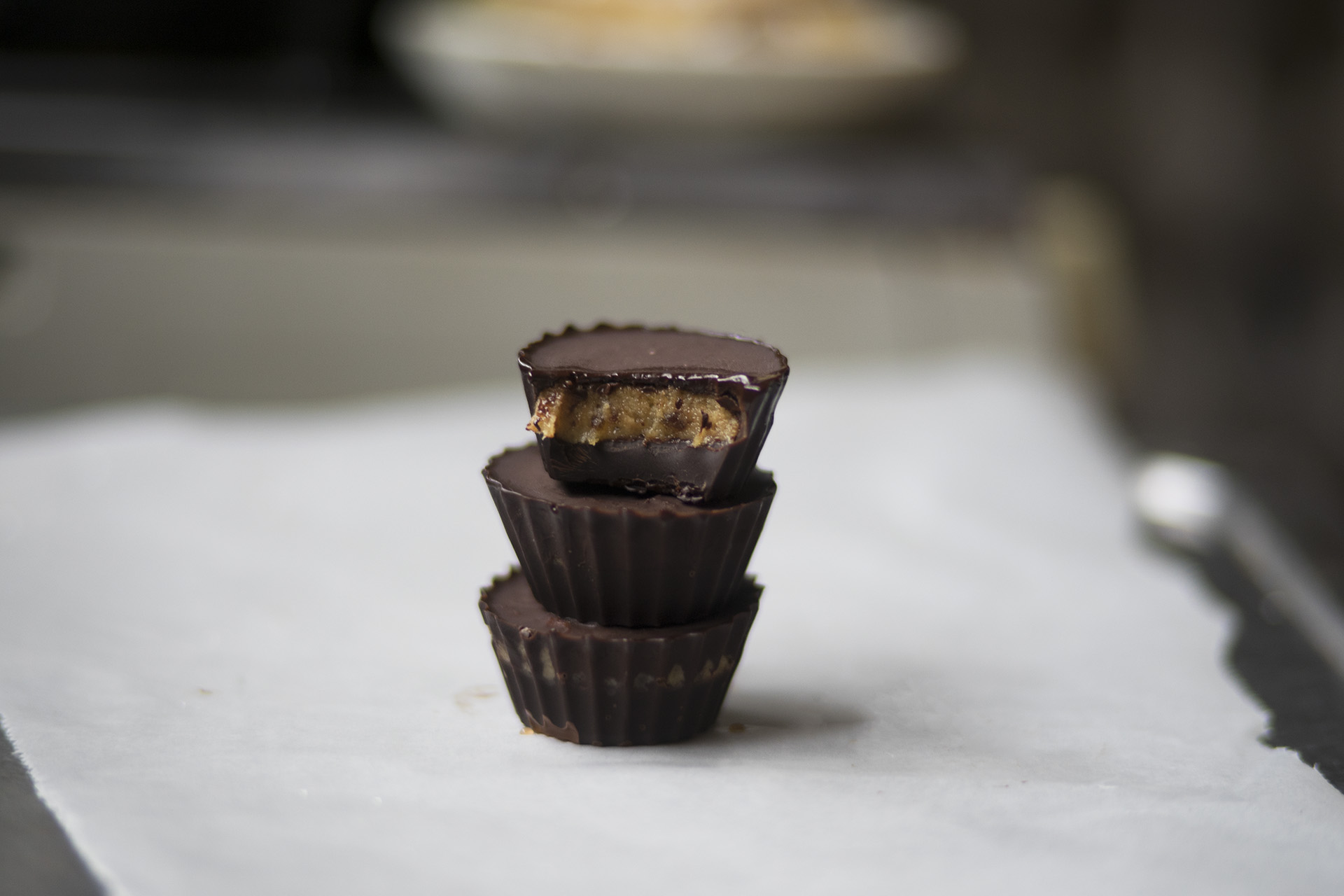 Ingredients~
Fills 5 mini cupcake liners

Dark chocolate:
1/4 cup cocoa butter*
1/4 cup cacao powder
1-2 tsps brown rice syrup or other liquid sweetener of choice
Pinch of salt
Tahini butter:
1/4 cup tahini
4 gooey medjool dates, mashed well or pureed
Optional: 1/4-1/2 tsp maca powder (maca has quite a strong and acquired taste, so start with a small amount)
*the cocoa butter is essential for keeping the chocolate from melting at room temperature, however, you could definitely substitute half or more of it with coconut oil so long as you don't leave them out of the freezer/fridge for too long (especially in the summer!)
Instructions~
1. Chop the cocoa butter and melt it in a non-stick saucepan over low heat. Whisk the liquid cocoa butter with the cocoa powder, syrup, and pinch of salt. Using a tsp measurer, add about 1-1 1/2 tsps of chocolate to each cupcake holder (you want the chocolate to fill up halfway, no more or there won't be room for the filling). Allow the chocolate to harden up in the freezer for 10-15 minutes.
2. As the chocolate chills, combine the tahini, date paste, and maca powder. The resulting mixture will be wet but thick enough to handle with your fingers. Lightly press a scoop of the tahini-date filling into the center of each chocolate cup. If you don't want the filling to be visible around the sides, make sure to leave a tiny rim of space around the filling before you pour over the remaining chocolate. Allow the chocolate cups to harden for another 10-15 minutes in the freezer or longer in the fridge before tasting the simple decadence!!