Chickpeas are probably one of my main sources of protein. I eat them almost daily, buying them by the bagful and soaking them over night. Then it's only a 45 minute boil in a large pot and voila, you've got yourself a big heaping mountain of chickpeas. Usually, I'm overcome with a great feeling of abundance at the sight of the cooked beans; wow, that's a lot of chickpeas! But sometimes I freak out a little, remembering that cooked beans should only be in the fridge for 4 days and there's no way I'll be able to eat that many chickpeas in that little time. So in a state of slight frenzy I'll begin brainstorming sweet and savory dishes that would help make a dent in the chickpea supply. While this recipe is not the result of one of those brainstorming sessions, my raw chickpea cookie dough is. As is my beetroot hummus.
While you'll definitely be seeing more sweet and savory chickpea-inspired recipes down the road, the one I'm sharing today shines the spotlight on a lesser known form of chickpea: chickpea flour. Chickpea flour is simply the result of grinding dry chickpeas. That's all. Toss the flour with some chopped onion, vegetables, spices, and a little bit of water, and you have a very, very yummy pancake on your hands!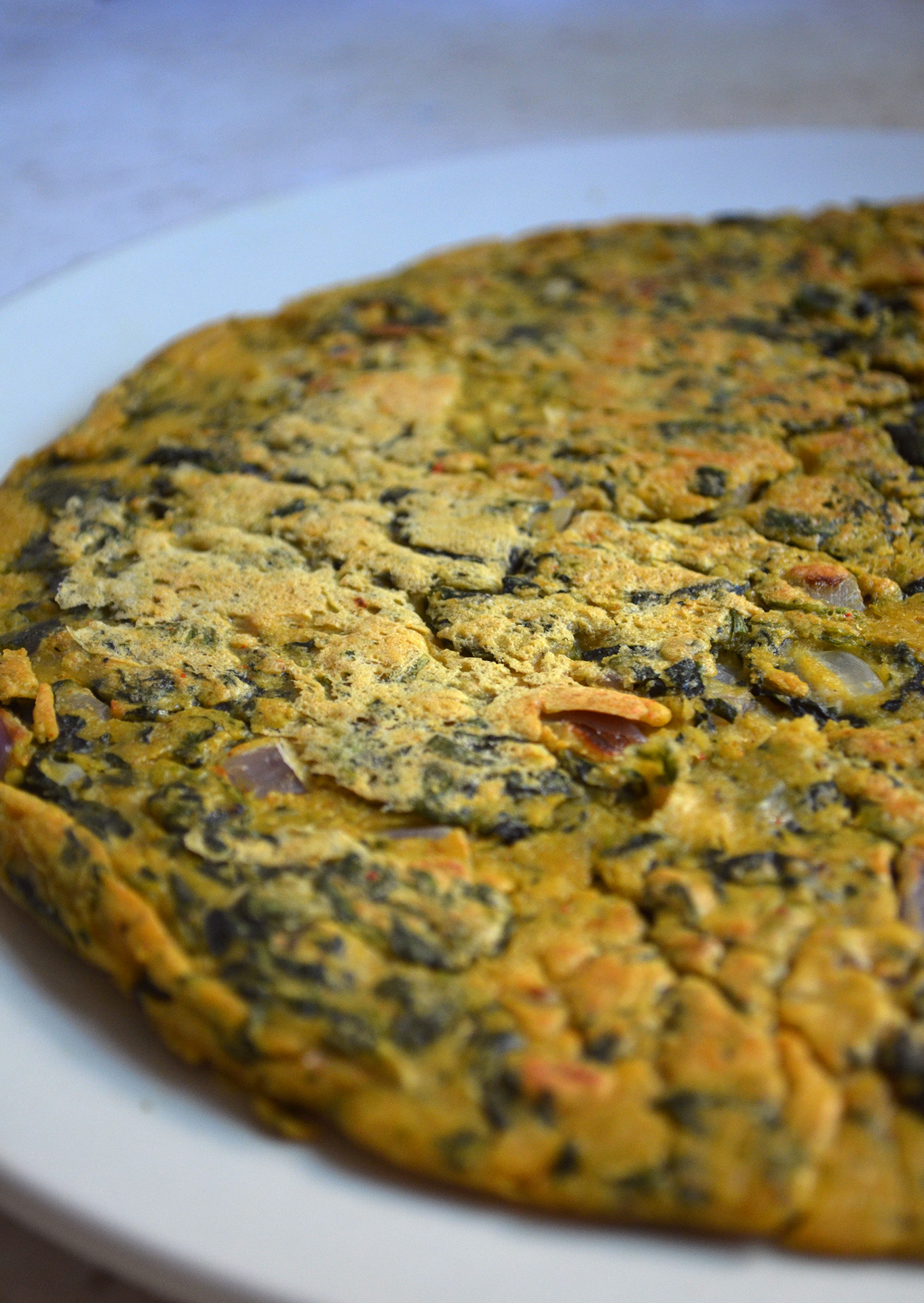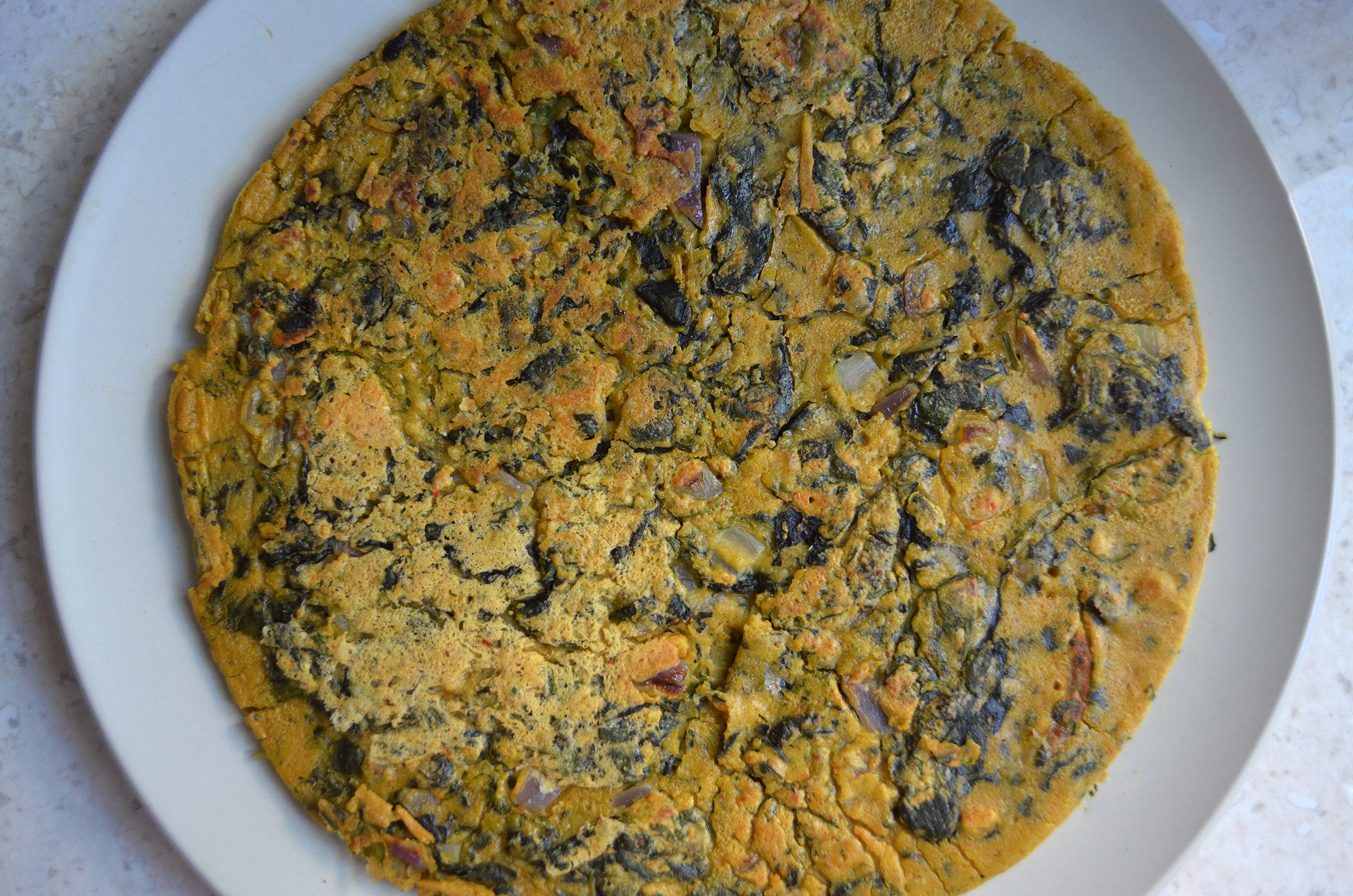 Ingredients~
Makes one large pancake
1/2 cup chickpea flour
2 pellets of frozen spinach
1/4 inch-thick slice of red onion (disc shaped), diced
1/4 tsp garlic powder
1/4 tsp cumin
1/4 tsp sweet paprika
1/4 tsp chili powder
Scant 1/4 tsp ground rock salt
Pinch of ground black pepper (less than 1/4 tsp)
1/2 cup water
1 tbsp olive oil
Instructions~
1. Saute the spinach pellets in a bit of water on the stove until thawed and water has evaporated. Set aside.
2. Combine the chickpea flour, spices, salt, and pepper in a bowl. Add the spinach, onion, and 1/2 cup of water. Stir until there are no chunks of chickpea flour and the batter is noticeably thinner than regular pancake batter. It should be pourable. Add more water by the tbsp if it's too thick/clumpy!
3. Heat up oil in a medium-large pan and, once hot, pour all of the batter into the center of the pan (or reserve some batter if you are making several smaller pancakes). The batter should spread out on it's own, creating a pancake that's fairly even in thickness. Gently nudge the spinach around if it's too concentrated in one area. I cooked the first side for about 6-7 minutes on lower-medium heat, flipping it after my spatula could easily slide under it. If you have to force your spatula under and it appears too wet/breakable, give it another couple of minutes! Cook on the other side for another 5-7 minutes, before turning up the heat and cooking each side until slightly browned and crispy (another minute or two on medium-high heat).
4. I recommend hot sauce, bean salad, raw spinach, and hummus as toppings, but you do you.