My drive to make bagels has increased tenfold since yesterday. Although my first batch turned out decent (okay, I was very happy with my first-timer result), I know there is bountiful room for improvement. I decided to up the oompf with my second round of bagels by adding cinnamon and mixed dried berries to half and blueberries to the other half. I also increased the kneading time, left them in the fridge overnight to further ferment and increase in flavor, and allowed them to boil longer in baking soda water. So, just how much better were these guys?
Other than the added cinnamon and berries, I don't think the fridge hibernation changed the flavor or consistency of the dough. However, to my joyful surprise, the blueberry bagels puffed up a fair bit more than the plain bagels did yesterday. The cinnamon bagels, on the other hand, were pretty stubborn. My only hypothesis is that the juice in the blueberries somehow contributed to further feeding the yeast? I know yeast thrives in a moist environment, so this is likely what happened, no? I don't really know. The cinnamon raisin bagels weren't unpleasantly dry or flat, but they would've looked prettier and tasted more airy/less dense had they truly doubled in size.
In an effort to better understand the complexities of bagel making (aka why aren't my bagels perfect?) I discovered that, according to a couple of sources, for every 50-60 grams of whole wheat flour used you should add a tbsp of water. I suppose this is meant to help balance out the denser, earthier texture whole wheat creates. There's no denying that classic bagel flour, white pastry, is optimal for achieving the chewy, pillowy bagels we all know and love (and hate to love so goddamn much). However, despite realizing the slight subpar nature of whole wheat bagels, I've decided to continue on my trek to bettering them, in texture and taste. Also, I'm currently in possession of a lengthy list titled "Cakes To Make ASAP", so I'd rather reserve the white flour for said cakes and ingest more fiber-full stuff in the form of bagels.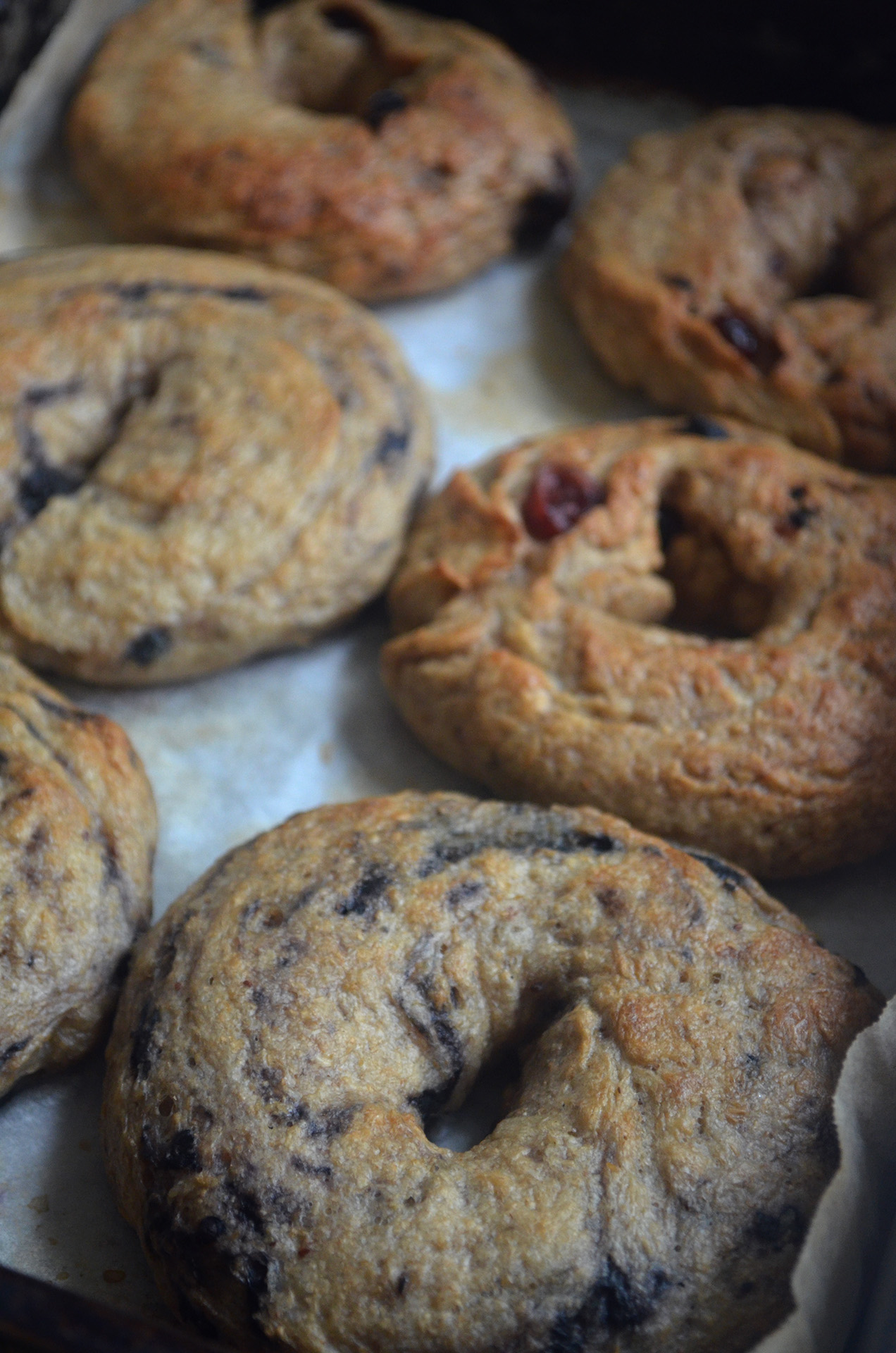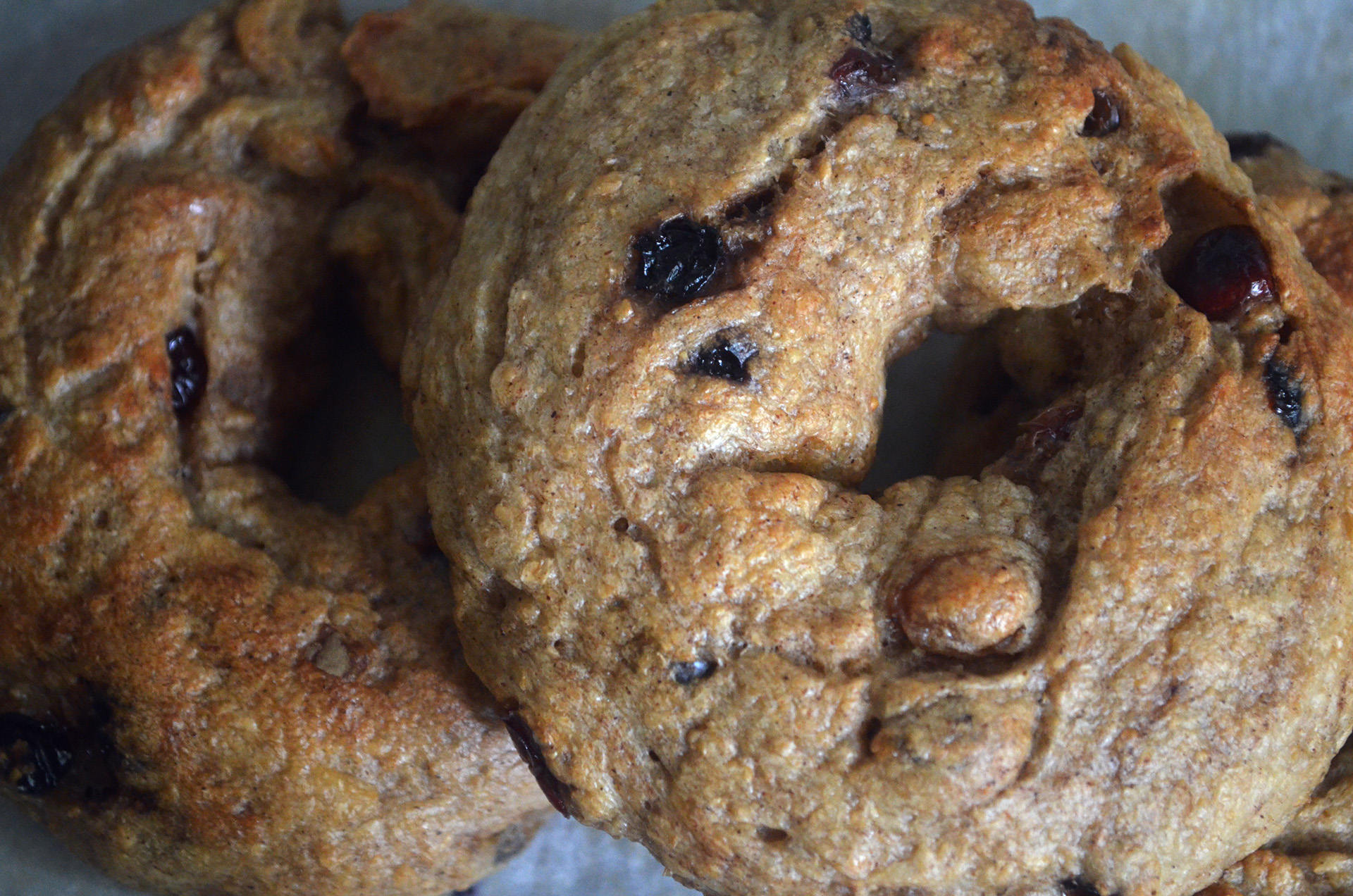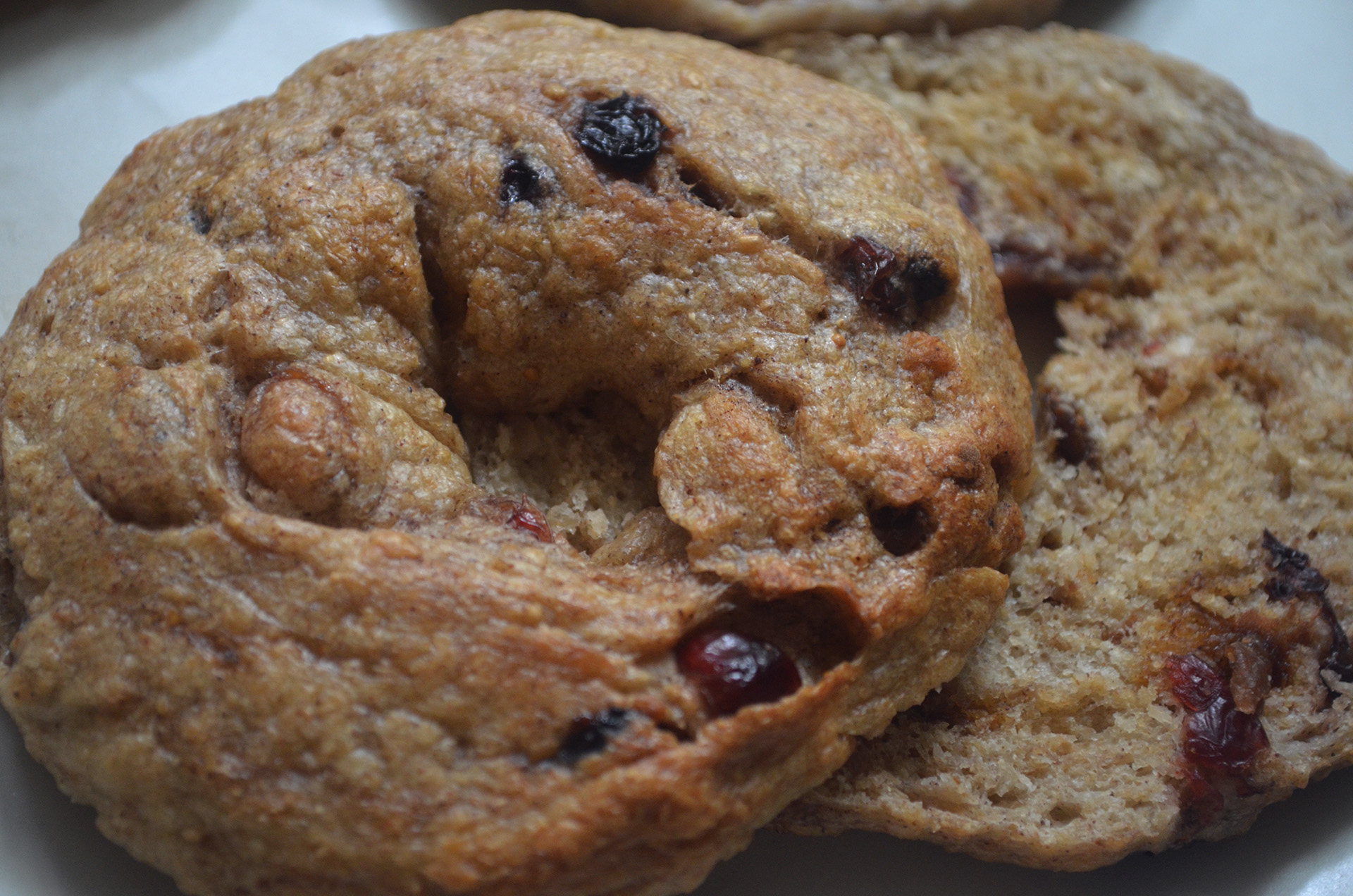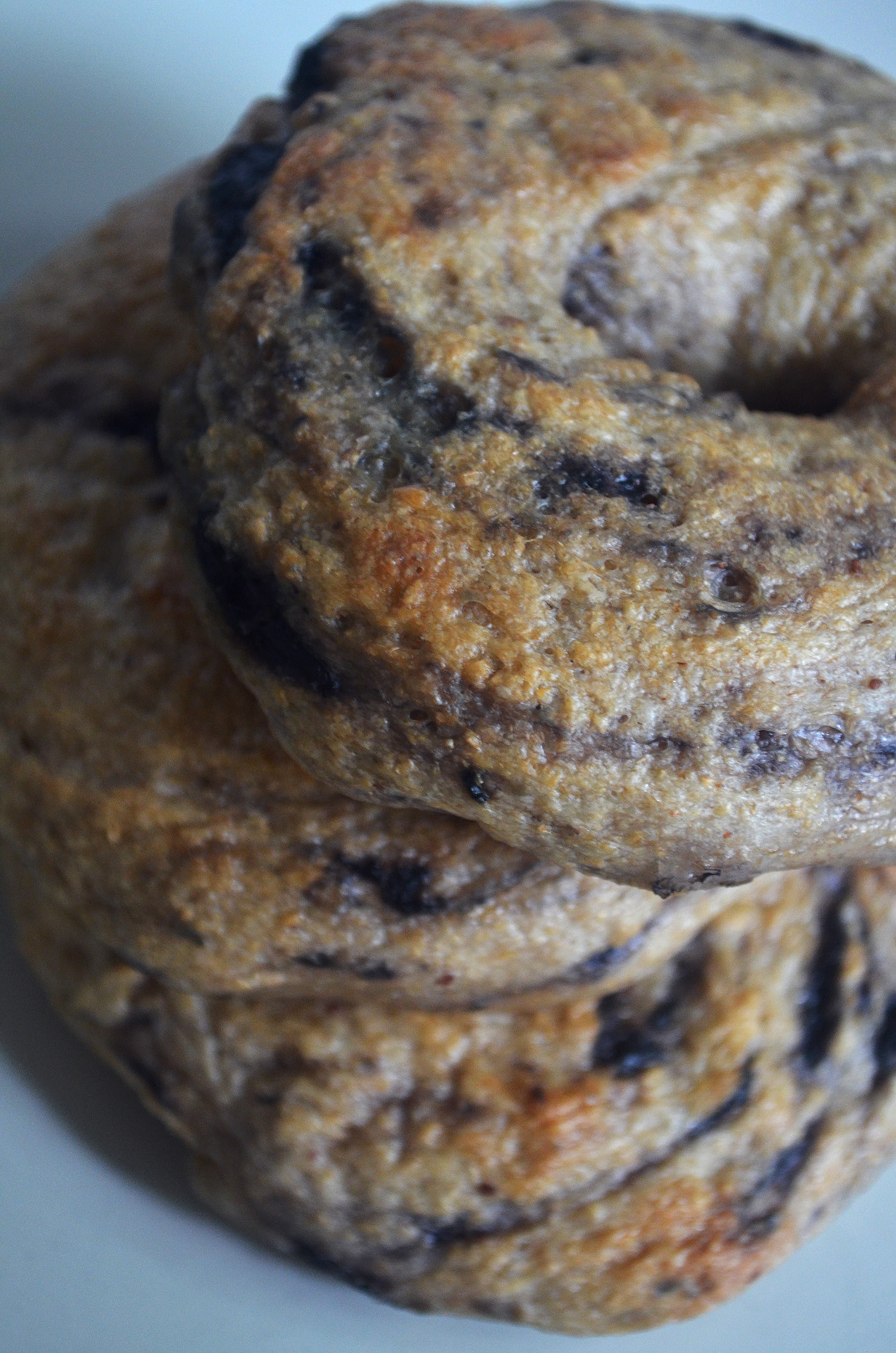 Ingredients~
1 1/2 cups whole wheat flour
1/2 cup all purpose flour
1 tsp dry yeast
1 heaping tsp rice malt syrup
1/2 tsp granulated sugar
3/4 tsp table salt
3/4 cup & 1 tbsp warm water
1/3 cup blueberries
1/3 cup dried mixed raisins, cranberries, currents, cherries, etc.
1/2 tsp cinnamon
1 1/2 tsps baking soda
Instructions~
Same as the bagel post below but with these additional notes:
1. If making both kinds of bagels, separate the dough into two equal balls after kneading for allotted time.
2. For the blueberry bagels~ lightly coat the blueberries with 1 tbsp of white flour before folding them into the dough in few batches. For instance, add 1/3 of the berries, fold/gently knead, and repeat. The blueberries will likely wet the dough so continue to sprinkle on large pinches of flour as you combine. I wanted the noticeable blue-purple streaks in my bagels so I didn't hold back from lightly squashing the blueberries and adding extra flour as I went along. Place the ball of dough in it's own light greased and cover tightly with plastic wrap before setting it in a warm place to double in size (usually 1 hour minimum).
3. For the cinnamon raisin bagels~ soak the dried fruit in hot water for 5 minutes before draining, patting with a dry cloth/paper towel, and combining with 1/2 tsp ground cinnamon. Use your hands to mix the fruit and spice together, ensuring an even coating of cinnamon. Add the fruit to the dough in a few batches, folding the dough together/gentling kneading in between each addition. Once combined and the cinnamon has nicely peppered the dough, set it in a lightly oiled bowl, cover with plastic wrap, and leave in a warm place to rise.
4. After following the instructions for shaping the bagels, place the tray in a warm place to rise for about 20-30 minutes before setting them in the fridge overnight (if opting for this route. I honestly didn't find much difference taste wise or texturally, but it would be convenient for fresh bagels in the morning).