Sometimes I wish there were shortcuts to my dreamed about successes; perfectly flaky croissants ready in 2 hours, minimal handiwork required; no-rise fluffy cinnamon rolls; pie crust that pleats itself. Life would be pretty neat. My life really would be a lot less messy in the literal sense, with no flakes of dough to uncake from my nail beds and no mountains of dishes to wash because I had to make banana pudding three times rather than nailing it on my first go.
Nonetheless, there is a perverse pleasure in struggling when you know that it's building you up and bettering you. Long distance runners haven't found a way to NOT feel like there's acid running through their veins, yet they continue to run, because, well, because of what lies ahead of them: a finish line, a personal best, a big meal, a better state of mind and body. I run and I also bake. The latter more often than the former, and that's something that has got to change, but in the mean time, I can at least try to adopt my running state of mind when I'm in the kitchen. In other words, PERSIST despite the frustrations and letdowns, REPEAT in order to improve, and, most importantly, REMAIN LEVEL HEADED because it's too easy (and stupid) to resort to cynicism and self doubt in a crisis.
I was on a banana pudding rollercoaster the past couple of days, uuuup and up before heading very, very far doooown, and then, because happy endings are nice, back on up again. I had a bunch of prime spotty bananas in the kitchen, but before mashing them for banana bread and calling it a day, I made myself take a little plunge off an unfamiliar cliff and make some banana pudding. I try to make my sweets as close to healthy as possible, so I decided to cut back on the cream, sugar, and eggs, and venture down the sinister road to creamy vegan pudding. Had I known how many times it was going to take to achieve my banana cream dream, I likely would have grabbed the ingredients for banana bread and fled. Long story short, I'm glad I didn't. I stuck it out and now have a glorious vegan banana pudding to show off (and some not-so-pretty runner up pictures as well).
I began making my first batch of pudding thinking I had it in the bag. Pudding was a baby food in my mind; there isn't much room for error when you're asked to mash a banana or warm some milk. While I succeeded at the former two tasks, the pudding I found upon peeking into the fridge the next morning was not the one I was giddy for. It was greyish, the texture was foamy and lumpy, and it looked a lot more like actual baby mash than sophisticated adult pudding. So, what went wrong?
I forgot about my environment. And nature. And the laws of the world. Which, to be fair, is all very heavy stuff to remember when you're trying not to scald precious pudding milk. Bananas turn grey and brown when unpeeled and sliced up and left to sit for hours!!!! This was only incredibly obvious to me AFTER the fact. I gave myself a little pep talk, I definitely won't make this mistake the second time around. I am totally capable of manifesting my ideal banana pudding, and went on my jaded way to plan for pudding #2.

Pudding #1:
3/4 cup soy milk
1 small spotty banana
1 1/4 tbsps cornstarch
1 tbsp brown rice syrup
1/2 tsp vanilla extract
It was now day two of banana pudding making and I wasn't any closer to my dreamed about parfait. I could see it, but I couldn't quite envision how x, y, and z ingredients would mold together once whisked and left to chill. For pudding #2 I used 1/3 the amount of mashed banana as before and I included a little block of silken tofu, thinking it could mimic thickened cream.

Without a blender/food processor in tow, I had to press the tofu through a mesh sieve. The actual labor involved was akin to lifting a pinky, but regardless, the fancy new addition to the recipe didn't bring me any closer to satisfaction. Banana pudding castle was hidden in the clouds and I was on Earth eating grey mash.
I can only wonder if a blender would have solved the silken tofu problem. Using the mesh left the tofu looking like curdled cream. At the time I had tried to ignore it; everything else was prepared and I wasn't in the mood to take a step back after not succeeding with pudding #1, so I combined the curdled tofu with the rest of the ingredients and left it to chill in the fridge overnight (big mistake).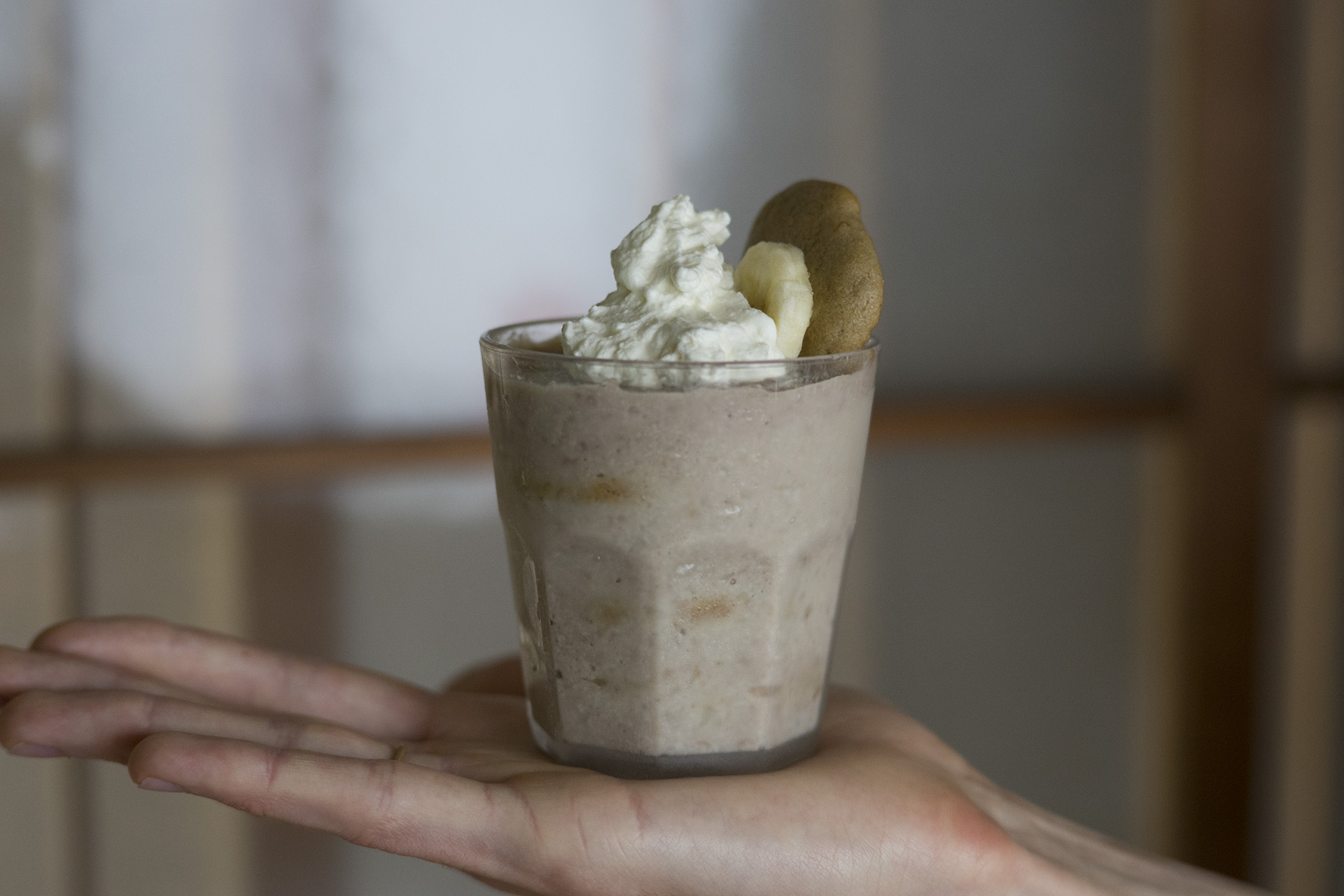 Still grey as ever. In fact, MORE grey than attempt #1!!!! I wasn't going to add ANY mashed banana to the next pudding and I was definitely going to drop the tofu. Rotten Banana Curdled Milk Pudding. Yum. In all fairness, it didn't taste all that bad. But cake batter and cake are two very different things. Sure, we like to steal a few licks of batter, but the cake is why we bother baking in the first place. Same goes for banana pudding, it may taste well and good, but if the texture is off the delivery is off and the whole damn thing is OFF. I needed to find a thought through and viable solution to the consistency problem. Simply dumping together ingredients in the hopes that they'll conjure up creamy pudding was obviously not working.
Pudding #2:
3/4 cup soy milk
1/3 small spotty banana
1 1/4 tbsps cornstarch
1 very small block silken tofu
1 tbsp brown rice syrup
Scant tsp vanilla extract
And then… Aha! Agar agar, you are my sunshine on a grey and underwhelming day. I had been doing some research about baking with gluten free flours and more specifically, what can be substituted for xanthan gum, when I came across the words agar agar and tiny things in my brain clicked and buzzed and gurgled and I suddenly recalled seeing it at the local grocery store. It turns out agar agar is a popular vegan replacement for gelatin. It's derived from algae and can be bought in three forms: 1. strands (which must be pounded into granules) 2. flakes and 3. powder. The powder is the easiest to deal with as it requires the least amount of stove time and the least amount of teaspoons. The ratio of flakes to powder is about 3:1 and after heaps of internet lurking I learned that about 1 tsp of agar powder is enough to turn 1 cup of milk into firm jello. Colorful ideas for vegan jello and panna cotta and gummy bears had to be put on hold. Now was the time for CREAMY banana pudding.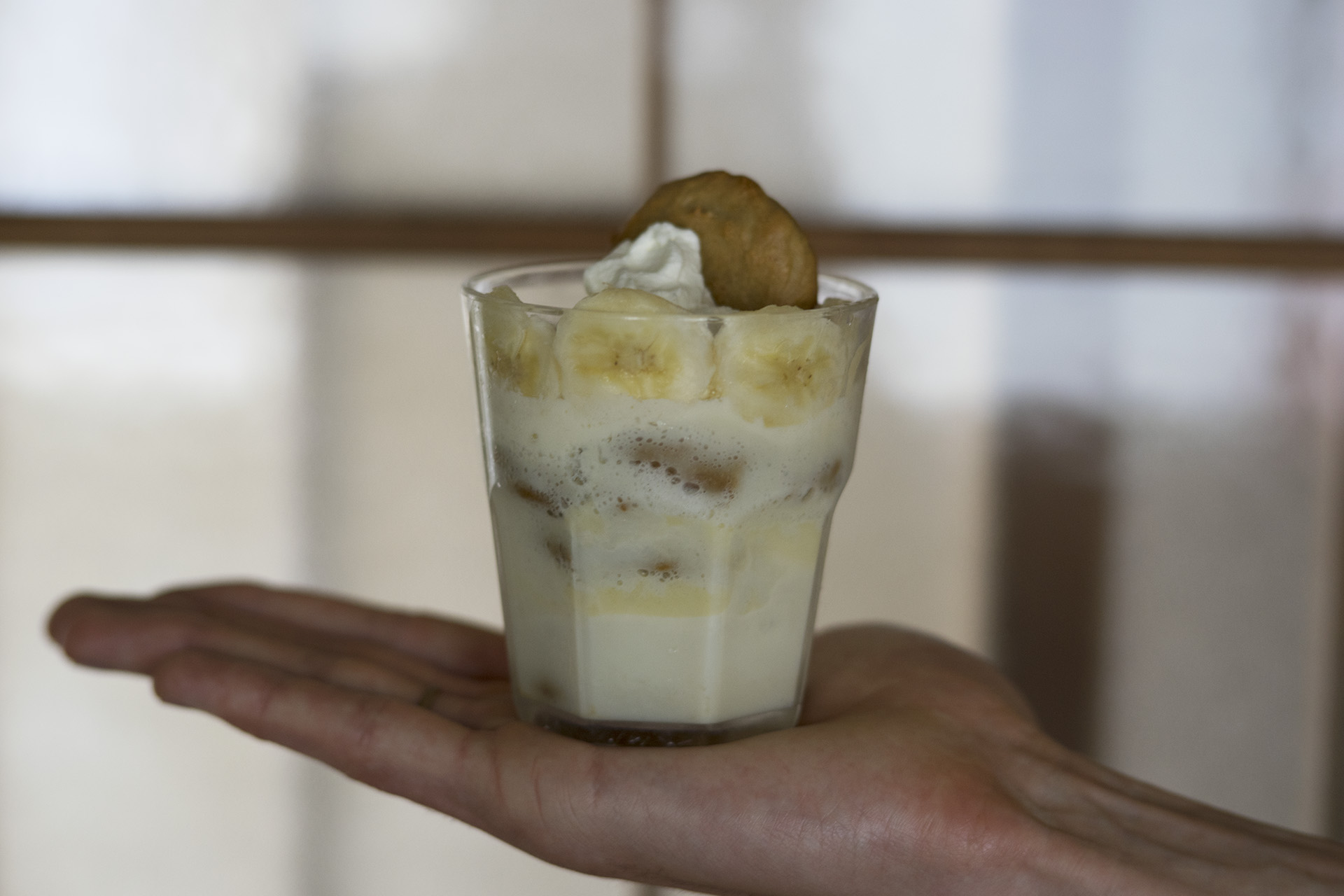 It worked! Creamy banana pudding was mine. And it was still vegan and low in sugar. The agar powder really saved my butt. Without it I'm not so sure I would've found another viable vegan alternative. Creaming tofu was not possible and coconut cream is way out of my food budget here in Tokyo. Maybe I'll find a way to fit a can of it into one of next month's grocery lists. I'm definitely going to need a couple of weeks to detox from all of this banana pudding. If it wasn't for Matt's helping hand (pictured above) and sizable appetite I wouldn't have kept the ball rolling on this banana pudding project. It is possible to have a little too much of a good thing. Or rather, why make pudding if you're not even going to want to eat it?
Pudding #3: The Finale
3/4 cup soy milk
1/4 tsp plus 1/8 tsp agar agar powder
1 tsp cornstarch
1 tbsp brown rice syrup
3/4 tsp vanilla extract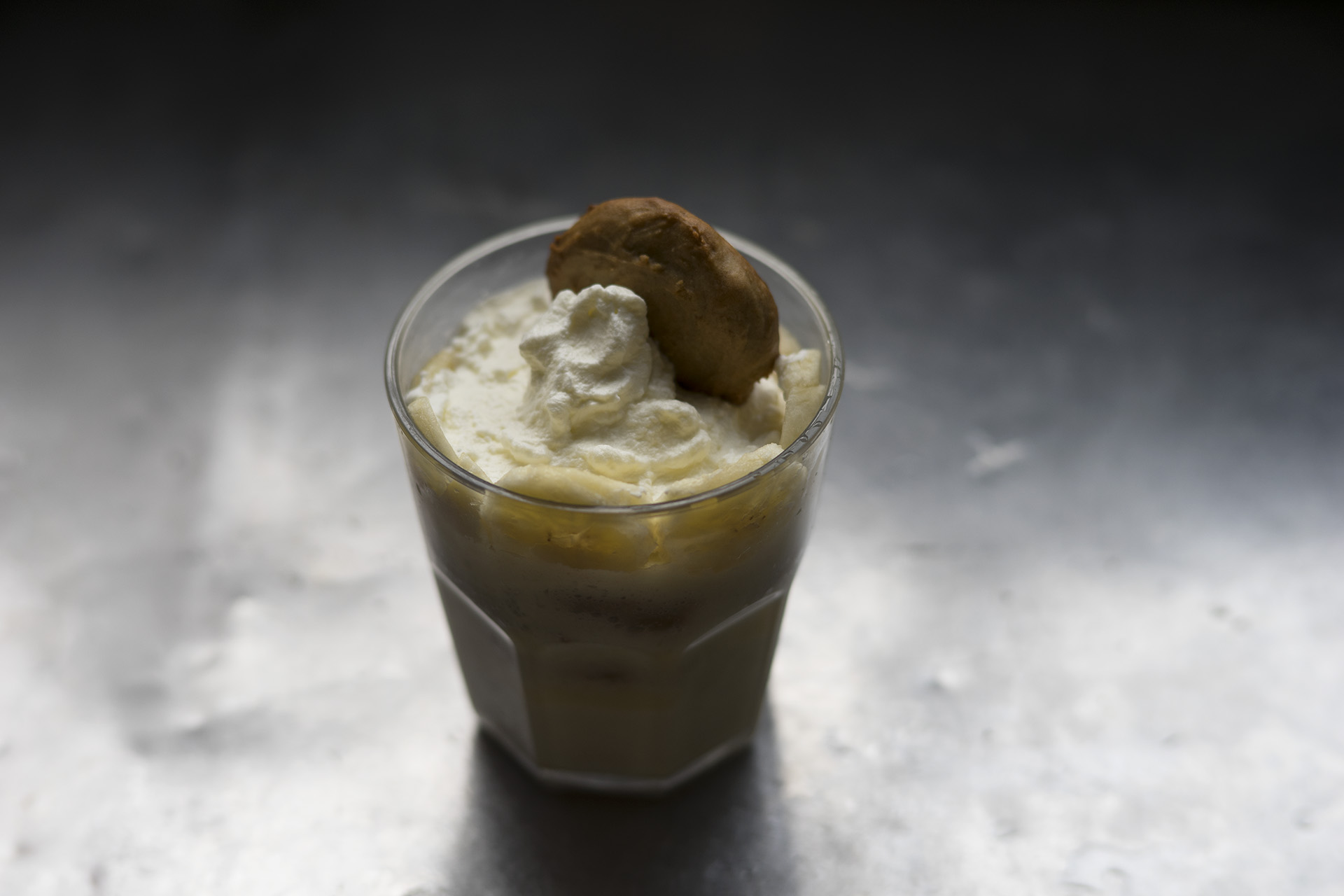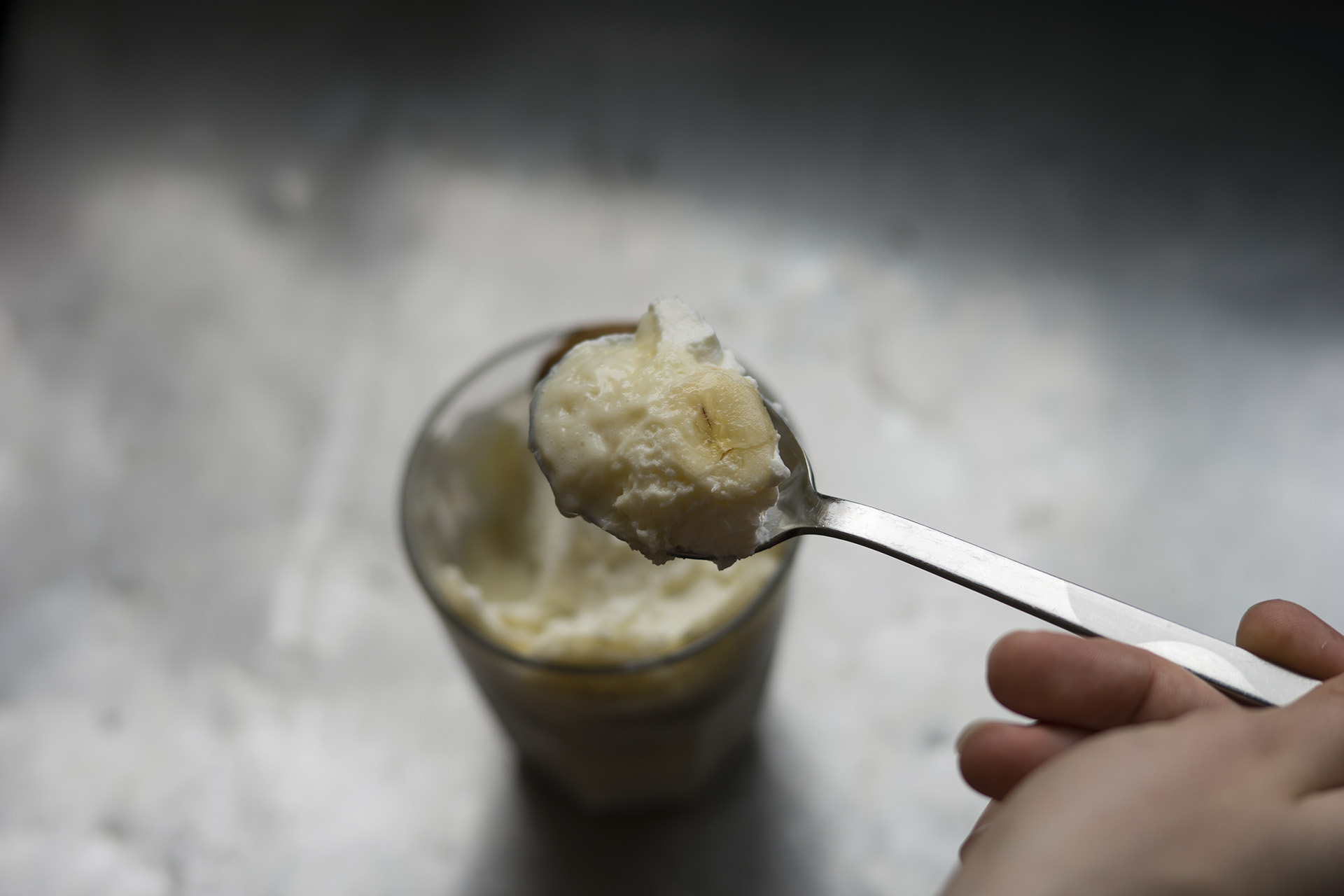 Ingredients~
Makes a little more pudding than pictured or enough for 2 small serving glasses

3/4 cup soy milk or other dairy free milk
1/4 tsp plus 1/8 tsp agar agar powder
1 tsp cornstarch
1 tbsp brown rice syrup or other liquid sweetener (add more for a sweeter pudding and reduce liquid accordingly or slightly increase agar)
3/4 tsp vanilla extract
Toppings:
1 small lightly-spotted banana, sliced
6-8 homemade vanilla cookies or store-bought vanilla wafers
1/2 cup vanilla whipped cream (coco whip for a dairy-free alternative!)
Instructions~
1. Pour the soy milk into a non-stick saucepan and sprinkle the agar powder on top. Allow to sit for a few minutes before adding the syrup, turning up the heat to low-medium, and whisking until the ingredients are visibly combined. Add the cornstarch, whisking to avoid clumps. Continue to whisk/stir every handful of seconds to prevent the cornstarch/agar from sticking to the bottom. It will take up to 4-6 minutes for the mixture to visibly thicken, at which point you should continue to stir for about 30 more seconds before turning off the heat.
2. Moving quickly, arrange your cookies/sliced banana/whipped cream* in serving glasses and divide the mixture accordingly. Cover with plastic wrap and allow to set at room temperature for 1 1/2-2 hours before transferring to the fridge for another 1-2 hours to further set and chill. This pudding is best enjoyed cold and with a big dollop of whipped cream on top!
*The whipped cream won't retain it's airy form 100% if it's layered between the warm pudding, but it does add a yummy variation and blends well with the other layers.