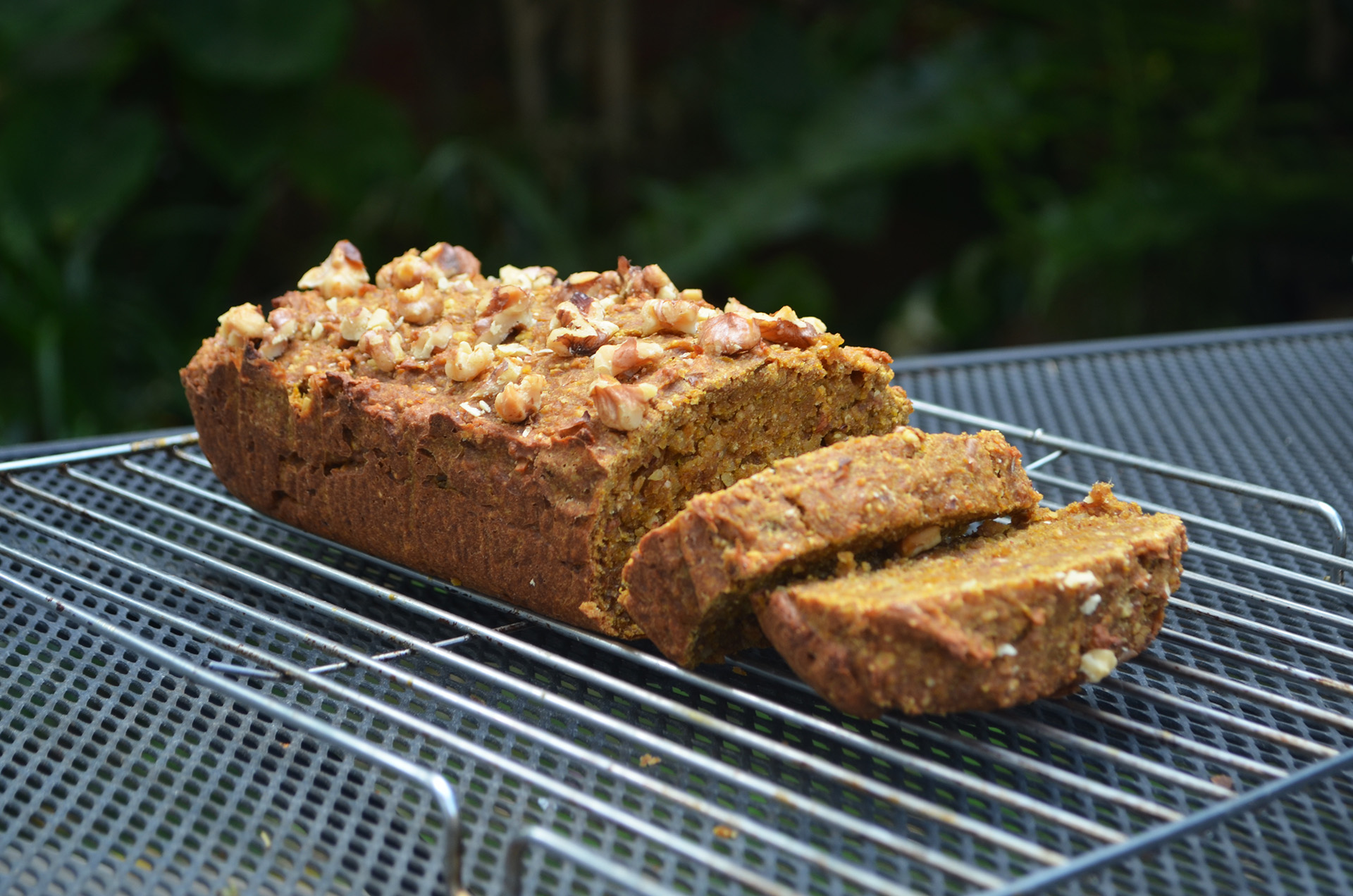 Give me moist, dense pumpkin bread or don't give me any at all. Sorry, was that rude? If the bread could be extra heavy on the pumpkin puree, that would be great too. I can be pretty particular (annoying) when it comes to baking. I'm almost certainly that person at the party/brunch/xyz celebration that will nibble on other people's desserts while going back for heaping seconds and thirds of their own. Sorry in advance.
This pumpkin bread recipe is one I keep returning to for more. While I have posted other (lesser) varieties of it in the past, this exact one is the champion. It's #1 status is largely thanks to the extra fat dollops of (freshly roasted) pumpkin puree I decided to stir into the batter last minute. The beautiful matrix of flavors is also due to the addition of a very heaped 1/2 cup of dates, 2 tbsps of coconut oil, and 4-5 tbsps of maple syrup. Yes, this recipe calls for a lot of wet ingredients. And yes, this pumpkin bread does in fact bake up into a sweet, spicy, packed loaf that has never so much as grazed shoulders with the words dry or bland.
I'm not a fan of overtly sweet anything, unless it's perfectly ripe and juicy mango. But that's a different kind of sweet than the type that most breads and cakes are saturated in. Well, I'll be upfront and say that there's none of that intense, sky-high-then-crash, sugar here. Just dates and maple syrup. And more of the former than the latter. Is it possible to make a loaf of 'sweet' bread that is truly tasty and, uh, sweet, with no more than the former two ingredients carrying the weight? Yes. Yes. And Yes!!!! It's stupidly easy to do.
I opted for 4 tbsps of maple syrup and have to say that I found the bread a tad on the sweeter end of my baked goods spectrum. Still, it is far from white-sugar-sweet, so if you're entertaining for people who still have a lot of refined sugar in their diets, you may want to increase the syrup to 5 tbsps. As for the dates, please don't leave them out or try to replace them with more syrup. Or do, but don't tell me about your sneaky swap. The dates help boost the sweetness, sure, but they also provide a heap of wet, stickiness that binds the ingredients and keeps the loaf from drying out. Like I said, only moist, dense bread here.
So maybe you prefer fluffy sweet breads; my use of the word 'dense' made you hesitate to keep reading. That's fine. We all have our own tastes and preferences. But…. you're here now. And have you ever had a dense pumpkin bread like this one? You won't know until you've tried it, obviously, so… maybe you should just do it. Oops. I'll take a step back now. I respect you're palette, no matter how different it may be from mine, so all attempts at trying to convert you to team moist-and-dense-and-perfect-pumpkin-bread end now. All done.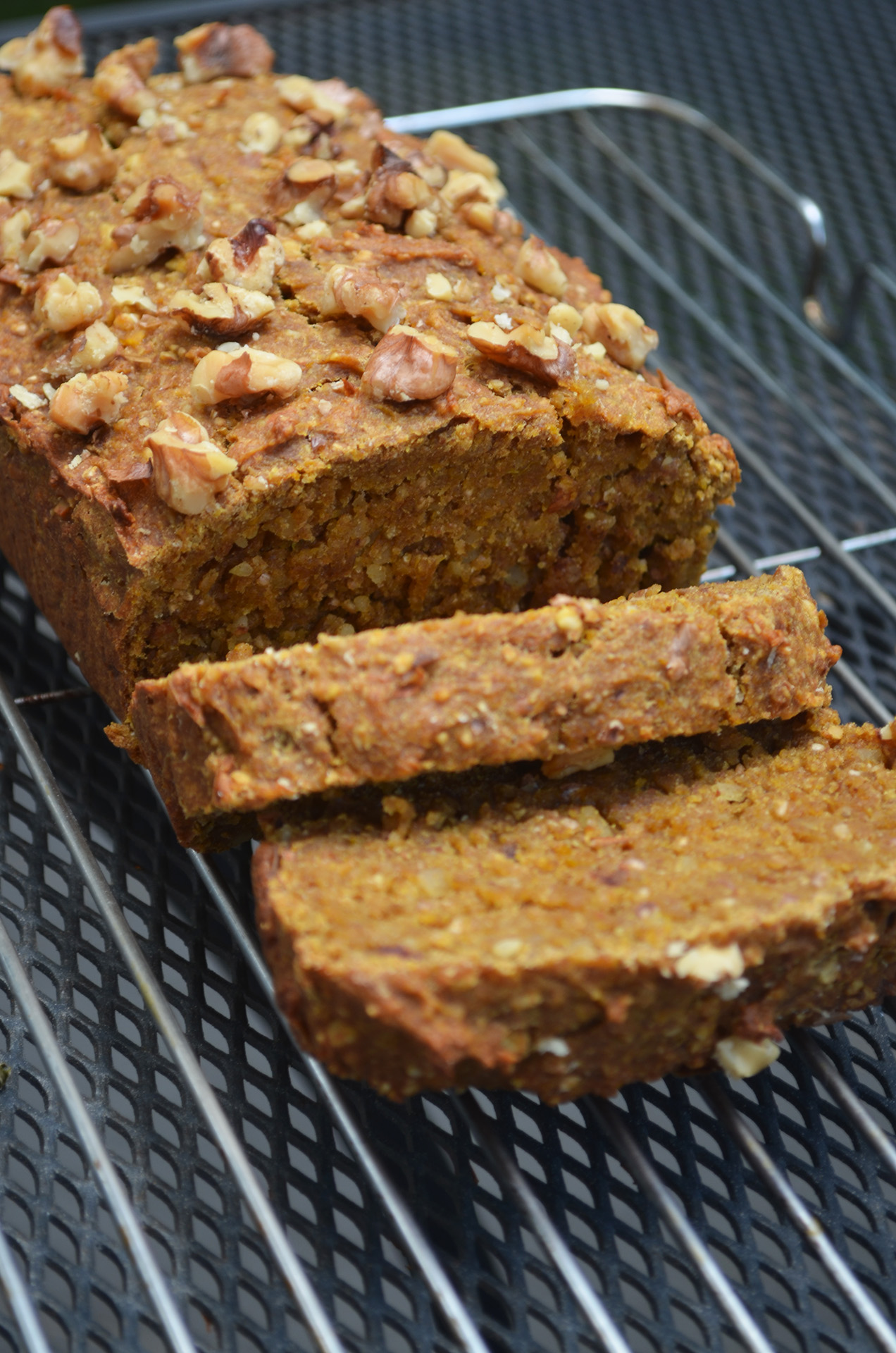 Ingredients~
Dry:
1 1/3 cups whole wheat flour
1/2 cup almond meal
3 tbsps bran flakes
1 1/4 tsps cinnamon
1/4 heaped tsp ground ginger
1/4 tsp nutmeg
1/2 tsp baking powder
1/2 tsp baking soda
1/4 tsp table salt
1/2 cup chopped walnuts or pecans for topping and stirring-in
Wet:
1 cup roasted pumpkin puree (I toss the pumpkin in 1-2 tsps of extra virgin olive oil when roasting)
1/2 packed cup dates (deglet noor or medjool, it's no biggie here!)
5 tbsps maple syrup
2 tbsps coconut oil, melted
1 egg
2 tbsps water
1/2 tsp vanilla extract
Instructions~