Another day, another bowl of crunchy homemade granola. Ignoring the advice from successful food bloggers everywhere (under no circumstances should you post about granola two times in three days), I decided to whip together another batch of granola to share with you. Unlike my previous Coco Puffs inspired granola, this one is oil free and flavored with toasted cinnamon and nutmeg… mm mmm!
Homemade granola used to sound unattainable to me (what do you mean I can easily replicate delicious store bought granola in the comfort of my own kitchen?). Little effort, big reward. Also, making your own granola will save you money. I'm still baffled by how expensive store-bought granola is; even the brands that market themselves as 'healthy' and thus, more 'worthy' of your dollars, usually have heaps of sugar or oil in one serving (and who honestly sits down and eats one measly serving of granola at a time? The answer is no one. Not even babies).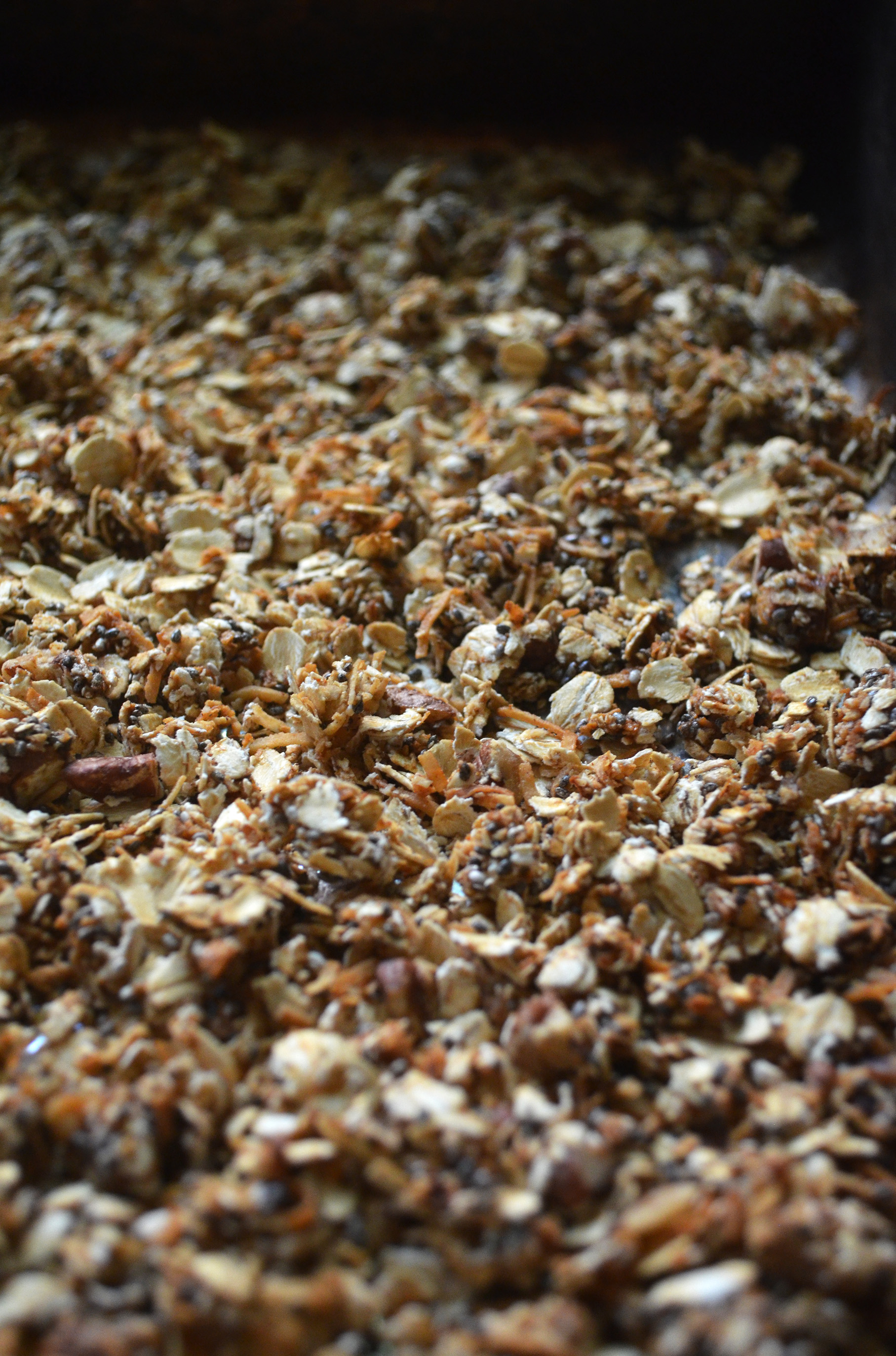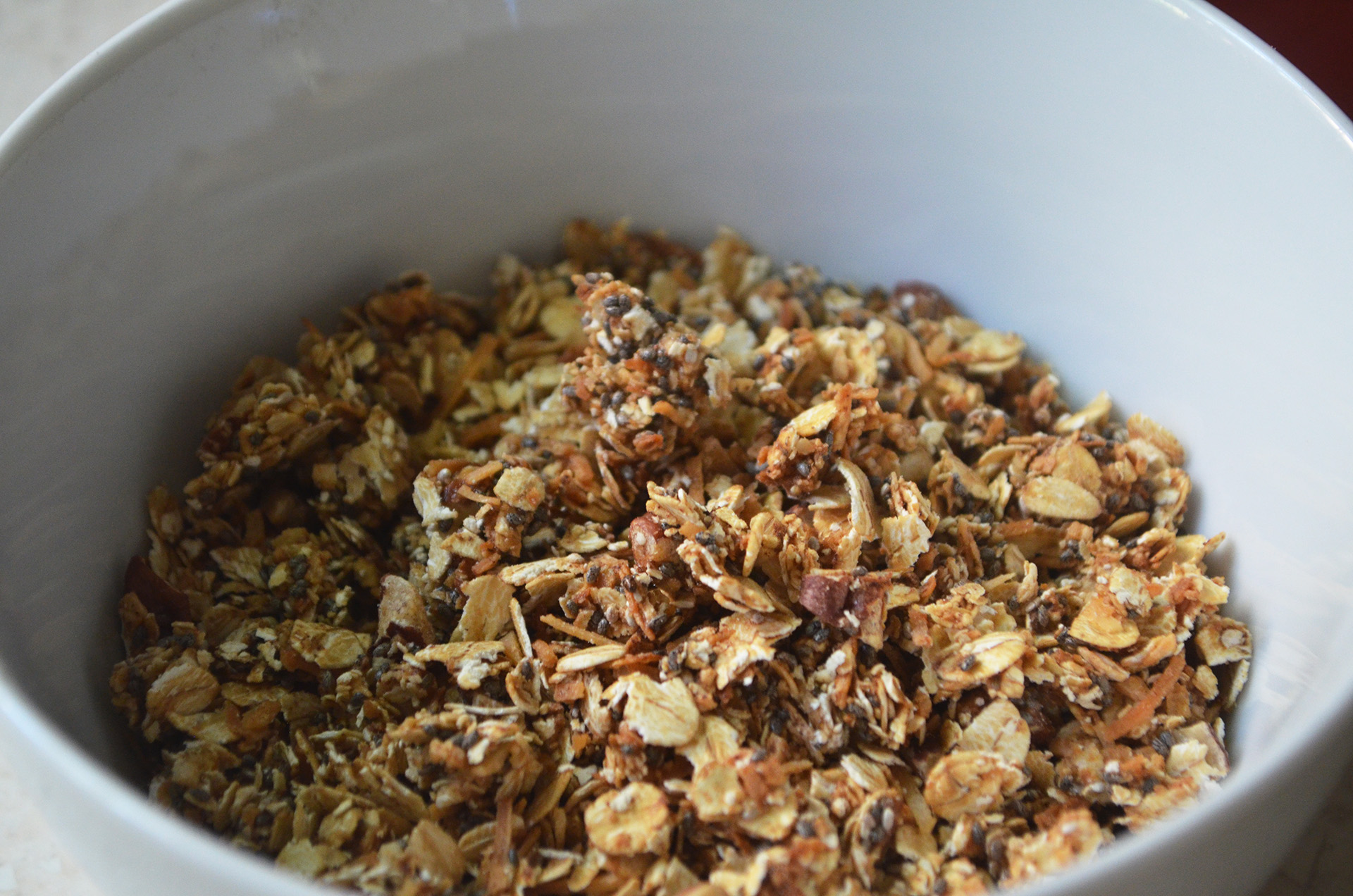 After some trial and error batches, I learned that chia seeds are crucial in holding together the crunchy chunks otherwise created by more oil and sugar; and don't let their size fool you, chia seeds are densely packed with fiber, healthy omega-3 fatty acids, and protein, making it easier to go without snacking before lunch.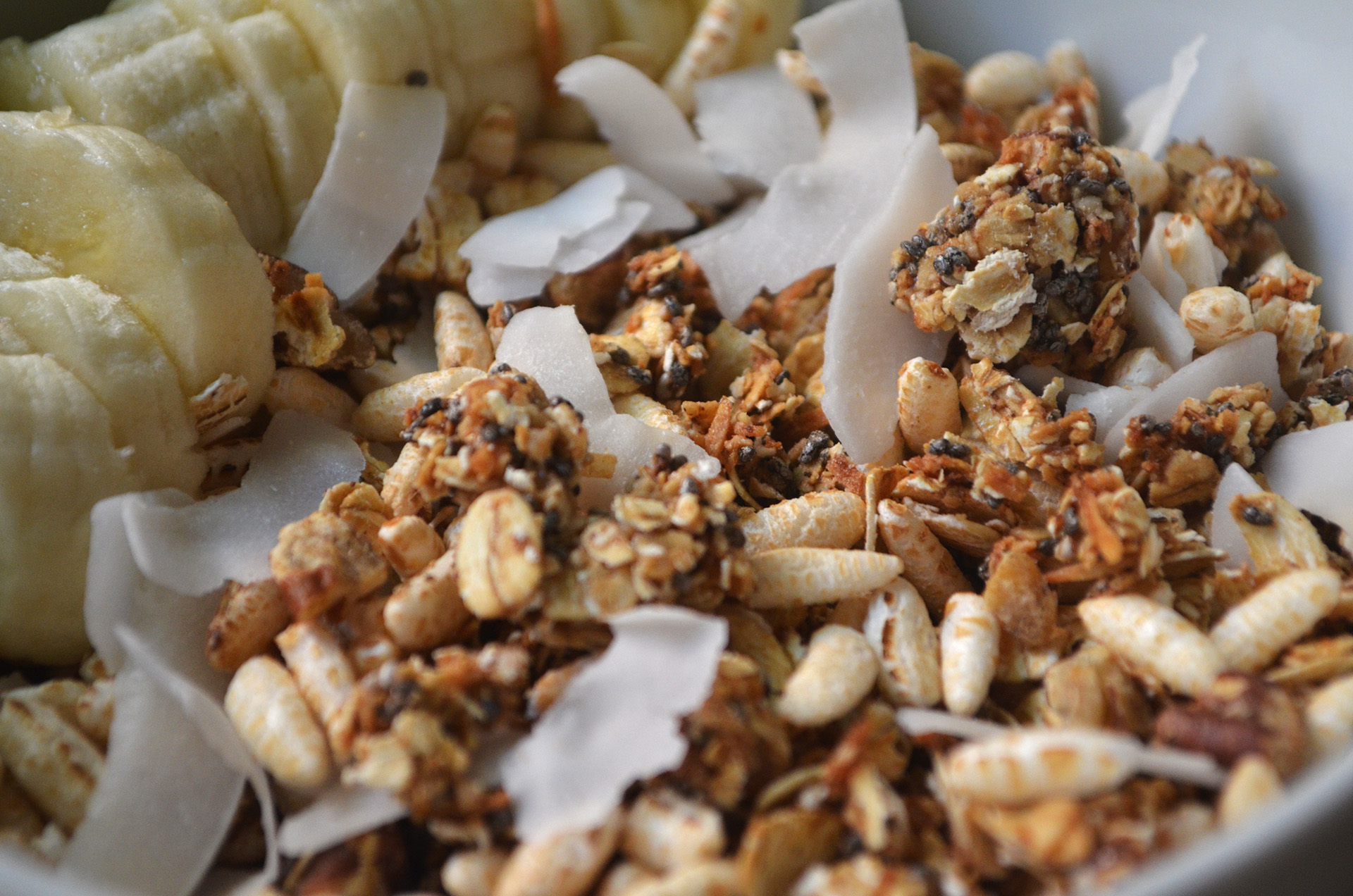 Ingredients~

1 cup traditional rolled oats
1/4 cup unsweetened shredded coconut
1/3 cup chopped pecans (or nut of your choice)
2 tbsps chia seeds
2 tbsps sunflower seeds (pumpkin seeds are great too)
3-4 tbsps rice malt syrup/honey or other liquid sweetener
1/2 tsp cinnamon
Dash of nutmeg (about 1/16 tsp)
Pinch of salt
1/2 cup puffed brown rice (optional)
Generous sprinkle of unsweetened coconut flakes (optional)
Instructions~
Preheat oven to 165 C or 329 F
1. Mix oats, shredded coconut, nuts, chia, spices, and salt in large bowl. Add syrup and, using clean hands, combine the granola using your fingertips. Be sure to separate any unusually large chunks of granola the syrup may have favored.
2. Lay the granola out on a baking tray, making sure to create one even layer for optimal crunchiness. Bake for 10 minutes, before turning the tray 180 degrees and baking for another 7-12 minutes or until light brown and toasted.
3. Allow the granola to fully cool (this will help it gain more crunch) before mixing in brown rice puffs and coconut flakes (or dried fruit). Serve with icy cold nut or soy milk!