It's a whole new world, folks. The flood gates have been thrust open and I am now welcoming bagels of all shapes and sizes and flavors into my home.
I was able to overcome my vague, senseless fear of yeast long enough today to make bagels. Now all I can think about is how much of my life was wasted not making and eating homemade bagels. While it was wildly foolish of me to ever have avoided yeast, I can sympathize with my former self. The less you know about yeast, the more daunting it sounds… the more you know about yeast, the weirder it sounds. Yeah, so, like… yeast is alive and related to fungus (yum) and your job is to make sure it has plenty of sugar to eat and a warm enough place to hang out. Pretty wacky, huh? I'm enthralled by the aliveness of it. Sure, flour comes from a plant that was once alive and eggs from a chicken that is alive, but yeast is alive. In fact, it's alive enough to be branded high-maintenance. I was so hesitant about working with yeast because I'd heard tales about how sensitive it is to temperature and how crucial it is that you mix it with the correct ratio of fats and sugars. While the former is all true, I've come to realize that the most important element about success with yeast is patience.
I'm certainly not a walking, talking, patience-brewing machine, but, like any virtue, I think patience can be specially cultivated (…for bagel making days, of course! I clearly payed attention in Sunday school). So, with a little help from patience and A LOT of help from vivid imagery (insert imaginary projection of freshly buttered bagel here), I was able to get through the kneading, kitchen pacing, and life pondering that comes with ballooning dough. Yes, these bagels will require a little chunk of your time. And yes, you could be chowing down on store-bought, perfectly delicious bagels in said time. But in all honesty, yeast doesn't really ask for much. Just give it a warm bath in sugary water, bury it in flour, and let it fall asleep in a warm place; it will do the magic for you.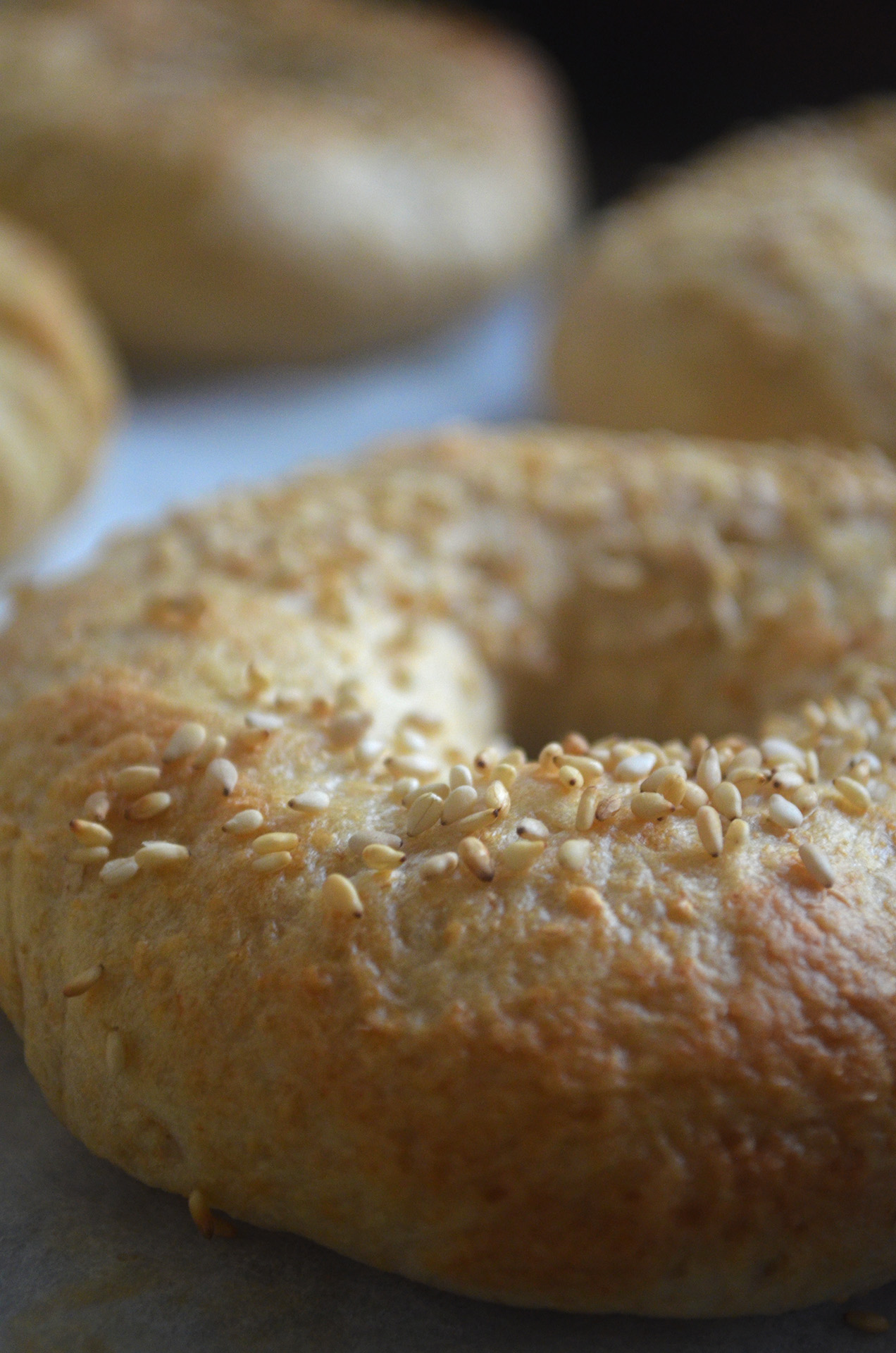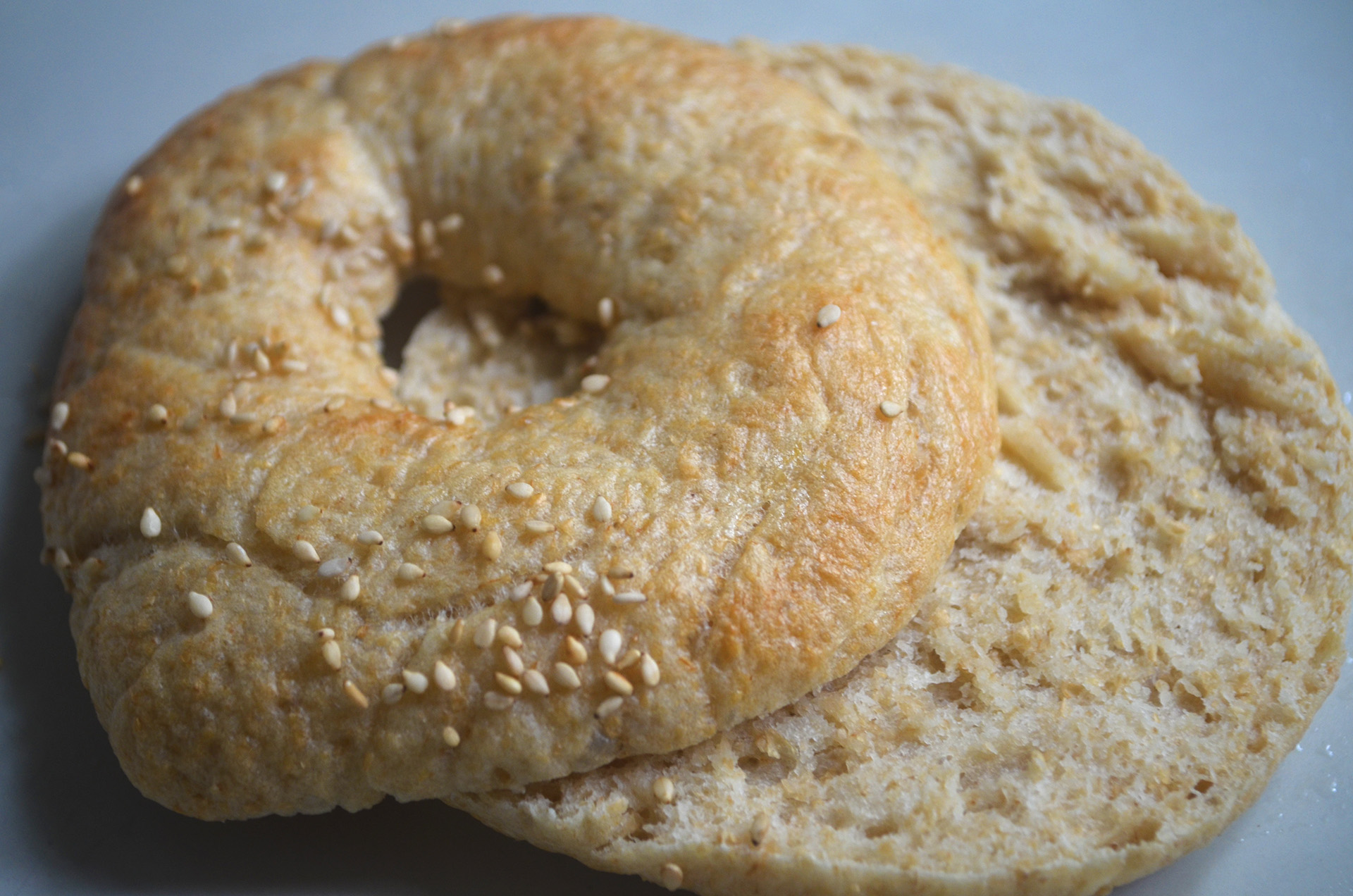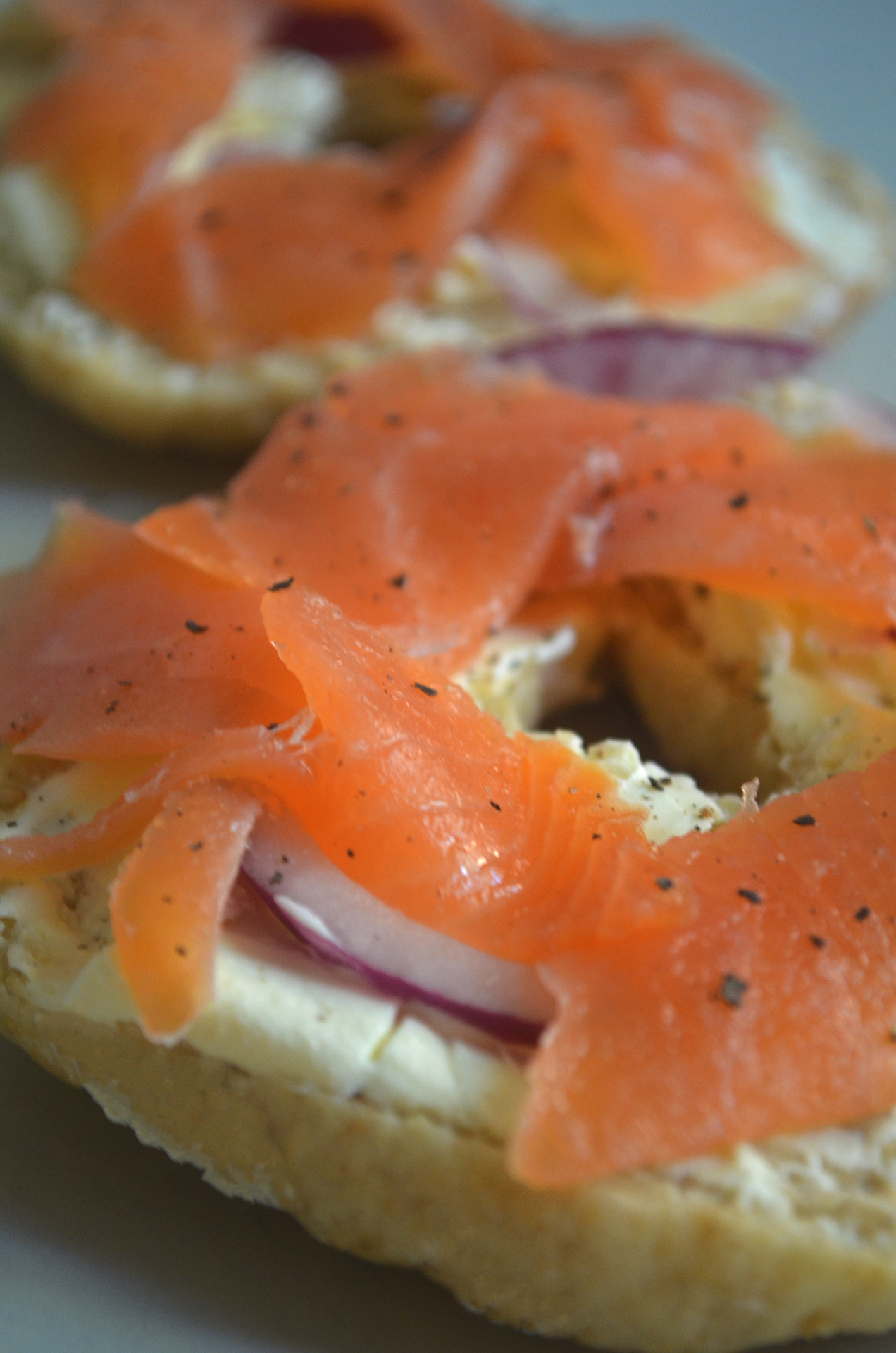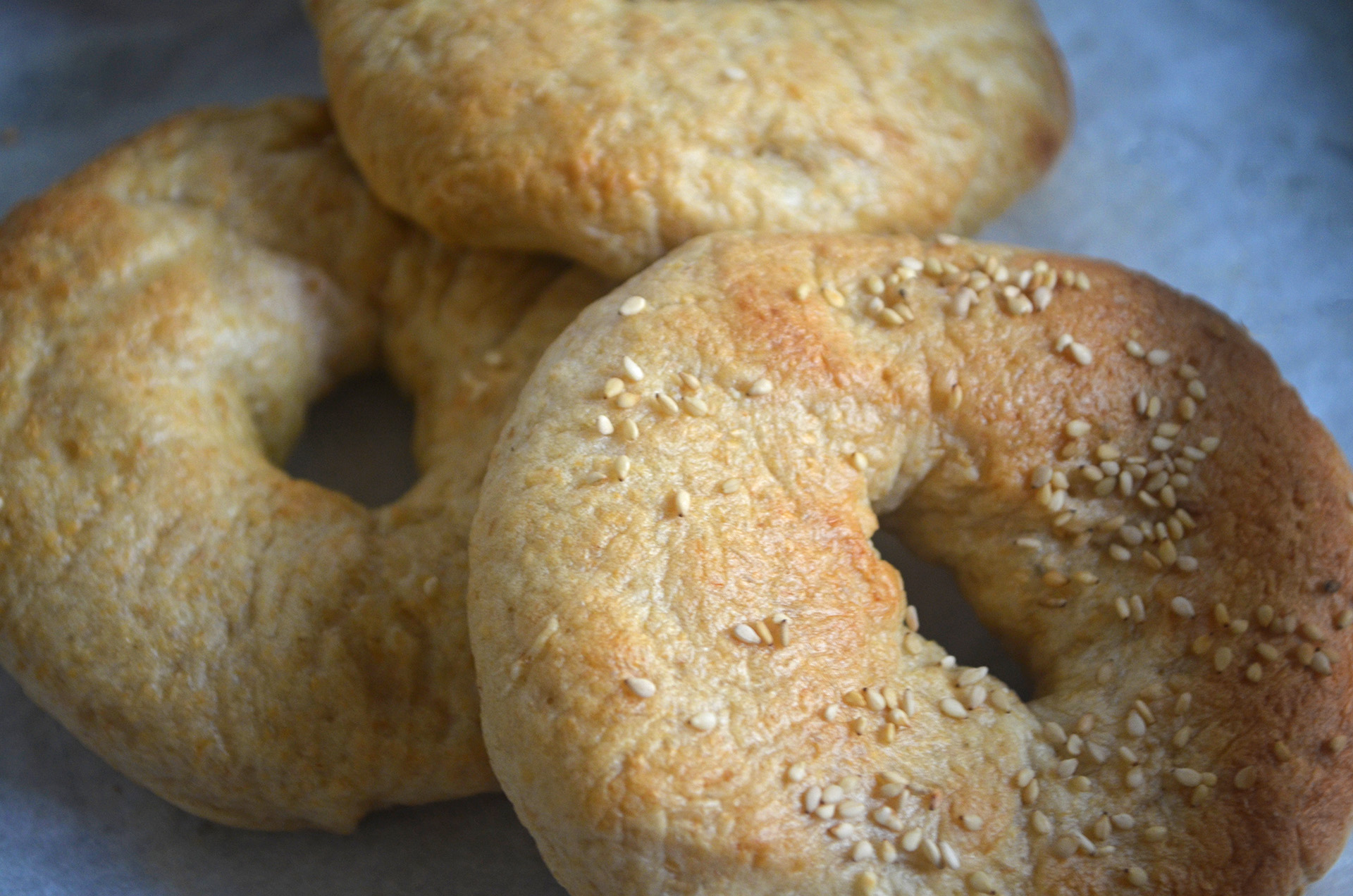 Ingredients~
Makes 4-6 bagels 
1 1/2 cups whole wheat flour
1/2 cup all purpose flour
1 tsp dry yeast
1 1/2 tsps granulated sugar
Scant 1 tsp table salt
3/4 cup warm water
1 1/2 tsps baking soda
Sesame seeds for topping
Instructions~
1. Heat up the water and let it cool if necessary until comfortably warm (test: you should be able to easily stick your finger in without retracting it). Stir through the sugar until mostly dissolved and then pour in the yeast, leaving it to sit for about 7-10 minutes. As the yeast does it's thing, whisk together the flours and salt and in a large bowl, leaving a well in the center. Once the yeasty water appears fuzzy and bubbly on the surface, pour it into the bowl of dry ingredients and stir until it no longer appears to be taking shape/sticking together. Gradually add another 1-2 tbsps of water until the dough begins to hold together in one large mass but isn't too sticky to handle.
2. Plop the ball of dough onto a surface lightly dusted with flour and begin to knead, continuing for at least 10 minutes (drift off to your happy place and think of the soon-to-be wonderfully chewy bagels). You will likely have to pinch flour onto the dough as you knead or dust your hands with it.
3. Once finished kneading, place the dough in the bottom of a large, lightly oiled bowl and cover tightly with plastic wrap. Set in a warm place (I preheat the oven to 70 C before switching it off and leaving the door ajar) to double in size, roughly 1-1 1/2 hours tops.
4. Once the dough has ballooned, transfer it to a clean, lightly floured surface to separate into 4-6 pieces (depending on desired size). I find that it helps to weigh each piece before forming them, so as to ensure an evenly cooked batch. In order to avoid dry bagels, return all but one chunk of dough to a covered bowl as you begin shaping. Using the palms of your hands, lightly roll each piece until it resembles thick rope. Join the two end pieces together, ensuring that they overlap by about 1/2 inch, before lightly pinching the ring closed. Repeat for each bagel, setting them on a tray lined with baking paper and covered with plastic wrap as you continue shaping. Ensure the plastic wrap is tightly sealed before returning the bagels to a warm place to rise for 20-30 minutes.
5. Preheat oven to 220 C. Bring a large saucepan of water (about 4 inches deep) to boil and slightly reduce heat once rapidly boiling. Add the baking soda to the water and drop bagels in, adding 2-3 at a time; note that the bagels should immediately float to the surface. Cook for 30 seconds minimum (I opted for a chewier exterior and let them sit for almost a minute on each side), before flipping and repeating on the other side. Transfer the bagels to a plate or tray to rest as you finish boiling the others. Once done, place the tray (lined with parchment paper) of bagels on a lower rack in the oven and cook for 15-17 minutes or noticeably golden in color. It's best to rotate the pan 180 degrees halfway through cooking so as to ensure even browning. Enjoy fresh or store in the freezer and toast/thaw before eating!