I wanted to curl up in bed, order an 18-inch pizza over the phone, and watch a movie to the faint background sound of my own chewing. I was about to do all that and more (oober savory/cheezy pizza usually turns into a craving for ice-cream or homemade chocolate chunk cookies), but a voice in my head reminded me that it's not the weekend yet. Who said you can't have pizza on Tuesday? Well, no one, and you definitely shouldn't limit yourself to pizza on the weekends just because I'm tentatively..sort of… doing so at the moment. What I have been trying to make less of a "sort of" thing is conscientious, healthy choices. I've noticed that as my stress increases, my $6 burrito purchases increase. It's not that I'm too busy to steam frozen veggies or microwave oats (though this isn't to say no one is), but it's the overwhelming sensation, the additional stress, that healthy eating sometimes catalyses in me, that pushes me in the direction of friendly food-truck burritos.
With all this in mind, when I am feeling the bubbling of anxiety that preempts a full-blown surge, I've been trying to remind myself that "healthy" does not always have to equal perfect, clean, or intricate. I try to talk myself down from the expanding negative feelings by telling myself that the over-abundance of images promoting health on the internet are just that: imageS, plural, meaning that each is an image, a small square, on the immense tapestry of health. Sure, scroll through the images, get inspired by them, feel catalysed to adopt and implement aspects of them, but never feel boxed in by one angle on health. Don't fill your mind with the noise proclaiming health or self-love must always look like a raw spread of veggies or an oil-free, gluten free pasta dish. Those things are wonderful, but only in so far as you can truly enjoy their wonder, free of guilt and worry; otherwise, what is the point? Is food consumed under such negativity really nourishing you to it's fullest potential?
Recently, I've been tossing mammoth-sized sweet potatoes in the oven, forgetting about them for ~an hour, and calling that dinner. I've been toasting a few slices of Ezekiel bread, loading them with store-bought hummus, and topping them off with frozen veggie or salmon patties (and slices of sharp cheddar cheese, if I'm lucky enough to have had the foresight to buy a block). Other nights, I find myself wanting nothing more than chips, popcorn, and dip. In moderation, it all makes my life go round. This time around I skipped the potatoes and toast, and managed to lift a few more fingers. This soup does require some chopping and stirring, but it's still wonderfully simple and stressed-busy-low-energy-friendly. I like to think it's helping nudge me through the grey clouds on a rainy day; it's warmth emanates from the inside out, making me a tad less blue.
Anyway, this is truly a no fuss cauliflower soup. It's for when you feel like ordering that huge ass pizza, and wearing (hopefully clean) socks under the bed covers, but you also feel a strong pull in another direction, to physically nourish yourself with whole foods (and some cheese, of course).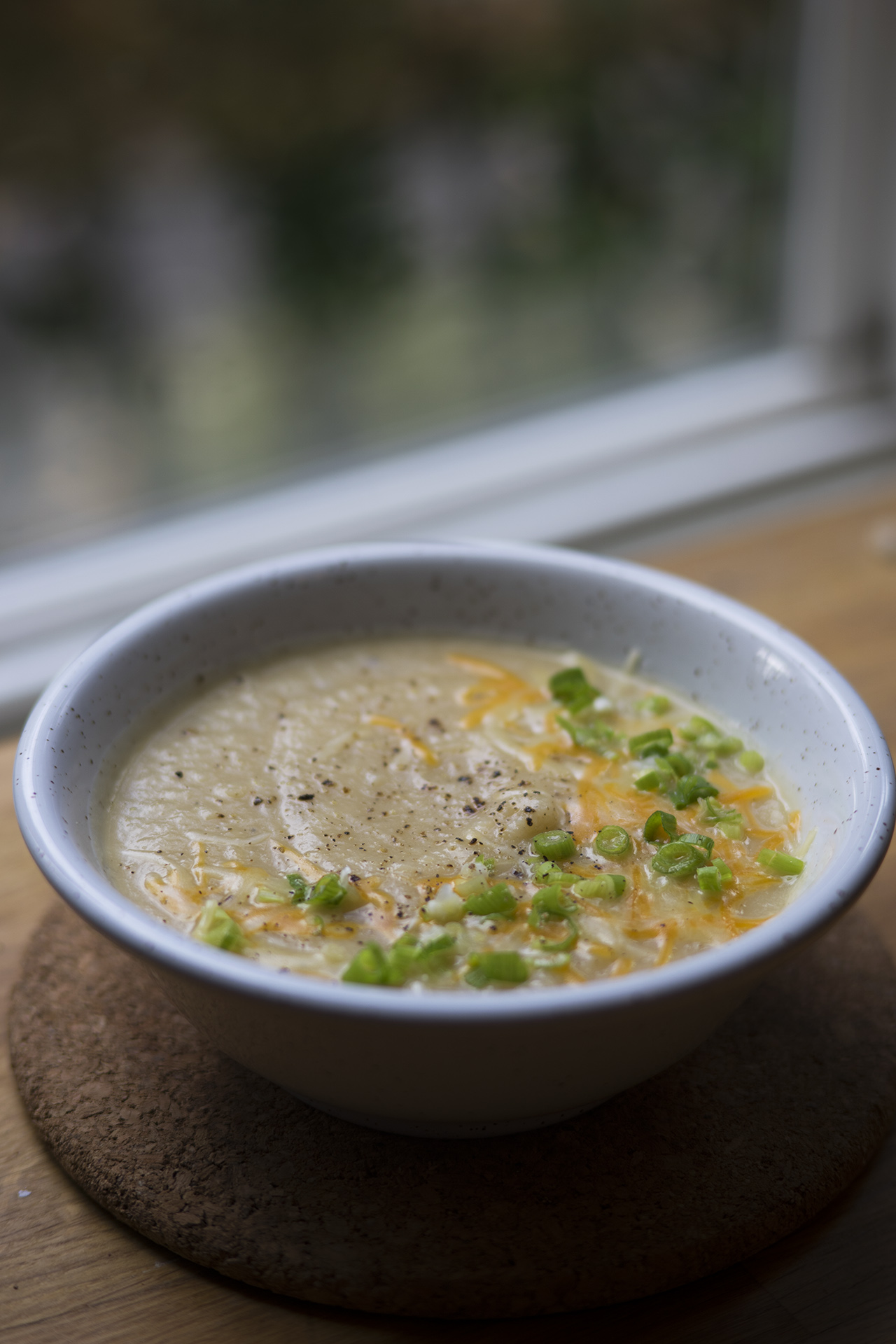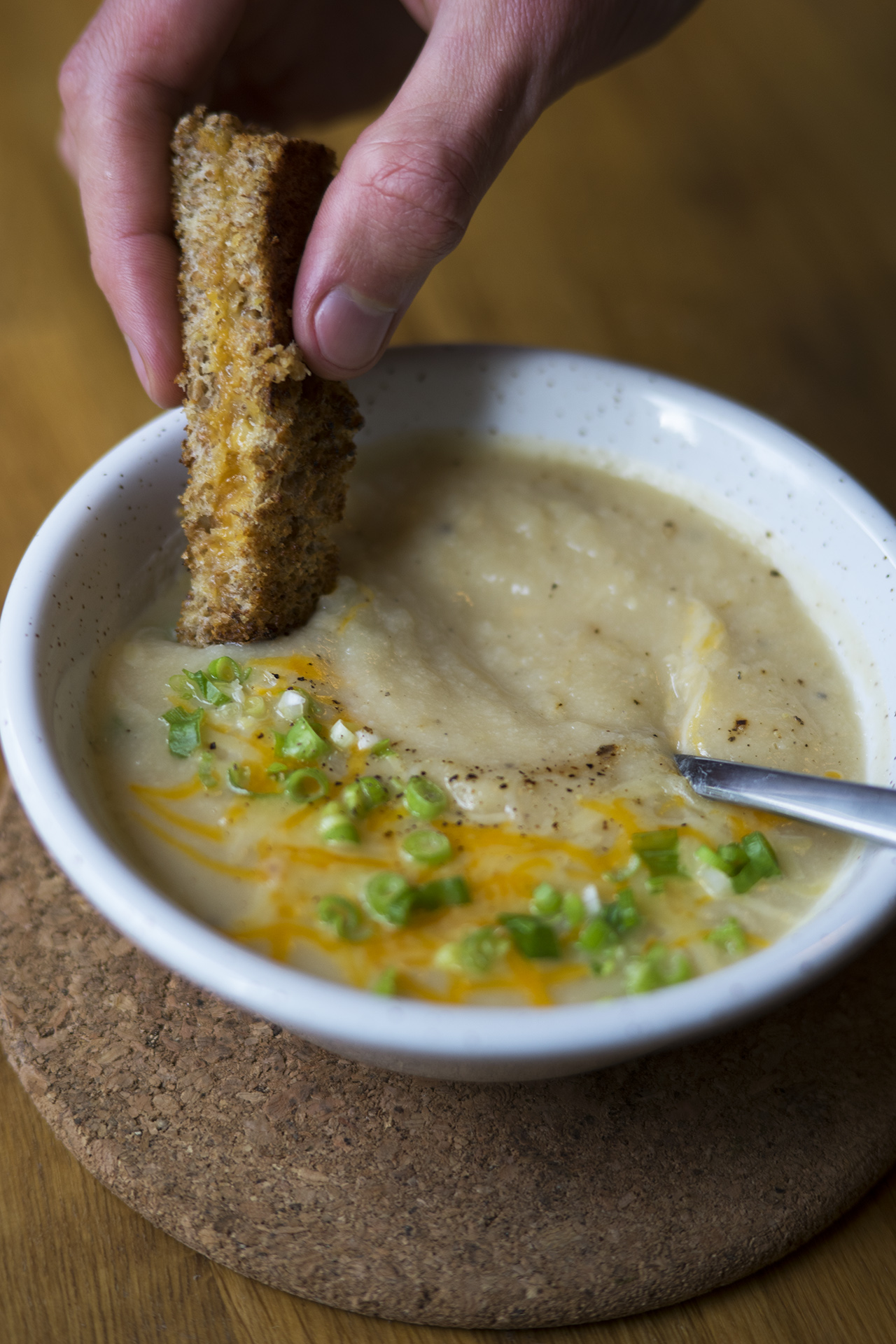 Ingredients~
Serves 2 very hungry individuals!

1 ~2-pound head of cauliflower, chopped into florets
1/2 a medium-large onion, chopped
4 large cloves garlic, minced
2-3 tbsps extra virgin olive oil
2-3 grinds black pepper (plus more to top)
1/2 tsp onion powder
2-3 cups low-sodium veggie broth (add based on desired soup thickness)
Finely chopped green onions/chives, and grated cheddar cheese to top!
Instructions~
1. Heat up the olive oil in a large, deep pot over medium heat. Add the minced garlic and chopped onion, frequently stirring for about a minute until the garlic is very fragment and only lightly golden (be careful not to burn it!). Add the cauliflower, and continue to stir often for ~3-4 minutes, until the cauliflower has lightly browned and crisped up a bit. Try to avoid cooking the veggies until they're limp and translucent. Add two cups of the veggie broth and stir to combine. Grind over the black pepper and add the onion powder (if you don't have any on hand, no worries).
2. Allow the mixture to simmer on low for 20-30 minutes, before carefully taking off the heat and blending until creamy with an immersion blender. You could also pour it into a blender and blend it, though I haven't tried this myself, I don't see any reason why it shouldn't work. Add more hot veggie broth if the soup is too thick for your liking. Serve immediately and top with green onions/chives, and a generous portion of cheddar cheese! Also delicious when served alongside a crispy, buttery grilled-cheese sandwich (tip: get your SO/pal to make them while you make the soup!)