Note to self: make chocolate prune truffles every chance you get.
Let's put to sleep (forever) the notion that prunes are only for old people. I very loudly and proudly proclaim my love of prunes, particularly when morphed into fudgy, chocolatey truffles. Prunes sans the chocolate and fudge part? Still good, but not good enough to warrant knocking on your neighbor's door about. So, here I am, more or less doing the former, trying to convert you to team prunes & chocolate. Think of me as a prune missionary; I'm a little prudish, but only for the sake of this pun.
The other day at the grocery store I suddenly felt compelled to buy a different fruit, something that would pair well with my usual bowl of oatmeal in the morning, but also something that could mimic dates in baking (my very dear stash of medjool dates are nearly gone). I settled on prunes because: A) they are overwhelmingly decently priced and B) they are packed with healthy, helpful things. Let's start by getting the elephant out of the room; yes, prunes are known for having a laxative effect, which is rightfully so, given that they are more helpful at moving things along than psyllium husk, a currently very trendy (and pricy) fiber-packed product. It's a shame most people won't look beyond the glaring laxative label slapped onto prunes to notice the other, incredibly beneficial nutrients they contain. For starters, they are a good source of manganese and iron, two antioxidants that, very simply put, work at keeping our immune systems and mitochondria in check. On top of that, 1/4 cup of prunes (about 4-5 prunes) will load you up with 32% of your daily requirement of vitamin K, 12% of fiber, and 9% of potassium. Click here or here if you want more details about why you ought to add prunes to your diet!!
While prunes are no where near as sweet or gooey as medjool dates, they provide the helpful punch of moist, stickiness that I usually rely on to replace some oil and liquid sweetener in baking. I had a go at making date-sweetened chocolate truffles a while back and was very pleased with the result, so I obviously, very enthusiastically, jumped at the opportunity to replace the dates with prunes. Maybe my eagerness for the prune truffles to work and blow me away with flavor and fudge had something to do with the magic that ensued. Or maybe prunes just rock. And prunes in chocolate form? In other words, chocolate prune truffles? They rock at a rate never before fathomed by man/woman. Please make (and eat) these truffles, they are the perfect dose of healthy decadence and everyone needs a great big serving of that once in a while.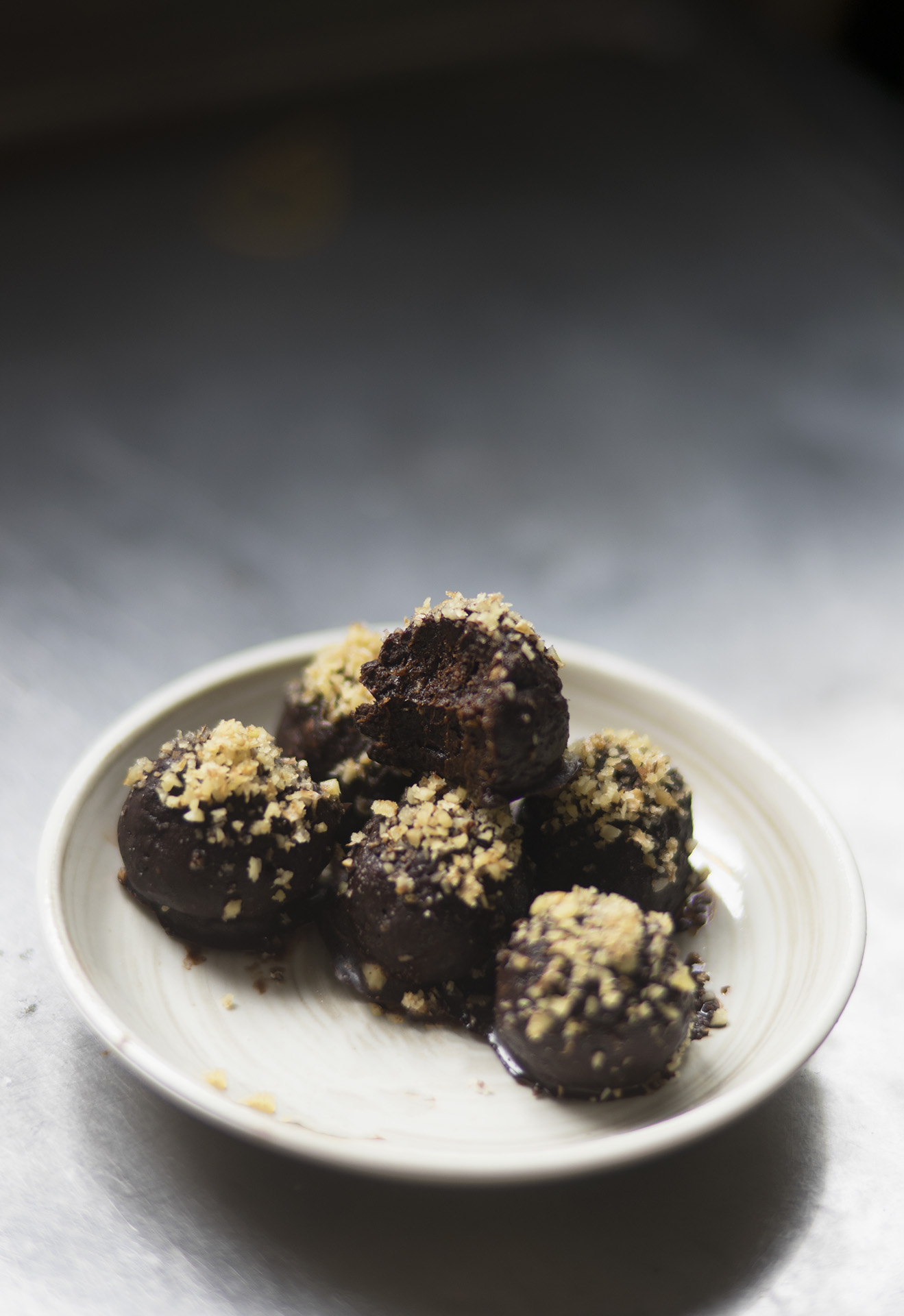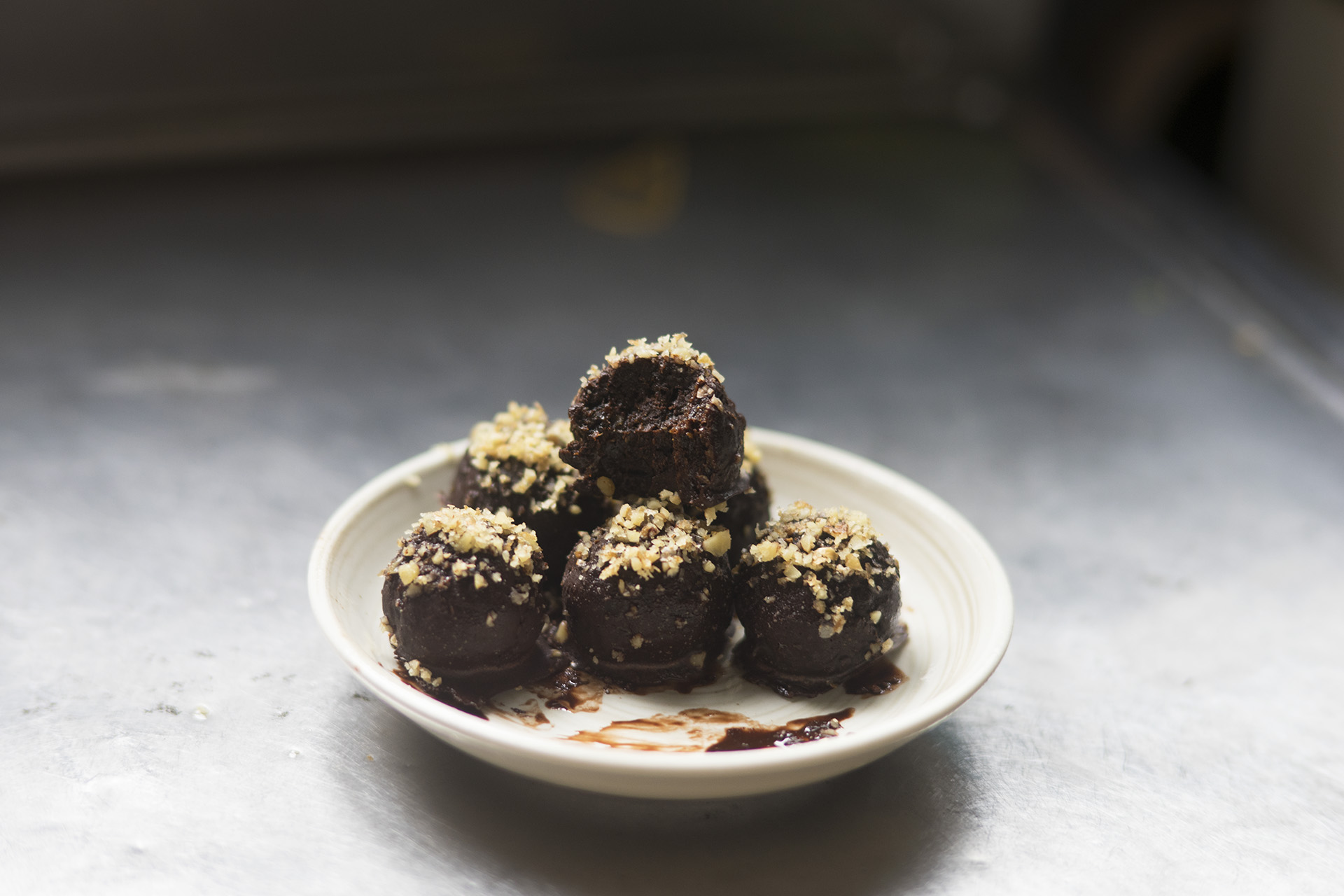 Ingredients~
Makes 6-8 small truffles

Truffles: 
7 large pitted prunes (I used California prunes)
3 large & gooey medjool dates
3 tbsps cacao or cocoa powder (carob may also be lovely!)
2 tsps cocoa butter, melted (or sub with coconut oil)
1/2 tsp vanilla extract
Generous pinch salt
Coating:
3 tbsps cacao or cocoa powder
3 tbsps cocoa butter, melted (or coconut oil, but know that it has a much lower room-temperature melting point)
2-3 tsps maple syrup, or other liquid sweetener of choice (add more based on desired sweetness)
2-3 tbsps finely crushed walnuts for topping (or use shredded coconut, hemp seeds, flaky sea salt, etc.!)
Instructions~
1. First, chop up the cocoa butter and melt it in a non-stick saucepan on low heat. Allow it to cool as you mash the dates and prunes. If your dates/prunes are very dry, soak them in hot water for 10-15 minutes before mashing. Once you have a thick, sticky fruit paste, mix in the cocoa powder and pinch of salt (I find it easiest to use a fork and cut in the cocoa powder). Add the 1 1/2 tsps of melted cocoa butter and use a fork to cut up the mixture, ensuring the cocoa butter is evenly distributed throughout it. Alternatively, use your hands to knead the ingredients together until the resulting mixture holds together in a glossy ball. Set the truffle mixture in a bowl covered with plastic wrap and allow it to chill in the freezer for about 15 minutes or until a little more firm and easy to handle.
2. As the truffle filling chills, prepare the toppings. Melt the cocoa butter over low heat until melted. Allow it to cool as you finely chop the walnuts; you could also use a food processor to blend the nuts, but know that the texture should resemble walnut meal rather than powder or flour. Whisk together the cocoa powder and cocoa butter until no lumps remain. Remove the truffle mixture from the freezer and roll together 6-8 balls. Using a chopstick or fork, prick each truffle, dunk it in the liquid chocolate until fully submerged/coated, and gently level it onto a sheet of parchment paper. Sprinkle each truffle with the chopped walnuts right after setting it on the paper; the wetter they are, the better the walnuts will stick. Allow the truffles to harden up in the fridge for about 1 hour or speed things up by leaving them in the freezer. Enjoy the fudgy, chocolatey goodness!!