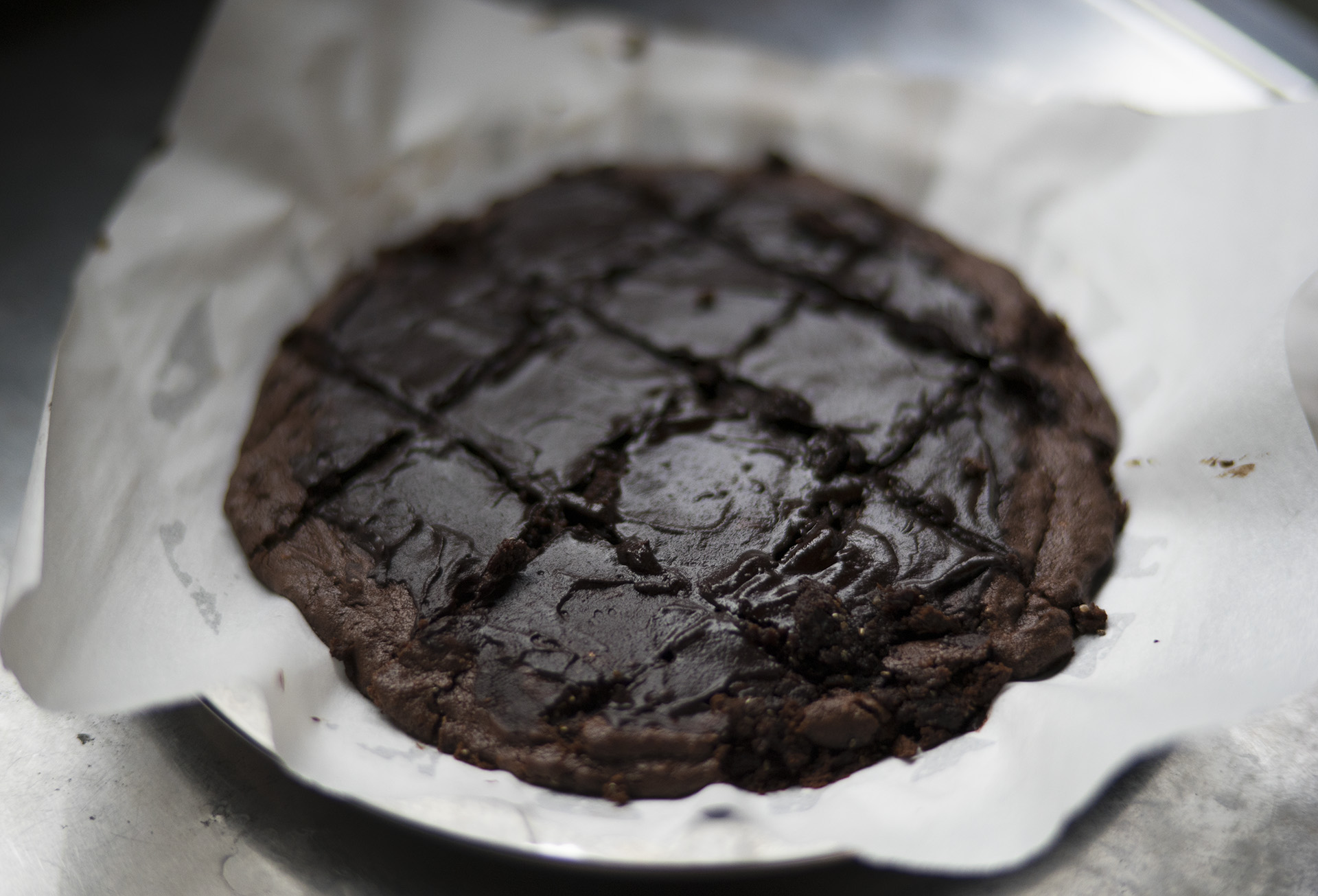 Tried to make a lemon tart. Failed to make a lemon tart.
Tried to make a lemon meringue pie. Failed to make a lemon meringue pie (or rather, failed to make meringue out of chickpea brine).
Threw a self-pity party that lasted a few too many hours. Eventually got bored of feeling sorry for myself and decided that pity should leave the party to make room for a very special guest: chocolate. Chocolate ended up staying the night, laaate, late into the night, if you know what I mean (because chocolate contains cocoa and sugar, two energizing ingredients, duh.)
In all seriousness, chocolate can heal emotional wounds. It fills voids left behind by awful lemon tarts and is capable of mending broken hearts. That being said, pure chocolate is too often muddled with it's antithesis, namely the highly refined and processed, sugar and vegetable fat. There are definitely more nasty common add-ins, but I'll go easy on the chocolate of my childhood. It's true that some commercial chocolate contains the magical stuff, cocoa and cocoa butter, but rarely do you find a grocery store chocolate bar that lists them first, side by side. Instead, sugar usually comes out on top, followed by milk solids, and, if you're unlucky, some vague vegetable fat will be used to replace cocoa butter. My findings have taught me that not all chocolate has been created equal. And so, in an effort to bypass the too sweet or to eat dilemma (i.e. is this chocolate going to be too shockingly sweet and shitty to eat or has it passed the test and can I eat it?), I got down to the basics and purchased some cocoa butter and cocoa powder.
I'm a big chocolate person. Big as in the thickest swabs of chocolate ganache on, uhm, everything, please. And another handful or two of chocolate chips in that cookie batter, please. And, uhm, heaps more cocoa powder dumped into that brownie batter, okay? I mean please. Please and thank you. Unsurprisingly, my excitement for chocolate translated into me consuming a lot of it, which, in turn, translated into me thinking more about it while still eating a lot of it, until, thankfully, I started to think about what was actually in the chocolate I was eating; is this really as healthy of a snack as I've let myself believe it is? It may be 60% cocoa but that means it's close to 40% sugar. Hmm.
Once upon a time, I was hooked on the 50% and lower milky stuff and, dare I say it, even enjoyed the occasional bar of fake stuff (also known as white chocolate). I somehow thought that so long as chocolate was brown, it was healthier than the other, devilish sweets that lined grocery store aisles and airport terminals and school cafeterias and hospitals. Sugar shows up everywhere and it's a little weird. It also shows up, in big percentages, in chocolate. And so, with that disconcerting fact in mind, and with a strong inclination to deliver as much goodness to my body and mind as I could, I decided to make more of my bites of chocolate count.
Gone are the days of tooth shocking, nap inducing, sugar laden chocolate. Dark chocolate is the new black and it's cool to care about what you're feeding yourself. Cue these super fudgy brownies with dark chocolate ganache. Definitely don't forget about the ganache. And definitely don't skimp on the cocoa powder or cocoa butter. If you can't get your hands on cocoa butter, coconut oil would be the next best thing, but know that the brownies won't harden up as much as true fudge as they cool. These brownies are packed with wound healing and spirit lifting properties (in simple speak that means lots of beneficial antioxidants, as well as energy-inducing magnesium and electrolytes. And that's just provided by the cocoa powder). If you're like me, a lover of chocolate and all things baked with chocolate, then show yourself a little love by combining a handful of ingredients in a bowl and baking them until a rich, rich smell emanates from your oven.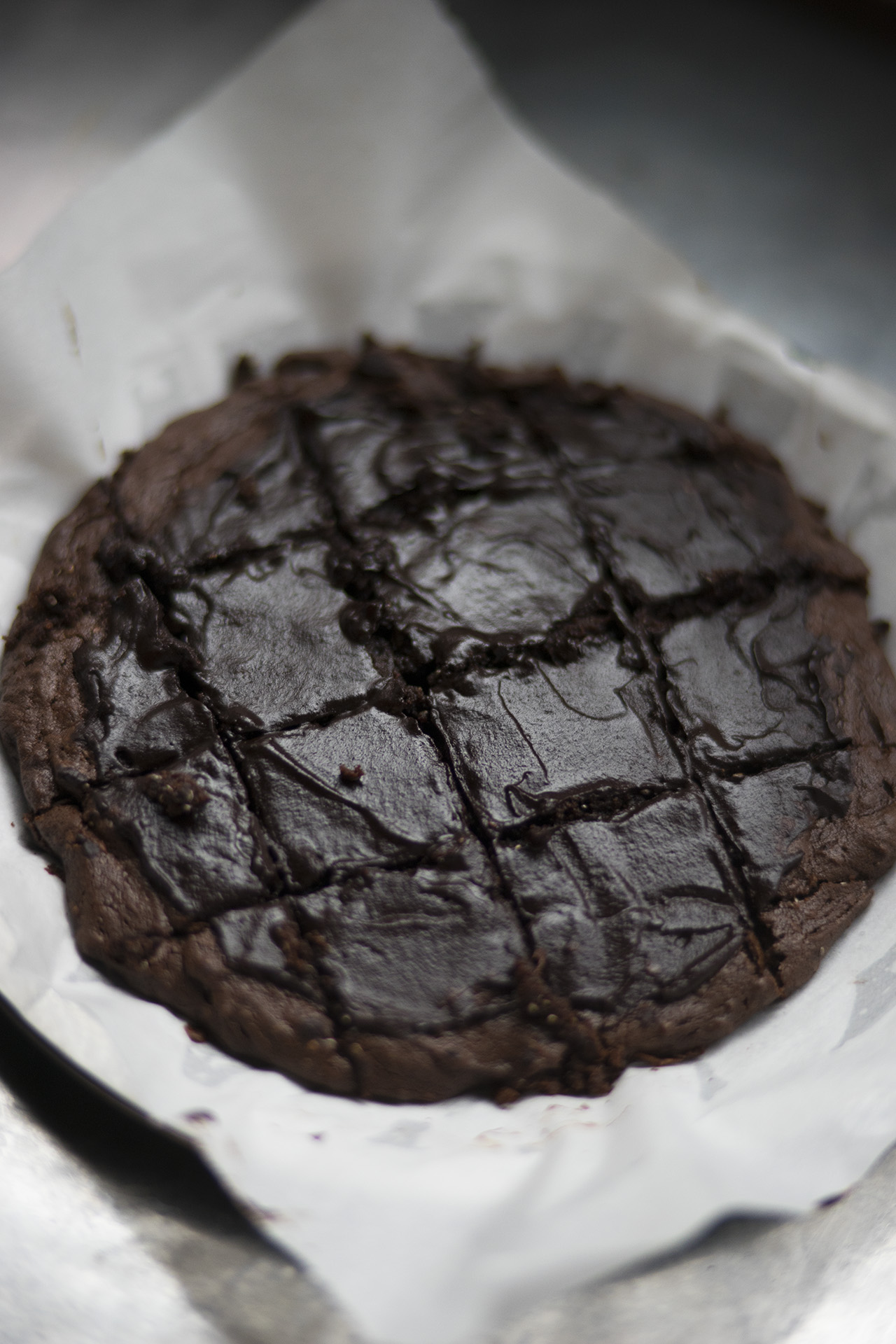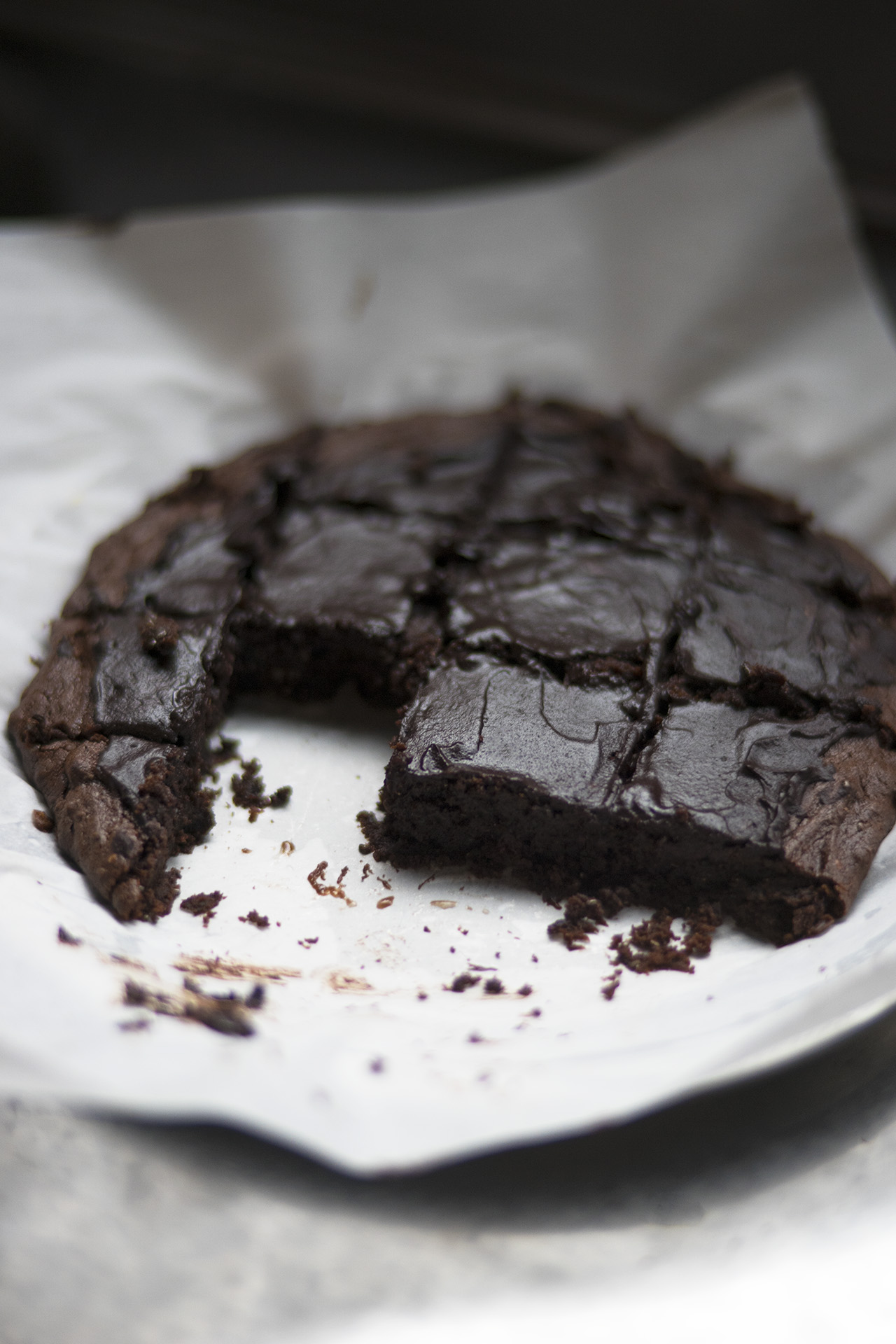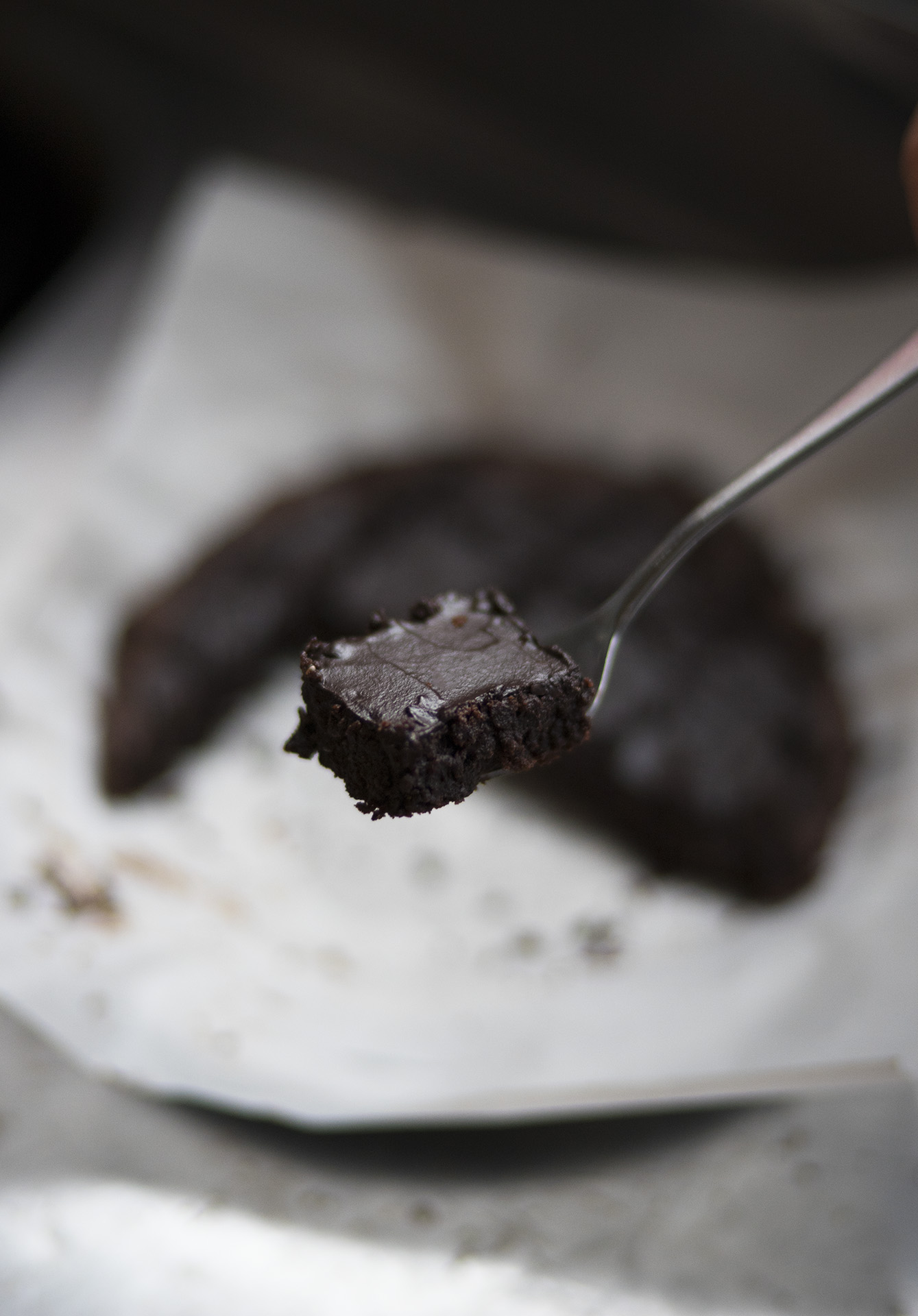 Ingredients~
Makes one small batch or about 10-12 small pieces  
Brownies:
1/4 cup cocoa powder
3 1/2 tbsps all-purpose flour
2 tbsps smooth peanut butter or nut butter of your choice
2 tbsps cocoa butter, melted (or sub with coconut oil)
3 tbsps rice malt syrup or maple syrup
1 chia egg*
Scant 1/2 tsp vanilla extract
Pinch of salt (about 1/8 tsp)
Optional: 1/3 cup semisweet chocolate chips
Ganache:
2 tbsps cocoa butter
2 tbsps cocoa powder
1-2 tsps unsweetened soy/nut milk
Optional: 1-2 tsps powdered sugar (for a less bitter ganache)
*1 tbsp chia seeds combined with 3 tbsps water, left to congeal for a few minutes
Instructions~
Preheat the oven to 180 C/356 F
1. In a large bowl, combine the peanut butter, melted cocoa butter/coconut oil, syrup, and vanilla extract. Stir in the chia egg. In a separate bowl, whisk together the flour, cocoa powder, and salt. Dump the dry ingredients into the bowl of wet and stir well until a thick and goopy batter forms.
2. Line a pan with parchment paper and pour in the batter. Bake for 19-25 minutes or until a toothpick is mostly clean when removed from the brownies (the brownies should be very tender/fragile to touch and may seem a little undercooked and wobbly, but this is what we want for optimal fudginess).
3. As the brownies cool, make the ganache. In a saucepan (preferably nonstick), melt the cocoa butter. Once the butter is completely liquid, turn off the heat and whisk in the cocoa powder until no lumps remain. Whisk in powdered sugar if using before whisking in 1 tsp of milk to start. If the consistency isn't quite thin and silky enough for your liking, add another 1/2-1 tsp milk. Once the brownies have thoroughly cooled and set, gently spread on the ganache and dig in!! Know that these brownies get extra fudgy when left in the fridge for a few hours or overnight, as the cocoa butter (if using) will very slightly harden, resulting in a brownie that's WAY closer to rich chocolatey fudge than cake. Try it!!