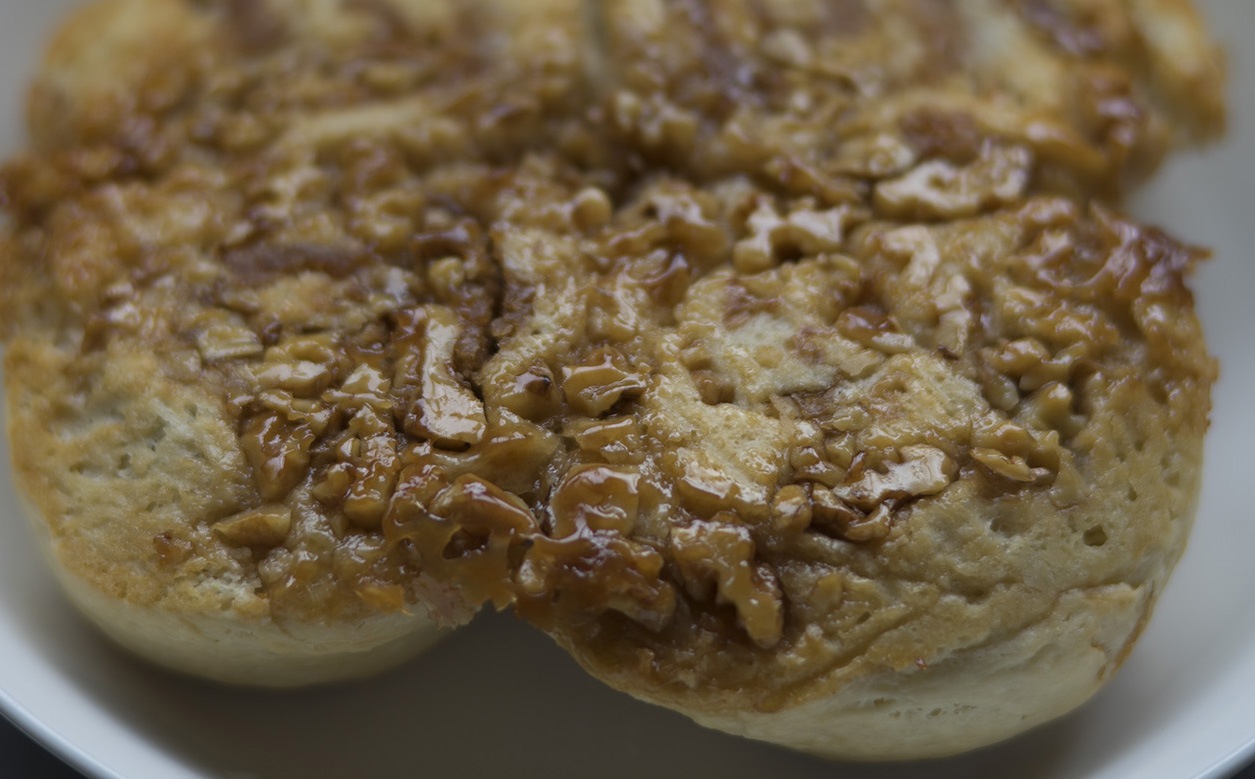 I decided to make cinnamon rolls yesterday, not knowing what I was getting myself into. Following a recipe to a T is one thing; you know the ingredients and steps are pretty much foolproof and the people raving in the comments about how successful they were will make it sound all the more promising. For some reason, I don't enjoy baking according to a recipe. If I can't stop thinking about a recipe I've come across (i.e. it's drool-inducing accompanying photos), I'll follow the instructions and make it, but the former happens more often with savory dishes. Over the past 6-9 months of fairly frequent baking, I've found that I have the most fun when my creativity and curiosity are directing me. I know, I know, you can shake your head and wag your finger all you want. More often than not, my kitchen shuffling culminates in something sweet smelling and tasty. The Internet offers me an immense library of information about every niche and idiosyncrasy I could ever come across in baking, so it's no wonder I can learn to do crazy things like make bagels. And when my so-called self-choreographed kitchen moves don't come together according to plan? Well, I usually don't plaster the photographs on the internet. This time around, however, I thought I ought to.
I've encountered more problems than usual on this baking expedition. Cinnamon rolls can be very finicky things; they contain yeast, a highly sensitive little fella, and require rolling, cutting, and shaping, three actions that increase in difficulty the softer, and ultimately better (depending on preference, of course), one's dough is. My attempt to make cinnamon rolls that were entirely plant based and truly suitable for breakfast resulted in rolls quite unlike the normal thing. Something tells me I will have to make a few stops on the way to truly glorious vegan cinnamon rolls, so this will probably be the first batch of at least four or five. In fact, it's probably bad luck to estimate that low a number of trial and error batches. In a day or two I hope to have something a little more desirable looking in front of the camera, but for now, look on for photos of some messed up looking naked cinnamon rolls and a big collection of words about the whole shabang (in an effort to save face, I turned these rolls into sticky buns right before popping them into the oven).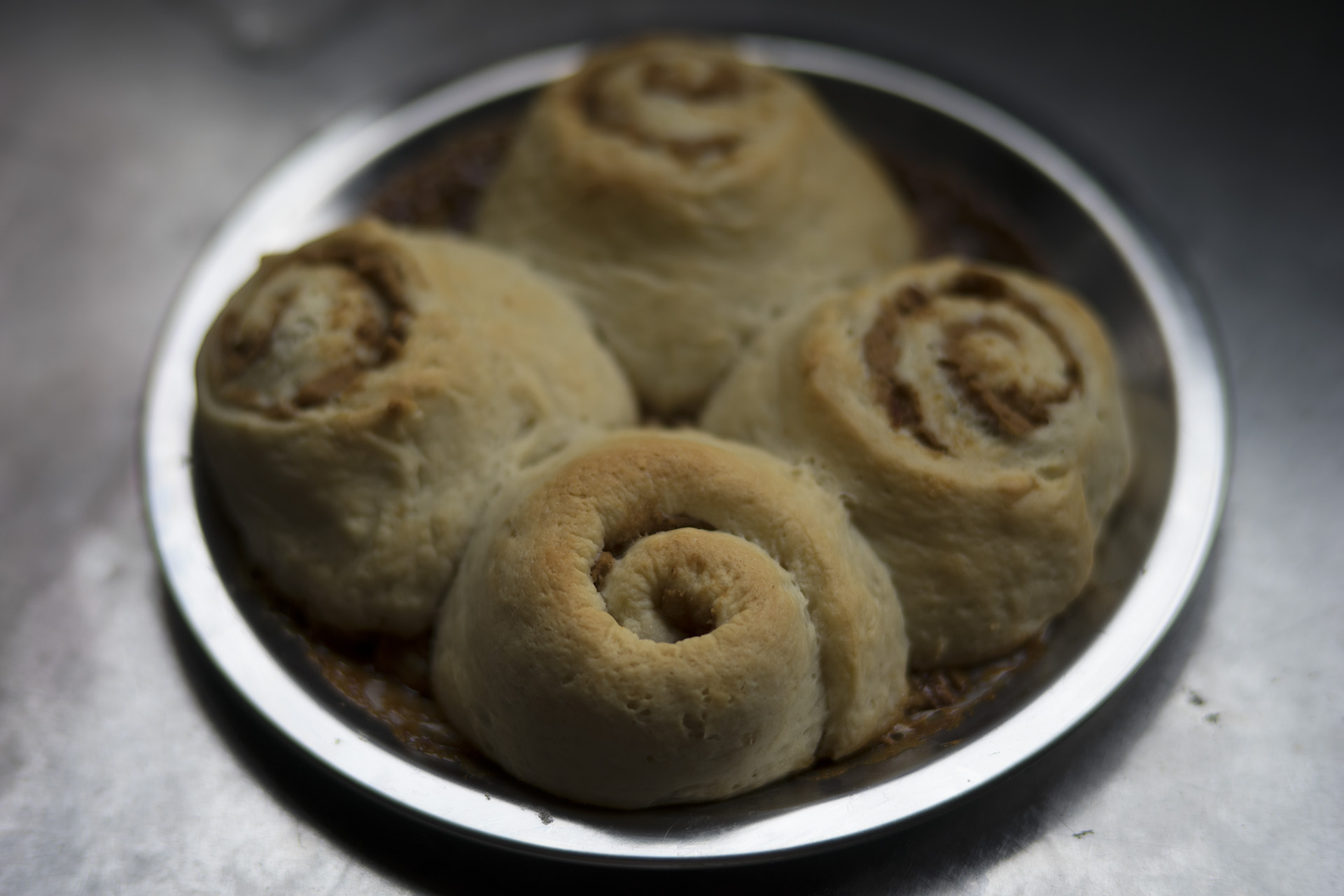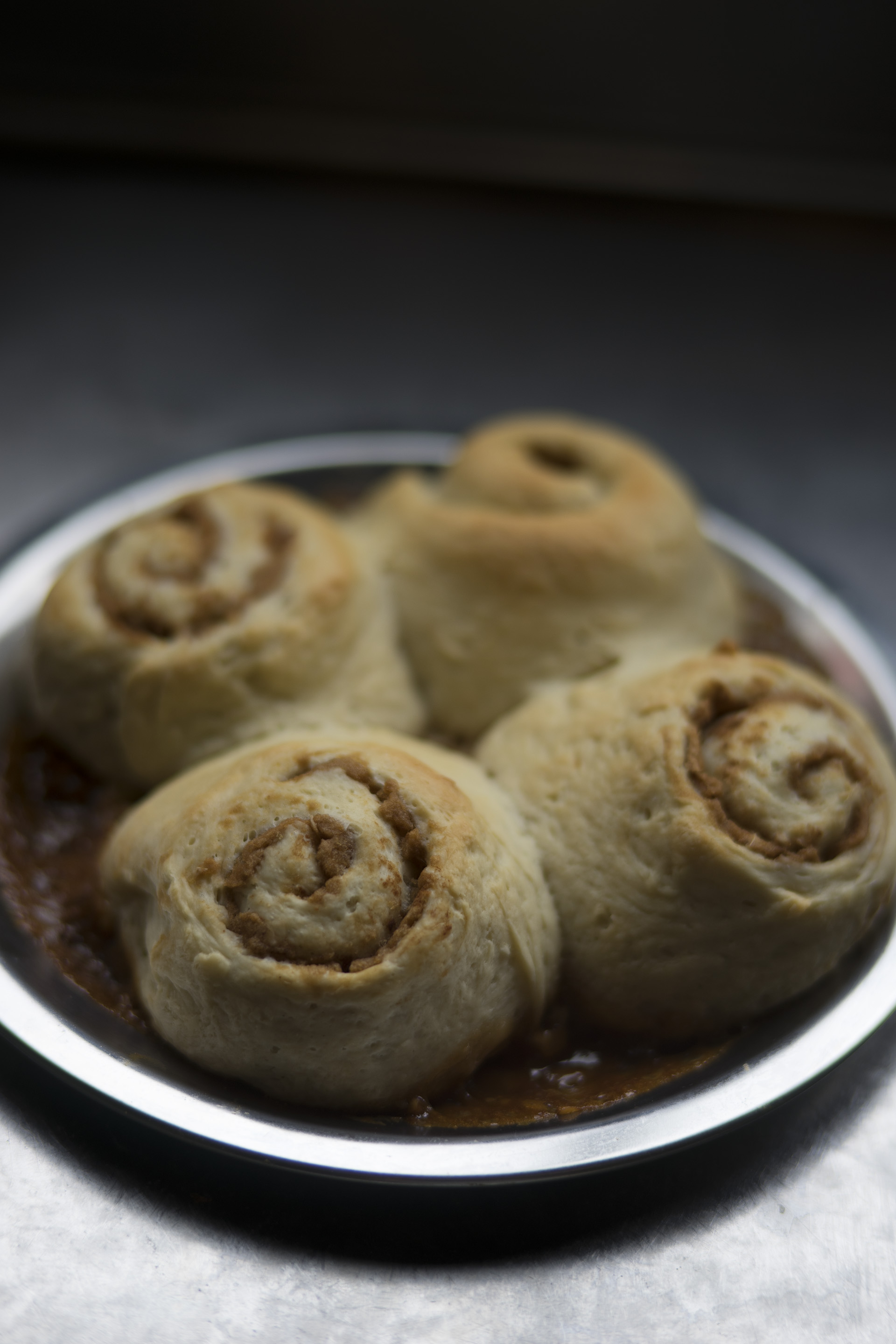 Most cinnamon roll recipes on the internet call for a little over 4 cups of flour, making about 12 medium-large cinnamon rolls. I decided to divide the former standard by four and aim to make 2-3 large rolls. I referred to a Serious Eats (SE for short) classic cinnamon roll recipe when deciding where to begin with my ratio of dry to wet ingredients and most frightening of all, what fraction of a tsp of yeast to use. For the 4 1/4 cups all purpose flour used, SE called for 1 packet or 2 1/4 tsps or 8.75 grams of active dry yeast.
I used exactly 1 cup & 1 tbsp or 147.94 grams of flour (flour for dough + flour from Tang Zhong method, what the heck?!, I know, I know, I'll get to that later) and 1/2 tsp or 1.75 g of instant dry yeast. Exactly one fourth the amount of yeast from the SE recipe would have been 2.18 g, so I accidentally under added the yeast by .43 g. I am being very precise with the numbers and there's always going to be a little room for error when using a cheap kitchen scale to measure such tiny amounts, but .43 grams of yeast could have very well made a heck of a lot of difference. How much of a difference it made I may never know, as tens and tens of google searches didn't uncover a specific answer. Nonetheless, my instinct is that it contributed to the sub-par finished roll. Given that I'm only supposed to work with 2 g of yeast per batch of rolls, .4, which is nearly ONE QUARTER of all that was required, would have been a game changer. Had I accidentally forgotten to add 1/4th the amount of flour or milk to the dough, the entire outcome would have been off big time. So, lesson learnt: dry yeast granules may be tiny, but they are very, very mighty.
The dough rose for an hour and five minutes the first rise and nearly 50 minutes the second rise, yet I had a nagging suspicion that I should have left it to rise longer the first time. I knew the importance of letting dough puff up to it's potential during the first rise, as it won't inflate nearly as much the second time around, but I was wavering for too long between to wait and not to wait and eventually got flustered, threw my hands in the air, and said what the hell with it, I'm rolling it out.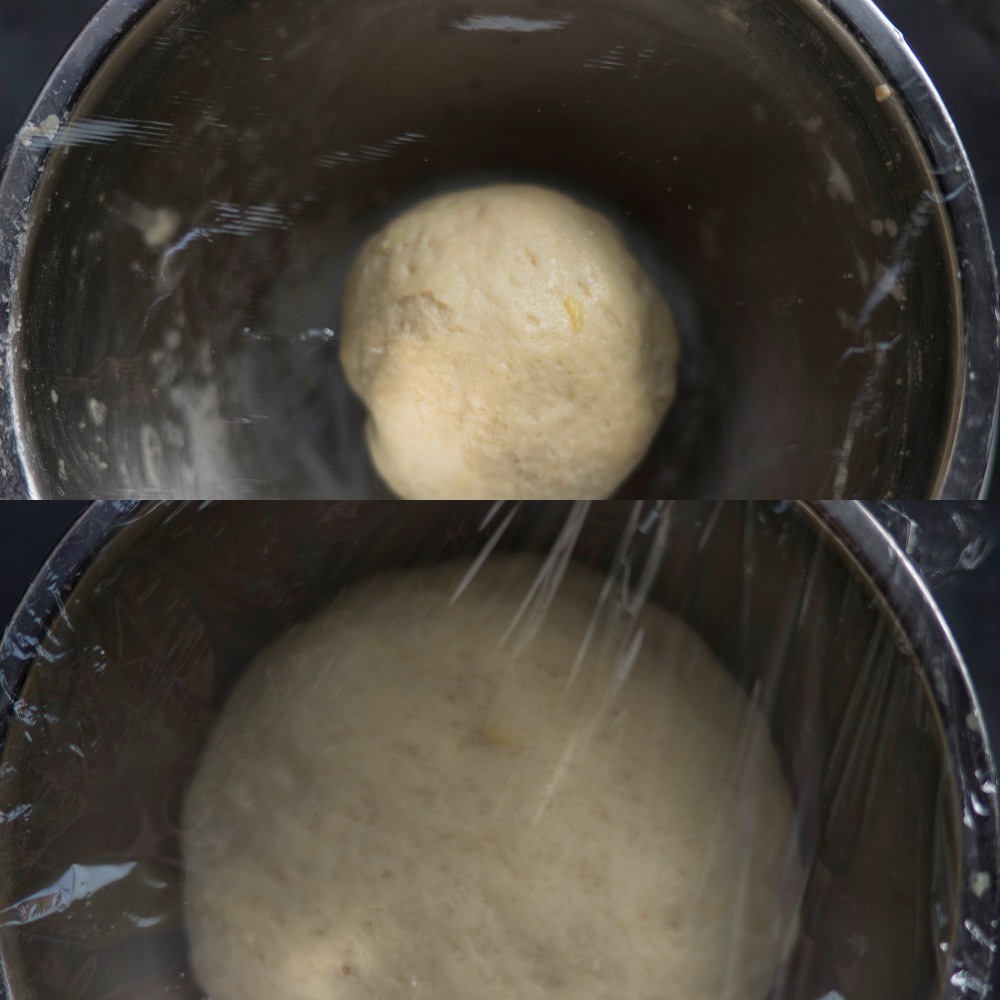 From the pictures, the second ball does in fact look twice the size (if not larger??). Turns out my nagging suspicions can be wrong and empirical evidence (which I gathered yet didn't properly examine at the time?) cannot. You'd think the former photos would eliminate under-risen-dough as the culprit, but after going through the SE recipe again, I'm not so sure. Their recipe, like mine, calls for instant/active dry yeast (the 2 kinds can be used interchangeably, the only catch is that instant can be mixed directly into flour while active has to be 'activated' in slightly warmed-lukewarm water) and yet, they instruct a 2-2 1/2 hour first rise and a 1-1 1/2 hour second rise! I thought the very point in using instant/active dry yeast rather than plain ol' dry yeast was to minimize the rising periods and have rolls in the oven in less than half a day? Perhaps I made an error in judgement by not letting the dough rise longer the first time, but I'm not so convinced that's where the fault lies. Every other same-day cinnamon roll recipe I came across called for a much shorter rising period. Only if someone was using dry yeast did they extend the first rise to 2 hours and the second rise to 1 1/2 hours. I can only ponder this for now, but hopefully more probing research will give me a better sense of what to do next time.
Another iffy thing I may have done was include too large a ratio of liquid to dry ingredients. After stirring the combined ingredients into a roughly shaped ball, I thought the dough felt too dry and far from the annoyingly sticky, silky dough that is usually pictured in cinnamon roll recipes. I added 1-2 more tbsps of buttermilk by kneading it into the dough; I used the folding method and sprinkled the buttermilk on top, squished it in, folded, and repeated, kneading for almost 9 fat minutes. After a few folds I began to notice little tears/bubbles in the dough, but I wasn't sure what could be done about it and continued to knead. Perhaps I was too tough on it while kneading and messed with the strands of gluten? A google search brought up varied answers to the question how long should I knead my cinnamon roll dough? A few recipes I came across only called for 1-3 minutes of kneading, while a handful called for 6-7 minutes and yet another (the SE included), recommended 9-10. Does the duration of kneading have anything to do with what ingredients one chooses to add or omit? Maybe the richer the dough, the longer the kneading time, hence why mine (vegan and thus lacking eggs and full fat milk) would have faired better with less handling. I'll have to dedicate more time to unraveling this long-winded topic. Also, how can you tell when your dough has been kneaded enough? That's a frightfully simple question that I don't even know the answer to.
In an effort to achieve the ultimate fluffy AND soft cinnamon rolls, I incorporated both the Tang Zhong method (TZ for short) and buttermilk into the dough. For starters, TZ is a water roux (flour & water or milk thickened sauce) used to make extremely light and soft bread. It started in either Japan or China (my research couldn't narrow it down), and if you scroll through a Japanese bakery in Tokyo you will not have trouble spotting the ever so tender loafs and rolls of milky bread. I found many people online that had successfully made cinnamon rolls with TZ and had pictures to prove it, so I was convinced it would deliver. The roux is 1 part flour and 5 parts milk or water, and it's generally recommended that you use between 5-10% of your recipes flour, hence why my ingredients call for 1 tbsp bread flour or 5% of the required all purpose flour. More research about TZ also taught me that using bread flour further aids in softening the dough, as it contains more gluten, thus retaining more liquid and making the bread softer. For some reason, I didn't stop there in my quest for the softest cinnamon rolls, and found myself incorporating buttermilk into the recipe. According to Joy The Baker,

Buttermilk is an important part of baking. The acidic milk combined with baking soda in a recipe is a baker's dream. It's helps add a lightness and tenderness to baked treats. When baking soda is combined with the lactic acids of buttermilk, the acid neutralizes the metallic taste of sodium carbonate.
So…. buttermilk is awesome when paired with baking soda, but what about when it's incorporated into a recipe sans the soda, i.e. cinnamon rolls? This was not a question I asked before adding it to my dough. I had actually used buttermilk a few days prior for a buckwheat banana bread, so when I saw it in the SE cinnamon roll recipe I though, 'aha, I know how to make vegan buttermilk!' and the rest happened as it did. I was also more than willing to close my eyes and jump into cinnamon roll making knowing I was adapting from a tried and tested SE recipe. They used buttermilk, which means buttermilk must be a very necessary ingredient, which means I must use buttermilk. Only after going through the motions of making and baking the rolls did the former mistake appear so glaringly obvious. The SE article called for butter, eggs, and buttermilk using cow's milk, ingredients that are very rich and high in fat. My dough, on other hand, was stripped of all the classic rich ingredients, and replaced the butter with coconut oil, the eggs with… frankly, nothing, and the dairy buttermilk with vegan soy buttermilk. Was the combination of Tang Zhou and buttermilk too much for the dough to handle? Did my negligence of detail lead to these underwhelming cinnamon rolls? Yes, that is the one certain take away. Perhaps all of my meandering in this post has finally dug me a hole deep enough to bury this cinnamon roll recipe in for good.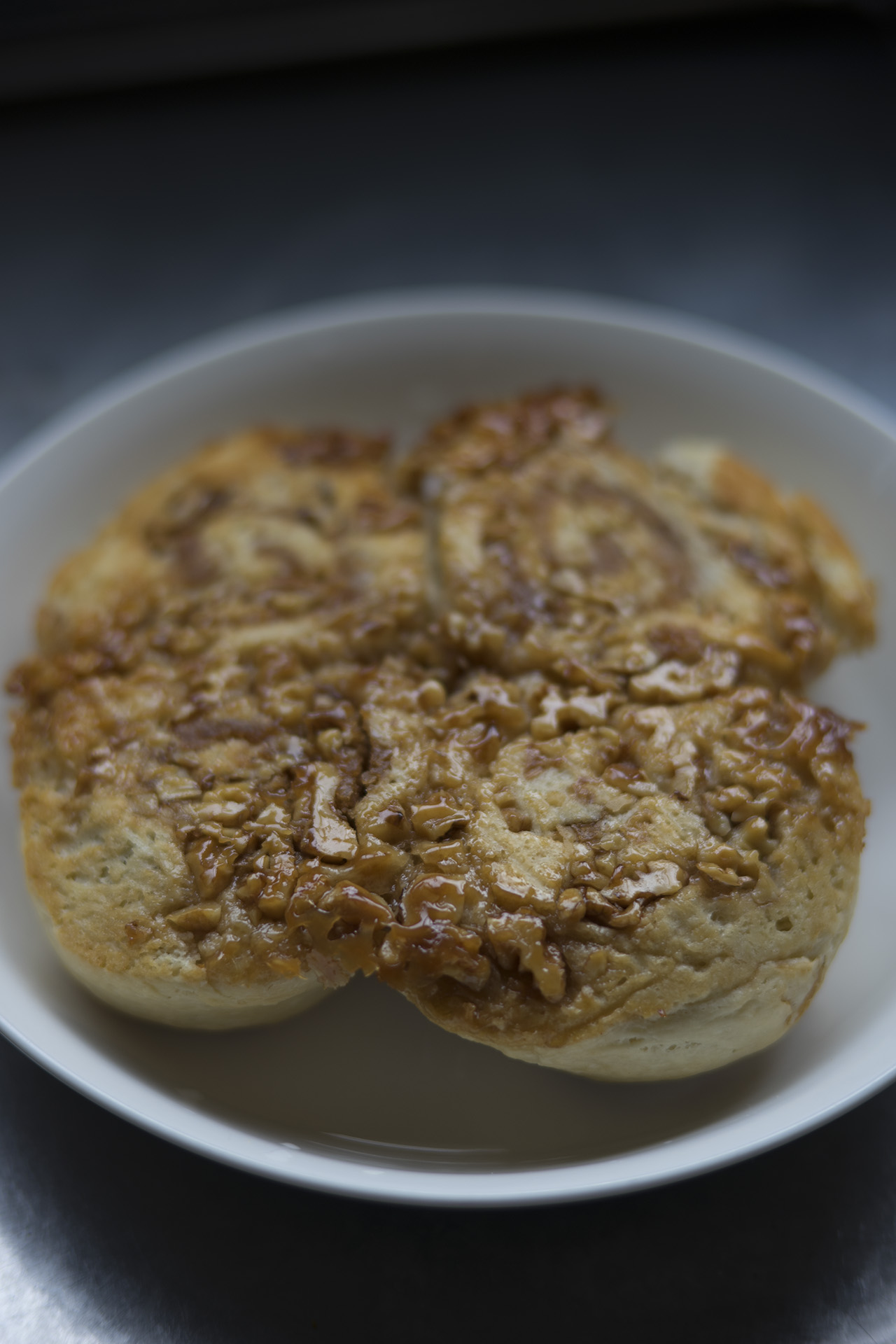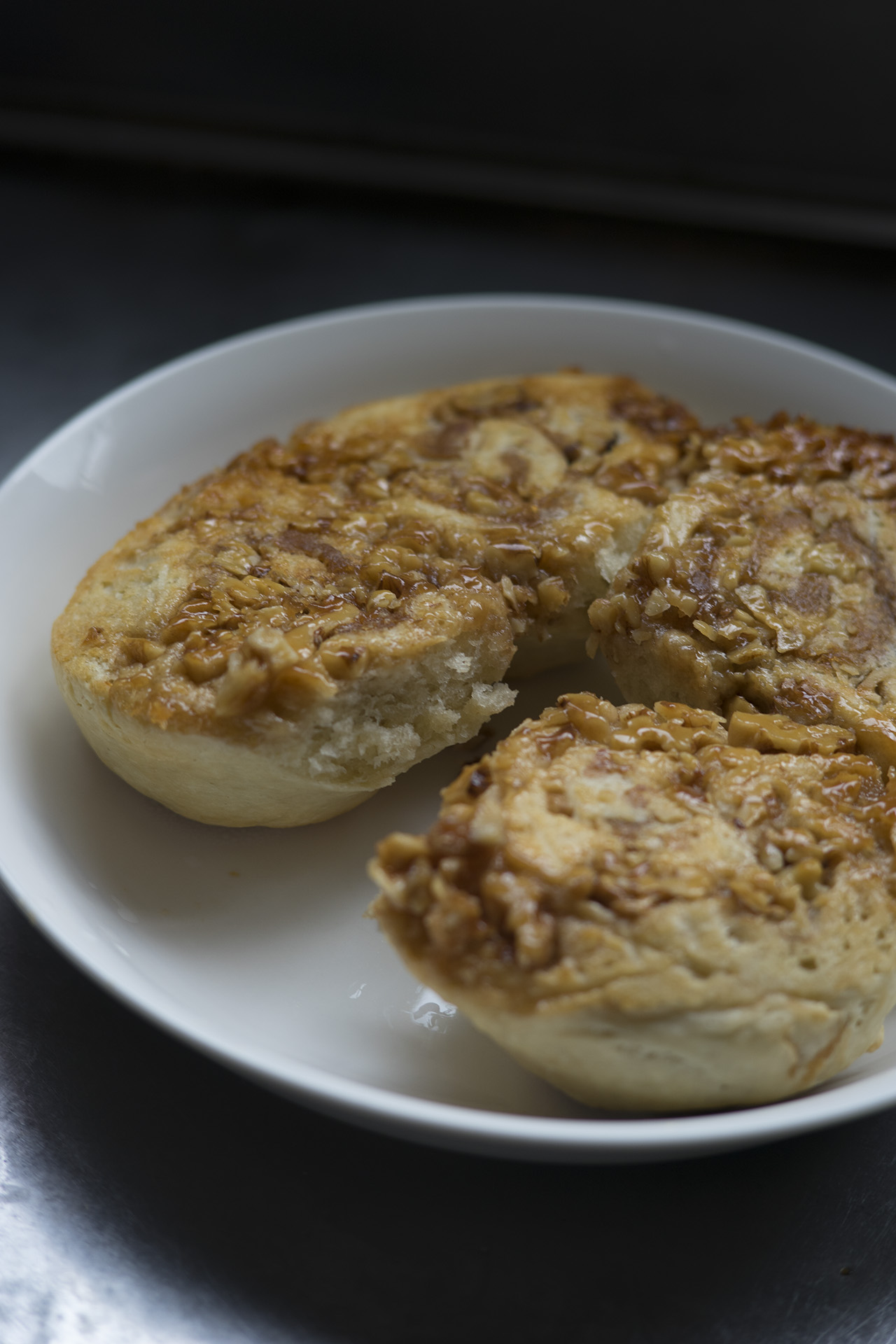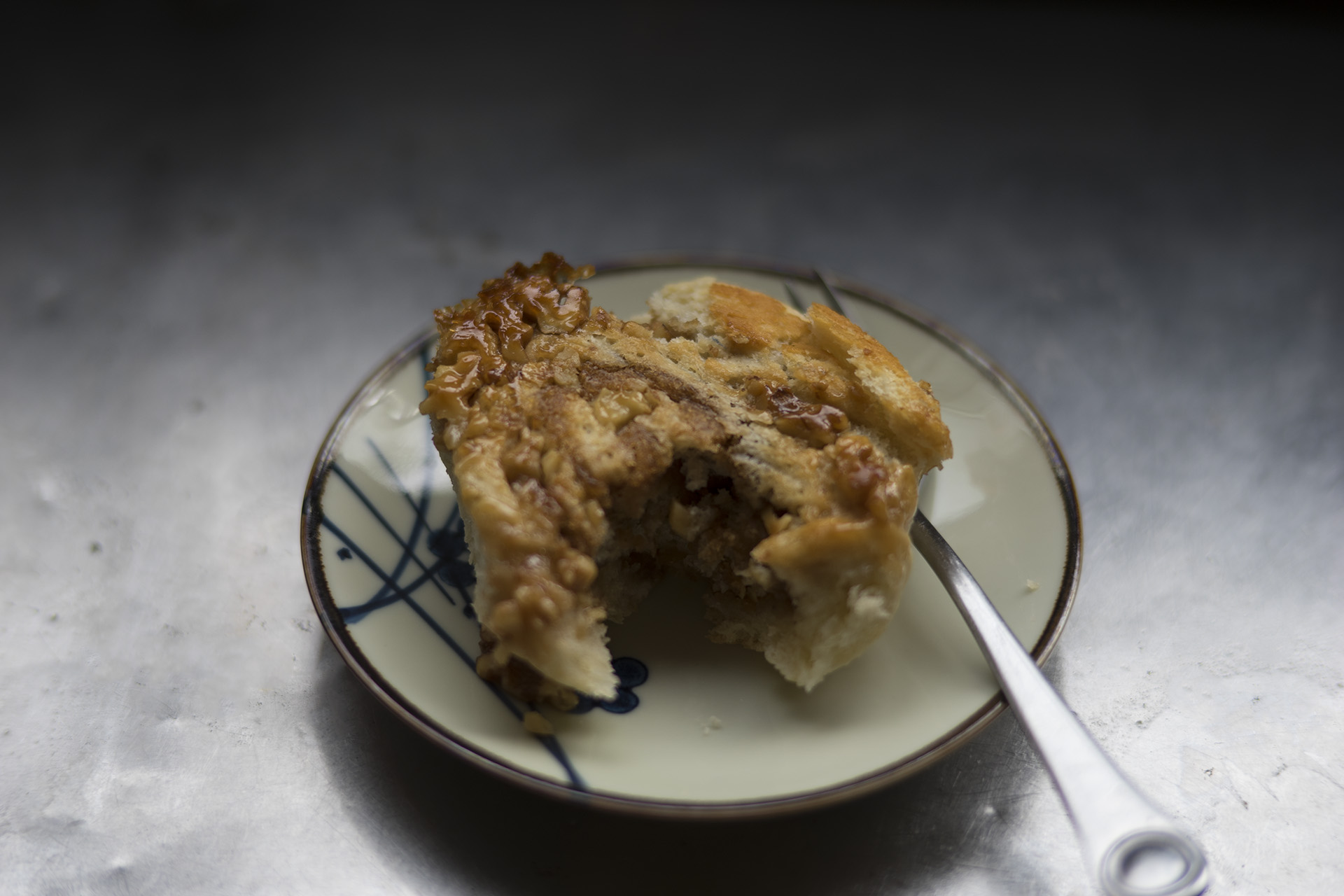 Ingredients:
Dough:
1 cup all purpose flour & 1 tbsp bread flour
1/2 heaped tsp instant dry yeast
3-4 tbsps vegan buttermilk
3 tbsps dairy free milk
1 1/2 tbsps coconut oil, melted
1/2 tsp brown rice syrup
Pinch of salt
Filling:
1/3 cup sweet potato puree
1 heaped tbsp brown rice syrup (or honey!)
1 tsp cinnamon
Dash or two of nutmeg
Sauce bath:
2 tbsps dairy free milk
2 tbsps brown rice syrup
2 tsps coconut oil, melted
1/2 tsp cinnamon
1/2 tsp cornstarch
1/3 heaped cup chopped walnuts
Important note: this recipe was loosely adapted from Serious Eats' Sunday brunch cinnamon rolls and Minimalist Baker's easy cinnamon rolls. I also referred to this youtube video when making the Tang Zhou.