Hot dogs are fun to eat.
Hot dogs can still be fun to eat if you're vegetarian or vegan.
Enter the carrot dog.
I've been fascinated with mock-meats and cheeses/creams for a while now, but it's no surprise that they often surpass my Young-Twenty-Something Affordability Test. So, in an effort to minimize unnecessary spending and up my creative game in the kitchen, I decided to give carrot hot dogs a shot. Aside from the carrots and hot dog buns (why is it impossible to find whole wheat buns anywhere?), the other ingredients are likely already in your kitchen. If you do have to make a trip to the store to buy them, they shouldn't require you to fork out much dough (I am a baker on a budget after all).
If you've already searched the internet for carrot hot dog recipes you've probably noticed the term 'liquid smoke' frequently used (click here if you're thinking what the heck is that?) This recipe doesn't call for it because A) I wasn't about to spend money on strange and novel ingredients I'd likely never utilize and B) I wasn't in the mood to go on a hunt for it around Melbourne. Yes, the former may be close-minded of me (ironic considering the oddity of this very recipe), but sometimes a girl just wants to stick to the basics. So, with liquid smoke out of the picture I opted for the next best thing (or maybe THE best thing): chipotle sauce. Chipotle provides a warm and smoky barbecue flavor similar to that of liquid smoke and it is far more likely to be sold at your local mom and pop shop.
These carrot dogs are meant to imitate real hot dogs, but I'll be honest and say up front that the texture is quite different from a real sausage. However, if you're imagining chowing down on a mushy carrot cushioned in bread, stop. These carrots aren't meant to be fully cooked to the core. In fact, they retain a reasonable amount of crunch in their final form (without being downright raw). As for their flavor, I'll start by simply saying that they were YUMMY.  In all honesty, I was surprised to be so pleased by how they tasted. While preparing the hot dogs the know-it-all child in me couldn't help but point out time and time again, "So, you're planning on masquerading these carrots as hot dogs? You don't really think you'll get away with this, do you? And your Mom isn't forcing you to do this? Really?"
While I haven't tasted a meat hot dog in well over a year, I can say that the chipotle sauce and seasonings give these carrots a BBQ flavor much like the real thing. Also, the carrots certainly won't be as oily or bursting with juices as meat sausages, but that wasn't a game changer for me.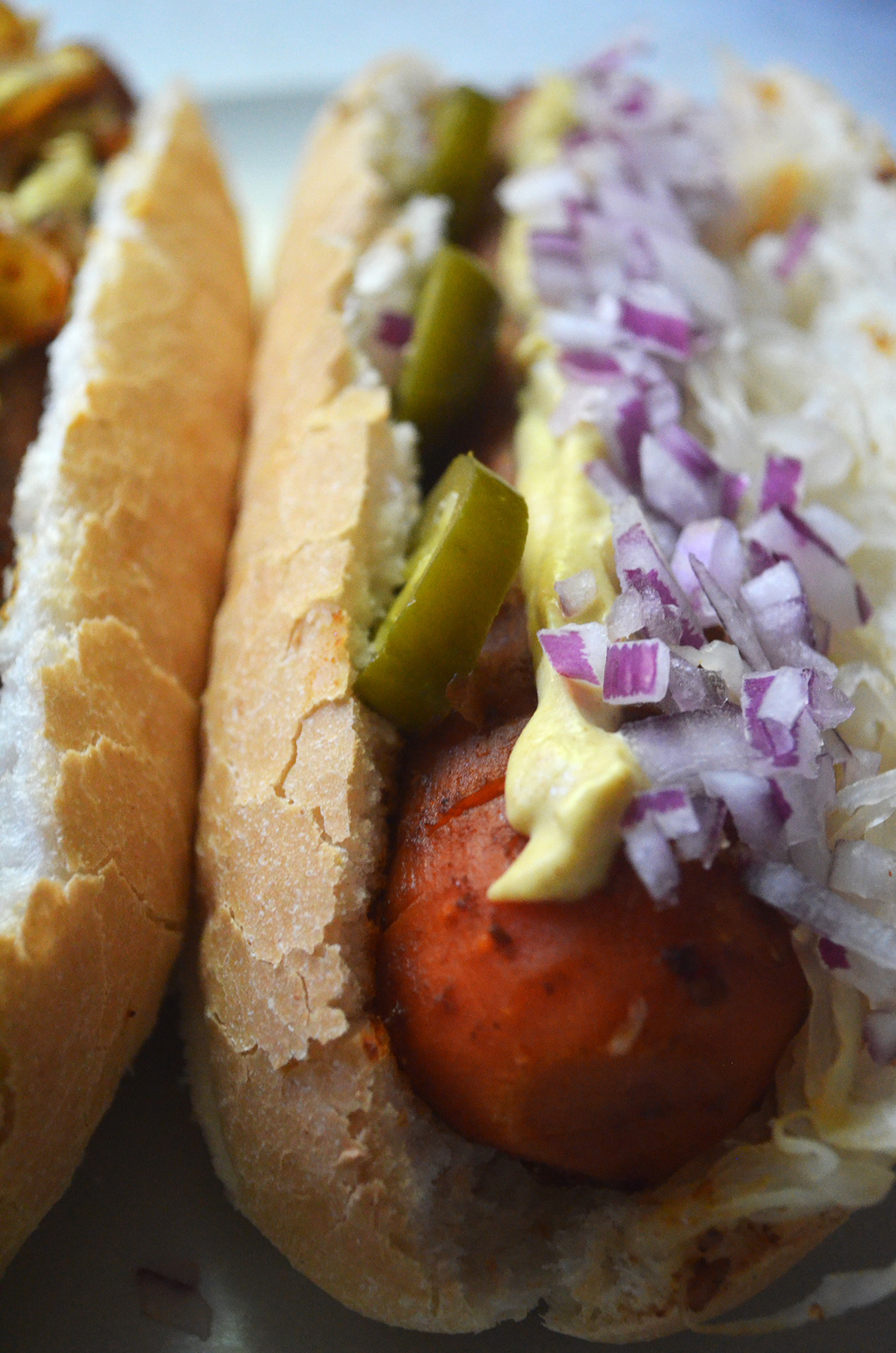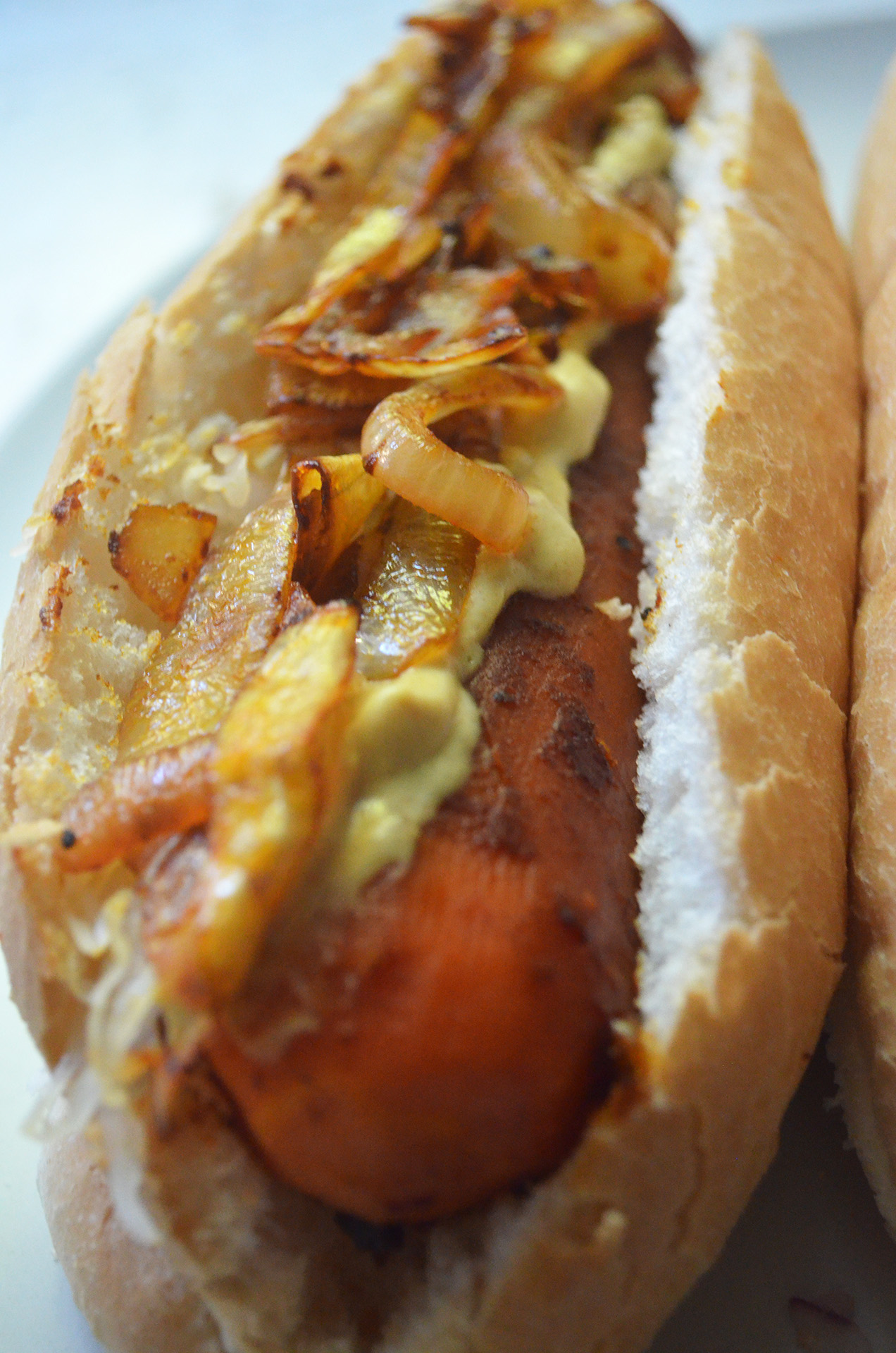 Condiments will obviously help dress these dogs up a bit; just lather on your usual favorite hot dog condiments, the carrot won't change the way mustard, sauerkraut, or red/caramelized onions taste!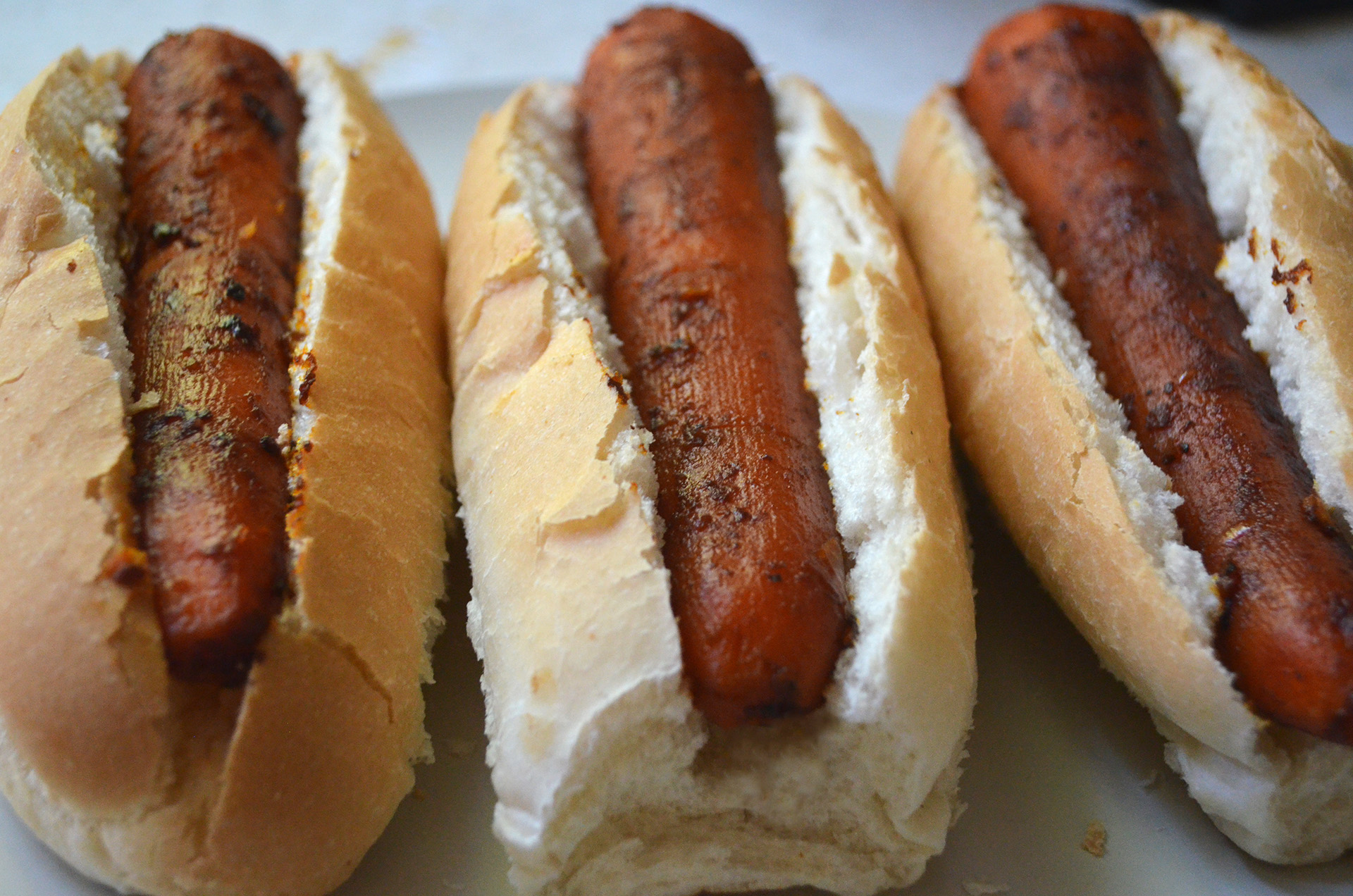 Ingredients~
3-4 medium-large carrots (for more of a 'real' hot dog appearance, pick carrots that are more even in width from end to end and shave down the pointy edges)
2 tsps soy sauce
1 heaping tbsp chipotle sauce (I used Tobasco's Chipotle Pepper sauce)
1/2 tsp paprika (Sweet or smoky)
1/4 tsp ground black pepper
1/2 tsp apple cider vinegar (sub with white wine vinegar but make sure acidity is at least 5%)
1 medium-large clove garlic, minced
1/4 cup water
Instructions~
1. Boil carrots for 8-12 minutes or until you can easily stick a fork into them. You don't want to overcook them till they're soggy! Tip: run cold water over them to prevent them from continuing to cook.
2. Mix ingredients in a bowl or deep tray and add carrots. Use the tip of a knife to prick each carrot a few times, staying clear of the more delicate/thinner end (this adds to the BBQ sausage look and helps them soak up more marinade).  Be sure to lather the carrots in the sauce using your fingers before covering them and setting them aside to soak for at least 5 hours (the longer=the more flavorful). Make sure they are at least partially submerged in the marinade as they sit. Alternatively, put them in a large ziplock bag with the marinade.
3. Heat oil in a pan and add carrots, along with a few spoonfuls of sauce. Cook on medium heat, turning them ever so often for an even coating. It's easy to burn the sauce, so make sure the heat isn't on too high. Note that it may take 10 minutes or a little longer for them to become charcoaly and look as though they are fresh off the barbecue!