When I was a kid my grandma, sister, and I would have an annual Girls' Night. My grandma would let us have free reign (within sane limits of course) to choose a few special items at the grocery store and then we would enjoy dinner, dessert, and a movie together. It was always a fun time. Because my sister and I grew up in Taiwan and only visited the U.S. during the summer, we would wander through the giant American grocery store aisles in awe. Compared to Taiwan, the rows of ice cream flavors, sugary cereals, and candy bars appeared infinite to our little dewy eyes. I can recall one summer when we (I likely did some convincing) chose both caramel ice cream and caramel sauce to be our dessert. It's a memory I recall with a great feeling of abundance.
Though I've grown and changed, I think the vibrancy of that memory (or maybe just the fact that I've indulged in it all these years) illustrates my ever-persistent craving for caramel. However, just as age will mature a person or wine or cheese or a person's taste for said wines and cheeses, it will also mature one's taste for caramel. So, while the days of tooth-shocking, factory-processed caramel are behind me, the present and future are bright with rich and gooey date caramel. These caramel slices have a chewy base comprised of oats and coconut, a rich center made of mostly dates, and a top layer of dark cocoa and cashew butter to seal the the treasure in.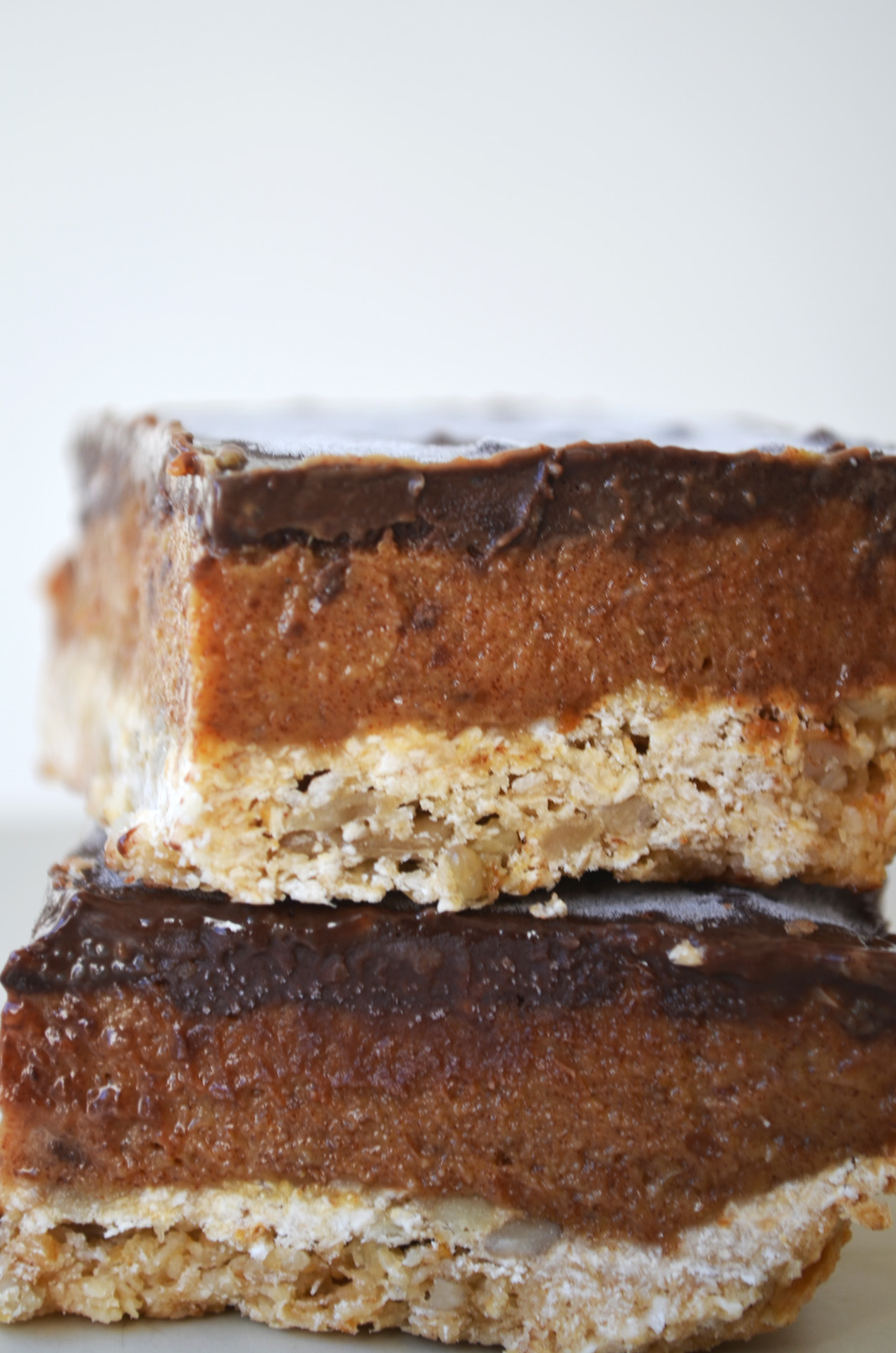 Above: straight from the freezer
Below: minutes after being handled in Australian summer weather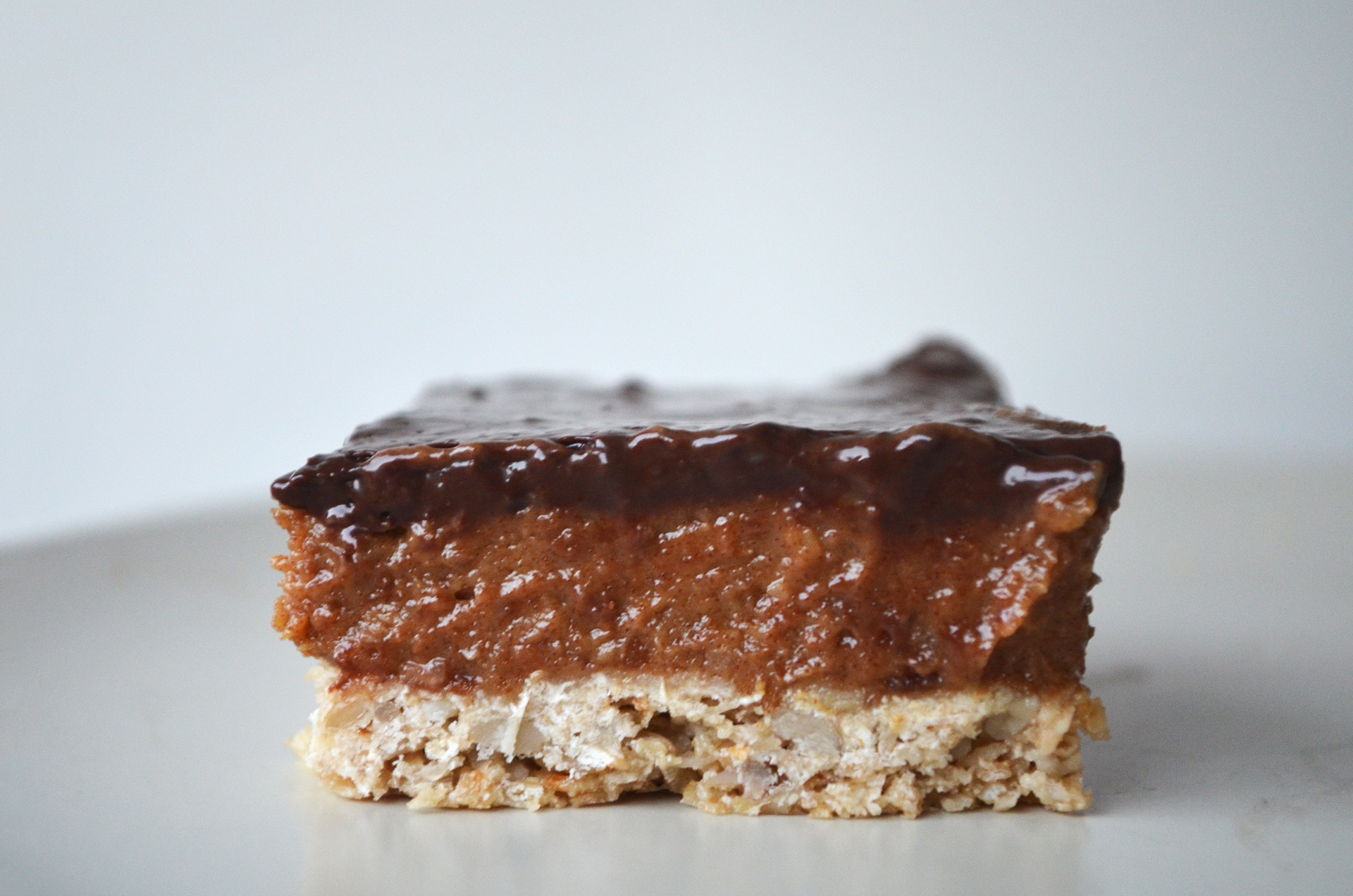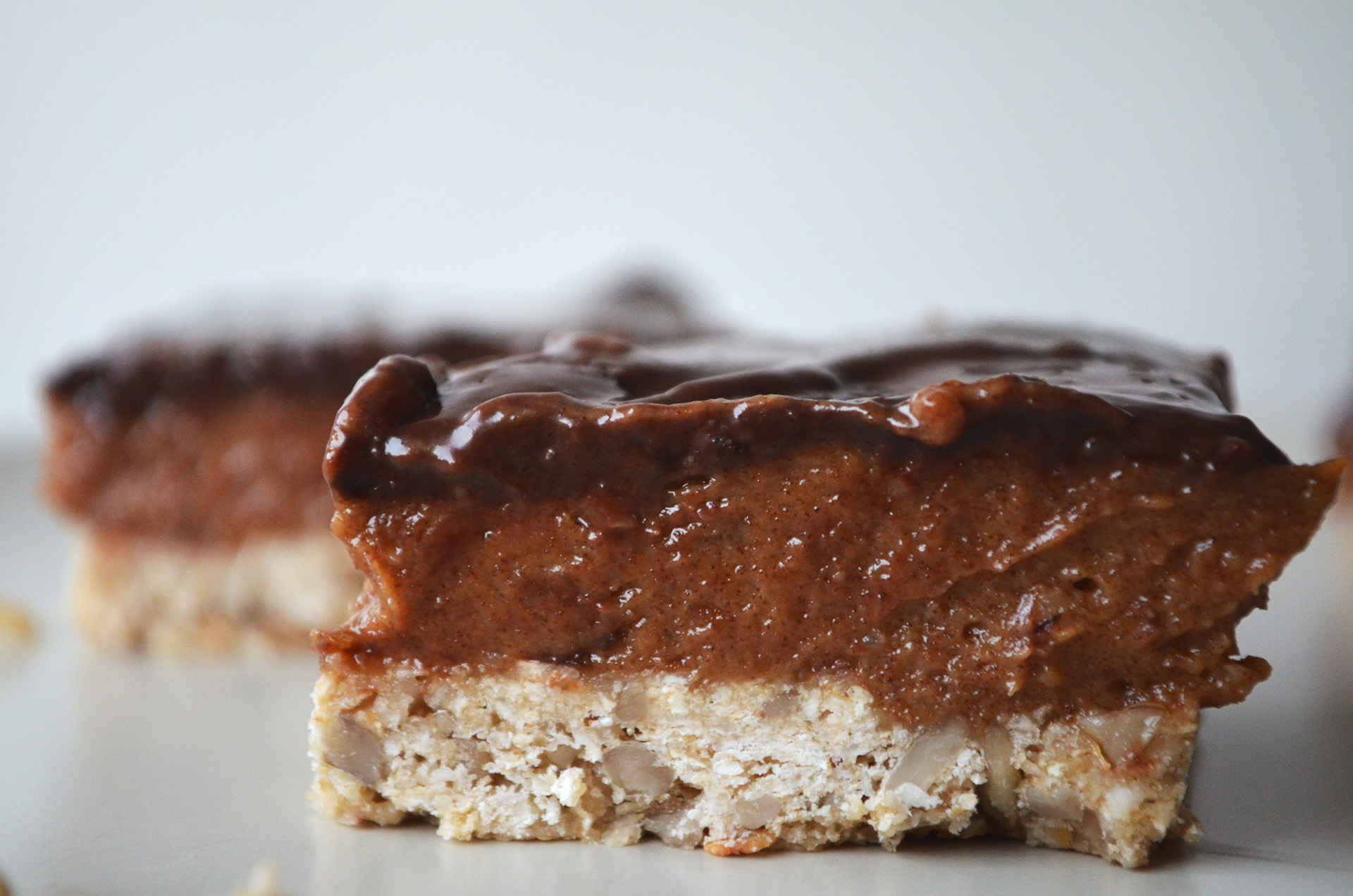 Ingredients~
Base:
1 cup rolled oats
1/2 cup oat flour
1/3 cup unsweetened shredded coconut
2 tbsps sunflower seeds (or pumpkin seeds)
3 tbsps rice malt syrup or other liquid sweetener
1/4 cup coconut oil (melt first if yours is solid)
Caramel center:
2 cups dates
1/4 cup unsweetened peanut butter (or almond butter)
1/4 cup chopped pecans
1 tbsp hulled/unhulled tahini
3-6 tbsps date water*
Scant 1/4 tsp ground rock salt (omit if nut butter is already salted)

Chocolate fudge layer:
1/3 cup cocoa powder
2-3 tbsps unsweetened nut/soy milk (dairy milk works too)
3 tbsps cashew butter
1 tbsp rice malt syrup 

Instructions~
(These instructions may seem long and daunting, but I promise I'm only being thorough! The caramel slices are simple and straightforward to make.)

1. Preheat oven to 170 C/338 F as you prepare the base layer. Simply combine dry ingredients in a food processor and blend until a slightly crumbly mixture forms. Press down mixture in pan (if it doesn't stick together when pressed down, add another tbsp or two of oil/water) and put in middle rack of oven for roughly 11-14 minutes. The edges should turn light golden-brown by the time you take it out.
2. As the crust layer cooks prepare the caramel filling. First, pour just-boiled water over bowl of dates until they are submerged. Let sit for at least 10 minutes.
3. Add softened dates, nut butter, pecans, tahini, and 4 tbsps date water to food processor and blend. You will have to blend for several minutes, stopping after a handful of pulses to scrape down the sides/stir before continuing to blend (time will vary depending on strength of your food processor). Ideally, the final caramel filling will be smooth and a rich, toasted caramel color. I added a total of 5 tbsps of date water to my mixture to obtain a thick but spreadable filling. You may only want to add 3 tbsps, but up to 6 will not drastically alter the consistency.
4. Once the base layer has mostly cooled down, evenly spread caramel filling on top and place in freezer for at least 30 minutes or until it has significantly chilled before adding chocolate layer.
5. To make the chocolate fudge simply stir together all of the ingredients in a small saucepan over low heat. Stir for a few minutes until the cocoa powder breaks up and the cashew butter melts, thickening the sauce. Once combined, evenly drizzle/spread it on the caramel layer and return to freezer for at least 4-5 hours or overnight. After freezing you will find that the base layer has significantly hardened (think biscotti), so before eating you may want to let it thaw for a couple of minutes. Enjoy!
* Date water is simply the warm water left over after soaking the dates. Soaking your dates for at least 10 minutes in hot water before blending helps soften them and expedite the caramel-making process.