Most of my recipes fall on the healthier end of the baked goods spectrum, but these beetroot bad boys are way, waaay farther down the healthy side than I usually dare wander. 
I call these my 'beetroot bad boys' because they are anything but that. My sense of humor can't be rationalized. Let's move on. Despite their striking appearance, these guys are very tamed, consisting of coconut oil, rice malt syrup, boiled beets, rolled oats, chia seeds, and shredded coconut. No eggs, no butter, no other truly-bad-boy sugars. You're either loving the sound of this, nodding your head in agreement (no bad-boy-sugars, oh yeah!!!) or you're feeling a little uneasy (so… do these just taste like dirt?). The honest answer is kinda. They kinda have an earthy taste because that's just how beets taste, is it not? I didn't add beets to these bars just for their color alone. And while I could've masquerade their flavor with a cup full of sugar of butter, I decided to stick with what I had in mind for this recipe, not create what I thought some people somewhere (I don't even know these people) might prefer to eat.
The truth is, I love a good, void-of-nutrients cake. Bring on the processed white flour and butter and all. However, do I want to eat such cakes everyday? No. Okay, yes, I do, but my point is that I choose not to, because eating copious amounts of white cake everyday would catch up with me mentally and physically. So, on my cake-off days, when cake has gone to the movies or left town for a little while, I bake things with vegetables in them.
If you're after a baked good that is healthy enough to constitute having for breakfast, first snack, lunch, and second snack, then these bars are for you. I understand you might be afraid of the beet flavor shining too strongly in this one, so add another tbsp of cocoa powder or syrup until you're satisfied. But in all honesty, the only unsettling thing about these bars is how tasty and fudgy in texture they are, dirty vegetables and all.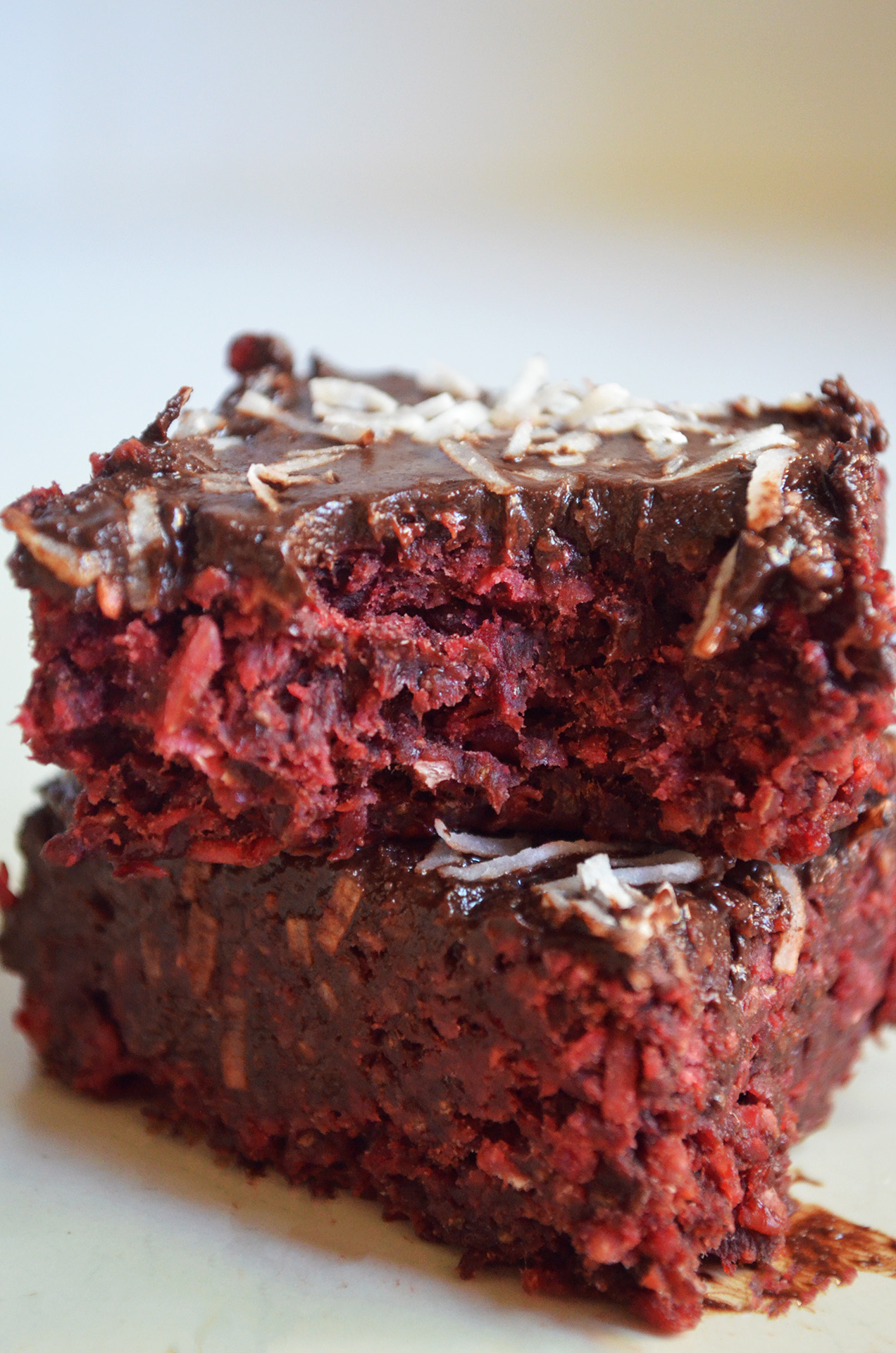 Ingredients~
Bars:
1 1/3 cups rolled oats
1/4 cup unsweetened shredded coconut
3/4 cup beetroot, chopped and boiled
1/4 cup rice malt syrup
3 tbsps chia seeds, ground
2 tbsps cocoa powder
1 tbsp all purpose flour
2 tbsps melted/soft coconut oil
1/2 tsp vanilla extract
Pinch of ground rock salt
1-2 tbsps beetroot water (reserved from boiled beetroot, but replace with water if you've roasted your beets)
1/3 cup chopped chocolate or chips (optional, I omitted this)
Sauce:
1/4 cup cocoa powder
1 tbsp coconut oil
1 tbsp rice malt syrup
Nut/dairy milk, add for desired consistency
Instructions~
1. Peel, chop, and boil beets until you can easily stick a fork into them. Once slightly cooled, add the beets and 1 tbsp beet water to the food processor and blend until beets are reduced to a fine pulp.
2. Preheat oven to 185 C/374 F. Add syrup, coconut oil, vanilla extract, and ground chia to beet mixture. Blend until well combined and transfer to a large bowl.
4. Combine remaining dry ingredients in food processor and blend until oats and coconut more closely resemble flour (oat flakes here and there are totally okay). Add dry ingredients to bowl of wet and whisk well. Stir through the chocolate chunks/chips if using. The batter will be noticeably clumpy (gelatinous even) with the beet pulp, chia seeds, and coconut/oats stirred through it, but that's how it should be. Unlike brownie/cake batters, this won't be very pourable, but also know that it shouldn't appear dry! It should be very gooey and wet to the touch.
5. Line a square pan with parchment paper and lightly oil sides before adding the mixture. You will have to use your spatula to evenly spread it around. Set in oven and cook for about 15-20 minutes. My bars were done, aka not wobbly in the middle, after 18 minutes. Allow the bars to cool a bit before pouring chocolate sauce on top and refrigerating or quick-freezing (20-30 minutes) until the chocolate hardens up a bit.
6. For the chocolate sauce, simply combine all of the ingredients, beginning with 3 tbsps of milk, in a saucepan on low heat. Stir until cocoa powder has completely dissolved and add more milk by the tbsp to achieved your desired consistency. Let cool off the stove as the bars bake.