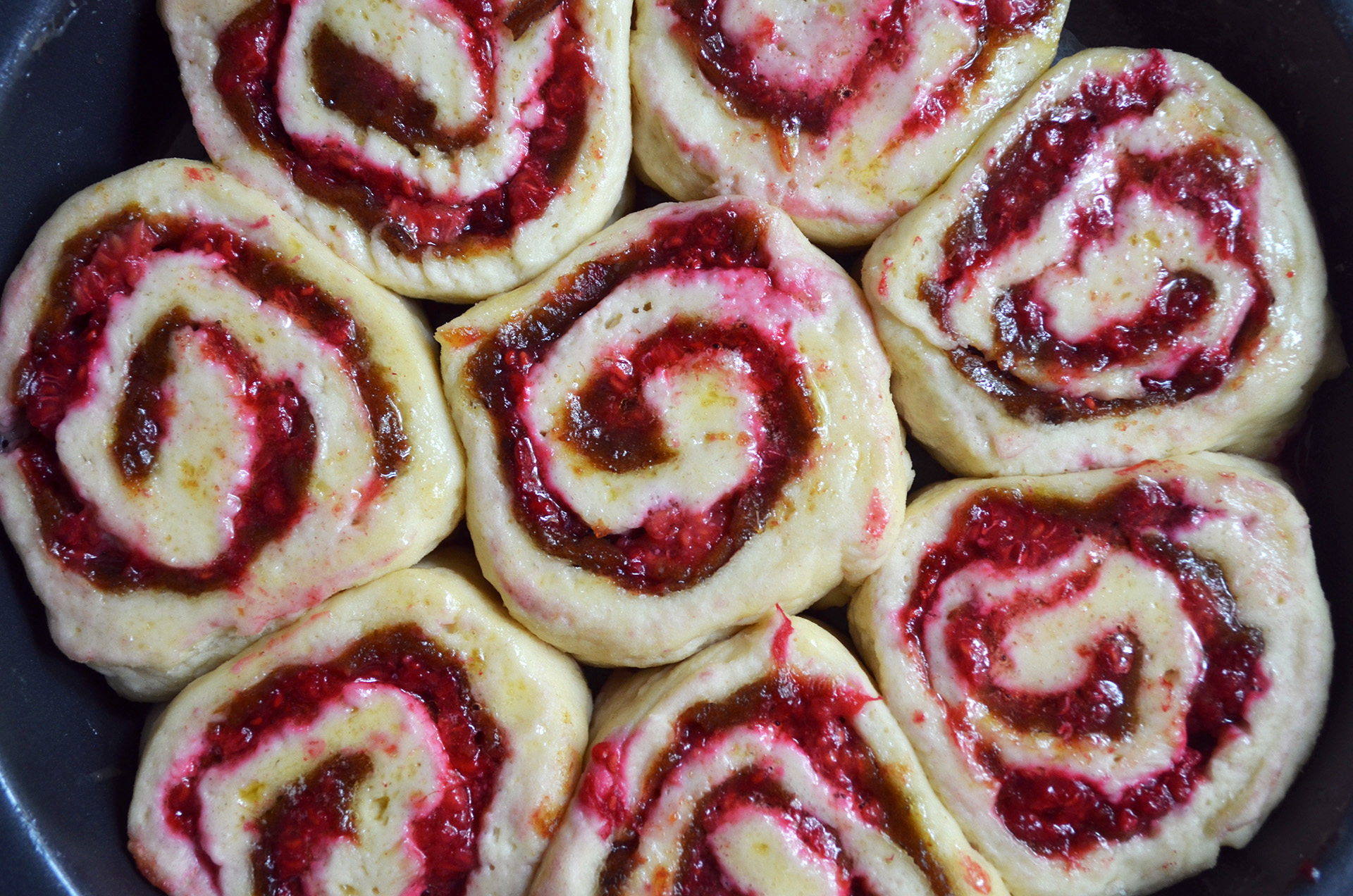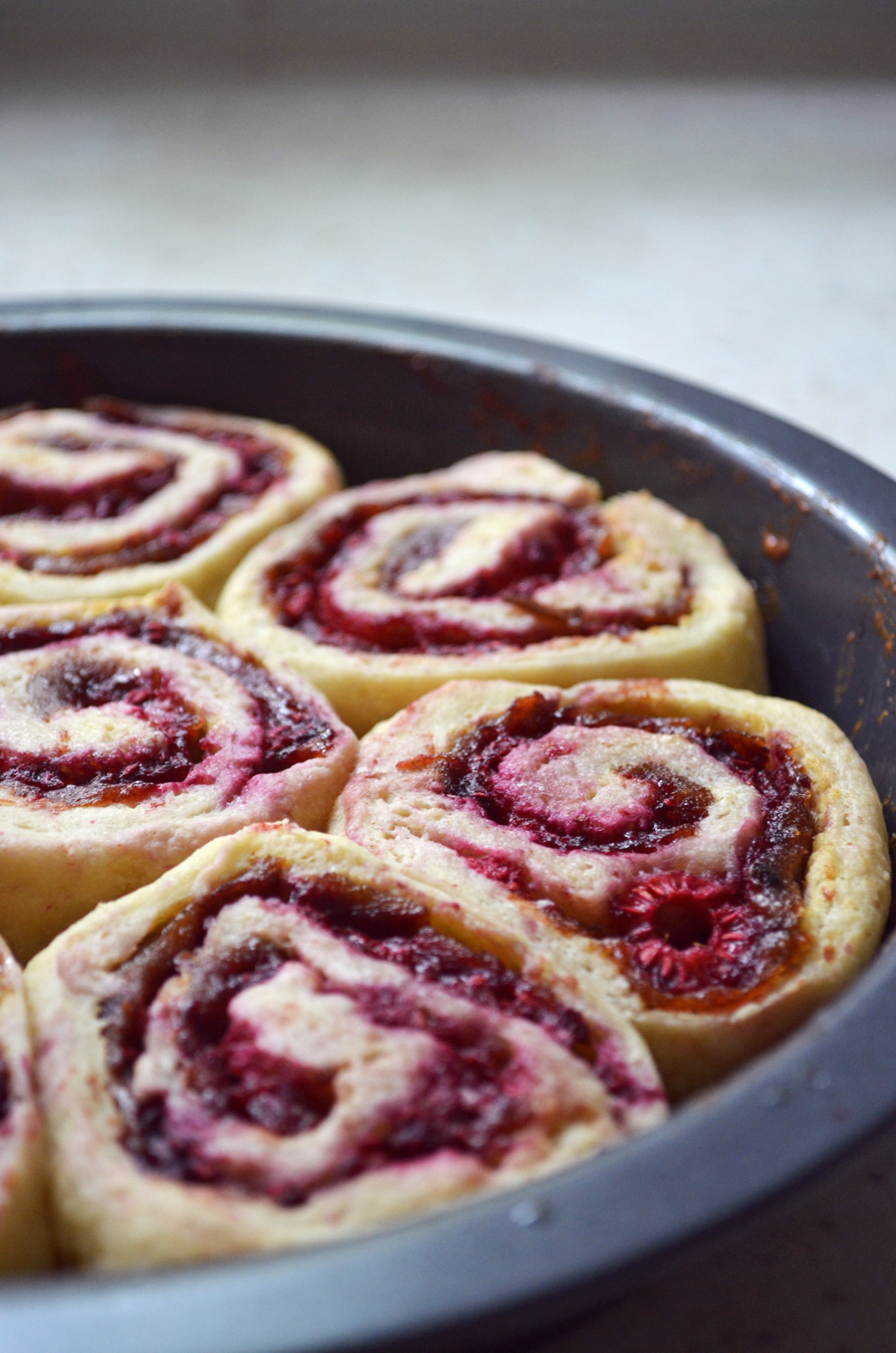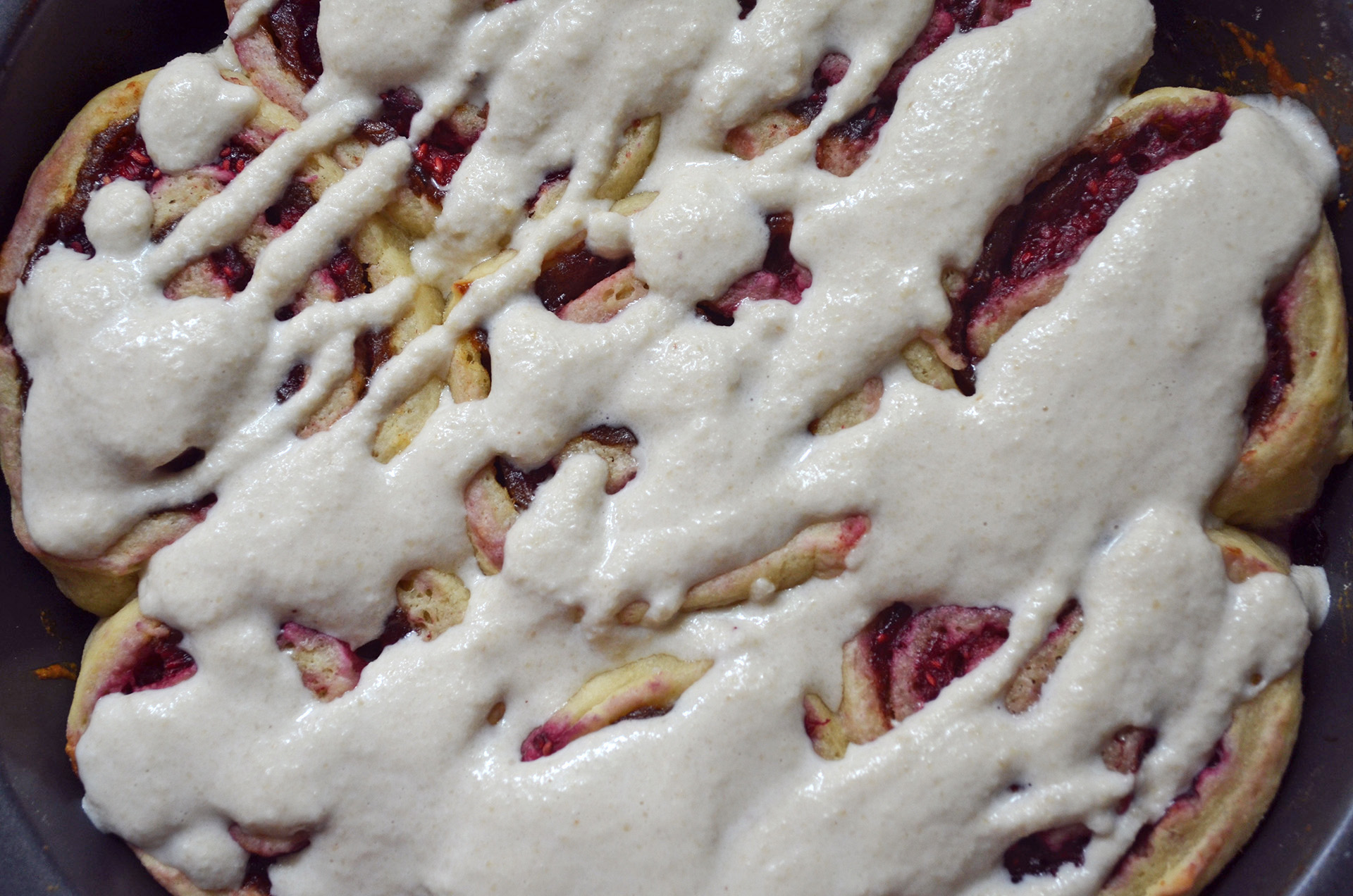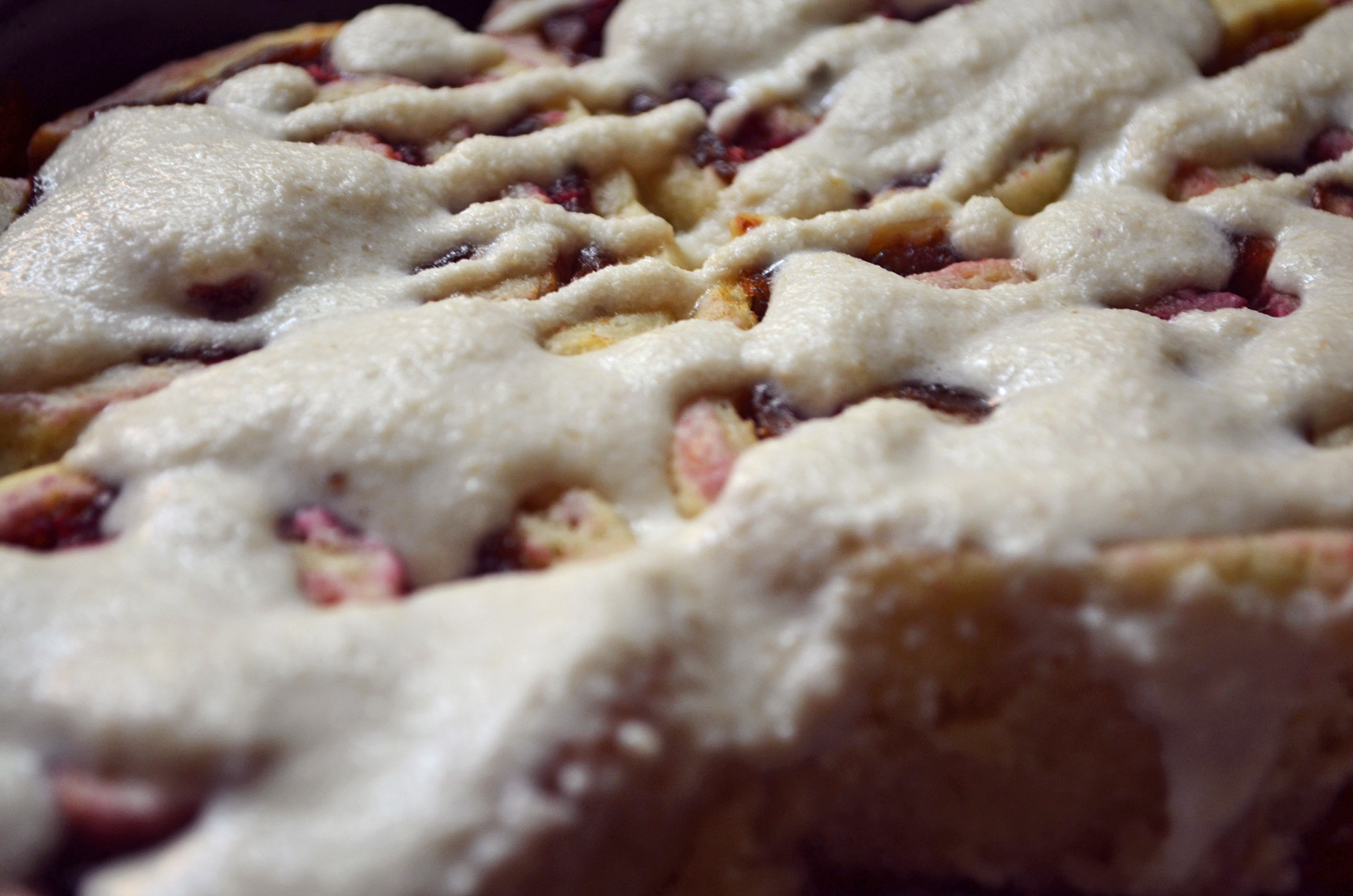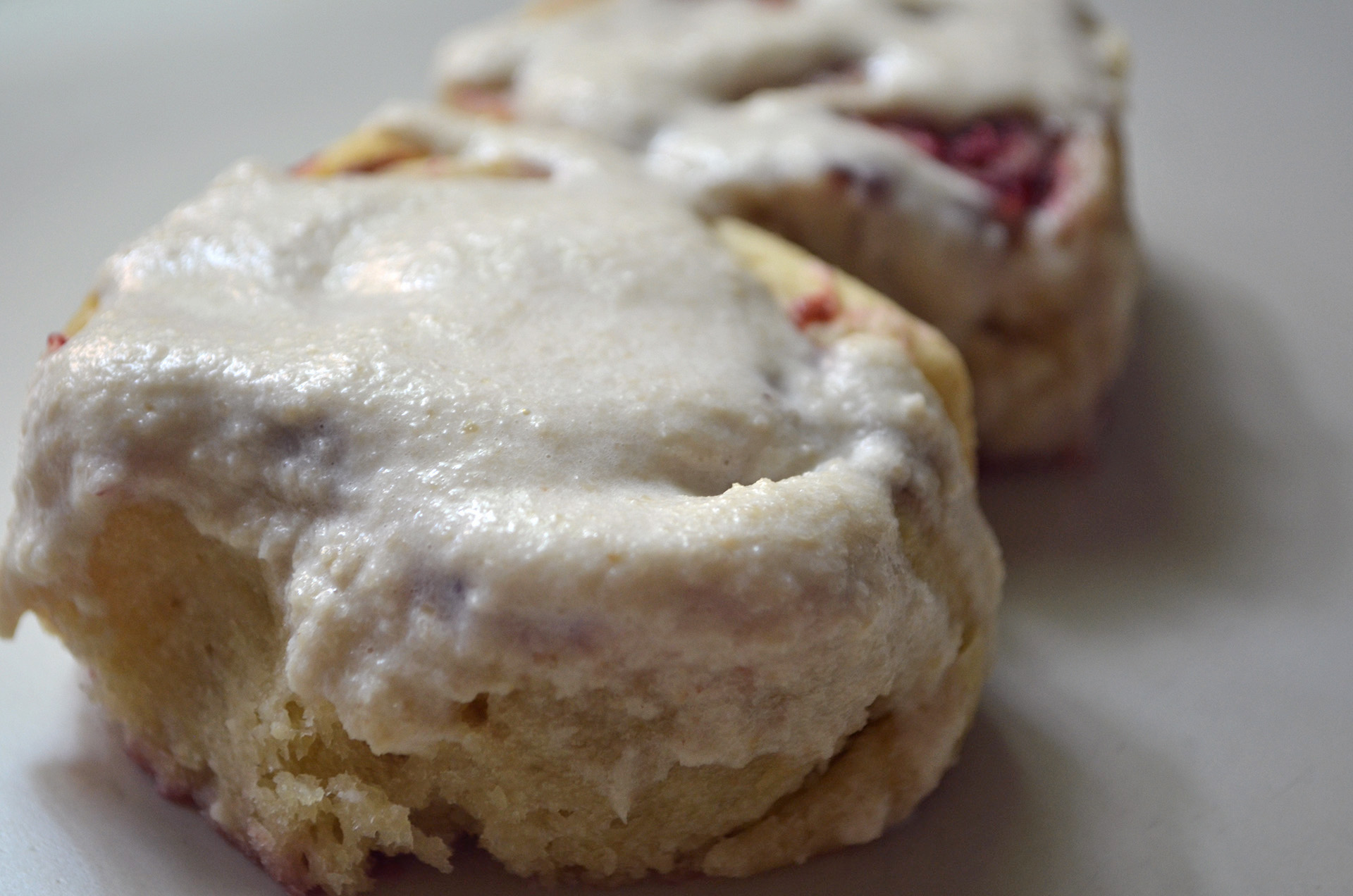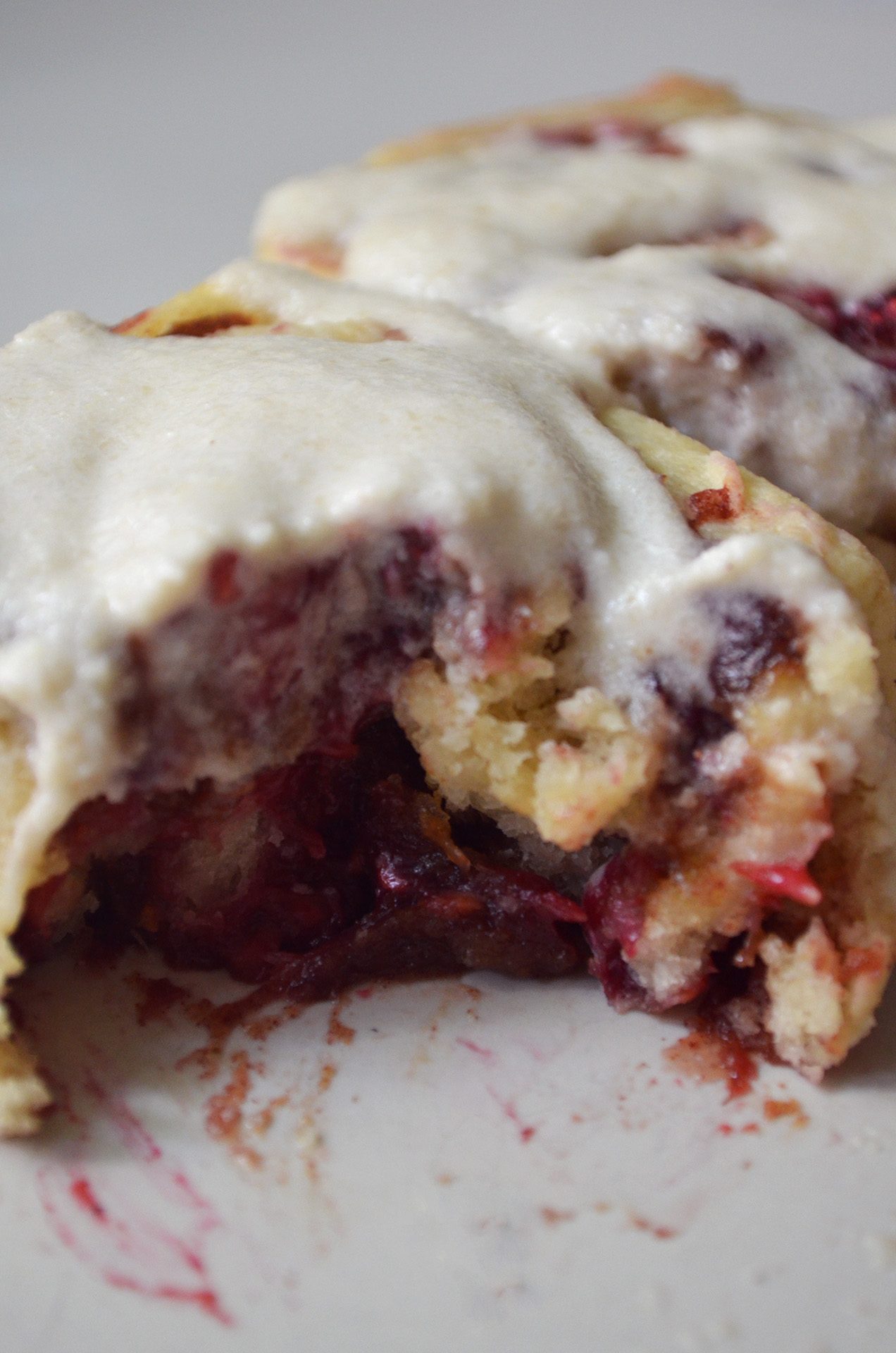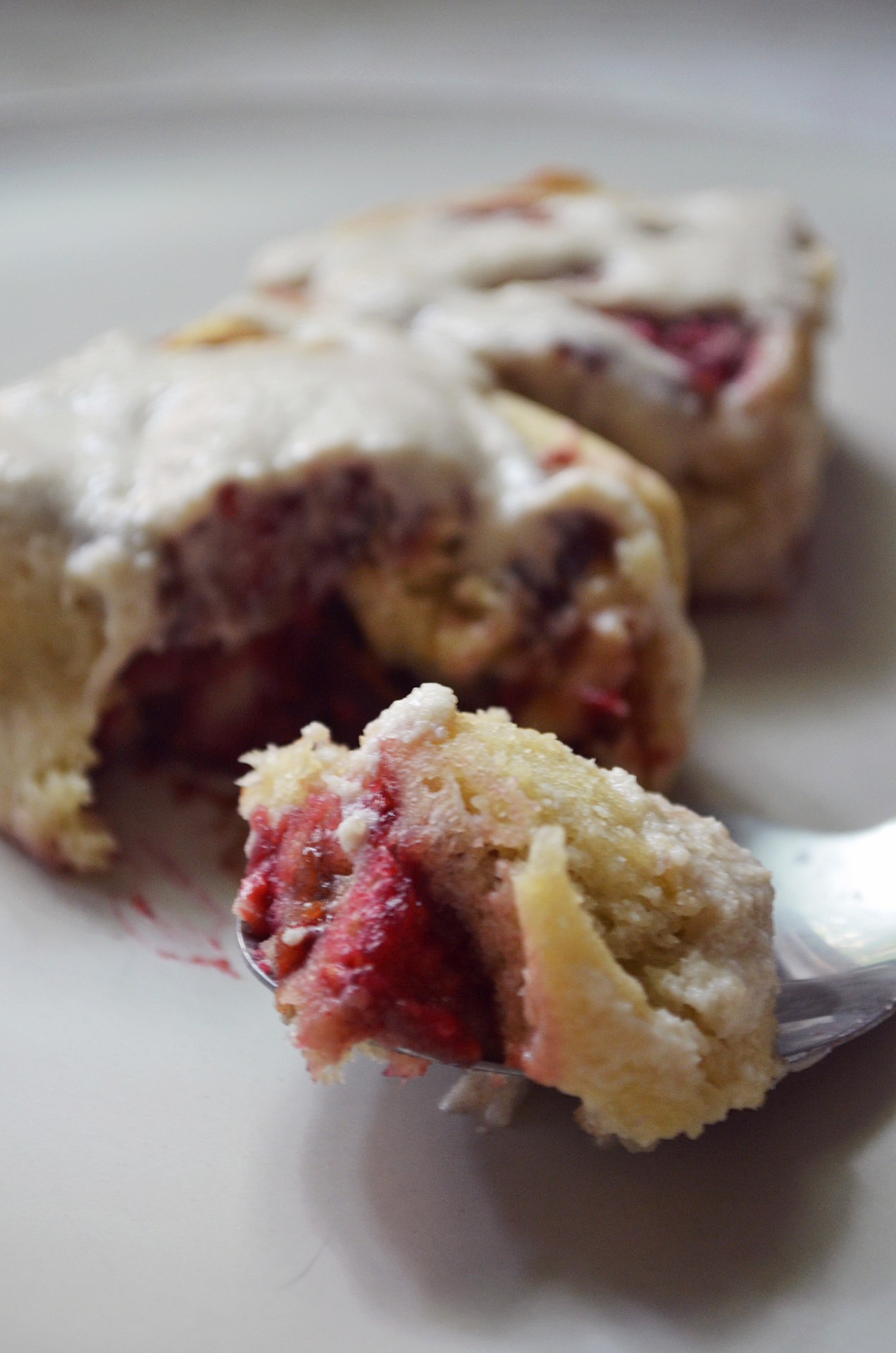 Ingredients~
Dough:
2 cups all purpose flour
2 tsps yeast
1/3 cup & 1-3 tbsps soy milk
2 tbsps melted Earth Balance/butter
1 tbsp rice malt syrup
1/4 tsp salt
Filling:
2/3 cup dates
1 cup frozen raspberries
1 tbsp melted Earth Balance/butter
Glaze:
1 cup soaked raw cashews (I quick soak mine for 2 hours in warm water)
1/3 cup & 2-4 tbsps soy milk
2 tbsps rice malt syrup
Instructions~
1. Heat up 1/3 cup milk in a saucepan on low heat. Once slightly hot (be careful not to scald!!), transfer it to a large bowl to cool until you can easily stick your finger in without retracting. If the milk is too hot it will kill the yeast! Stir the yeast through the warm milk and let sit for 5-8 minutes or until very foamy and thickened. If your mixture doesn't change it means the yeast is likely a dud, so try again with more.
2. Once yeast is activated, stir in the melted (but not burning!) butter and syrup. Add the flour and salt, stirring in a circular motion until the mixture begins to come together. If it's too dry, add more milk by the tbsp. I gradually added two more tbsps. If it's too wet, sprinkle flour on top and continue to combine. Once the dough more or less forms a large blob, transfer it to a clean, lightly floured counter and knead with your hands for 5-8 minutes. It should be easy to handle, aka not too sticky, and bounce back when you press your finger into it. Lightly oil a large bowl and place the ball of dough at the bottom, tightly covering it with plastic wrap and setting it in a warm space for 1 1/2-2 hours or doubled in size. I preheat my oven to 80 celsius and turn it off before putting my dough in to kick off the rising process (leave the door ajar initially if it's way too hot).
3. While the dough rises, soften the dates (unless using medjool) by pouring just-boiled water over them until they are submerged. After about 5 minutes, transfer them to a food processor and blend until sticky, thick paste forms. Set aside.
4. Once dough is done rising, plop it on a lightly floured surface and roll it out (about 1/4-1/2 inch thickness). Lather the dough with a tbsp of melted butter, making sure to leave cm or so of space around the edges to make rolling it up easier. Spread on the date paste before adding a layer of frozen raspberries. Use your fingertips to gently roll up the dough, starting with the closest lip; be sure to tightly curl it in. Pinch the last lip of dough together and voila, you should have a great big log on your hands. Use dental floss or a sharp, serrated knife to slice off the rolls.* Give each piece about an inch of thickness and place them in a pan lined with parchment paper. Allow to rise a second time for 45 minutes to 1 1/2 hours or doubled.
4. As the dough rises, make the cashew sauce. Simply blend soaked cashews in a food processor with 1/3 cup milk and 2 tbsps syrup. Continue to blend until cashew fully break up and only tiny flecks are visible. Add more tbsps of milk (I added two!) and continue to blend to achieve your desired consistency!
4. Preheat oven to 176 C/350 F and once heated, bake the rolls for 15-22 minutes or until the filling appears thickened and slightly darker and the dough is kissed with a toasty golden color. Drizzle on cashew cream and enjoy warm!
* If the dough feels ridiculously warm and gooey, you may want to refrigerate it for 10 minutes or more until cooler/firmer. You don't want the rolls to squish and flatten upon cutting!