This morning I woke up with a tension headache, it's claws buried deep into my neck and shoulders. I had been eagerly anticipating today as it was the day my haul of baking equipment was due to arrive, so I did my best not to let the headache sour my giddiness. Long story short: it's almost impossible and very expensive if possible, to find baking supplies in Tokyo (by 'supplies' I mean: flour other than highly refined white and pancake mix, a good brand of instant yeast, vanilla extract, bread/cake/muffin tins, and so on…). Baking isn't as popularized of a pastime as it is in Australia or America; however, despite this, and as is the case in Taiwan, bakeries are everywhere! In fact, I would have to say I unintentionally come across more bakeries in Taipei and Tokyo than I did in Melbourne or NYC. I'm not sure what lies at the heart of this fascinating situation, but I'd like to find out. Perhaps the more recent introduction of bread and pastries to Asia means people don't have recipes and techniques passed down from generation to generation? Perhaps Japanese people are less likely to bake a loaf of bread at home than, say, an American, due to the simple lack of conventionally western ovens in most homes. The oven in my Tokyo apartment is actually a multipurpose microwave; it has an oven feature that can reach 250 C and a grill feature as well, pretty neat, huh!?
Anyone who has perused bakeries in America and European countries will be able to notice the glaring differences between the baked goods on sale; the discrepancies between English and French bread and pastry are innumerable!! Bread is bread is bread, but Parisian French bread is not Taiwanese bakery french bread and Japanese croissants are undoubtedly a distant, twice removed cousin of French croissants.
Having had the privilege of being to Paris and now, Tokyo, I can say that both types of croissant surpass tolerable, but the Parisian one exists on a far more unique plane than the Japanese one, at least in my mind. Maybe it's because a French croissant is the most perfectly flaky, buttery pastry to exist? One cannot simply whip up a batch of croissants, it takes days and lots of rolling and turning and rolling and turning, and having enough knowledge and luck to keep microscopic layers of butter (and there are many, many layers!!) from even slightly melting into layers of dough (the former mishap is what kept my first ever batch of croissants from achieving flaky galore). The croissants I've had in Tokyo, so far at least, are noticeably more bready and sweet; and while that's not to say they aren't pleasant to taste, it is the case that they share more genes with sweet bread than the O.G. croissant.
With my new whole wheat flour and bread tin in hand I was ready as ever to put something with a sweet-smelling finale into the oven. As you may have already guessed, I opted for my all time favorite homemade good: a hearty banana bread loaf. This recipe only calls for body and brain nourishing ingredients, but if you decide to swap out the maple syrup for honey, or use a chicken egg rather than a chia egg, that won't negatively affect the final product. Also, I decided to give my new cocoa powder a try and ended up loading up this banana loaf with a thick layer of chocolate, so if that's not for you, half or third the chocolate sauce ingredients and swirl it into the batter for a pretty marble effect, or simply omit it. And now for the goodies~~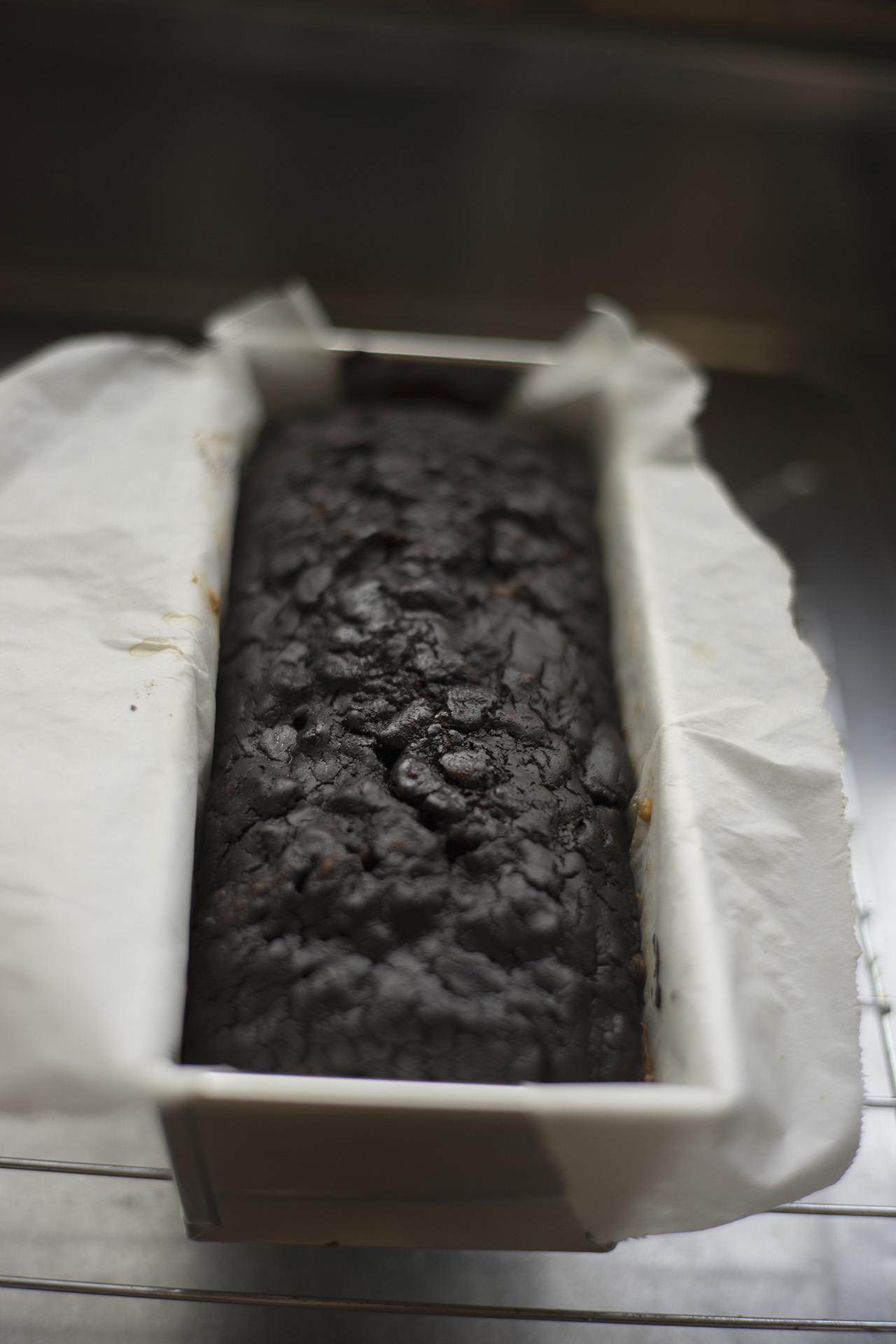 While the dark chocolate topping paired well with the sweeter banana bread, it fell a little short in the looks department. From another, more imaginative perspective (i.e. the other voice in my head), it does kinda resemble volcanic rock, which is pretty cool and not something you see everyday on your cake plate. On the other hand, it is a little not-so-pretty. Ah well, I've come away from this baking experience with a knew item to add to my 'To Master' list: chocolate sauce/drizzle. I guess I ought to be more specific than that, as chocolate sauce that's swirled into a bread is different from the chocolate sauce that's drizzled over profiteroles or a freshly iced cake, no? Perhaps there is no difference, if one is after the most basic, stripped to the essentials, dark cocoa drizzle, as I usually am. I suppose I should do some research.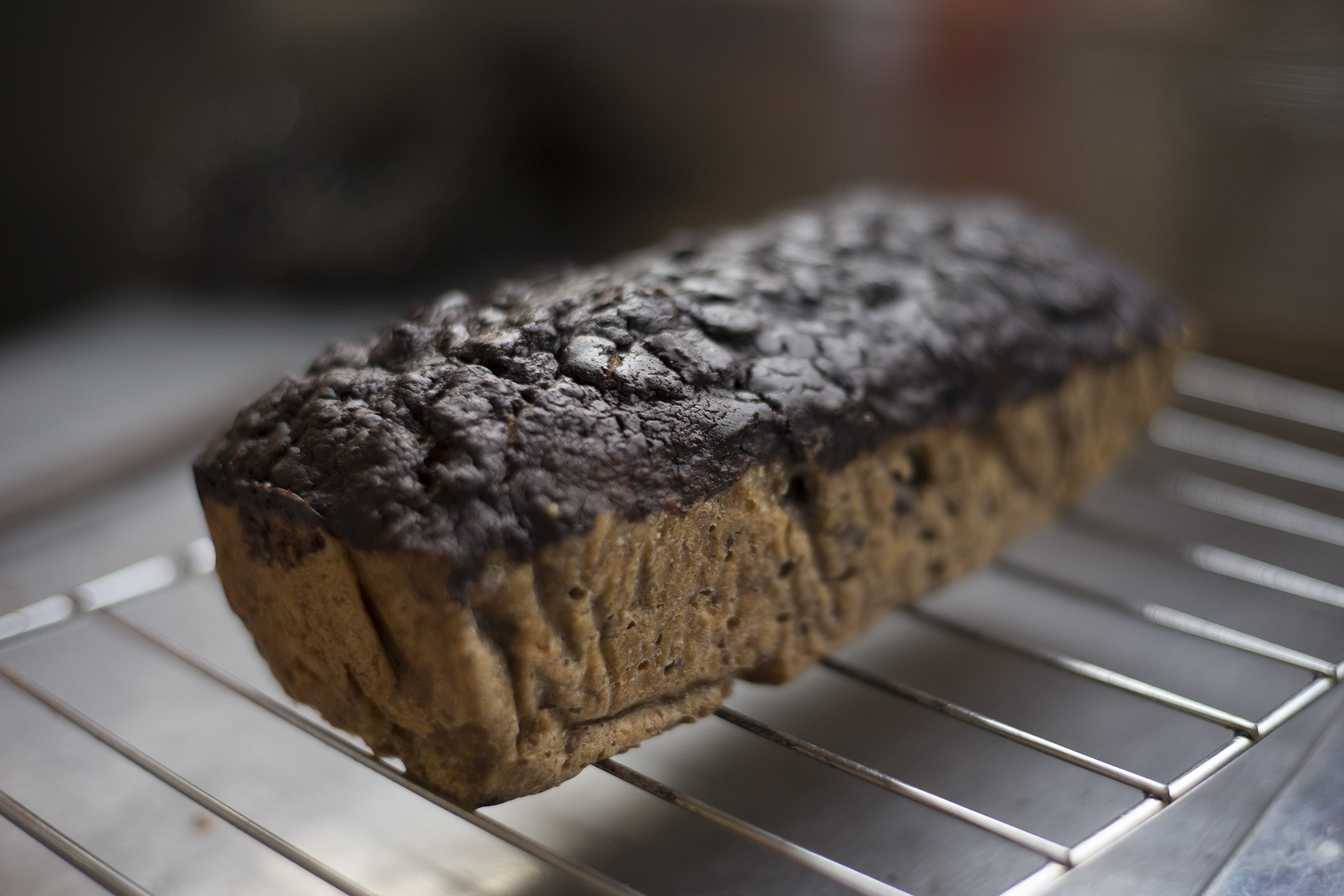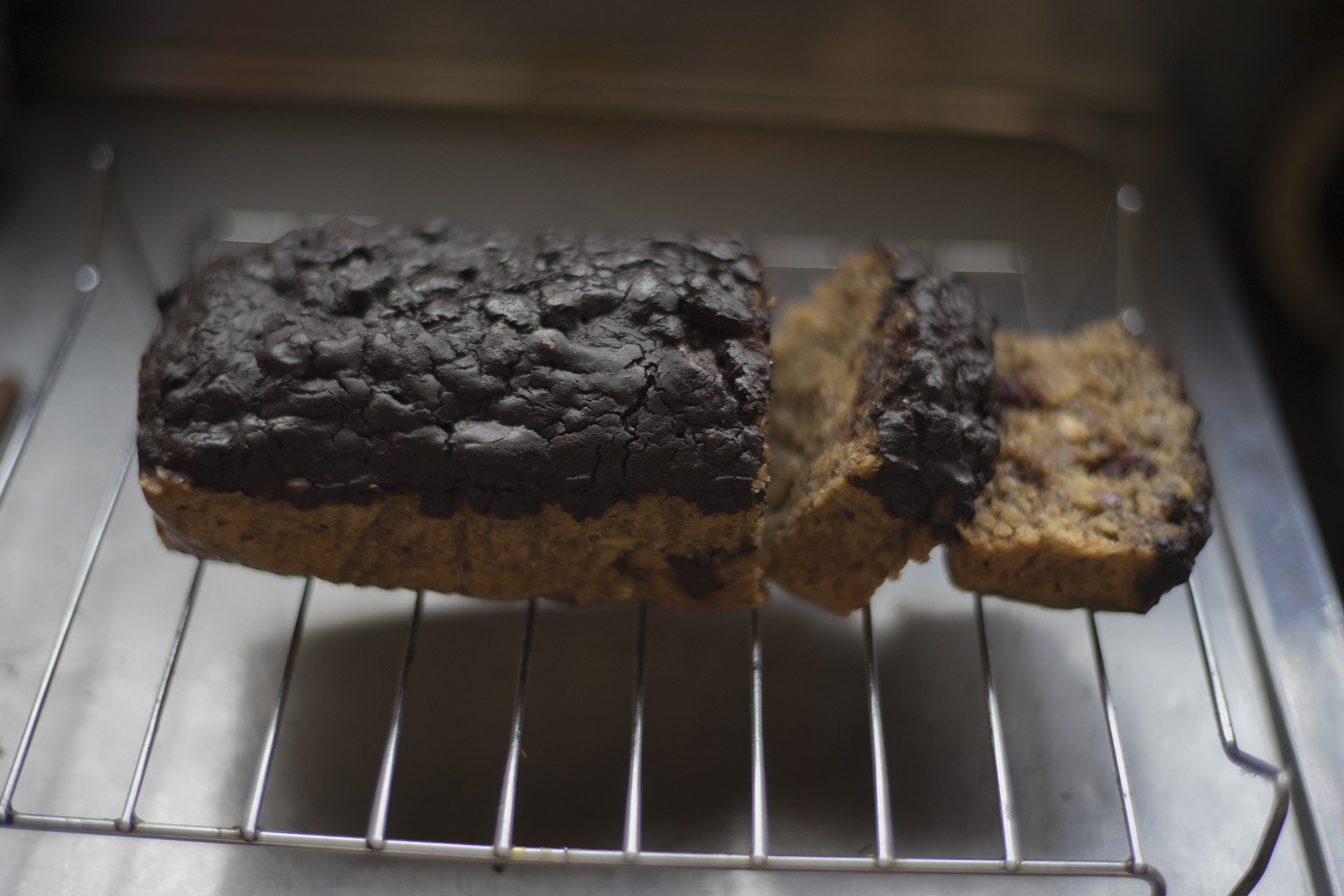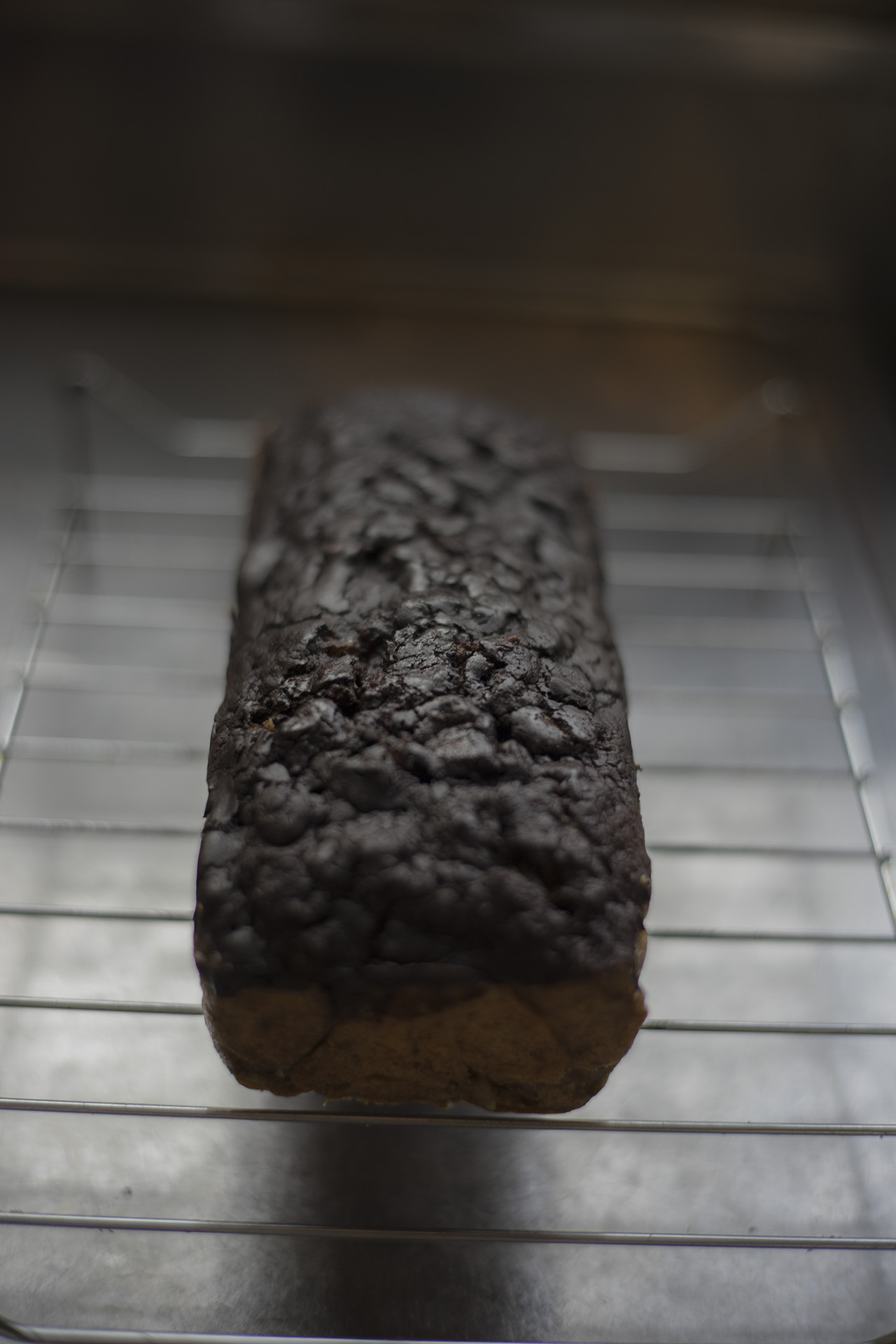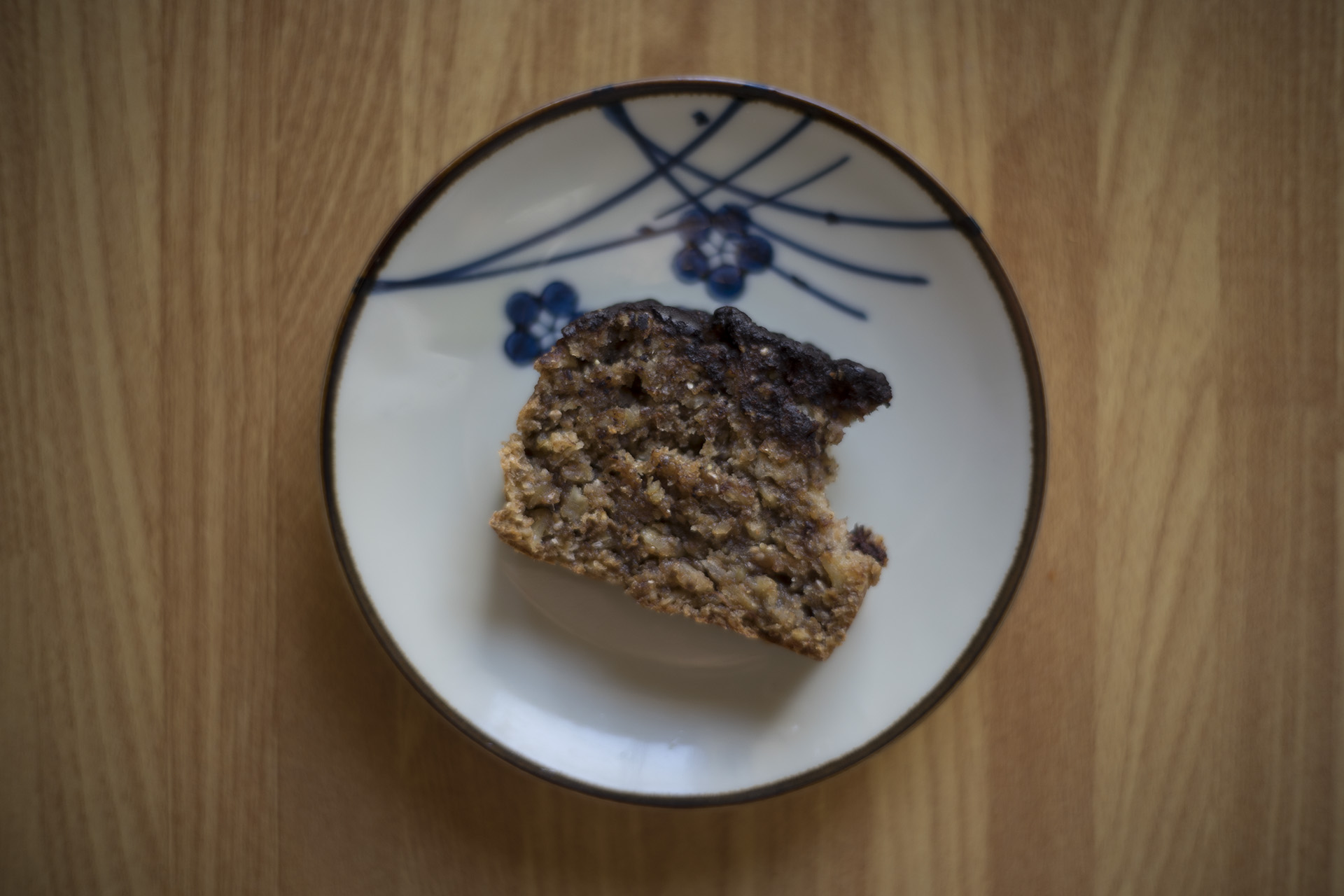 Ingredients~
Makes one small loaf or 9-10 half inch thick pieces

1/2 cup whole wheat flour
1/2 cup traditional rolled oats
1 1/2 medium bananas, very spotty and ripe
1 chia egg (1 tbsp chia seeds mixed with 2 tbsps water, left to congeal for 5-10 min)
2 1/2 tbsps maple syrup
1 tbsp coconut oil
1/2 tsp vanilla extract
Scant 1/2 tsp baking powder
Scant 1/2 tsp baking soda
Large pinch or two of cinnamon
Pinch of salt
Chocolate sauce:
2 tbsps cocoa powder
1 1/2 tbsps coconut oil
1-2 tbsps soy milk
Instructions~
Preheat oven to 176 C/350 F
1. If making the chocolate sauce, simply combine all of the ingredients in a saucepan over low heat, stirring until the clumps of cocoa powder dissolve and the consistency is smooth. Set aside to cool.
2. Next, mash the bananas in a large bowl until creamy and only tiny chunks of banana remain. Add the coconut oil, maple syrup, lemon juice, chia egg, and milk, stirring until well combined.
3. In a separate bowl, whisk together the flour, oats, baking powder and soda, cinnamon, and salt. Pour the dry ingredients into the bowl of wet ingredients, whisking until a slightly lumpy batter forms. Stir in chopped nuts, dried fruit, or, better yet, dark chocolate covered fruit (I opted for cranberries!)
4. Line a bread tin with parchment paper and pour in the batter, smoothing out the top to make an even loaf. Dollop the chocolate sauce on top and use a chopstick or knife to spread it out or swirl it into the batter (if you want a marble design start by adding one spoonful of chocolate; adding all of it will result in a thick layer like mine). Bake for 40-50 minutes, covering the top with aluminum foil about 1/3 of the way through to ensure the chocolate doesn't burn (depending on how thick your layer is). Enjoy with a generous spread of plant based butter or nut butter!!